Abstract
We analyse the hindcast skill for the Atlantic meridional overturning circulation (AMOC) against 10 years of RAPID/MOCHA AMOC observations, which are now long enough to remove the mean seasonal cycle prior to the hindcast skill analysis. We analyse AMOC hindcast skill in two hindcast ensembles generated with two differently initialised decadal prediction systems that are both based on the earth system model MPI-ESM. We evaluate the hindcast skill for the AMOC and its components in both prediction systems against RAPID/MOCHA observations both with and without the mean seasonal cycle removed using anomaly correlation (COR) and root-mean-square error as skill measures. We find significant hindcast skill for most lead years up to 5 for monthly-mean AMOC variations only in the newer of the two prediction systems and only using COR, but with and without the mean seasonal cycle removed. In both systems and for all analysed lead years, the two geostrophic transport components (the upper-mid-ocean transport and Florida Strait combined, that is: AMOC minus Ekman) are the main source of hindcast skill. In the present model setup and with the currently available observational time series, we cannot relate AMOC hindcast skill to the upper-mid-ocean transport alone. Yet, we can show that the seasonal variability of the upper-mid-ocean transport in the free coupled model originates from eastern boundary density variability. Overall, our results indicate modest yet robust AMOC hindcast skill above the uninitialized simulation, independent of the treatment of the seasonal cycle, although we cannot directly link this hindcast skill to the initialisation of the density field with either initialisation method.
This is a preview of subscription content, log in to check access.
Access options
Buy single article
Instant access to the full article PDF.
US$ 39.95
Tax calculation will be finalised during checkout.
Subscribe to journal
Immediate online access to all issues from 2019. Subscription will auto renew annually.
US$ 199
Tax calculation will be finalised during checkout.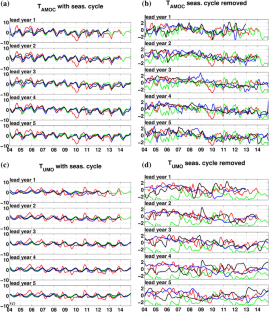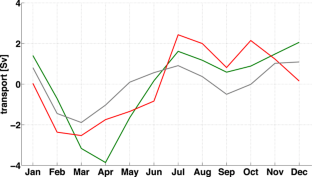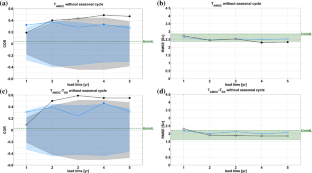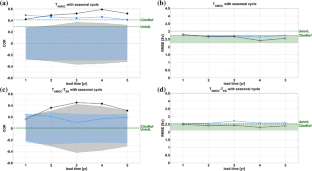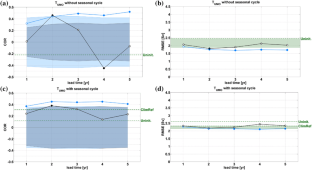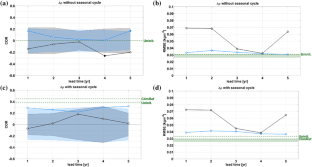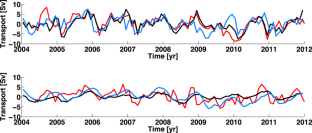 Acknowledgements
We thank two anonymous reviewers for their valuable and helpful comments. This research has been supported by the Cluster of Excellence 'CliSAP' (EXC177), University of Hamburg, funded through the German Science Foundation (DFG) (VM, AD, JB), and by the German Federal Ministry for Education and Research (BMBF) projects MiKlip (http://www.fona-miklip.de/en/index.php) (HP, WM) and RACE (http://race.zmaw.de) (DM). The climate simulations were performed at the German Climate Computing Centre (DKRZ). Data from the RAPID-WATCH MOC monitoring project are funded by the Natural Environment Research Council and are freely available from http://www.rapid.ac.uk/rapidmoc.
About this article
Cite this article
Müller, V., Pohlmann, H., Düsterhus, A. et al. Hindcast skill for the Atlantic meridional overturning circulation at 26.5°N within two MPI-ESM decadal climate prediction systems. Clim Dyn 49, 2975–2990 (2017). https://doi.org/10.1007/s00382-016-3482-z
Received:

Accepted:

Published:

Issue Date:
Keywords
Decadal predictions

Meridional overturning circulation

Hindcast skill