Abstract
Tropical Pacific climate varies at interannual, decadal and centennial time scales, and exerts a significant influence on global climate. Climate model projections exhibit a large spread in the magnitude and pattern of tropical Pacific warming in response to greenhouse-gas forcing. Here, we show that part of this spread can be explained by model biases in the simulation of interannual variability, namely the El Niño/Southern Oscillation (ENSO) phenomenon. We show that models that exhibit strong ENSO nonlinearities simulate a more accurate balance of ENSO feedbacks, and their projected tropical Pacific sea surface temperature warming pattern is closely linked to their projected ENSO response. Within this group, models with ENSO nonlinearity close to observed project stronger warming of the cold tongue, whereas models with stronger than observed ENSO nonlinearity project a more uniform warming of the tropical Pacific. These differences are also manifest in the projected changes of precipitation patterns, thereby highlighting that ENSO simulation biases may lead to potentially biased projections in long-term precipitation trends, with great significance for regional climate adaptation strategies.
Access options
Buy single article
Instant access to the full article PDF.
US$ 39.95
Tax calculation will be finalised during checkout.
Subscribe to journal
Immediate online access to all issues from 2019. Subscription will auto renew annually.
US$ 119
Tax calculation will be finalised during checkout.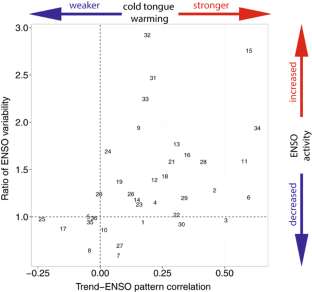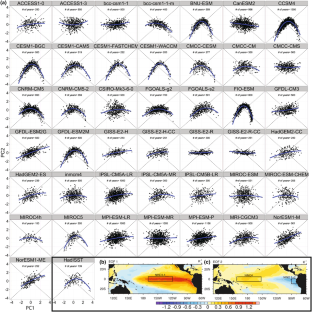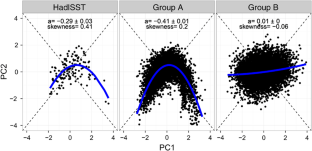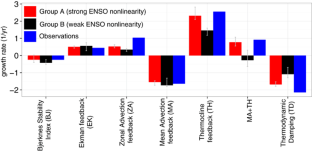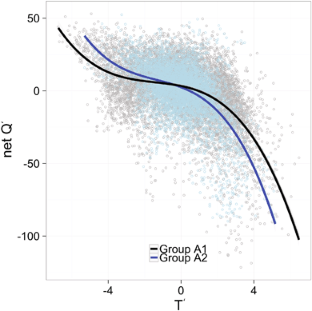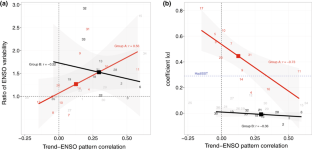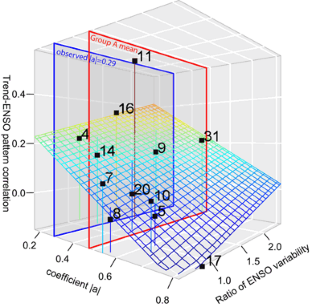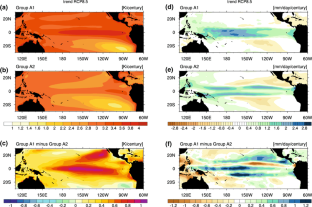 References
An SI, Jin FF (2001) Collective role of thermocline and zonal advective feedbacks in the ENSO mode. J Clim 14:3421–3432. doi:10.1175/1520-0442(2001)014<3421:CROTAZ>2.0.CO;2

An SI, Jin FF (2004) Nonlinearity and asymmetry of ENSO. J Clim 17:2399–2412. doi:10.1175/1520-0442(2004)017<2399:NAAOE>2.0.CO;2

An SI, Ham YG, Kug JS, Jin FF, Kang IS (2005) El Niño-La Niña asymmetry in the coupled model intercomparison project simulations. J Clim 18:​2617–2627. doi:10.1175/JCLI3433.1

Bellenger H, Guilyardi E, Leloup J, Lengaigne M, Vialard J (2014) ENSO representation in climate models: from CMIP3 to CMIP5. Clim Dyn 42(7):1999–2018

Bony S, Dufresne JL (2005) Marine boundary layer clouds at the heart of tropical cloud feedback uncertainties in climate models. Geophys Res Lett 32:L20806. doi:10.1029/2005GL023851

Cai W, Borlace S, Lengaigne M, van Rensch P, Collins M, Vecchi G, Timmermann A, Santoso A, McPhaden M, Wu L, England M, Wang G, Guilyardi E, Jin FF (2014) Increasing frequency of extreme El Niño events due to greenhouse warming. Nat Clim Chang 4:111–116. doi:10.1038/nclimate2100

Chen L, Yu Y, Sun DZ (2013) Cloud and water vapor feedbacks to the El Niño​ warming: are they still biased in CMIP5 models? J Clim 26(14):4947–4961. doi:10.1175/JCLI-D-12-00575.1

Choi J, An SI, Yeh SW, Yu JY (2013) ENSO-like and ENSO-induced tropical Pacific decadal variability in CGCMs. J Clim 26:1485–1501. doi:10.1175/JCLI-D-12-00118.1

Dewitte B, Thual S, Yeh SW, An SI, Moon BK, Giese B (2011) Low-frequency variability of temperature in the vicinity of the equatorial Pacific thermocline in SODA: role of equatorial wave dynamics and ENSO asymmetry. J Clim 22:5783–5795. doi:10.1175/2009JCLI2764.1

DiNezio P, Clement A, Vecchi G, Soden B, Kirtman B, Lee SK (2009) Climate response of the equatorial pacific to global warming. J Clim 22:4873–4892

Dong B (2005) Asymmetry between El Niño and La Niña in a Global Coupled GCM with an eddy-permitting ocean resolution. J Clim 18:3373–3387. doi:10.1175/JCLI3454.1

England M, McGregor S, Spence P, Meehl G, Timmermann A, Cai W, Gupta AS, McPhaden M, Purich A, Santoso A (2014) Recent intensification of wind-driven circulation in the Pacific and the ongoing warming hiatus. Nat Clim Chang 4(3):222–227

Hawkins E, Sutton R (2010) The potential to narrow uncertainty in projections of regional precipitation change. Clim Dyn 37(1):407–418. doi:10.1007/s00382-010-0810-6

Im SH, An SI, Kim ST, Jin FF (2015) Feedback processes responsible for El Niño-La Niña amplitude asymmetry. Geophys Res Lett 42:5556–5563. doi:10.1002/2015GL064853

Jin FF (1996) Tropical ocean-atmosphere interaction, the pacific cold tongue, and the El Niño-Southern Oscillation. Science 274(5284):76–78. doi:10.1126/science.274.5284.76

Jin FF, An S, Timmermann A, Zhao J (2003) Strong El Niño events and nonlinear dynamical heating. Geophys Res Lett 30(3):1120. doi:10.1029/2002GL016356

Kang IS, Kug JS (2002) El Niño and La Niña sea surface temperature anomalies: asymmetry characteristics associated with their wind stress anomalies. J Geophys Res Atmos 107(D19):4372. doi:10.1029/2001JD000393

Kim ST, Cai W, Jin FF, Yu JY (2014) ENSO stability in coupled climate models and its association with mean state. Clim Dyn 42(11):3313–3321

Kosaka Y, Xie SP (2013) Recent global-warming hiatus tied to equatorial Pacific surface cooling. Nature 501(7467):403–407

Levine A, Jin FF, McPhaden M (2016) Extreme noise-extreme El Niño: how state-dependent noise forcing creates El Niño-La Niña asymmetry. J Clim 29:5483–5499. doi:10.1175/JCLI-D-16-0091.1

Liang J, Yang XQ, Sun DZ (2012) The effect of ENSO events on the tropical pacific mean climate: insights from an analytical model. J Clim 25:​7590–7606. doi:10.1175/JCLI-D-11-00490.1

McGregor S, Timmermann A, Stuecker M, England M, Merrifield M, Jin FF, Chikamoto Y (2014) Recent walker circulation strengthening and Pacific cooling amplified by Atlantic warming. Nat Clim Chang 4(​10):888–892

Meehl G, Teng H (2014) CMIP5 multi-model hindcasts for the mid-1970s shift and early 2000s hiatus and predictions for 2016–2035. Geophys Res Lett 41(5):1711–1716

Meehl G, Hu A, Arblaster J, Fasullo J, Trenberth K (2013) Externally forced and internally generated decadal climate variability associated with the Interdecadal Pacific Oscillation. J Clim 26:​7298–7310. doi:10.1175/JCLI-D-12-00548.1

Merrifield M (2011) A shift in western tropical pacific sea level trends during the 1990s. J Clim 24:4126–4138, doi:10.1175/2011JCLI3932.1

Newman M, Compo G, Alexander M (2003) Enso-forced variability of the pacific decadal oscillation. J Clim 16(23):3853–3857. doi:10.1175/1520-0442(2003)016<3853:EVOTPD>2.0.CO;2

Rayner N, Parker D, Horton E, Folland C, Alexander L, Rowell D, Kent E, Kaplan A (2003) Global analyses of sea surface temperature, sea ice, and night marine air temperature since the late nineteenth century. J Geophys Res 108:4407. doi:10.1029/2002JD002670

Rodgers K, Friederichs P, Latif M (2004) Tropical pacific decadal variability and its relation to decadal modulations of ENSO. J Clim 17:3761–3774. doi:10.1175/1520-0442(2004)017<3761:TPDVAI>2.0.CO;2

Son SW, Lee S (2005) The response of westerly jets to thermal driving in a primitive equation model. J Atmos Sci 62:​3741–3757. doi:10.1175/JAS3571.1

Son SW, Lee S (2006) Preferred modes of variability and their relationship with climate change. J Clim 19​:2063–2075. doi:10.1175/JCLI3705.1

Su J, Zhang R, Li T, Rong X, Kug JS, Hong CC (2010) Causes of the El Niño and La Niña amplitude asymmetry in the equatorial eastern pacific. J Clim 23:605–617. doi:10.1175/2009JCLI2894.1

Sun DZ (2003) A possible effect of an increase in the warm-pool SST on the magnitude of El Niño warming. J Clim 16:185–205. doi:10.1175/1520-0442(2003)016<0185:APEOAI>2.0.CO;2

Sun DZ, Zhang T (2006) A regulatory effect of ENSO on the time-mean thermal stratification of the equatorial upper ocean. Geophys Res Lett 33:L07710. doi:10.1029/2005GL025296

Sun F, Yu JY (2009) A 10–15-year modulation cycle of ENSO intensity. J Clim 22:​1718–1735. doi:10.1175/2008JCLI2285.1

Sun D, Zhang T, Sun Y, Yu Y (2014) Rectification of El Niño–Southern Oscillation into climate anomalies of decadal and longer time scales: results from forced ocean GCM experiments. J Clim 27:2545–2561. doi:10.1175/JCLI-D-13-00390.1

Takahashi K, Montecinos A, Goubanova K, Dewitte B (2011) ENSO regimes: reinterpreting the canonical and Modoki El Niño. Geophys Res Lett 38:L10704. doi:10.1029/2011GL047364​

Timmermann A (1999) Detecting the nonstationary response of ENSO to greenhouse warming. J Atmos Sci 56:2313–2325

Timmermann A (2003) Decadal ENSO amplitude modulations: a nonlinear paradigm. Glob Planet Chang 37​(1–2):135–156

Timmermann A, Jin FF (2002) A nonlinear mechanism for decadal El Niño amplitude changes. Geophys Res Lett 29​(1). doi:10.1029/2001GL013369

Trenberth K, Stepaniak D (2001) Indices of El Niño Evolution. J Clim 14​:1697–1701. doi:10.1175/1520-0442(2001)014<1697:LIOENO>2.0.CO;2

Watanabe M, Shiogama H, Tatebe H, Hayashi M, Ishii M, Kimoto M (2014) Contribution of natural decadal variability to global warming acceleration and hiatus. Nat Clim Chang 4(10)​:893–897

Yeh SW, Kirtman B (2004) Tropical Pacific decadal variability and ENSO amplitude modulation in a CGCM. J Geophys Res 109​:C11009. doi:10.1029/2004JC002442

Yu JY, Kim S (2011) Reversed spatial asymmetries between El Niño and La Niña and their linkage to decadal ENSO modulation in CMIP3 models. J Clim 24​:5423–5434. doi:10.1175/JCLI-D-11-00024.1

Zhao M, Held I (2012) TC-permitting GCM simulations of hurricane frequency response to sea surface temperature anomalies projected for the late 21st century. J Clim. doi:10.1175/JCLI-D-11-00313.1
Acknowledgements
The authors gratefully acknowledge Dr. S.-T. Kim for providing CMIP5 heat budget analysis data. This work is supported by U.S. National Science Foundation Grants OCN-1304910 and AGS-1602097.
About this article
Cite this article
Karamperidou, C., Jin, FF. & Conroy, J.L. The importance of ENSO nonlinearities in tropical pacific response to external forcing. Clim Dyn 49, 2695–2704 (2017). https://doi.org/10.1007/s00382-016-3475-y
Received:

Accepted:

Published:

Issue Date:
Keywords
El Niño

ENSO nonlinearity

ENSO asymmetry

Tropical pacific warming

Global climate models