Abstract
This study aims to analyze the role of ocean heat content in boosting the post-monsoon cyclonic activities over Bay of Bengal during La-Niña events. In strong La-Niña years, accumulated cyclone energy in Bay of Bengal is much more as compared to any other year. It is observed that during late June to October of moderate to strong La-Nina years, western Pacific is warmer. Sea surface temperature anomaly of western Pacific Ocean clearly indicates the presence of relatively warmer water mass in the channel connecting the Indian Ocean and Pacific Ocean, situated above Australia. Ocean currents transport the heat zonally from Pacific to South eastern Indian Ocean. Excess heat of the southern Indian Ocean is eventually transported to eastern equatorial Indian Ocean through strong geostrophic component of ocean current. By September the northward transport of this excess heat from eastern equatorial Indian Ocean to Bay of Bengal takes place during La-Nina years boosting the cyclonic activities thereafter.
Access options
Buy single article
Instant access to the full article PDF.
USD 39.95
Price excludes VAT (USA)
Tax calculation will be finalised during checkout.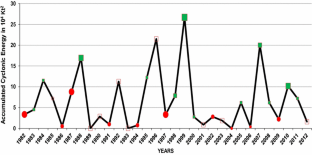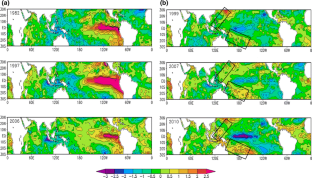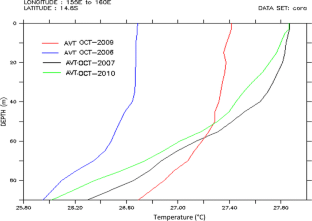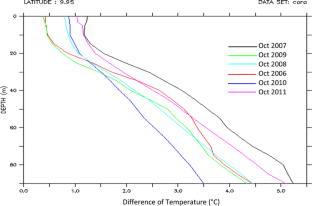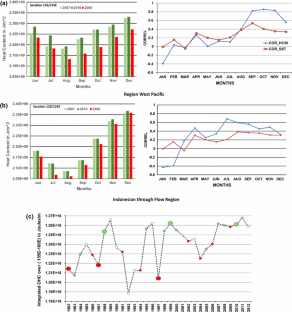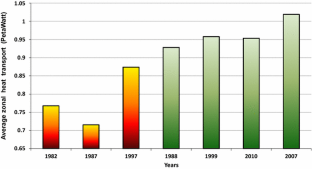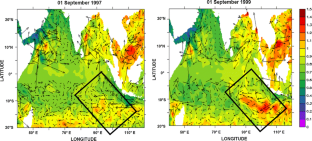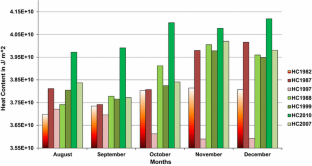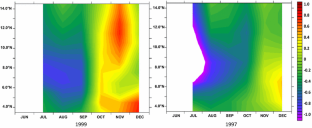 References
Ali MM, Jagadeesh PSV, Jain S (2007) Effects of eddies and dynamic topography on the Bay of Bengal cyclone intensity. EOS Trans AGU 88(8):93–95

Ali MM, Kashyap T, Nagamani PV (2013) Use of sea surface temperature for cyclone intensity prediction needs a relook. EOS 94:117

Balmaseda MA, Mogensen K, Weaver A (2013) Evaluation of ECMWF ocean reanalysis system ORAS4. QJRMS 139(674):1132–1161

Cabanes C, Grouazel A, von Schuckmann K, Hamon M, Turpin V, Coatanoan C, Paris F, Guinehut S, Boone C, Ferry N, Boyer Montégut B, Carval T, Reverdin G, Pouliquen S, Traon P (2013) The cora dataset: validation and diagnostics of in situ ocean temperature and salinity measurements. Ocean Sci 9:1–18. doi:10.5194/os-9-1-2013

Felton CS, Subrahmaniyam B, Murthy VSN (2013) ENSO—modulated cyclogenesis over the Bay of Bengal. J Clim 26:9806–9817

Girishkumar MS, Thanga Prakash VP, Ravichandran M (2015) Influence of Pacific Decadal Oscillation on the relationship between ENSO and tropical cyclone activity in the Bay of Bengal during October–December. Clim Dyn Clim Dyn 44:3469–3479

Goni GJ, Trinanes JA (2003) Ocean thermal structure monitoring could aid in the intensity forecast of tropical cyclones. EOS Trans AGU 84(51):573

Goswami BN, Ajayamohan RS, Xavier PK, Sengupta D (2003) Clustering of synoptic activity by Indian summer monsoon intraseasonal oscillations. Geophys Res Lett 30:1431. doi:10.1029/2002GL016734

Häkkinen S, Rhines PB, Worthen DL (2016) Warming of global ocean: spatial structures and water mass trends. J Clim 29:4949–4963

Kikuchi K, Wang B (2010) Formation of tropical cyclones in the northern Indian Ocean associated with two types of tropical intraseasonal oscillation modes. J Meteorol Soc Jpn 88:475–496

Li Z, Yu W, Li T, Murty VSN, Tangang F (2013) Bimodal character of cyclone climatology in the Bay of Bengal modulated by monsoon seasonal cycle. J Clim 26:1033–1046

Nagura M, McPhaden MJ (2008) The dynamics of zonal current variations in the central equatorial Indian Ocean. Geophys Res Lett 35:L23603. doi:10.1029/2008GL035961

Shay LK, Goni GJ, Black PG (2000) Effects of a warm oceanic feature on Hurricane Opal. Mon Weather Rev 128(5):1366–1383

Sikhakolli R, Sharma R, Kumar R, Gohil BS, Sarkar A, Prasad KVSR, Basu S (2013) Improved determination of Indian Ocean surface currents using satellite data. Rem Sens Lett 4:335–343

Wyrtki K (1973) An equatorial jet in the Indian Ocean. Science 181:262–264. doi:10.1126/science.181.4096.262

Yanase W, Satoh M, Taniguchi H, Fujinami H (2012) Seasonal and intraseasonal modulation of tropical cyclogenesis environment over the Bay of Bengal during the extended summer monsoon. J Clim 25:2914–2930

Yuan DL, Han WQ (2006) Roles of equatorial waves and western boundary reflection in the seasonal circulation of the equatorial Indian Ocean. J Phys Oceanogr 36(5):930–944. doi:10.1175/JPO2905.1
Acknowledgements
Authors would like to thank the Director, SAC and Deputy Director (EPSA) for their great support and encouragement for this work. This work would not be complete without the data provided by ISRO, AVISO, JTWC, NOAA and ECMWF.
Additional information
This paper is a contribution to the special collection on ENSO Diversity. The special collection aims at improving understanding of the origin, evolution, and impacts of ENSO events that differ in amplitude and spatial patterns, in both observational and modeling contexts, and in the current as well as future climate scenarios. This special collection is coordinated by Antonietta Capotondi, Eric Guilyardi, Ben Kirtman and Sang-Wook Yeh.
About this article
Cite this article
Bhowmick, S.A., Agarwal, N., Ali, M.M. et al. Role of ocean heat content in boosting post-monsoon tropical storms over Bay of Bengal during La-Niña events. Clim Dyn 52, 7225–7234 (2019). https://doi.org/10.1007/s00382-016-3428-5
Received:

Accepted:

Published:

Issue Date:

DOI: https://doi.org/10.1007/s00382-016-3428-5
Keywords