Abstract
The transitional climate zone (TCZ) between humid and arid regions in East Asia is characterized by sharp climate and biome gradients, interaction between the East Asian summer monsoon and the mid-latitude westerly winds and mixed agriculture-pasture activities. Consequently, it is highly vulnerable to natural disturbances and particularly human-driven global change. This study aims to illuminate the spatial and temporal variation of TCZ across both the retrospective and the prospective periods. In the historical period, both the front and rear edges of TCZ exhibit wide year-to-year excursions and have experienced coastward migration with increasing aridity throughout TCZ. Furthermore, precipitation fluctuation mainly contributes to interannual variability of TCZ whereas potential evaporation behavior dominates the long-term trends of TCZ. Models are capable of largely reproducing the shape and orientation of TCZ, although northwestward bias is apparent. In global warming scenario period, there will be continuing southeastward displacement for the front edge but the opposite northwestward movement is projected for the rear one, as a consequence of significant drying trends in the humid zone together with regime shifts towards humid conditions in the arid zone. Despite expanded TCZ sector, however, the available water resources inside it suffer little magnitude changes without preferential tendency towards either drier or wetter conditions, implying neither deleterious nor beneficial effects on the TCZ environment. Moreover, interannual variability of TCZ is expected to become stronger, resulting in more frequent occurrences of extreme swings. Finally, it is noted that uncertainty arising from climate models dominates in the TCZ than dispersed emission scenarios, in contrast to the situation in humid and arid zones.
Access options
Buy single article
Instant access to the full article PDF.
USD 39.95
Price excludes VAT (USA)
Tax calculation will be finalised during checkout.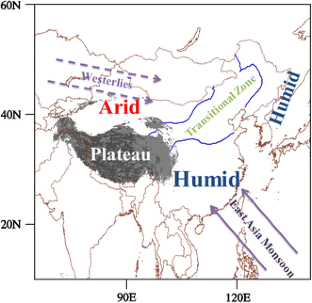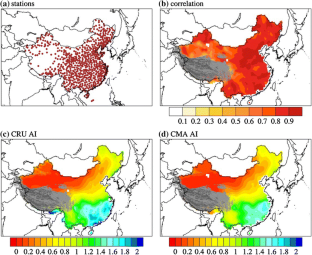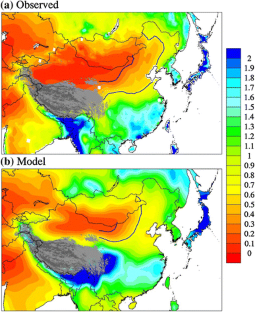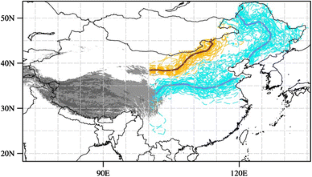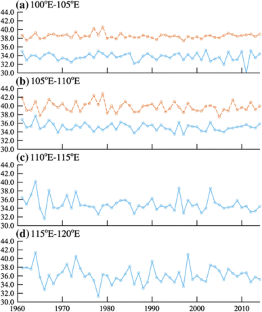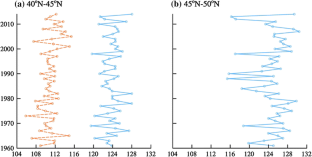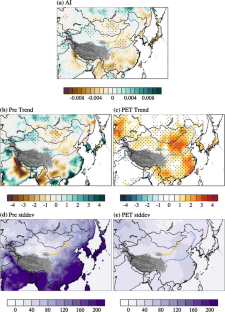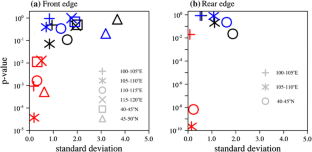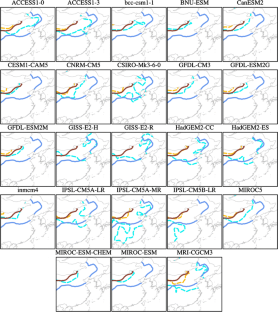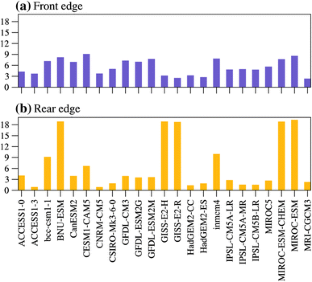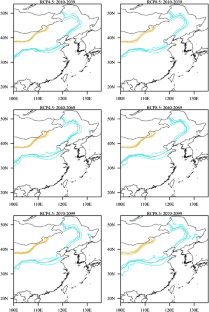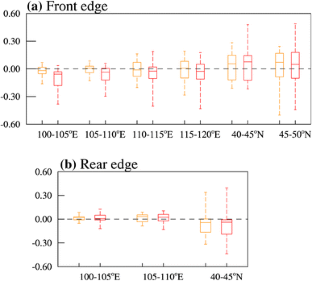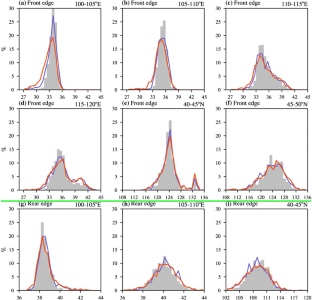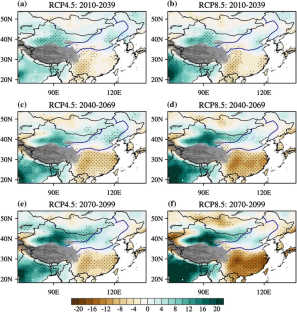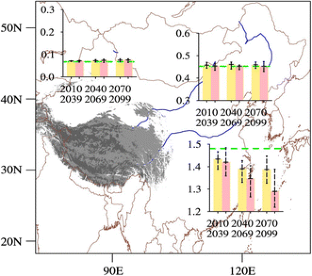 References
Allen RG, Smith M, Pereira A, Perrier LS (1994) An update for the calculation of reference evapotranspiration. ICID Bull 43(2):1–34

Burke EJ, Brown SJ, Christidis N (2006) Modeling the recent evolution of global drought and projections for the twenty-first century with the Hadley Centre climate model. J Hydrometeorol 7(5):1113–1125

Chen W, Feng J, Wu R (2013) Roles of ENSO and PDO in the linkage of the East Asian winter monsoon to the following summer monsoon. J Clim 26(2):622–635

Cui X, Huang G, Chen W (2008) Notes of regional climate model simulation for hydrological studies in China. Adv Atmos Sci 25:999–1008

Cui X, Huang G, Chen W, Morse A (2009) Threatening of climate change on water resources and supply: case study of North China. Desalination 248:476–478

Feng S, Fu Q (2013) Expansion of global drylands under a warming climate. Atmos Chem Phys 13(10):10081–10094

Fu C (1992) Transitional climate zones and biome boundaries: a case study from China. In: Hansen AJ, Castri FD (eds) Landscape Boundaries. Springer-Verlag, New York, pp 394–402

Harris I, Jones PD, Osborn TJ, Lister DH (2014) Updated high-resolution grids of monthly climatic observations—the CRU TS3. 10 Dataset. Int J Climatol 34(3):623–642

Held IM, Soden BJ (2006) Robust responses of the hydrological cycle to global warming. J Clim 19(21):5686–5699

Huang R, Gu L, Chen J, Huang G (2008) Recent progresses in studies of the temporal-spatial variations of the East Asian monsoon system and their impacts on climate anomalies in China. Chin J Atmos Sci 32(4):691–719 (in Chinese)

Huang J, Yu H, Guan X, Wang G, Guo R (2016) Accelerated dryland expansion under climate change. Nat Clim Change 6:166–171

Huo Z, Dai X, Feng S, Kang S, Huang G (2013) Effect of climate change on reference evapotranspiration and aridity index in arid region of China. J Hydrol 492:24–34

Keyantash J, Dracup JA (2002) The quantification of drought: an evaluation of drought indices. Bull Am Meteorol Soc 83(8):1167–1180

Kitoh A, Endo H, Krishna Kumar K, Cavalcanti IF, Goswami P, Zhou T (2013) Monsoons in a changing world: a regional perspective in a global context. J Geophys Res Atmos 118(8):3053–3065

Koutroulis AG, Grillakis MG, Tsanis IK, Papadimitriou L (2015) Evaluation of precipitation and temperature simulation performance of the CMIP3 and CMIP5 historical experiments. Clim Dyn. doi:10.1007/s00382-015-2938-x

Li M, Ma Z (2013) Soil moisture-based study of the variability of dry-wet climate and climate zones in China. Chin Sci Bull 58:531–544

Li X, Ma Z, Liu X (2006) Inter-decadal characteristics of aridification over northern China in association with variations of the atmospheric circulation during the last fifty years. Chin J Atmos Sci 30(2):277–284 (in Chinese)

Li H, Robock A, Wild M (2007) Evaluation of Intergovernmental Panel on Climate Change Fourth Assessment soil moisture simulations for the second half of the twentieth century. J Geophys Res Atmos 112(D6):2007

Liu X, Zhang D, Luo Y, Liu C (2013) Spatial and temporal changes in aridity index in northwest China: 1960 to 2010. Theor Appl Climatol 112(1–2):307–316

Ma Z (2007) The interdecadal trend and shift of dry/wet over the central part of North China and their relationship to the Pacific Decadal Oscillation (PDO). Chin Sci Bull 52(15):2130–2139

Ma Z, Fu C (2003) Interannual characteristics of the surface hydrological variables over the arid and semi-arid areas of northern China. Global Planet Change 37(3):189–200

Ma Z, Fu C, Dan L (2005) Decadal variations of arid and semi-arid boundary in China. Chin J Geophys 48:574–581

Middleton N, Thomas D (1997) World atlas of desertification, 2nd edn. Edward Arnold for United Nations Environment Programme, Nairobi/London

Moss RH, Edmonds JA, Hibbard KA, Manning MR, Rose SK, Van Vuuren DP, Carter TR, Emori S, Kainuma M, Kram T, Meehl GA (2010) The next generation of scenarios for climate change research and assessment. Nature 463(7282):747–756

Ou T, Qian W (2006) Vegetation variations along the monsoon boundary zone in East Asia. Chin J Geophys 49(3):627–636

Qian W, Ding T, Hu H, Lin X, Qin A (2009) An overview of dry-wet climate variability among monsoon-westerly regions and the monsoon northernmost marginal active zone in China. Adv Atmos Sci 26:630–641

Shi Z (1996) Regional characters of natural disaster in margional monsoon belt of China. J Arid Land Resour Environ 10(4):1–7 (in Chinese)

Shi Z, Zhang L, Sui G (1994) Natural disasters and their formation causes on Chinese monsoon marginal belt. J Catastrophol 9(4):59–64 (in Chinese)

Stocker TF, Qin D, Plattner GK, Tignor M, Allen SK, Boschung J, Nauels A, Xia Y, Bex B, Midgley BM (2013) The Physical Science Basis. Contribution of Working Group I to the Fifth Assessment Report of the Intergovernmental Panel on Climate Change. Cambridge University Press, Cambridge

Sun Y, Ding Y (2010) A projection of future changes in summer precipitation and monsoon in East Asia. Sci China Earth Sci 53(2):284–300

Taylor KE, Stouffer RJ, Meehl GA (2012) An overview of CMIP5 and the experiment design. Bull Am Meteor Soc 93:485–498

Teutschbein C, Seibert J (2012) Bias correction of regional climate model simulations for hydrological climate-change impact studies: review and evaluation of different methods. J Hydrol 456:12–29

Wang F, Yang S, Higgins W, Li Q, Zuo Z (2014) Long-term changes in total and extreme precipitation over China and the US and their links to oceanic-atmospheric features. Int J Climatol 34:286–302

Wu R, Wang B (2002) A contrast of the East Asian summer monsoon and ENSO relationship between 1962–77 and 1978–93. J Clim 15:3266–3279

Zhao T, Chen L, Ma Z (2014) Simulation of historical and projected climate change in arid and semiarid areas by CMIP5 models. Chin Sci Bull 59(4):412–429

Zhou W, Chan JCL (2007) ENSO and South China Sea summer monsoon onset. Int J Climatol 27:157–167

Zhou W, Li CY, Wang X (2007a) Possible connection between Pacific oceanic interdecadal pathway and East Asian winter monsoon. Geophys Res Lett 34:L01701

Zhou W, Wang X, Zhou T, Li CY, Chan JCL (2007b) Interdecadal variability of the relationship between the East Asian winter monsoon and ENSO. Meteorol Atmos Phys 98:283–293

Zhou W, Chen W, Wang D (2012) The implications of ENSO signal for South China monsoon climate. Aquat Ecosyst Health Manag Soc 15(1):14–19

Zuo Z, Yang S, Kumar A, Zhang R, Xue Y, Jha B (2012) Role of thermal condition over Asia in the weakening Asian summer monsoon under global warming background. J Clim 25:3431–3436

Zuo Z, Yang S, Zhang R, Jiang P, Zhang L, Wang F (2013) Long-term variations of broad-scale Asian summer monsoon circulation and possible causes. J Clim 26:8947–8961
Acknowledgments
We thank the reviewers for their constructive comments on the manuscript. This work was supported by the National Natural Science Foundation of China Grant No. 41461144001, the National Key Research and Development Program of China Grant No. 2016YFA0600604, the National Outstanding Youth Science Fund Projection of China Grant No. 41425019, the National Natural Science Foundation of China Grants Nos. 91337105, 41505069, 41275083 and 41530425, Public science and technology research funds projects of ocean Grant No. 201505013, and Open Research Fund Program of Key Laboratory of Meteorological Disaster of Ministry of Education (Nanjing University of Information Science and Technology) Grant No. KLME1403.
About this article
Cite this article
Wang, L., Chen, W., Huang, G. et al. Changes of the transitional climate zone in East Asia: past and future. Clim Dyn 49, 1463–1477 (2017). https://doi.org/10.1007/s00382-016-3400-4
Received:

Accepted:

Published:

Issue Date:

DOI: https://doi.org/10.1007/s00382-016-3400-4
Keywords