Abstract
The characteristics of El Nino–Southern Oscillation (ENSO) spectra over the Last Millennium are examined to characterise variability over past centuries. Seven published palaeo-ENSO reconstructions and Nino3.4 from six Coupled Model Intercomparison Project-Phase 5 and Paleoclimate Modelling Intercomparison Project-Phase 3 (CMIP5–PMIP3) Last Millennium simulations were analysed. The corresponding Historical and pre-industrial Control CMIP5–PMIP3 simulations were also considered. The post-1850 spectrum of each modelled or reconstructed ENSO series captures aspects of the observed spectrum to varying degrees. We note that no single model or ENSO reconstruction completely reproduces the instrumental spectral characteristics. The spectral power across the 2–3 years (near biennial), 3–8 years (classical ENSO) and 8–25 years (decadal) periodicity bands was calculated in a sliding 50 year window, revealing temporal variability in the spectra. There was strong temporal variability in the spectral power of each periodicity band in observed Nino3.4 and SOI and for all reconstructions and simulations of ENSO. Significant peaks in spectral power such as observed in recent decades also occur in some of the reconstructed palaeo-ENSO (around 1600, the early 1700s and 1900) and modelled series (around the major volcanic eruptions of 1258 and 1452). While the recent increase in spectral power might be in response to enhanced greenhouse gas levels, the increase lies within the range of variability across the suite of ENSO reconstructions and simulations examined here. This study demonstrates that the analysis of a suite of ENSO reconstructions and model simulations can build a broader understanding of the time-varying nature of ENSO spectra, and how the nature of the past spectra of ENSO is to some extent dependant on the climate model or palaeo-ENSO reconstruction chosen.
Access options
Buy single article
Instant access to the full article PDF.
US$ 39.95
Tax calculation will be finalised during checkout.
Subscribe to journal
Immediate online access to all issues from 2019. Subscription will auto renew annually.
US$ 119
Tax calculation will be finalised during checkout.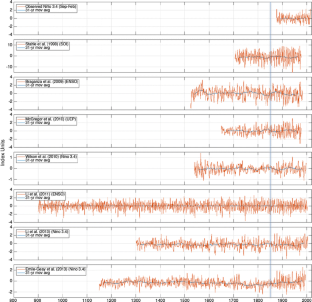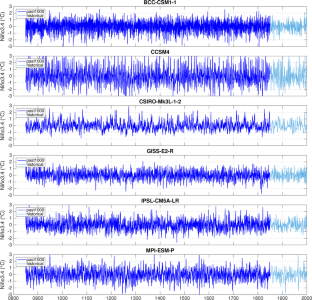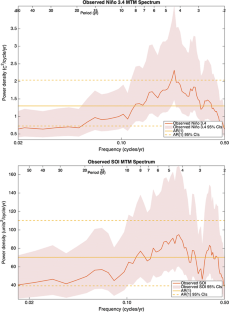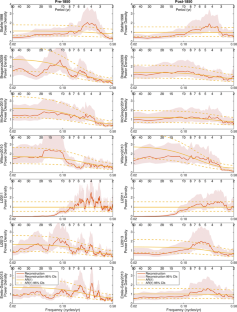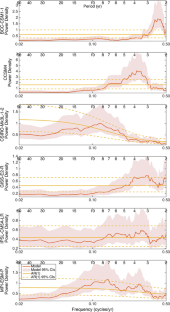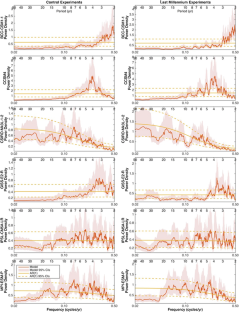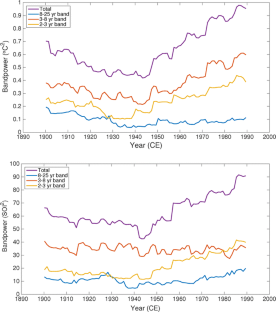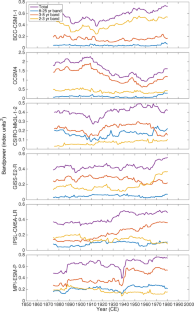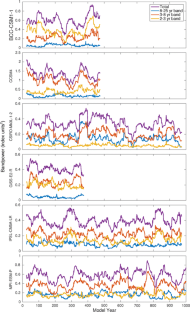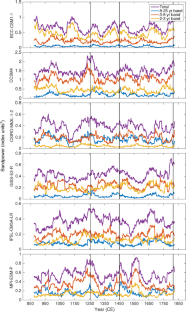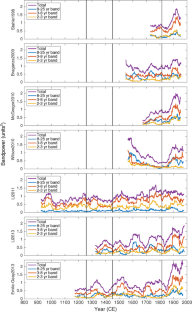 References
Adams JB, Mann M, Ammann C (2003) Proxy evidence for an El Nino-like response to volcanic forcing. Nature 426:274–278

Allan R (2000) ENSO and climatic variability in the past 150 years. In: Diaz H, Markgraf V (eds) El Nino and the Southern Oscillation: multiscale variability and global and regional impacts. Cambridge University Press, Cambridge, pp 3–35

Allan R, D'Arrigo R (1999) 'Persistent' ENSO sequences: how unusual was the 1990–1995 El Nino? The Holocene 9(1):101–118

Allan R, Ansell T (2006) A new globally complete monthly historical gridded mean sea level pressure dataset (HadSLP2): 1850–2004. J Clim 19:5816–5842

Allan R, Nicholls N, Jones P, Butterworth I (1991) A further extension of the Tahiti-Darwin SOI, early SOI results and Darwin pressure. J Clim 4(7):743–749

Allan R, Lindsay J, Parker D (1996) El Nino Southern Oscillation and climate variability. CSIRO, Melbourne

Ammann CM, Joos F, Schimel DS, Otto-Bliesner BL, Tomas RA (2007) Solar influence on climate during the past millennium: results from transient simulations with the NCAR Climate System Model. Proc Natl Acad Sci 104(10):3713–3718

An S, Wang B (2000) Interdecadal change of the structure of the ENSO mode and its impact on the ENSO frequency. J Clim 13:2044–2055

Ault TR, Cole JE, Overpeck JT, Pederson GT, St. George S, Otto-Bliesner B, Woodhouse CA, Deser C (2013) The Continuum of hydroclimate variability in western North America during the Last Millennium. J Clim 26(16):5863–5878

Bellenger H, Guilyardi E, Leloup J, Lengaigne M, Vialard J (2014) ENSO representation in climate models: from CMIP3 to CMIP5. Clim Dyn 42(7–8):1999–2018

Berger A (1978) Long-term variations of daily insolation and Quaternary climatic changes. J Atmos Sci 35:2362–2367

Bjerknes J (1966) A possible response of the atmospheric Hadley circulation to equatorial anomalies of ocean temperature. Tellus 18(4):820–829

Bjerknes J (1969) Atmospheric teleconnections from the equatorial Pacific. Mon Weather Rev 97:163–172

Borlace S, Cai W, Santoso A (2013) Multidecadal ENSO amplitude variability in a 1000-yr simulation of a coupled global climate model: implications for observed ENSO variability. J Clim 26(23):9399–9407

Bradley R (1996) Are there optimum sites for global paleotemperature reconstruction? In: Jones P, Bradley R, Jouzel J (eds) Climate variations and forcing mechanisms of the last 2000 years. Springer, Berlin, pp 603–624

Braganza K, Gergis J, Power S, Risbey J, Fowler A (2009) A multiproxy index of the El Nino–Southern Oscillation, A.D. 1525–1982. J Geophys Res 114(D5):D05106

Briffa K, Jones P (1990) Basic chronology statistics and assessment. In: Cook E, Kairiukstis L (eds) Methods of dendrochronology: applications in the environmental sciences. Kluwer Academic, Dordrecht

Brown JR, Hope P, Gergis J, Henley BJ (2015) ENSO teleconnections with Australian rainfall in coupled model simulations of the Last Millennium. Clim Dyn. doi:10.1007/s00382-015-2824-6

Christensen JH, Krishna-Kumar K, Aldrian E, An SI, Cavalcanti IFA, de Castro M, Dong W, Goswami P, Hall A, Kanyanga JK, Kitoh A, Kossin J, Lau NC, Renwick J, Stephenson DB, Xie SP, Zhou T (2013) Chapter 14: climate phenomena and their relevance for future regional climate change. Climate change 2013: the physical science basis. Contribution of working group I to the fifth assessment report of the intergovernmental panel on climate change. In: Stocker TF, Qin D, Plattner G-K, Tignor M, Allen SK, Boschung J, Nauels A, Xia Y, Bex V, Midgley PM (eds) Cambridge University Press, Cambridge

Cole J, Overpeck J, Cook E (2002) Multiyear La Niña events and persistent drought in the contiguous United States. Geophys Res Lett 29(13):25/1–25/4

Collins M, An S, Cai W, Ganachaud A, Guilyardi E, Jin FF, Jochum M, Lengaigne M, Power S, Timmermann A, Vecchi G, Wittenberg A (2010) The impact of global warming on the tropical Pacific Ocean and El Nino. Nat Geosci 3(6):391–397

Crowley TJ, Unterman MB (2013) Technical details concerning development of a 1200 yr proxy index for global volcanism. Earth Syst Sci Data 5(1):187–197

Deser C, Phillips AS, Tomas RA, Okumura YM, Alexander MA, Capotondi A, Scott JD, Kwon Y-O, Ohba M (2011) ENSO and Pacific decadal variability in the community climate system model version 4. J Clim 25(8):2622–2651

Diaz H, Hoerling M, Eischieid J (2001) ENSO variability, teleconnections and climate change. Int J Climatol 21:1845–1862

Dlugokencky E, Tans P (2016) NOAA/ESRL. http://www.esrl.noaa.gov/gmd/ccgg/trends/

Emile-Geay J, Seager R, Cane M, Cook E, Haug G (2008) Volcanoes and ENSO over the past millennium. J Clim 21(13):3134–3148

Emile-Geay J, Cobb KM, Mann ME, Wittenberg AT (2013a) Estimating central equatorial Pacific SST variability over the past millennium. Part 1: methodology and validation. J Clim 26:2302–2328

Emile-Geay J, Cobb KM, Mann ME, Wittenberg AT (2013b) Estimating central equatorial Pacific SST variability over the past millennium. Part 2: reconstructions and implications. J Clim 26:2329–2352

Farneti R, Molteni F, Kucharski F (2014) Pacific interdecadal variability driven by tropical-extratropical interactions. Clim Dyn 42(11–12):3337–3355

Fernández-Donado L, González-Rouco JF, Raible CC, Ammann CM, Barriopedro D, García-Bustamante E, Jungclaus JH, Lorenz SJ, Luterbacher J, Phipps SJ, Servonnat J, Swingedouw D, Tett S, Wagner S, Yiou P, Zorita E (2013) Large-scale temperature response to external forcing in simulations and reconstructions of the Last Millennium. Clim Past 9:393–421

Flato G et al (2013) Evaluation of climate models. Climate change (2013) The physical science basis. Contribution of working group I to the fifth assessment report of the intergovernmental panel on climate change, In: Stocker TF et al (eds) Cambridge University Press, Cambridge, pp 741–866. www.climatechange2013.org

Fowler AM, Boswijk G, Lorrey A, Gergis J, Pirie M, McCloskey S, Palmer J, Wunder J (2012) Multi-centennial tree-ring record of ENSO-related activity in New Zealand. Nat Clim Change 2(3):172–176

Gao C, Robock A, Ammann C (2008) Volcanic forcing of climate over the past 1500 years: an improved ice core-based index for climate models. J Geophys Res 113(D23):D23111

Gergis J, Fowler A (2005) Classification of synchronous oceanic and atmospheric El Niño–Southern Oscillation (ENSO) events for palaeoclimate reconstruction. Int J Climatol 25:1541–1565

Gergis J, Fowler A (2009) A history of El Niño–Southern Oscillation (ENSO) events since A.D. 1525: implications for future climate change. Clim Change 92(3):343–387

Gergis J, Braganza K, Fowler A, Risbey J, Mooney S (2006) Reconstructing El Nino–Southern Oscillation (ENSO) from high-resolution palaeoarchives. J Quat Sci 21(7):707–722

Glantz MH (2001) Currents of change: impacts of El Niño and La Niña on climate and society. Cambridge Univeristy Press, Cambride

Gu D, Philander G (1997) Interdecadal climate fluctuations that depend on exchanges between the tropics and extratropics. Science 275:805–807

Hanley D, Bourassa M, O'Brian J, Smith S, Spade E (2003) A quantitative evaluation of ENSO indices. J Clim 16:1249–1258

Hereid KA, Quinn TM, Taylor FW, Shen C-C, Lawrence Edwards R, Cheng H (2012) Coral record of reduced El Niño activity in the early 15th to middle 17th centuries. Geology 41(1):51–54

Hourdin F, Foujols M-A, Codron F, Guemas V, Dufresne J-L, Bony S, Denvil S, Guez L, Lott F, Ghattas J, Braconnot P, Marti O, Meurdesoif Y, Bopp L (2013) Impact of the LMDZ atmospheric grid configuration on the climate and sensitivity of the IPSL-CM5A coupled model. Clim Dyn 40(9–10):2167–2192

Jungclaus JH, Giorgetta M, Reick C, Legutke S, Brovkin V, Crueger T, Esch M, Fieg K, Fischer N, Glushak K, Gayler V, Haak H, Hollweg HD, Kinne S, Kornblueh L, Matei D, Mauritsen T, Mikolajewicz U, Müller W, Notz D, Pohlmann T, Raddatz T, Rast S, Roeckner E, Salzmann M, Schmidt H, Schnur R, Segschneider J, Six K, Stockhause M, Wegner J, Widmann H, Wieners K-H, Claussen M, Marotzke J, Stevens B (2012) CMIP5 simulations of the max planck institute for meteorology (MPI-M) based on the MPI-ESM-P model: the past 1000 experiment, served by ESGF. World Data Center Clim. doi:10.1594/WDCC/CMIP5.MXEPpk

Kestin T, Karoly D, Yano JI (1998) Time-frequency variability of ENSO and stochastic simulations. J Clim 11:2258–2272

Kiem AS, Franks SW, Kuczera G (2003) Multi-decadal variability of flood risk. Geophys Res Lett 30(2):1035

Kociuba G, Power SB (2015) Inability of CMIP5 models to simulate recent strengthening of the walker circulation: implications for projections. J Clim 28(1):20–35

Krivova NA, Vieira LEA, Solanki SK (2010) Reconstruction of solar spectral irradiance since the Maunder minimum. J Geophys Res Space Phys 115(A12):A12112

Landrum L, Otto-Bliesner BL, Wahl ER, Conley A, Lawrence PJ, Rosenbloom N, Teng H (2013) Last Millennium climate and its variability in CCSM4. J Clim 26(4):1085–1111

Latif M, Barnett TP (1996) Decadal climate variability over the North Pacific and North America: dynamics and predictability. J Clim 9(10):2407–2423

Lean J, Rottman G, Harder J, Kopp G (2005) SORCE contributions to new understanding of global change and solar variability. In: Rottman G, Woods T, George V (eds) The solar radiation and climate experiment (SORCE). Springer, New York, pp 27–53

Lewis SC, LeGrande AN (2015) Stability of ENSO and its tropical Pacific teleconnections over the Last Millennium. Clim Past 11(10):1347–1360

Li J, Xie SP, Cook ER, Huang G, D'Arrigo R, Liu F, Ma J, Zheng XT (2011) Interdecadal modulation of El Nino amplitude during the past millennium. Nat Clim Change 1:114–118

Li J, Xie S-P, Cook ER, Morales MS, Christie DA, Johnson NC, Chen F, D'Arrigo R, Fowler AM, Gou X, Fang K (2013) El Nino modulations over the past seven centuries. Nat Clim Change 3:822–826

Mann M, Lees J (1996) Robust estimation of background noise and signal detection in climatic time series. Clim Change 33:409–445

Mann M, Zhang Z, Rutherford S, Bradley R, Hughes M, Shindell D, Ammann C, Faluvegi G, Ni F (2009) Global signatures and dynamical origins of the little ice age and medieval climate anomaly. Science 326:1256–1260

Mc Phaden M, Zhang D (2002) Slowdown of the meridional overturning circulation in the upper Pacific ocean. Nature 415:603–608

McGregor S, Timmermann A (2011) The effect of explosive tropical volcanism on ENSO. J Clim 24(8):2178–2191

McGregor S, Timmermann A, Timm O (2010) A unified proxy for ENSO and PDO variability since 1650. Clim Past 6:1–17

McGregor S, Timmermann A, England MH, Elison Timm O, Wittenberg AT (2013) Inferred changes in El Niño–Southern Oscillation variance over the past six centuries. Clim Past 9(5):2269–2284

Neukom R, Gergis J, Karoly D, Wanner H, Curran M, Elbert J, González-Rouco F, Linsley B, Moy A, Mundo I, Raible C, Steig E, van Ommen T, Vance T, Villalba R, Zinke J, Frank D (2014) Inter-hemispheric temperature variability over the Last Millennium. Nat Clim Change 4:362–367

Newman M, Alexander MA, Ault TR, Cobb KM, Deser C, Di Lorenzo E, Mantua NJ, Miller AJ, Minobe S, Nakamura H, Schneider N (2016) The Pacific decadal oscillation, revisited. J Clim. doi:10.1175/JCLI-D-15-0508.1

Nicholls N (1988) Low latitude volcanic eruptions and the El Nino–Southern Oscillation. J Climatol 8:91–95

Ohba M, Shiogama H, Yokohata T, Watanabe M (2013) Impact of strong tropical volcanic eruptions on ENSO simulated in a coupled GCM. J Clim 26(14):5169–5182

Percival DB, Walden AT (1993) Spectral analysis for physical applications: multitaper and conventional univariate techniques. Cambridge University Press, Cambridge

Phipps SJ, Rotstayn LD, Gordon HB, Roberts JL, Hirst AC, Budd WF (2012) The CSIRO Mk3L climate system model version 1.0-part 2 response to external forcings. Geosci Model Dev 5(3):649–682

Phipps S, McGregor H, Gergis J, Gallant AJE, Neukom R, Stevenson S, van Ommen T, Brown J, Fischer M, Ackerley D (2013) Paleoclimate data-model comparison: concepts, uncertainties and application to the climate of the past 1500 years. J Clim 26:6915–6936

Pongratz J, Reick C, Raddatz T, Claussen M (2008) A reconstruction of global agricultural areas and land cover for the Last Millennium. Glob Biogeochem Cycles 22:3018. doi:10.1029/2007gb003153

Power S, Colman R (2006) Multi-year predictability in a coupled general circulation model. Clim Dyn 26(2–3):247–272

Power S, Kociuba G (2011) The impact of global warming on the Southern Oscillation Index. Clim Dyn 37(9–10):1745–1754

Power S, Casey T, Folland C, Colman A, Mehta V (1999a) Inter-decadal modulation of the impact of ENSO on Australia. Clim Dyn 15:319–324

Power S, Tseitkin F, Mehta V, Lavery B, Torok S, Holbrook N (1999b) Decadal climate variability in Australia during the twentieth century. Int J Climatol 19:169–184

Rasmusson E, Carpenter T (1982) Variations in tropical sea surface temperature and surface wind fields associated with the Southern Oscillation/El Nino. Mon Weather Rev 110:354–384

Rasmusson E, Wallace J (1983) Meteorological aspects of the El Nino/Southern Oscillation. Science 222:1195–1202

Rayner NA, Parker DE, Horton EB, Folland CK, Alexander LV, Rowell DP, Kent EC, Kaplan A (2003) Global analyses of sea surface temperature, sea ice, and night marine air temperature since the late nineteenth century. J Geophys Res. doi:10.1029/2002JD002670

Rodgers KB, Friederichs P, Latif M (2004) Tropical Pacific decadal variability and its relation to decadal modulations of ENSO. J Clim 17(19):3761–3774

Ropelewski CF, Jones PD (1987) An extension of the Tahiti-Darwin Southern Oscillation Index. Mon Weather Rev 115:2161–2165

Sato M, Hansen JE, McCormick MP, Pollack JB (1993) Stratospheric aerosol optical depths, 1850–1990. J Geophys Res Atmos 98(D12):22987–22994

Schmidt GA, Ruedy R, Hansen JE, Aleinov I, Bell N, Bauer M, Bauer S, Cairns B, Canuto V, Cheng Y, Del Genio A, Faluvegi G, Friend AD, Hall TM, Hu Y, Kelley M, Kiang NY, Koch D, Lacis AA, Lerner J, Lo KK, Miller RL, Nazarenko L, Oinas V, Perlwitz J, Perlwitz J, Rind D, Romanou A, Russell GL, Sato M, Shindell DT, Stone PH, Sun S, Tausnev N, Thresher D, Yao M-S (2006) Present-day atmospheric simulations using giss model E: comparison to in situ, satellite, and reanalysis data. J Clim 19(2):153–192

Schmidt GA, Jungclaus JH, Ammann CM, Bard E, Braconnot P, Crowley TJ, Delaygue G, Joos F, Krivova NA, Muscheler R, Otto-Bliesner BL, Pongratz J, Shindell DT, Solanki SK, Steinhilber F, Vieira LEA (2011) Climate forcing reconstructions for use in PMIP simulations of the Last Millennium (v1.0). Geosci Model Dev 4(1):33–45

Schmidt GA, Jungclaus JH, Ammann CM, Bard E, Braconnot P, Crowley TJ, Delaygue G, Joos F, Krivova NA, Muscheler R, Otto-Bliesner BL, Pongratz J, Shindell DT, Solanki SK, Steinhilber F, Vieira LE (2012) Climate forcing reconstructions for use in PMIP simulations of the Last Millennium (v1.1). Geosci Model Dev 5:185–191

Stahle D, D' Arrigo R, Krusic P, Cleaveland M, Cook E, Allan R, Cole J, Dunbar R, Therrell M, Gay D, Moore M, Stokes M, Burns B, Villanueva-Diaz J, Thompson L (1998) Experimental dendroclimatic reconstruction of the Southern Oscillation. Bull Am Meteorol Soc 79(10):2137–2152

Stevenson S, Otto-Bliesner B, Fasullo J, Brady E (2016) "El Niño-like" hydroclimate response to Last Millennium volcanic eruptions. J Clim 29:2907–2921

Sueyoshi T, Ohgaito R, Yamamoto A, Chikamoto MO, Hajima T, Okajima H, Yoshimori M, Abe M, O'Ishi R, Saito F, Watanabe S, Kawamiya M, Abe-Ouchi A (2013) Set-up of the PMIP3 paleoclimate experiments conducted using an earth system model, MIROC-ESM. Geosci Model Dev 6(3):819–836

Taylor KE, Stouffer RJ, Meehl GA (2012) An overview of CMIP5 and the experiment design. Bull Am Meteorol Soc 93(4):485–498

Thomson DJ (1982) Spectrum estimation and harmonic analysis. Proc IEEE 70(9):1055–1096

Timmreck C (2012) Modeling the climatic effects of large explosive volcanic eruptions. Wiley Interdiscip Rev Clim Change 3(6):545–564

Troup A (1965) The Southern Oscillation. Q J R Meteorol Soc 91:490–506

Vecchi GA, Wittenberg AT (2010) El Niño and our future climate: where do we stand? Wiley Interdiscip Rev Clim Change 1(2):260–270

Vieira L, Solanki S (2009) Evolution of the solar magnetic flux on time scales of years to millennia. Astron Astrophys. doi:10.1051/0004-6361/200913276

Wang YM, Lean JL, Sheeley NR Jr (2005) Modeling the Sun's magnetic field and irradiance since 1713. Astrophys J 625(1):522–538

Watanabe S, Hajima T, Sudo K, Nagashima T, Takemura T, Okajima H, Nozawa T, Kawase H, Abe M, Yokohata T, Ise T, Sato H, Kato E, Takata K, Emori S, Kawamiya M (2011) MIROC-ESM 2010: model description and basic results of CMIP5-20c3m experiments. Geosci Model Dev 4(4):845–872

Welch PD (1967) The use of fast Fourier Transform for the estimation of power spectra: a method based on time averaging over short, modified periodograms. IEEE Trans Audio Electroacoust 15(2):70–73

Wilson R, Cook E, D'Arrigo R, Riedwyl N, Evans M, Tudhope A, Allan R (2010) Reconstructing ENSO: the influence of method, proxy data, climate forcing and teleconnections. J Quat Sci 25(1):62–78

Wittenberg AT (2009) Are historical records sufficient to constrain ENSO simulations? Geophys Res Lett 36(12):L12702

Wittenberg AT, Rosati A, Lau N-C, Ploshay JJ (2006) GFDL's CM2 global coupled climate models. Part III: tropical Pacific climate and ENSO. J Clim 19(5):698–722

Xin XG, Wu TW, Zhang J (2013) Introduction of CMIP5 experiments carried out with the climate system models of Beijing Climate Center. Adv Clim Change Res 4(1):41–49

Yan H, Sun L, Wang Y, Huang W, Qiu S, Yang C (2011) A record of the Southern Oscillation Index for the past 2000 years from precipitation proxies. Nat Geosci 4:611–614

Yu J-Y, Kim ST (2011) Reversed spatial asymmetries between El Niño and La Niña and their linkage to decadal ENSO modulation in CMIP3 models. J Clim 24(20):5423–5434

Zanchettin D, Timmreck C, Graf H-F, Rubino A, Lorenz S, Lohmann K, Krüger K, Jungclaus JH (2012) Bi-decadal variability excited in the coupled ocean–atmosphere system by strong tropical volcanic eruptions. Clim Dyn 39(1):419–444

Zhang D, Blender R, Fraedrich K (2013) Volcanoes and ENSO in millennium simulations: global impacts and regional reconstructions in East Asia. Theor Appl Climatol 111(3):437–454
Acknowledgements
The contribution of JRB and PH was supported by the Australian Climate Change Science Program. BH acknowledges funding from the Collaborative Research Network (CRN) for 'Self-sustaining Regions Research and Innovation Initiative' and ARC Linkage Project LP150100062. JG is supported by an Australian Research Council Fellowship DE130100668. We acknowledge the World Climate Research Programme's Working Group on Coupled Modelling, which is responsible for CMIP, and we thank the climate modelling groups for producing and making available their model output. For CMIP the U.S. Department of Energy's Program for Climate Model Diagnosis and Intercomparison provides coordinating support and led development of software infrastructure in partnership with the Global Organization for Earth System Science Portals. We also thank the PAGES 2K–PMIP working group for making the ENSO reconstruction dataset readily available. We thank Sophie Lewis for discussion on model evaluation, Francois Delage for help with accessing the climate model data, Karl Braganza for his enthusiasm for exploring spectra, David Karoly for his measured suggestions, and Guomin Wang and Christine Chung for early reviews.
Electronic supplementary material
Below is the link to the electronic supplementary material.
About this article
Cite this article
Hope, P., Henley, B.J., Gergis, J. et al. Time-varying spectral characteristics of ENSO over the Last Millennium. Clim Dyn 49, 1705–1727 (2017). https://doi.org/10.1007/s00382-016-3393-z
Received:

Accepted:

Published:

Issue Date:
Keywords
El Niño–Southern Oscillation

ENSO

SOI

Nino3.4

Last Millennium

Climate model simulations

Spectra

CMIP5

PMIP

Decadal variability