Abstract
In a suite of idealized experiments with the Community Atmospheric Model version 3 coupled to a slab ocean, we show that the atmospheric circulation response to CO2 increase is sensitive to extratropical cloud feedback that is potentially nonlinear. Doubling CO2 produces a poleward shift of the Southern Hemisphere (SH) midlatitude jet that is driven primarily by cloud shortwave feedback and modulated by ice albedo feedback, in agreement with earlier studies. More surprisingly, for CO2 increases smaller than ~25 %, the SH jet shifts equatorward. Nonlinearities are also apparent in the Northern Hemisphere, but with less zonal symmetry. Baroclinic instability theory and climate feedback analysis suggest that as the CO2 forcing amplitude is reduced, there is a transition from a regime in which cloud and circulation changes are largely decoupled to a regime in which they are highly coupled. In the dynamically coupled regime, there is an apparent cancellation between cloud feedback due to warming and cloud feedback due to the shifting jet, and this allows the ice albedo feedback to dominate in the high latitudes. The extent to which dynamical coupling effects exceed thermodynamic forcing effects is strongly influenced by cloud microphysics: an alternate model configuration with slightly increased cloud liquid (LIQ) produces poleward jet shifts regardless of the amplitude of CO2 forcing. Altering the cloud microphysics also produces substantial spread in the circulation response to CO2 doubling: the LIQ configuration produces a poleward SH jet shift approximately twice that produced under the default configuration. Analysis of large ensembles of the Canadian Earth System Model version 2 demonstrates that nonlinear, cloud-coupled jet shifts are also possible in comprehensive models. We still expect a poleward trend in SH jet latitude for timescales on which CO2 increases by more than ~25 %. But on shorter timescales, our results give good reason to expect significant equatorward deviations. We also discuss the implications for understanding the circulation response to small external forcings from other sources, such as the solar cycle.
Access options
Buy single article
Instant access to the full article PDF.
USD 39.95
Price includes VAT (USA)
Tax calculation will be finalised during checkout.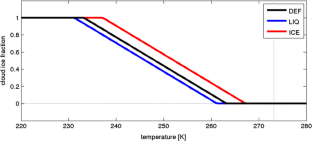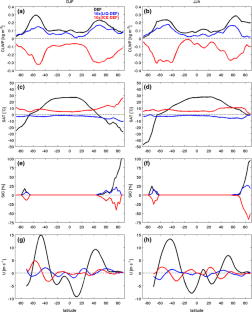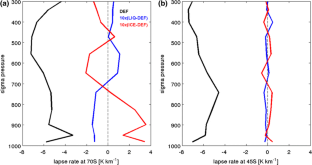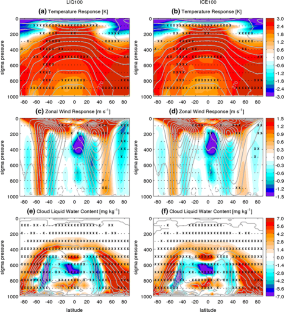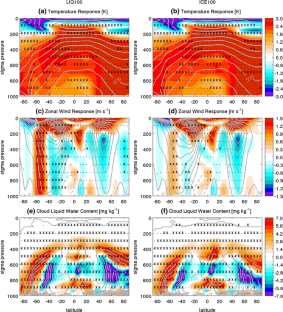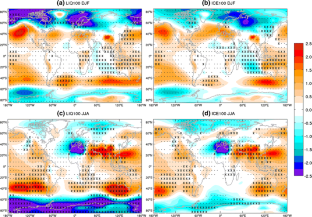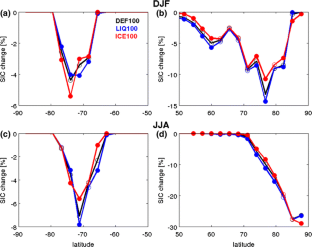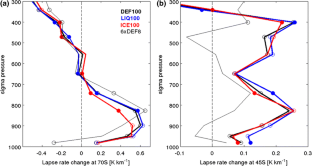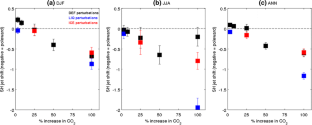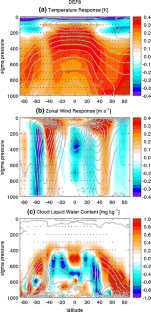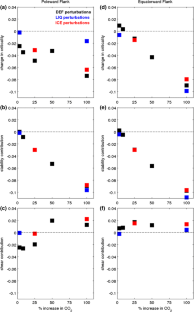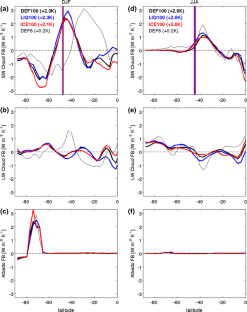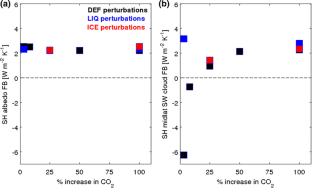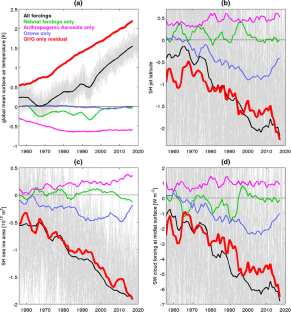 References
Arora VK, Scinocca JF, Boer GJ, Christian JR, Denman KL, Flato GM, Kharin VV, Lee WG, Merryfield WJ (2011) Carbon emission limits required to satisfy future representative concentration pathways of greenhouse gases. Geophys Res Lett 38(L05):805. doi:10.1029/2010GL046270

Bader J, Flügge M, Kvamstø NG, Mesquita MDS, Voigt A (2012) Atmospheric winter response to a projected future Antarctic sea-ice reduction: a dynamical analysis. Clim Dyn 40:2707–2718. doi:10.1007/s00382-012-1507-9

Barnes EA, Polvani L (2013) Response of the midlatitude jets, and of their variability, to increased greenhouse gases in the CMIP5 models. J Clim 26:7117–7135. doi:10.1175/JCLI-D-12-00536.1

Bitz CM, Shell KM, Gent PR, Bailey DA, Danabasoglu G, Armour KC, Holland MM, Kiehl JT (2012) Climate sensitivity of the Community Climate System Model, version 4. J Clim 25:3053–3070. doi:10.1175/JCLI-D-11-00290.1

Bretherton CS, Widmann M, Dymnikov VP, Wallace JM, Bladé I (1999) The effective number of spatial degrees of freedom of a time-varying field. J Clim 12:1990–2009. doi:10.1175/1520-0442(1999)012<1990:TENOSD>2.0.CO;2

Butler AH, Thompson DWJ, Heikes R (2010) The steady-state atmospheric circulation response to climate change-like thermal forcings in a simple general circulation model. J Clim 23:3474–3496. doi:10.1175/2010JCLI3228.1

Butler AH, Thompson DWJ, Birner T (2011) Isentropic slopes, downgradient eddy fluxes, and the extratropical atmospheric circulation response to tropical tropospheric heating. J Atmos Sci 68:2292–2305. doi:10.1175/JAS-D-10-05025.1

Ceppi P, Hartmann DL (2016) Clouds and the atmospheric circulation response to warming. J Clim 29:783–799. doi:10.1175/JCLI-D-15-0394.1

Ceppi P, Hwang YT, Frierson DMW, Hartmann DL (2012) Southern Hemisphere jet latitude biases in CMIP5 models linked to shortwave cloud forcing. Geophys Res Lett 39(L19):708. doi:10.1029/2012GL053115

Ceppi P, Zelinka MD, Hartmann DL (2014) The response of the Southern Hemispheric eddy-driven jet to future changes in shortwave radiation in CMIP5. Geophys Res Lett 41:3244–3250. doi:10.1002/2014GL060043

Ceppi P, Hartmann DL, Webb MJ (2016) Mechanisms of the negative shortwave cloud feedback in middle to high latitudes. J Clim 29:139–157. doi:10.1175/JCLI-D-15-0327.1

Cesana G, Waliser DE, Jiang X, Li JLF (2015) Multimodel evaluation of cloud phase transition using satellite and reanalysis data. J Geophys Res Atmos 120:7871–7892. doi:10.1002/2014JD022932

Clement A, DiNezio P, Deser C (2011) Rethinking the ocean's role in the Southern Oscillation. J Clim 24:4056–4072. doi:10.1175/2011JCLI3973.1

Collins WD, Rasch PJ, Boville BA, McCaa J, Williamson DL, Kiehl JT, Briegleb BP, Bitz C, Lin SJ, Zhang M, Dai Y (2004) Description of the NCAR Community Atmosphere Model (CAM 3.0). Technical report NCAR/TN-464+STR, National Center for Atmospheric Research. doi:10.5065/D63N21CH

Colman R (2003) A comparison of climate feedbacks in general circulation models. Clim Dyn 20:865–873. doi:10.1007/s00382-003-0310-z

Colman RA, McAvaney BJ (1997) A study of general circulation model climate feedbacks determined from perturbed sea surface temperature experiments. J Geophys Res Atmos 102:19383–19402. doi:10.1029/97JD00206

Dommenget D (2010) The slab ocean El Niño. Geophys Res Lett 37(L20):701. doi:10.1029/2010GL044888

Eade R, Smith D, Scaife A, Wallace E, Dunstone N, Hermanson L, Robinson N (2014) Do seasonal-to-decadal climate predictions underestimate the predictability of the real world? Geophys Res Lett 41:5620–5628. doi:10.1002/2014GL061146

Gerber EP, Voronin S, Polvani LM (2008) Testing the annular mode autocorrelation time scale in simple atmospheric general circulation models. Mon Weather Rev 136:1523–1536. doi:10.1175/2007MWR2211.1

Gettelman A, Kay JE, Fasullo JT (2013) Spatial decomposition of climate feedbacks in the Community Earth System Model. J Clim 26:3544–3561. doi:10.1175/JCLI-D-12-00497.1

Gray LJ, Beer J, Geller M, Haigh JD, Lockwood M, Matthes K, Cubasch U, Fleitmann D, Harrison G, Hood L, Luterbacher J, Meehl GA, Shindell D, van Geel B, White W (2010) Solar influences on climate. Rev Geophys 48:RG4001. doi:10.1029/2009RG000282

Grise KM, Polvani LM (2014) Southern Hemisphere cloud-dynamics biases in CMIP5 models and their implications for climate projections. J Clim 27:6074–6092. doi:10.1175/JCLI-D-14-00113.1

Hassanzadeh P, Kuang Z (2015) Blocking variability: Arctic amplification versus Arctic oscillation. Geophys Res Lett 42:8586–8595. doi:10.1002/2015GL065923,L065923

Jonko AK, Shell KM, Sanderson BM, Danabasoglu G (2012) Climate feedbacks in CCSM3 under changing CO\(_2\) forcing. Part I: Adapting the linear radiative kernel technique to feedback calculations for a broad range of forcings. J Clim 25:5260–5272. doi:10.1175/JCLI-D-11-00524.1

Kay JE, Medeiros B, Hwang YT, Gettelman A, Perket J, Flanner MG (2014) Processes controlling Southern Ocean shortwave climate feedbacks in CESM. Geophys Res Lett 41:616–622. doi:10.1002/2013GL058315

Kidston J, Gerber EP (2010) Intermodel variability of the poleward shift of the austral jet stream in the CMIP3 integrations linked to biases in 20th century climatology. Geophys Res Lett 37(L09):708. doi:10.1029/2010GL042873

Liu J, Wang B, Cane MA, Yim SY, Lee JY (2013) Divergent global precipitation changes induced by natural versus anthropogenic forcing. Nature 493:656–659. doi:10.1038/nature11784

Lu J, Chen G, Frierson DMW (2008) Response of the zonal mean atmospheric circulation to El Niño versus global warming. J Clim 21:5835–5851. doi:10.1175/2008JCLI2200.1

McCoy DT, Hartmann DL, Zelinka MD, Ceppi P, Grosvenor DP (2015) Mixed-phase cloud physics and Southern Ocean cloud feedback in climate models. J Geophys Res Atmos 120:9539–9554. doi:10.1002/2015JD023603

Miller RL, Schmidt GA, Shindell DT (2006) Forced annular variations in the 20th century Intergovernmental Panel on Climate Change Fourth Assessment Report models. J Geophys Res 111(D18):101. doi:10.1029/2005JD006323

Phillips N (1954) Energy transformations and meridional circulations associated with simple baroclinic waves in a two-level, quasi-geostrophic model. Tellus 6:273–286. doi:10.1111/j.2153-3490.1954.tb01123.x

Previdi M, Liepert BG (2007) Annular modes and Hadley cell expansion under global warming. Geophys Res Lett 34(L22):701. doi:10.1029/2007GL031243

Rasch PJ, Kristjánsson JE (1998) A comparison of the CCM3 model climate using diagnosed and predicted condensate parameterizations. J Clim 11:1587–1614. doi:10.1175/1520-0442(1998)011<1587:ACOTCM>2.0.CO;2

Seager R, Naik N (2011) A mechanisms-based approach to detecting recent anthropogenic hydroclimate change. J Clim 25:236–261. doi:10.1175/JCLI-D-11-00056.1

Shell KM, Kiehl JT, Shields CA (2008) Using the radiative kernel technique to calculate climate feedbacks in NCAR's Community Atmospheric Model. J Clim 21:2269–2282. doi:10.1175/2007JCLI2044.1

Sherwood SC, Ingram W, Tsushima Y, Satoh M, Roberts M, Vidale PL, O'Gorman PA (2010) Relative humidity changes in a warmer climate. J Geophys Res 115(D09):104. doi:10.1029/2009JD012585

Sherwood SC, Bony S, Boucher O, Bretherton C, Forster PM, Gregory JM, Stevens B (2015) Adjustments in the forcing-feedback framework for understanding climate change. Bull Am Meteorol Soc 96:217–228. doi:10.1175/BAMS-D-13-00167.1

Shindell DT, Schmidt GA, Miller RL, Mann ME (2003) Volcanic and solar forcing of climate change during the preindustrial era. J Clim 16:4094–4107. doi:10.1175/1520-0442(2003)016<4094:VASFOC>2.0.CO;2

Shindell DT, Faluvegi G, Miller RL, Schmidt GA, Hansen JE, Sun S (2006) Solar and anthropogenic forcing of tropical hydrology. Geophys Res Lett 33(L24):706. doi:10.1029/2006GL027468

Smith DM, Scaife AA, Eade R, Knight JR (2014) Seasonal to decadal prediction of the winter North Atlantic oscillation: emerging capability and future prospects. Q J R Meteorol Soc 142:611–617. doi:10.1002/qj.2479

Soden BJ, Held IM (2006) An assessment of climate feedbacks in coupled ocean–atmosphere models. J Clim 19:3354–3360. doi:10.1175/JCLI3799.1

Soden BJ, Held IM, Colman R, Shell KM, Kiehl JT, Shields CA (2008) Quantifying climate feedbacks using radiative kernels. J Clim 21:3504–3520. doi:10.1175/2007JCLI2110.1

Son SW, Polvani LM, Waugh DW, Akiyoshi H, Garcia R, Kinnison D, Pawson S, Rozanov E, Shepherd TG, Shibata K (2008) The impact of stratospheric ozone recovery on the Southern Hemisphere westerly jet. Science 320:1486–1489. doi:10.1126/science.1155939

Son SW, Tandon NF, Polvani LM, Waugh DW (2009) Ozone hole and Southern Hemisphere climate change. Geophys Res Lett 36(L15):705. doi:10.1029/2009GL038671

Stocker TF, Qin D, Plattner GK, Tignor MMB, Allen SK, Boschung J, Nauels A, Xia Y, Bex V, Midgley PM (eds) (2014) Climate Change 2013: the physical science basis. Working Group I Contribution to the Fifth Assessment Report of the Intergovernmental Panel on Climate Change. Cambridge University Press, Cambridge

Sun L, Deser C, Tomas RA (2015) Mechanisms of stratospheric and tropospheric circulation response to projected Arctic sea ice loss. J Clim 28:7824–7845. doi:10.1175/JCLI-D-15-0169.1

Tandon NF (2013) What is driving changes in the tropospheric circulation? New insights from simplified models. PhD thesis, Columbia University

Tandon NF, Gerber EP, Sobel AH, Polvani LM (2013) Understanding Hadley cell expansion versus contraction: insights from simplified models and implications for recent observations. J Clim 26:4304–4321. doi:10.1175/JCLI-D-12-00598.1

Tian B, Fetzer EJ, Kahn BH, Teixeira J, Manning E, Hearty T (2013) Evaluating CMIP5 models using AIRS tropospheric air temperature and specific humidity climatology. J Geophys Res Atmos 118:114–134. doi:10.1029/2012JD018607

Tsushima Y, Emori S, Ogura T, Kimoto M, Webb MJ, Williams KD, Ringer MA, Soden BJ, Li B, Andronova N (2006) Importance of the mixed-phase cloud distribution in the control climate for assessing the response of clouds to carbon dioxide increase: a multi-model study. Clim Dyn 27:113–126. doi:10.1007/s00382-006-0127-7

Voigt A, Shaw TA (2015) Circulation response to warming shaped by radiative changes of clouds and water vapour. Nat Geosci 8:102–106. doi:10.1038/ngeo2345

van Vuuren D, Edmonds J, Kainuma M, Riahi K, Thomson A, Hibbard K, Hurtt G, Kram T, Krey V, Lamarque JF, Masui T, Meinshausen M, Nakicenovic N, Smith S, Rose S (2011) The representative concentration pathways: an overview. Clim Change 109:5–31. doi:10.1007/s10584-011-0148-z

Walker CC, Schneider T (2006) Eddy influences on Hadley circulations: simulations with an idealized GCM. J Atmos Sci 63:3333–3350. doi:10.1175/JAS3821.1

Wall CJ, Hartmann DL (2015) On the influence of poleward jet shift on shortwave cloud feedback in global climate models. J Adv Model Earth Syst 7:2044–2059. doi:10.1002/2015MS000520

Wenzel S, Eyring V, Gerber EP, Karpechko AY (2016) Constraining future summer austral jet stream positions in the CMIP5 ensemble by process-oriented multiple diagnostic regression. J Clim 29:673–687. doi:10.1175/JCLI-D-15-0412.1

Wu Y, Seager R, Ting M, Naik N, Shaw TA (2012) Atmospheric circulation response to an instantaneous doubling of carbon dioxide. Part I: Model experiments and transient thermal response in the troposphere. J Clim 25:2862–2879. doi:10.1175/JCLI-D-11-00284.1

Yin JH (2005) A consistent poleward shift of the storm tracks in simulations of 21st century climate. Geophys Res Lett 32(L18):701. doi:10.1029/2005GL023684
Acknowledgments
This work was funded by the BNP Paribas Foundation under the PRECLIDE project and by the Canadian Sea Ice and Snow Evolution (CanSISE) Network. We acknowledge Environment and Climate Change Canada's Canadian Centre for Climate Modelling and Analysis for executing and making available the CanESM2 Large Ensemble simulations used in this study, and the CanSISE Network for proposing the simulations. We thank Gus Correa and Lamont–Doherty Earth Observatory for their generosity with computing resources and technical support. We thank Karen Shell for providing CAM3 radiative kernels and Paulo Ceppi for helpful guidance on the climate feedback calculations. We thank Lorenzo Polvani and Paul Kushner for helpful discussions, Gabriel Chiodo for valuable feedback on a draft manuscript, and Cheikh Mbengue, Andrew Gettelman and two anonymous reviewers for constructive feedback on the submitted manuscript.
About this article
Cite this article
Tandon, N.F., Cane, M.A. Which way will the circulation shift in a changing climate? Possible nonlinearity of extratropical cloud feedbacks. Clim Dyn 48, 3759–3777 (2017). https://doi.org/10.1007/s00382-016-3301-6
Received:

Accepted:

Published:

Issue Date:
Keywords
Atmospheric circulation

Climate change

Cloud feedback

Cloud microphysics