Abstract
This study presents an analysis of three palaeoclimate rainfall reconstructions from the Southern Hemisphere regions of south-eastern Australia (SEA), southern South Africa (SAF) and southern South America (SSA). We provide a first comparison of rainfall variations in these three regions over the past two centuries, with a focus on identifying synchronous wet and dry periods. Despite the uncertainties associated with the spatial and temporal limitations of the rainfall reconstructions, we find evidence of dynamically-forced climate influences. An investigation of the twentieth century relationship between regional rainfall and the large-scale climate circulation features of the Pacific, Indian and Southern Ocean regions revealed that Indo-Pacific variations of the El Niño–Southern Oscillation (ENSO) and the Indian Ocean dipole dominate rainfall variability in SEA and SAF, while the higher latitude Southern Annular Mode (SAM) exerts a greater influence in SSA. An assessment of the stability of the regional rainfall–climate circulation modes over the past two centuries revealed a number of non-stationarities, the most notable of which occurs during the early nineteenth century around 1820. This corresponds to a time when the influence of ENSO on SEA, SAF and SSA rainfall weakens and there is a strengthening of the influence of SAM. We conclude by advocating the use of long-term palaeoclimate data to estimate decadal rainfall variability for future water resource management.
Access options
Buy single article
Instant access to the full article PDF.
US$ 39.95
Tax calculation will be finalised during checkout.
Subscribe to journal
Immediate online access to all issues from 2019. Subscription will auto renew annually.
US$ 119
Tax calculation will be finalised during checkout.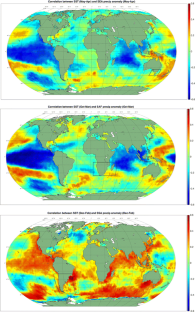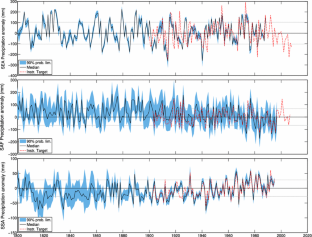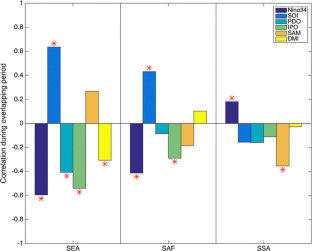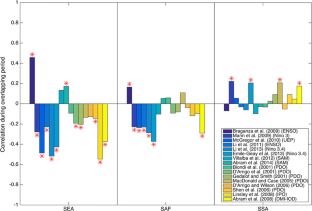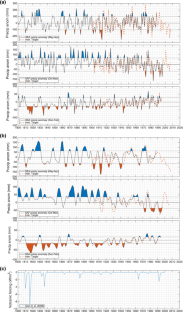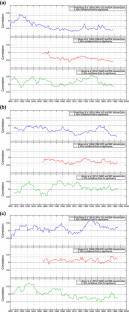 References
Abram N, Gagan M, Cole J, Hantoro W, Mudelsee M (2008) Recent intensification of tropical climate variability in the Indian Ocean. Nat Geosci 1:849–853

Abram NJ, Mulvaney R, Vimeux F, Phipps SJ, Turner J, England MH (2014) Evolution of the Southern Annular Mode during the past millennium. Nat Clim Change 4:564–569

Allan R, Lindsay J, Parker D (1996) El Nino Southern Oscillation and climate variability. CSIRO, Melbourne

Ashcroft L, Karoly DJ, Gergis J (2014) Southeastern Australian climate variability 1860–2009: a multivariate analysis. Int J Climatol 34(6):1928–1944

Ashcroft L, Gergis J, Karoly DJ (2015) Long-term stationarity of El Niño—Southern Oscillation teleconnections in southeastern Australia. Clim Dyn. doi:10.1007/s00382-015-2746-3

Ault TR, Cole JE, Overpeck JT, Pederson GT, Meko DM (2014) Assessing the risk of persistent drought using climate model simulations and paleoclimate data. J Clim 27:7529–7549

Batehup R, McGregor S, Gallant AJE (2015) The influence of non-stationary teleconnections on palaeoclimate reconstructions of ENSO variance using a pseudoproxy framework. Clim Past 11(12):1733–1749

Biondi F, Gershunov A, Cayan D (2001) North Pacific decadal climate variability since 1661. J Clim 14:5–10

Braganza K, Gergis J, Power S, Risbey J, Fowler A (2009) A multiproxy index of the El Nino–Southern Oscillation, A.D. 1525–1982. J Geophys Res 114(D5):D05106

Buckley B, Anchukaitis K, Penny D, Fletcher R, Cook E, Sano M, Nam L, Wichienkeeo A, Minh T, Hong T (2010) Climate as a contributing factor in the demise of Angkor, Cambodia. Proc Natl Acad Sci 107(15):6748–6752

Büntgen U, Tegel W, Nicolussi K, McCormick M, Frank D, Trouet V, Kaplan JO, Herzig F, Heussner K-U, Wanner H, Luterbacher J, Esper J (2011) 2500 years of European climate variability and human susceptibility. Science 331(6017):578–582

Carvalho LMV, Jones C, Ambrizzi T (2005) Opposite phases of the Antarctic Oscillation and relationships with intraseasonal to interannual activity in the tropics during the austral summer. J Clim 18(5):702–718

Christie D, Boninsegna J, Cleaveland M, Lara A, Le Quesne C, Morales M, Mudelsee M, Stahle D, Villalba R (2009) Aridity changes in the temperate–Mediterranean transition of the Andes since 1346 reconstructed from tree-rings. Clim Dyn 36(7–8):1505–1521

Compagnucci RH, Agosta EA, Vargas WM (2002) Climatic change and quasi-oscillations in central-west Argentina summer precipitation: main features and coherent behaviour with southern African region. Clim Dyn 18(5):421–435

Cook E, Meko D, Stahle D, Cleaveland M (1999) Drought reconstructions for the continental United States. J Clim 12(4):1145–1162

Cook E, Woodhouse C, Eakin M, Meko D, Stahle D (2004) Long-term aridity changes in the western United States. Science 306:1015–1018

Cook ER, Anchukaitis KJ, Buckley BM, D'Arrigo RD, Jacoby GC, Wright WE (2010) Asian Monsoon failure and megadrought during the last millennium. Science 328(5977):486–489

Cook BI, Ault TR, Smerdon JE (2015) Unprecedented 21st century drought risk in the American Southwest and Central Plains. Sci Adv 1(1):e1400082

Dai A (2010) Drought under global warming: a review. Wiley Interdiscip Rev: Clim Change 2(1):45–65

D'Arrigo R, Wilson R (2006) On the Asian expression of the PDO. Int J Climatol 26(12):1607–1617

D'Arrigo R, Villalba R, Wiles G (2001) Tree ring estimates of pacific decadal climate variability. Clim Dyn 18:219–224

Dawdy DR, Matalas NC (1964) Statistical and probability analysis of hydrologic data, part III: analysis of variance, covariance and time series. In: Chow VT (ed) Handbook of applied hydrology, a compendium of water-resources technology. McGraw-Hill Book Company, New York, pp 8.68–8.90

Delworth TL, Zeng F (2014) Regional rainfall decline in Australia attributed to anthropogenic greenhouse gases and ozone levels. Nat Geosci 7(8):583–587

Ding Q, Steig E, Battisti D, Küttel M (2011) Winter warming in West Antarctica caused by central tropical Pacific warming. Nat Geosci 4:398–403

Ding Q, Steig EJ, Battisti DS, Wallace JM (2012) Influence of the tropics on the Southern Annular Mode. J Clim 25(18):6330–6348

Emile-Geay J, Cobb KM, Mann ME, Wittenberg AT (2013) Estimating central equatorial Pacific SST variability over the past millennium. Part 2: reconstructions and implications. J Clim 26:2329–2352

Fenby C, Gergis J (2012) Rainfall variations in south-eastern Australia part 1: consolidating evidence from pre-instrumental documentary sources, 1788–1860. Int J Climatol 33(14):2956–2972

Fogt RL, Bromwich DH (2006) Decadal variability of the ENSO teleconnection to the high-latitude south pacific governed by coupling with the Southern Annular Mode. J Clim 19(6):979–997

Fogt R, Bromwich D, Hines K (2011) Understanding the SAM influence on the South Pacific ENSO teleconnection. Clim Dyn 36(7–8):1555–1576

Folland C, Salinger J, Jiang N, Rayner N (2003) Trends and variations in South Pacific island and ocean surface temperatures. J Clim 16:2859–2874

Gallant AJE, Gergis J (2011) An experimental streamflow reconstruction for the River Murray, Australia, 1783–1988. Water Resour Res 47:1–15

Gallant AJE, Phipps SJ, Karoly DJ, Mullan AB, Lorrey AM (2013) Non-stationary Australasian teleconnections and implications for paleoclimate reconstructions. J Clim 26:8827–8849

Gao C, Robock A, Ammann C (2008) Volcanic forcing of climate over the past 1500 years: an improved ice core-based index for climate models. J Geophys Res 113(D23):D23111

Garreaud R, Battisti D (1999) Interannual (ENSO) and interdecadal (ENSO-like) variability in the Southern Hemisphere tropospheric circulation. J Clim 12:2113–2123

Garreaud RD, Vuille M, Compagnucci R, Marengo J (2009) Present-day South American climate. Palaeogeogr Palaeoclimatol Palaeoecol 281(3–4):180–195

Gedalof Z, Smith DJ (2001) Interdecadal climate variability and regime-scale shifts in Pacific North America. Geophys Res Lett 28(8):1515–1518

Gergis J, Ashcroft L (2013) Rainfall variations in south-eastern Australia part 2: a comparison of documentary, early instrumental and palaeoclimate records, 1788–2008. Int J Climatol 33(14):2973–2987

Gergis J, Fowler A (2005) Classification of synchronous oceanic and atmospheric El Niño–Southern Oscillation (ENSO) events for palaeoclimate reconstruction. Int J Climatol 25:1541–1565

Gergis J, Gallant AJE, Braganza K, Karoly DJ, Allen K, Cullen L, D'Arrigo R, Goodwin I, Grierson P, McGregor S (2012) On the long-term context of the 1997–2009 'Big Dry' in south-eastern Australia: insights from a 206-year multi-proxy rainfall reconstruction. Clim Change 111(3):923–944

Grab SW, Nash DJ (2010) Documentary evidence of climate variability during cold seasons in Lesotho, southern Africa, 1833–1900. Clim Dyn. doi:10.1007/s00382-009-0598-4

Henley BJ, Thyer MA, Kuczera G, Franks SW (2011) Climate-informed stochastic hydrological modeling: incorporating decadal-scale variability using paleo data. Water Resour Res 47(11):1–14

Henley BJ, Thyer MA, Kuczera G (2013) Climate driver informed short-term drought risk evaluation. Water Resour Res 49(5):1–10

Henley B, Gergis J, Karoly D, Power S, Kennedy J, Folland C (2015) A Tripole Index for the interdecadal Pacific oscillation. Clim Dyn 45:3077–3090

Hennessy K, Fitzharris B, Bates BC, Harvey N, Howden SM, Hughes L, Salinger J, Warrick R (2007) Australia and New Zealand. In: Parry ML, Canziani OF, Palutikof JP, van der Linden PJ, Hanson CE (eds) Climate change 2007: impacts, adaptation and vulnerability. Contribution of Working Group II to the fourth assessment report of the intergovernmental panel on climate change. Cambridge University Press, Cambridge, UK, pp 507–540

Jacques-Coper M, Brönnimann S (2014) Summer temperature in the eastern part of southern South America: its variability in the twentieth century and a teleconnection with Oceania. Clim Dyn 43(7):2111–2130

Jones DA, Wang W, Fawcett R (2009) High-quality spatial climate data-sets for Australia. Aust Meteorol Oceanogr J 58:233–248

Joseph R, Zeng N (2009) Seasonally modulated tropical drought induced by volcanic aerosol. J Clim 24(8):2045–2060

Kallis G (2008) Droughts. Annu Rev Environ Resour 33(1):85–118

Karoly DJ (1990) The role of transient eddies in low-frequency zonal variations of the Southern Hemisphere circulation. Tellus A 42A:41–50

Karoly D, Hope P, Jones P (1996) Decadal variations of the Southern Hemisphere circualtion. Int J Climatol 16:723–738

Li J, Xie SP, Cook ER, Huang G, D'Arrigo R, Liu F, Ma J, Zheng XT (2011) Interdecadal modulation of El Nino amplitude during the past millennium. Nat Clim Change 1:114–118

Li J, Xie S-P, Cook ER, Morales MS, Christie DA, Johnson NC, Chen F, D'Arrigo R, Fowler AM, Gou X, Fang K (2013) El Nino modulations over the past seven centuries. Nat Clim Change 3:822–826

Linsley B, Zhang P, Kaplan A, Howe S, Wellington G (2008) Interdecadal-decadal climate variability from multicoral oxygen isotope records in the South Pacific Convergence Zone region since 1650 A.D. Paleoceanography 23:1–16

Luterbacher J, García-Herrera R, Allan R, Alvarez-Castro MC, Benito G, Booth J, Büntgen U, Colombaroli D, Davis B, Esper J, Felis T, Fleitmann D, Frank D, Gallego D, Garcia-Bustamante E, González-Rouco JF, Goosse H, Kiefer T, Macklin MG, Manning S, Montagna P, Newman L, Power MJ, Rath V, Ribera P, Roberts N, Silenzi S, Tinner W, Valero-Garces B, van der Schrier G, Tzedakis C, Vannière B, Wanner H, Werner JP, Willett G, Xoplaki E, Zerefos CS, Zorita E (2012) A review of 2000 years of paleoclimatic evidence in the Mediterranean. In: Lionello P, Malanotte-Rizzoli P, Boscolo R (eds) The Mediterranean climate: from past to future. Elsevier, Amsterdam, The Netherlands, pp 87–185

MacDonald GM, Case RA (2005) Variations in the Pacific decadal oscillation over the past millennium. Geophys Res Lett 32(8):L08703

Mann M, Zhang Z, Rutherford S, Bradley R, Hughes M, Shindell D, Ammann C, Faluvegi G, Ni F (2009) Global signatures and dynamical origins of the Little Ice Age and medieval climate anomaly. Science 326:1256–1260

Mantua N, Hare S (2002) The Pacific decadal oscillation. J Oceanogr 58(1):35–44

Marshall G (2003) Trends in the Southern Annular mode from observations and reanalyses. J Clim 16(24):4134–4143

Masson-Delmotte V, Schulz M, Abe-Ouchi A, Beer J, Ganopolski J, González Rouco JF, Jansen E, Lambeck K, Luterbacher J, Naish T, Osborn T, Otto-Bliesner B, Quinn T, Ramesh R, Rojas M, Shao X, Timmermann A (2013) Information from paleoclimate archives. In: Stocker TF, Qin D, Plattner G-K, Tignor M, Allen SK, Doschung J, Nauels A, Xia Y, Bex V, Midgley PM (eds) Climate change 2013: the physical science basis. Contribution of working group I to the fifth assessment report of the intergovernmental panel on climate change. Cambridge University Press, Cambridge, UK, pp 383–464

McGregor S, Timmermann A, Timm O (2010) A unified proxy for ENSO and PDO variability since 1650. Clim Past 6:1–17

Meinke H, deVoil P, Hammer GL, Power S, Allan R, Stone RC, Folland C, Potgieter A (2005) Rainfall variability at decadal and longer time scales: signal or noise? J Clim 18(1):89–96

Mitchell TD, Jones PD (2005) An improved method of constructing a database of monthly climate observations and associated high-resolution grids. Int J Climatol 25(6):693–712

Morales MS, Christie DA, Villalba R, Argollo J, Pacajes J, Silva JS, Alvarez CA, Llancabure JC, Soliz Gamboa CC (2012) Precipitation changes in the South American Altiplano since 1300 AD reconstructed by tree-rings. Clim Past 8(2):653–666

Nash DJ, Adamson GCD (2014) Recent advances in the historical climatology of the tropics and subtropics. Bull Am Meteorol Soc 95(1):131–146

Nash DJ, Grab SW (2010) "A sky of brass and burning winds": documentary evidence of rainfall variability in the Kingdom of Lesotho, Southern Africa, 1824–1900. Clim Change 101(3–4):617–653

Neukom R, Gergis J (2012) Southern Hemisphere high-resolution palaeoclimate records of the last 2000 years. Holocene 5:501–524

Neukom R, Prieto MD, Moyano R, Luterbacher J, Pfister C, Villalba R, Jones PD, Wanner H (2009) An extended network of documentary data from South America and its potential for quantitative precipitation reconstructions back to the 16th century. Geophys Res Lett. doi:10.1029/2010GL043680

Neukom R, Luterbacher J, Villalba R, Küttel M, Frank D, Jones PD, Grosjean M, Esper J, Lopez L, Wanner H (2010) Multi-centennial summer and winter precipitation variability in southern South America. Geophys Res Lett. doi:10.1029/2010GL043680

Neukom R, Luterbacher J, Villalba R, Kuttel M, Frank D, Jones PD, Grosjean M, Wanner H, Aravena J, Black D, Christie D, D'Arrigo R, Lara A, Morales M, Soliz-Gamboa C, Srur A, Urrutia R, von Gunten L (2011) Multiproxy summer and winter surface air temperature field reconstructions for southern South America covering the past centuries. Clim Dyn 37(1–2):35–51

Neukom R, Gergis J, Karoly D, Wanner H, Curran M, Elbert J, González-Rouco F, Linsley B, Moy A, Mundo I, Raible C, Steig E, van Ommen T, Vance T, Villalba R, Zinke J, Frank D (2014a) Inter-hemispheric temperature variability over the last millennium. Nat Clim Change 4:362–367

Neukom R, Nash DJ, Endfield GH, Grab SW, Grove CA, Kelso C, Vogel CH, Zinke J (2014b) Multi-proxy summer and winter precipitation reconstruction for southern Africa over the last 200 years. Clim Dyn 42(9–10):2713–2726

Pauling A, Luterbacher J, Casty C, Wanner H (2006) Five hundred years of gridded high-resolution precipitation reconstructions over Europe and the connection to large-scale circulation. Clim Dyn 26(4):387–405

Peel MC, Pegram GGS, McMahon TA (2004) Global analysis of runs of annual precipitation and runoff equal to or below the median: run length. Int J Climatol 24(7):807–822

Peel MC, McMahon TA, Pegram GGS (2005) Global analysis of runs of annual precipitation and runoff equal to or below the median: run magnitude and severity. Int J Climatol 25(5):549–568

Power S, Casey T, Folland C, Colman A, Mehta V (1999) Inter-decadal modulation of the impact of ENSO on Australia. Clim Dyn 15:319–324

Rayner NA, Parker DE, Horton EB, Folland CK, Alexander LV, Rowell DP, Kent EC, Kaplan A (2003) Global analyses of sea surface temperature, sea ice, and night marine air temperature since the late nineteenth century. J Geophys Res. doi:10.1029/2002JD002670

Risbey JS, Pook MJ, McIntosh PC, Wheeler MC, Hendon HH (2009) On the remote drivers of rainfall variability in Australia. Mon Weather Rev 137:3233–3253

Robock A (2000) Volcanic eruptions and climate. Rev Geophys 38(2):191–219

Saji N, Goswami G, Vinayachandran P, Yamagata T (1999) A dipole mode in the tropical Indian Ocean. Nature 401:360–363

Shanahan TM, Overpeck JT, Anchukaitis KJ, Beck JW, Cole JE, Dettman DL, Peck JA, Scholz CA, King JW (2009) Atlantic forcing of persistent drought in West Africa. Science 324(5925):377–380

Shen C, Wang WC, Gong W, Hao Z (2006) A Pacific decadal oscillation record since 1470 AD reconstructed from proxy data of summer rainfall over eastern China. Geophys Res Lett. doi:10.1029/2005GL024804

Stahle DW, Diaz JV, Burnette DJ, Paredes JC, Heim RR Jr, Fye FK, Acuna Soto R, Therrell MD, Cleaveland MK, Stahle DK (2011) Major Mesoamerican droughts of the past millennium. Geophys Res Lett 38(5):L05703

Stott P, Gillett N, Hegerl G, Karoly DJ, Stone D, Zhang X, Zwiers F (2010) Detection and attribution of climate change: a regional perspective. Wiley Interdiscip Rev Clim Change 1(2):192–211

Thyer M, Frost AJ, Kuczera G (2006) Parameter estimation and model identification for stochastic models of annual hydrological data: is the observed record long enough? J Hydrol 330(1–2):313–328

Tierney JE, Smerdon JE, Anchukaitis KJ, Seager R (2013) Multidecadal variability in East African hydroclimate controlled by the Indian Ocean. Nature 493(7432):389–392

Touchan R, Anchukaitis K, Meko D, Sabir M, Attalah S, Aloui A (2011) Spatiotemporal drought variability in northwestern Africa over the last nine centuries. Clim Dyn 37(1):237–252

Trenberth KE, Dai A (2007) Effects of Mount Pinatubo volcanic eruption on the hydrological cycle as an analog of geoengineering. Geophys Res Lett 34(15):L15702

Trenberth K, Stepaniak D (2001) Indices of El Nino evolution. J Clim 14:1697–1701

Troup A (1965) The Southern Oscillation. Q J R Meteorol Soc 91:490–506

Tyson PD (1980) Temporal and spatial variation of rainfall anomalies in Africa south of latitude 22° during the period of meteorological record. Clim Change 2(4):363–371

Tyson PD (1986) Climate change and variability in Southern Africa. Oxford University Press, Capetown

Tyson PD, Sturman AP, Fitzharris BB, Mason SJ, Owens IF (1997) Circulation changes and teleconnections between glacial advances on the west coast of New Zealand and extended spells of drought years in South Africa. Int J Climatol 17(14):1499–1512

Verdon-Kidd D, Kiem A (2009) Nature and causes of protracted droughts in southeast Australia: comparison between the Federation, WWII, and Big Dry droughts. Geophys Res Lett. doi:10.1029/2009GL041067

Verdon-Kidd DC, Kiem AS (2014) Synchronicity of historical dry spells in the Southern Hemisphere. Hydrol Earth Syst Sci 10(12):14571–14590

Villalba R, Lara A, Masiokas MH, Urrutia R, Luckman BH, Marshall GJ, Mundo IA, Christie DA, Cook ER, Neukom R, Allen K, Fenwick P, Boninsegna JA, Srur AM, Morales MS, Araneo D, Palmer JG, Cuq E, Aravena JC, Holz A, LeQuesne C (2012) Unusual Southern Hemisphere tree growth patterns induced by changes in the Southern Annular Mode. Nat Geosci 5:793–798

Zhang S, Wang B (2008) Global summer monsoon rainy seasons. Int J Climatol 28(12):1563–1578
Acknowledgments
JG was funded by Australian Research Council Project DE130100668. BJH acknowledges funding support from the Cooperative Research Network Self Sustaining Regions Research and Innovation Initiative in partnership with Federation University, Australia, and Australian Research Council Project LP150100062. Raphael Neukom, David Karoly and Alex Pezza are thanked for helpful advice throughout the course of this study. We are grateful for the thorough reviewer comments on the manuscript that greatly improved the paper. This work is a product of the Aus2k working group of the Past Global Changes (PAGES) Regional 2k Network.
Electronic supplementary material
Below is the link to the electronic supplementary material.
About this article
Cite this article
Gergis, J., Henley, B.J. Southern Hemisphere rainfall variability over the past 200 years. Clim Dyn 48, 2087–2105 (2017). https://doi.org/10.1007/s00382-016-3191-7
Received:

Accepted:

Published:

Issue Date:
Keywords
Southeastern Australia

South Africa

South America

Rainfall

Drought

Decadal climate variability

El Niño–Southern Oscillation

Indian Ocean dipole

Southern Annular Mode

Southern Hemisphere