Abstract
This study analyzes climate responses to four volcanic eruptions that occurred since 1960s using observations (including reanalyses) and CMIP5 multi-model simulations. Changes in surface air temperature, specific humidity, and precipitation over the global land are examined during pre- to post-eruption years using a composite analysis. Observations exhibit consistent decreases in temperature, humidity, and precipitation following eruptions, which are reasonably captured by CMIP5 multi-models simulated including volcanic forcing. The observed and simulated decreases in temperature and humidity are stronger than the internal variability ranges (estimated from pre-industrial control simulations), indicating robust responses. On the other hand, the observed precipitation decrease is significant but the CMIP5 models considerably underestimate it, as reported by previous studies. In order to explore important physical processes determining climate responses to volcanic forcing, a surface energy budget is analyzed together with inter-model relationship between variables. A strong inter-model correlation (r = 0.89) appears between temperature and humidity, representing the Clausius–Clapeyron relation. Interestingly, precipitation is found to be closely related with latent heat flux (r = −0.50) and vertical motion (ω) at 500 hPa level (r = −0.68), changes of which are also underestimated by models. Further, by comparing estimates of precipitation minus evaporation between land and ocean, which is significantly correlated with vertical motion (r = −0.73), it is found that monsoon circulation weakens after volcanic eruptions but CMIP5 models substantially underestimate it. Our results suggest that this dynamic response via monsoon circulation weakening can be a critical factor for models' underestimation of precipitation reduction to volcanic forcing.
Access options
Buy single article
Instant access to the full article PDF.
US$ 39.95
Tax calculation will be finalised during checkout.
Subscribe to journal
Immediate online access to all issues from 2019. Subscription will auto renew annually.
US$ 119
Tax calculation will be finalised during checkout.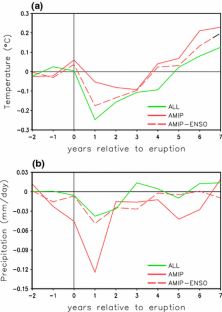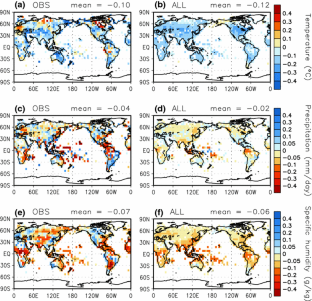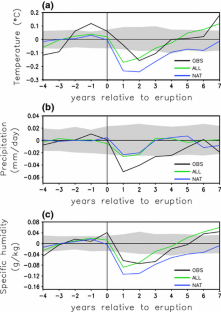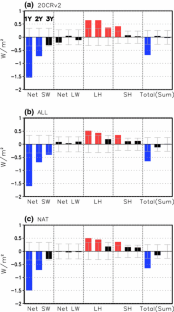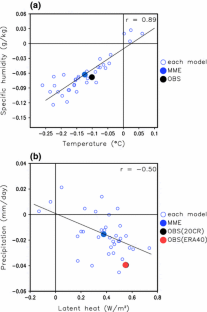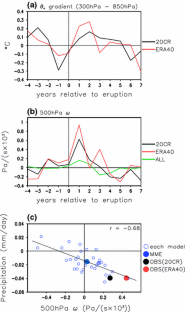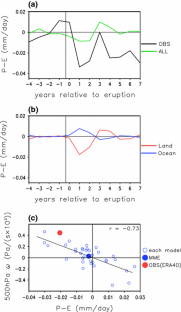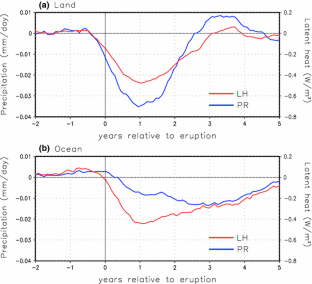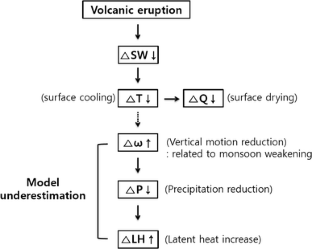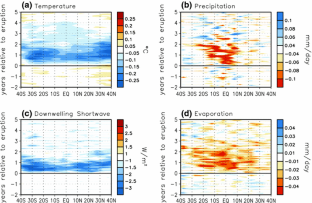 References
Adams JB, Mann ME, Ammann CM (2003) Proxy evidence for an El Niño-like response to volcanic forcing. Nature 426:274–278

Andres RJ, Kasgnoc AD (1998) A time-averaged inventory of subaerial volcanic sulfur emissions. J Geophys Res Atmos 103:25251–25261

Bala G, Duffy PB, Taylor KE (2008) Impact of geoengineering schemes on the global hydrological cycle. Proc Natl Acad Sci USA 105:7664–7669

Baran AJ, Foot JS (1994) New application of the operational sounder HIRS in determining a climatology of sulphuric acid aerosol from the Pinatubo eruption. J Geophys Res 99:25673–25679

Barnes JE, Hofmann DJ (1997) Lidar measurements of stratospheric aerosol over Mauna Loa Observatory. Geophys Res Lett 24:1923–1926

Bluth GJS, Rose WI, Sprod IE, Krueger AJ (1997) Stratospheric loading of sulfur from explosive volcanic eruptions. J Geol 105:671–683

Cao L, Bala G, Caldeira K (2012) Climate response to changes in atmospheric carbon dioxide and solar irradiance on the time scale of day to weeks. Environ Res Lett 7:034015. doi:10.1088/1748-9326/7/3/034015

Cao L, Bala G, Zheng M, Caldeira K (2015) Fast and slow climate responses to CO2 and solar forcing: a linear multivariate regression model characterizing transient climate change. J Geophys Res Atmos 120:12037–12053

Compo GP, Whitaker JS, Sardeshmukh PD et al (2011) The twentieth century reanalysis project. Q J R Meteorol Soc 137:1–28

Curry CL, Sillmann J, Bronaugh D et al (2014) A multimodel examination of climate extremes in an idealized geoengineering experiment. J Geophys Res Atmos 119:3900–3923

Driscoll S, Bozzo A, Gray LJ, Robock A, Stenchikov G (2012) Coupled Model Intercomparison Project 5 (CMIP5) simulations of climate following volcanic eruptions. J Geophys Res 117:D17105. doi:10.1029/2012JD017607

Emile-Geay J, Seager R, Cane MA, Cook ER, Haug GH (2008) Volcanoes and ENSO over the past millennium. J Clim 21:3134–3148

Fischer EM, Luterbacher J, Zorita E, Tett SFB, Casty C, Wanner H (2007) European climate response to tropical volcanic eruptions over the last half millennium. Geophys Res Lett 34:L05707. doi:10.1029/2006GL027992

Flato G, Marotzke J, Abiodun B et al (2013) Evaluation of climate models. In: Stocker TF, Qin D, Plattner GK et al (eds) Climate Change 2013: The Physical Science Basis. Contribution of Working Group I to the Fifth Assessment Report of the Intergovernmental Panel on Climate Change. Cambridge University Press, Cambridge

Gillett NP, Weaver AJ, Zwiers FW, Wehner MF (2004) Detection of volcanic influence on global precipitation. Geophys Res Lett 31:L12217. doi:10.1029/2004GL020044

Govindasamy B, Caldeira K (2000) Geoengineering Earth's radiation balance to mitigate CO2-induced climate change. Geophys Res Lett 27:2141–2144

Gu G, Adler RF, Huffman GJ, Curtis S (2007) Tropical rainfall variability on interannual-to-interdecadal and longer time scales derived from the GPCP monthly product. J Clim 20:4033–4046

Halpert MS, Ropelewski CF (1992) Surface temperature patterns associated with the Southern Oscillation. J Clim 5:577–593

Hegerl GC, Solomon S (2009) Risks of climate engineering. Science 325:955–956

Hegerl G, Luterbacher J, González-Rouco F, Tett SFB, Crowley T, Xoplaki E (2011) Influence on human and natural forcing on European seasonal temperatures. Nat Geosci 4:99–103

Iles CE, Hegerl GC (2014) The global precipitation response to volcanic eruptions in the CMIP5 models. Environ Res Lett 9:104012. doi:10.1088/1748-9326/9/10/104012

Iles CE, Hegerl GC (2015) Systematic change in global patterns of streamflow following volcanic eruptions. Nat Geosci 8:838–842

Iles CE, Hegerl GC, Schurer AP, Zhang X (2013) The effect of volcanic eruptions on global precipitation. J Geophys Res Atmos 118:8770–8786

Jones PD, Lister DH, Osborn TJ, Harpham C, Salmon M, Morice CP (2012) Hemispheric and large-scale land-surface air temperature variations: an extensive revision and an update to 2010. J Geophys Res 117:D05127. doi:10.1029/2011JD017139

Joseph R, Zeng N (2011) Seasonally modulated tropical drought induced by volcanic aerosol. J Clim 24:2045–2060

Kennedy JJ, Rayner NA, Smith RO, Parker DE, Saunby M (2011a) Reassessing biases and other uncertainties in sea-surface temperature observations measured in situ since 1850, part 1: Measurement and sampling uncertainties. J Geophys Res 116:D14103. doi:10.1029/2010JD015218

Kennedy JJ, Rayner NA, Smith RO, Parker DE, Saunby M (2011b) Reassessing biases and other uncertainties in sea-surface temperature observations measure in situ since 1850, part 2: biases and homogenization. J Geophys Res 116:D14104. doi:10.1029/2010JD015220

Kirchner I, Stenchikov GL, Graf HF, Robock A, Autuna JC (1999) Climate model simulation of winter warming and summer cooling following the 1991 Mount Pinatubo volcanic eruption. J Geophys Res 104:19039–19055

Kodera K (1994) Influence of volcanic eruptions on the troposphere through stratospheric dynamical processes in the Northern Hemisphere winter. J Geophys Res 99:1273–1282

Lambert A, Grainger RG, Remedios JJ, Rodgers CD, Corney M, Taylor FW (1993) Measurements of the evolution of the Mt. Pinatubo aerosol cloud by ISAMS. Geophys Res Lett 20:1287–1290

Liu C, Allan RP, Huffman GJ (2012) Co-variation of temperature and precipitation in CMIP5 models and satellite observations. Geophys Res Lett 39:L13803. doi:10.1029/2012GL052093

Maher N, McGregor S, England MH, Gupta AS (2015) Effects of volcanism on tropical variability. Geophys Res Lett 42:6024–6033

Mann ME, Cane MA, Zebiak SE, Clement A (2005) Volcanic and solar forcing of the tropical pacific over the past 1000 years. J Clim 18:447–456

New M, Todd M, Hulme M, Jonse P (2001) Precipitation measurements and trends in the twentieth century. Int J Climatol 21:1889–1922

Peng Y, Shen C, Wang WC, Xu Y (2010) Response of summer precipitation over eastern China to large volcanic eruptions. J Clim 23:818–824

Peterson TC, Vose RS (1997) An overview of the global historical climatology network temperature database. Bull Am Meteorol Soc 78:2837–2849

Robock A (2000) Volcanic eruptions and climate. Rev Geophys 38:191–219

Robock A, Mao J (1995) The volcanic signal in surface temperature observations. J Clim 8:1086–1103

Robock A, MacMartin DG, Duren R, Christensen MW (2013) Studying geoengineering with natural and anthropogenic analogs. Clim Change 121:445–458

Santer BD, Wigley TML, Doutriaux C, Boyle JS, Hansen JE, Jones PD, Meehl GA, Roeckner E, Sengupta S, Taylor KE (2001) Accounting for the effects of volcanoes and ENSO in comparisons of modeled and observed temperature trends. J Geophys Res Atmos 106:28033–28059

Santer BD, Bonfils C, Painter JF et al (2014) Volcanic contribution to decadal changes in tropospheric temperature. Nat Geosci 7:185–189

Self S, Rampino MR, Zhao J, Katz MG (1997) Volcanic aerosol perturbations and strong El Nino events: no general correlation. Geophys Res Lett 24:1247–1250

Sterl A (2004) On the (in) homogeneity of reanalysis products. J Clim 17:3866–3873

Stothers RB (2001) Major optical depth perturbations to the stratosphere from volcanic eruptions: stellar extinction period, 1961–1978. J Geophys Res 106:2993–3003

Taylor KE, Stouffer RJ, Meehl GA (2012) An overview of CMIP5 and the experiment design. Bull Am Meteorol Soc 93:485–498

Trenberth KE, Dai A (2007) Effects of Mount Pinatubo volcanic eruption on the hydrological cycle as an analog of geoengineering. Geophys Res Lett 34:L15702. doi:10.1029/2007GL030524

Trenberth KE, Fasullo JT, Mackaro J (2011) Atmospheric moisture transports from ocean to land and global energy flows in reanalyses. J Clim 24:4907–4924

Trepte CR, Hitchman MH (1992) Tropical stratospheric circulation deduced from satellite aerosol data. Nature 355:626–628

Uppala SM, Kållberg PW, Simmons AJ et al (2005) The ERA-40 re-analysis. Q J R Meteorol Soc 131:2961–3012

Wegmann M, Bronnimann S, Bhend J, Franke J, Folini D, Wild M, Luterbacher J (2014) Volcanic influence on European summer precipitation through monsoons: possible cause for "Years without Summer". J Clim 27:3683–3691
Acknowledgments
Authors thank Jong-Seong Kug and Dong-Hyun Cha for their comments on an early draft of this paper, and two anonymous reviewers for their constructive and clarifying comments. This work was supported by the Korea Meteorological Administration Research and Development Program under Grant KMIPA 2015–2082. The lead author was partly supported by "Human Resources Program in Energy Technology" of the Korea Institute of Energy Technology Evaluation and Planning (KETEP), granted financial resource from the Ministry of Trade, Industry & Energy, Republic of Korea (No. 20144030200460).
About this article
Cite this article
Paik, S., Min, SK. Climate responses to volcanic eruptions assessed from observations and CMIP5 multi-models. Clim Dyn 48, 1017–1030 (2017). https://doi.org/10.1007/s00382-016-3125-4
Received:

Accepted:

Published:

Issue Date:
Keywords
Volcanic eruptions

CMIP5 models

Temperature

Precipitation

Surface energy budget

Vertical motion

Monsoon circulation