Abstract
This paper makes a regional evaluation of trend in yearly maxima of daily rainfall in southern France, both at point and spatial scales on a regular grid of 8 × 8 km2. In order to filter out the high variability of rainfall maxima, the current analysis is based on a non-stationary GEV modeling in which the location parameter is allowed to vary with time. Three non-stationary models are considered for each series of maxima by constraining the location parameter to vary either linearly, linearly after a given date or linearly up to a final date. Statistical criteria are used to compare these models and select the best starting or final point of putative trends. The analysis shows that, at regional scale, the best distribution of maxima involves a linear trend starting in year 1985 and that this trend is significant in half the region, including most of the mountain ranges and part of the Rhône valley. Increases in yearly maxima are considerable since they reach up more than 60 mm/day in 20 years, which is more than 40 % of the average maximum in this area.
Access options
Buy single article
Instant access to the full article PDF.
USD 39.95
Price includes VAT (USA)
Tax calculation will be finalised during checkout.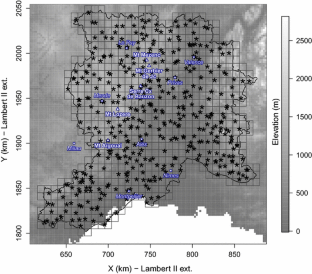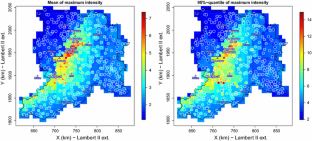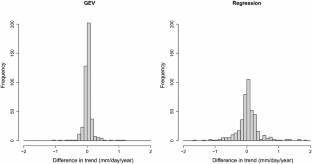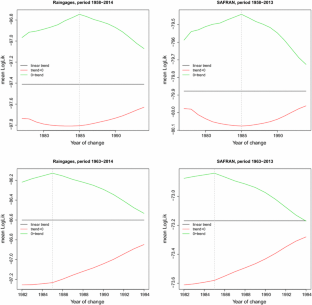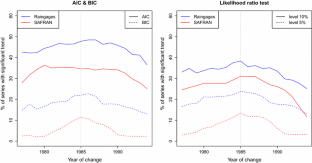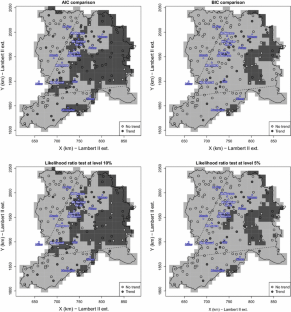 References
Akaike H (1974) A new look at the statistical model identification. IEEE Trans Autom Control 19(6):716–723

Alexander LV, Zhang X, Peterson TC, Caesar J, Gleason B, Klein Tank AMG, Haylock M, Collins D, Trewin B, Rahimzadeh F, Tagipour A, Rupa Kumar K, Revadekar J, Griffiths G, Vincent L, Stephenson DB, Burn J, Aguilar E, Brunet M, Taylor M, New M, Zhai P, Rusticucci M, Vazquez-Aguirre JL (2006) Global observed changes in daily climate extremes of temperature and precipitation. J Geophys Res Atmos 111(D5). doi:10.1029/2005JD006290

Alpert P, Ben-Gai T, Baharad A, Benjamini Y, Yekutieli D, Colacino M, Diodato L, Ramis C, Homar V, Romero R, Michaelides S, Manes A (2002) The paradoxical increase of Mediterranean extreme daily rainfall in spite of decrease in total values. Geophys Res Lett 29(11):31-1–31-4

Anquetin S, Miniscloux F, Creutin JD (2003) Numerical simulation of orographic rainbands. J Geophys Res 108(D8). doi:10.1029/2002JD001593

Bastin S, Drobinski P, Dabas A, Delville P, Reitebuch O, Werner C (2005) Impact of the Rhône and Durance valleys on sea-breeze circulation in the Marseille area. Atmos Res 74(1–4):303–328

Beaulieu C, Chen J, Sarmiento JL (2012) Change-point analysis as a tool to detect abrupt climate variations. Philos Trans R Soc Lond A Math Phys Eng Sci 370(1962):1228–1249

Bernard E, Naveau P, Vrac M, Mestre O (2013) Clustering of maxima: spatial dependencies among heavy rainfall in France. J Clim 26:7929–7937

Blanchet J, Ceresetti D, Molinié G, Creutin J-D (2015) A regional GEV scale-invariant framework for intensity–duration–frequency analysis. J Hydrol (in review)

Borga M, Vezzani C, Fontana GD (2005) Regional rainfall depth–duration–frequency equations for an alpine region. Nat Hazards 36(1–2):221–235

Bretherton CS, Widmann M, Dymnikov VP, Wallace JM, Bladé I (1999) The effective number of spatial degrees of freedom of a time-varying field. J Clim 12:1990–2009

Ceresetti D, Molinié G, Creutin J-D (2010) Scaling properties of heavy rainfall at short duration: a regional analysis. Water Resour Res 46(9). doi:10.1029/2009WR008603

Ceresetti D, Ursu E, Carreau J, Anquetin S, Creutin JD, Gardes L, Girard S, Molinié G (2012) Evaluation of classical spatial-analysis schemes of extreme rainfall. Nat Hazards Earth Syst Sci 12:3229–3240

Charney J, Arakawa A, Baker D, Bolin B, Dickenson R, Goody R, Leith C, Stommel H, Wunsch C (1979) Carbon dioxide and climate: a scientific assessment. National Academy of Sciences Press, Washington

Coles S (2001) An introduction to statistical modeling of extreme values. Springer, London

Cooley D, Cisewski J, Erhardt RJ, Jeon S, Mannshardt E, Omolo BO, Sun Y (2012) A survey of spatial extremes: measuring spatial dependence and modeling spatial effects. Revstat 10(1):135–165

Davison AC, Padoan SA, Ribatet M (2012) Statistical modeling of spatial extremes. Stat Sci 27(2):161–186

Delrieu G, Nicol J, Yates E, Kirstetter P-E, Creutin J-D, Anquetin S, Obled C, Saulnier G-M (2005) The catastrophic flash-flood event of 8–9 September 2002 in the Gard region, France: a first case study for the Cévennes–Vivarais Mediterranean hydrometeorological observatory. J Hydrometeorol 6:34–52

Douglas E, Vogel R, Kroll C (2000) Trends in floods and low flows in the United States: impact of spatial correlation. J Hydrol 240(1–2):90–105

Drobinski P, Bastin S, Dabas A, Delville P, Reitebuch O (2006) Variability of three-dimensional sea breeze structure in southern France: observations and evaluation of empirical scaling laws. Ann Geophys 24(7):1783–1799

Ducrocq V, Nuissier O, Ricard D, Lebeaupin C, Thouvenin T (2008) A numerical study of three catastrophic precipitating events over western Mediterranean region (southern France). Part II: mesoscale triggering ans stationarity factors. Q J R Meteorol Soc 134(630):131–145

Duffourg F, Ducrocq V (2011) Origin of the moisture feeding the heavy precipitating systems over southeastern France. Nat Hazards Earth Syst Sci 11(4):1163–1178

Fabry F (1996) On the determination of scale ranges for precipitation fields. J Geophys Res Atmos 101(D8):12819–12826

Fraedrich K, Larnder C (1993) Scaling regimes of rainfall time series. Tellus 45A:289–298

Frich P, Alexander LV, Della-Marta P, Gleason B, Haylock M, Klein Tank A, Peterson T (2002) Observed coherent changes in climatic extremes during the second half of the twentieth century. Clim Res 19:193–212

Froidurot S, Molinié G, Diedhiou A (2015) Rainfall in Southeast France at the regional climate model scales. Submitted to the Med-CORDEX special issue of Climate Dynamics

Gallant AJE, Karoly DJ, Gleason KL (2013) Consistent trends in a modified climate extremes index in the United States, Europe, and Australia. J Clim 27(4):1379–1394

Gupta V, Waymire E (1979) A stochastic kinematic study of subsynoptic space–time rainfall. Water Resour Res 15(3):637–644

Haylock MR, Goodess CM (2004) Interannual variability of European extreme winter rainfall and links with mean large-scale circulation. Int J Climatol 24(6):759–776

Hill CM, Fitzpatrick PJ, Corbin JH, Lau YH, Bhate SK (2010) Summertime precipitation regimes associated with the sea breeze and land breeze in southern Mississippi and eastern Louisiana. Weather Forecast 25(6):1755–1779

IPCC (2013) Climate change 2013: the physical science basis. Contribution of working group I to the fifth assessment report of the intergovernmental panel on climate change. Cambridge University Press, Cambridge

Karl TR, Knight RW, Easterling DR, Quayle RG (1996) Indices of climate change for the United States. Bull Am Meteorol Soc 77(2):279–292

Katz RW (2013) Extremes in a changing climate: detection, analysis and uncertainty, chapter statistical methods for nonstationary extremes. Springer, Dordrecht

Katz RW, Parlange MB, Naveau P (2002) Statistics of extremes in hydrology. Adv Water Resour 25(8–12):1287–1304

Klein Tank AMG, Können GP (2003) Trends in indices of daily temperature and precipitation extremes in Europe, 1946–99. J Clim 16(22):3665–3680

Livezey RE, Chen WY (1983) Statistical field significance and its determination by Monte Carlo techniques. Mon Weather Rev 111:46–59

Mallakpour I, Villarini G (2016) A simulation study to examine the sensitivity of the Pettitt test to detect abrupt changes in mean. Hydrol Sci J 61(2):245–254. doi:10.1080/02626667.2015.1008482

Marty C, Blanchet J (2012) Long-term changes in annual maximum snow depth and snowfall in Switzerland based on extreme value statistics. Clim Change 111(3–4):705–721

Miniscloux F, Creutin JD, Anquetin S (2001) Geostatistical analysis of orographic rainbands. J Appl Meteorol 40:1835–1854

Molinié G, Ceresetti D, Anquetin S, Creutin JD, Boudevillain B (2012) Rainfall regime of a mountainous Mediterranean region: statistical analysis at short time steps. J Appl Meteorol Climatol 51(3):429–448

Norrant C, Douguédroit A (2004) Tendances des précipitations mensuelles et quotidiennes dans le Sud-Est méditerranéen français (1950–51/1999–2000). Annales de l'Association Internationale de Climatologie 1:45–64

Nuissier O, Ducrocq V, Ricard D, Lebeaupin C, Anquetin S (2008) A numerical study of three catastrophic precipitating events over western Mediterranean region (southern France). Part I: numerical framework and synoptic ingredients. Q J R Meteorol Soc 134(630):111–130

Panthou G, Vischel T, Lebel T, Quantin G, Pugin ACF, Blanchet J, Ali A (2013) From pointwise testing to a regional vision: an integrated statistical approach to detect nonstationarity in extreme daily rainfall. Application to the Sahelian region. J Geophys Res Atmos 118(15):8222–8237

Papalexiou SM, Koutsoyiannis D (2013) Battle of extreme value distributions: a global survey on extreme daily rainfall. Water Resour Res 49(1):187–201

Pielke RA (1974) A three-dimensional numerical model of the sea breezes over south Florida. Mon Weather Rev 102(2):115–139

Planton S, Déqué M, Chauvin F, Terray L (2008) Expected impacts of climate change on extreme climate events. C R Geosci 340(9–10):564–574

Pujol N, Neppel L, Sabatier R (2007a) Approche régionale pour la détection de tendances dans des séries de précipitations de la région méditerranéenne française. C R Geosci 339(10):651–658

Pujol N, Neppel L, Sabatier R (2007b) Regional tests for trend detection in maximum precipitation series in the French Mediterranean region. Hydrol Sci J 52(5):956–973

Quintana-Seguí P, Le Moigne P, Durand Y, Martin E, Habets F, Baillon M, Canellas C, Franchisteguy L, Morel S (2008) Analysis of near-surface atmospheric variables: validation of the SAFRAN analysis over France. J Appl Meteorol Climatol 47(1):92–107

Ramos MH, Creutin J-D, Leblois E (2005) Visualization of storm severity. J Hydrol 315(1–4):295–307

Renard B, Lang M, Bois P, Dupeyrat A, Mestre O, Niel H, Sauquet E, Prudhomme C, Parey S, Paquet E, Neppel L, Gailhard J (2008) Regional methods for trend detection: assessing field significance and regional consistency. Water Resour Res 44(8). doi:10.1029/2007WR006268

Schertzer D, Lovejoy S (1987) Physically based rain and cloud modeling by anisotropic, multiplicative turbulent cascades. J Geophys Res 92:9692–9714

Schmidli J, Frei C (2005) Trends of heavy precipitation and wet and dry spells in Switzerland during the 20th century. Int J Climatol 25(6):753–771

Schwarz G (1978) Estimating the dimension of a model. Ann Stat 6(2):461–464

Sénési S, Bougeault P, Chèze J-L, Cosentino P, Thepenier R-M (1996) The Vaison-La-Romaine flash flood: mesoscale analysis and predictability issues. Weather Forecast 11(4):417–442

Soubeyroux J-M, Neppel L, Veysseire J-M, Tramblay Y, Carreau J, Gouget V (2015) Evolution des précipitations extrêmes en France en contexte de changement climatique. La Houille Blanche 1:27–33

Toreti A, Xoplaki E, Maraun D, Kuglitsch FG, Wanner H, Luterbacher J (2010) Characterisation of extreme winter precipitation in Mediterranean coastal sites and associated anomalous atmospheric circulation patterns. Nat Hazards Earth Syst Sci 10(5):1037–1050

Tramblay Y, Neppel L, Carreau J (2011) Climatic covariates for the frequency analysis of heavy rainfall events in the Mediterranean region. Nat Hazards Earth Syst Sci 11(9):2463–2468

Tramblay Y, Neppel L, Carreau J, Najib K (2013) Non-stationary frequency analysis of heavy rainfall events in southern France. Hydrol Sci J/Journal des Sciences Hydrologiques 58(2):280–294

Tramblay Y, Neppel L, Carreau J, Sanchez-Gomez E (2012) Extreme value modelling of daily areal rainfall over Mediterranean catchments in a changing climate. Hydrol Process 26(25):3934–3944

Vautard R, van Oldenborgh G-J, Thao SBD, Lenderink G, Ribes A, Planton S, Soubeyroux J-M, Yiou P (2015) Extreme fall 2014 precipitation in the Cévennes mountains. Bull Am Meteorol Soc 96(12):56–60

Vidal J-P, Martin E, Franchistéguy L, Baillon M, Soubeyroux J-M (2010) A 50-year high-resolution atmospheric reanalysis over France with the Safran system. Int J Climatol 30(11):1627–1644

Vogel R, Kroll C (1989) Low-flow frequency analysis using probability plot correlation coefficients. J Water Resour Plan Manag 115(3):338–357

Westra S, Sisson SA (2011) Detection of non-stationarity in precipitation extremes using a max-stable process model. J Hydrol 406(1–2):119–128

Wit E, Heuvel E, Romeijn J-W (2012) 'All models are wrong..': an introduction to model uncertainty. Stat Neerl 66(3):217–236

Zhang X, Alexander L, Hegerl GC, Jones P, Tank AK, Peterson TC, Trewin B, Zwiers FW (2011) Indices for monitoring changes in extremes based on daily temperature and precipitation data. Wiley Interdiscip Rev Clim Change 2(6):851–870

Zolina O (2014) Multidecadal trends in the duration of wet spells and associated intensity of precipitation as revealed by a very dense observational German network. Environ Res Lett 9(2):025003

Zolina O, Simmer C, Kapala A, Bachner S, Gulev S, Maechel H (2008) Seasonally dependent changes of precipitation extremes over Germany since 1950 from a very dense observational network. J Geophys Res Atmos 113(D6). doi:10.1029/2007JD008393
Additional information
This paper is a contribution to the special issue on Med-CORDEX, an international coordinated initiative dedicated to the multi-component regional climate modelling (atmosphere, ocean, land surface, river) of the Mediterranean under the umbrella of HyMeX, CORDEX, and Med-CLIVAR and coordinated by Samuel Somot, Paolo Ruti, Erika Coppola, Gianmaria Sannino, Bodo Ahrens, and Gabriel Jordà.
About this article
Cite this article
Blanchet, J., Molinié, G. & Touati, J. Spatial analysis of trend in extreme daily rainfall in southern France. Clim Dyn 51, 799–812 (2018). https://doi.org/10.1007/s00382-016-3122-7
Received:

Accepted:

Published:

Issue Date:
Keywords
Daily rainfall

Trend

Extreme value statistics

Mediterranean region