Abstract
It has been recently demonstrated that stratiform heating plays a critical role in the scale-selection of organized tropical convection, in an aquaplanet version of a coarse-resolution atmospheric general circulation model coupled to a stochastic multicloud cumulus parameterization scheme. It is shown that Madden–Julian oscillation-like organization dominates when the model is tuned to produce strong and long lived stratiform heating while it gives rise to mostly convectively coupled waves in the case of weak and short lived stratiform clouds. The study is extended here to the case of an asymmetric forcing mimicking the migration of the intertropical convergence zone (ITCZ) during summer to understand the impact of changes in stratiform heating on the monsoon dynamics. Consistent with the equatorial ITCZ case, strong and long lived stratiform heating promotes northward and eastward moving intraseasonal disturbances while weak and short lived stratiform heating yields mostly westward propgating synoptic scale low pressure systems. Moreover, the underlying intraseasonal versus low pressure system activity seems to impact the strength and extend of the monsoon trough (MT). In the regime with intraseasonal activity the MT is much stronger and extends northward while in the low pressure system case MT is some what weaker in strength but extends further westward. In the low pressure dominated regime, the background vorticity and zonal wind profiles over the monsoon trough are consistent with the observations.
Access options
Buy single article
Instant access to the full article PDF.
USD 39.95
Price excludes VAT (USA)
Tax calculation will be finalised during checkout.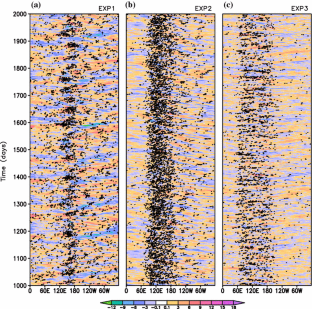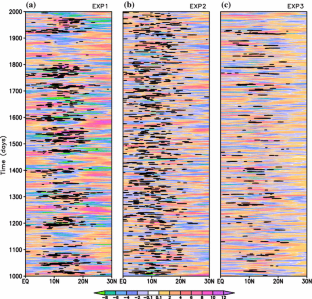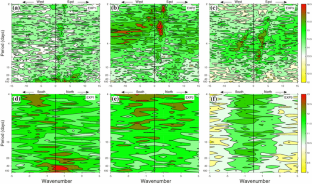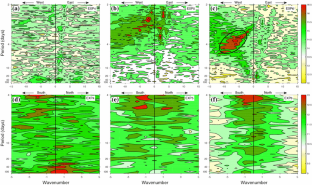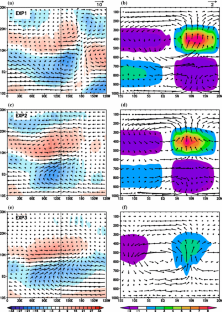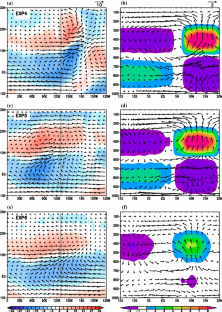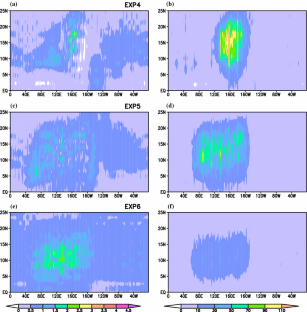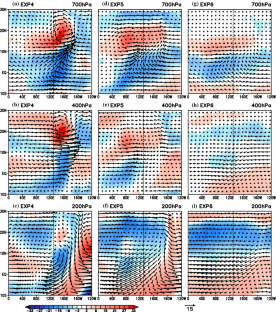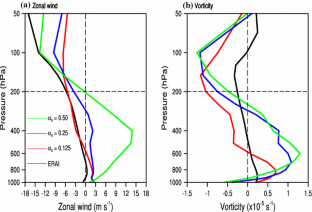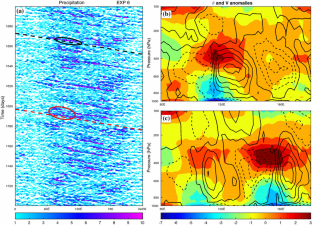 References
Abhik S, Halder M, Mukhopadhyay P, Jiang X, Goswami BN (2013) A possible new mechanism for northward propagation of boreal summer intraseasonal oscillations based on TRMM and MERRA reanalysis. Clim Dyn 40(7–8):1611–1624. doi:10.1007/s00382-012-1425-x

Ajayamohan RS, Merryfield WJ, Kharin VV (2010) Increasing trend of synoptic activity and its relationship with extreme rain events over central India. J Clim 23(4):1004–1013. doi:10.1175/2009JCLI2918.1

Ajayamohan RS, Khouider B, Majda AJ (2013) Realistic initiation and dynamics of the Madden–Julian Oscillation in a coarse resolution GCM. Geophys Res Lett 40. doi:10.1002/2013GL058187

Ajayamohan RS, Khouider B, Majda AJ (2014) Simulation of monsoon intraseasonal oscillations in a coarse-resolution aquaplanet GCM. Geophys Res Lett 41. doi:10.1002/2014GL060662

Chattopadhyay R, Goswami BN, Sahai A, Fraedrich K (2009) Role of stratiform rainfall in modifying the northward propagation of monsoon intraseasonal oscillation. J Geophys Res 114(D19). doi:10.1029/2009JD011869

Dee DP, Uppala SM, Simmons AJ, Berrisford P, Poli P, Kobayashi S, Andrae U, Balmaseda MA, Balsamo G, Bauer P, Bechtold P, Beljaars ACM, van de Berg L, Bidlot J, Bormann N, Delsol C, Dragani R, Fuentes M, Geer AJ, Haimberger L, Healy SB, Hersbach H, Hlm EV, Isaksen L, Kllberg P, Khler M, Matricardi M, McNally AP, Monge-Sanz BM, Morcrette JJ, Park BK, Peubey C, de Rosnay P, Tavolato C, Thpaut JN, Vitart F (2011) The ERA-Interim reanalysis: configuration and performance of the data assimilation system. Q J R Meteorol Soc 137(656):553–597. doi:10.1002/qj.828

Deng Q, Khouider B, Majda AJ (2015a) The MJO in a coarse-resolution GCM with a stochastic multicloud parameterization. J Atmos Sci 72:55–74. doi:10.1175/JAS-D-14-0120.1

Deng Q, Khouider B, Majda AJ, Ajayamohan RS (2015b) Effect of stratiform heating on the planetary-scale organization of tropical convection. J Atmos Sci (Submitted). http://goo.gl/1RSqax

Dennis J, Fournier A, Spotz WF, St-Cyr A, Taylor MA, Thomas SJ, Tufo HM (2005) High-resolution mesh convergence properties and parallel efficiency of a spectral element atmospheric dynamical core. Int J High Perform Comput Appl 19(3):225–235. doi:10.1177/1094342005056108

Dorrestijn J, Crommelin DT, Siebesma AP, Jonker HJJ, Jakob C (2015) Stochastic parameterization of convective area fractions with a multicloud model inferred from observational data. J Atmos Sci 72:854–869

Feng Z, Hagos S, Rowe AK, Burleyson CD, Martini MN, de Szoeke SP (2015) Mechanisms of convective cloud organization by cold pools over tropical warm ocean during the AMIE/DYNAMO field campaign. J Adv Model Earth Syst 07:1–25. doi:10.1002/2014MS000384

Frenkel Y, Majda AJ, Khouider B (2012) Using the stochastic multicloud model to improve tropical convective parameterization: a paradigm example. J Atmos Sci 69:1080–1105. doi:10.1175/JAS-D-11-0148.1

Goswami BN, Ajayamohan RS (2001) Intraseasonal oscillations and interannual variability of the Indian summer monsoon. J Clim 14:1180–1198. doi:10.175/1520-0442(2001)014<1180:IOAIVO>2.0.CO;2

Goswami BN, Keshavamurthy RN, Satyan V (1980) Role of barotropic, baroclinic and combined barotropic-baroclinic instability for the growth of monsoon depressions and mid-tropospheric cyclones. Proc India Acad Sci (Earth Planet Sci) 89:79–97. doi:10.1007/BF02841521

Goswami BN, Ajayamohan RS, Xavier PK, Sengupta D (2003) Clustering of low pressure systems during the Indian summer monsoon by intraseasonal oscillations. Geophys Res Lett 30:1431. doi:10.1029/20002GL016734

Grabowski WW (2002) Large-scale organization of moist convection in idealized aquaplanet simulations. Int J Numer Methods Fluids 39:843–853

Houze RA, Wilton DC, Smull BF (2007) Monsoon convection in the Himalayan region as seen by the TRMM precipitation radar. Q J R Meteorol Soc 133(627):1389–1411. doi:10.1002/qj.106

Houze RA Jr (1997) Stratiform precipitation in regions of convection: a meteorological paradox? Bull Am Meteorol Soc 78:2179–2196

Houze RA Jr, Churchill DD (1987) Mesoscale organization and cloud microphysics in a Bay of Bengal depression. J Atmos Sci 44(14):1845–1868

Hung MP, Lin JL, Wang W, Kim D, Shinoda T, Weaver SJ (2013) Mjo and convectively coupled equatorial waves simulated by CMIP5 climate models. J Clim 26(17):6185–6214. doi:10.1175/JCLI-D-12-00541.1

Hurley JV, Boos WR (2015) A global climatology of monsoon low pressure systems. Q J R Meteorol Soc 141:1049–1064. doi:10.1002/qj.2447

Johnson RH, Rickenbach TM, Rutledge SA, Ciesielski PE, Schubert WH (1999) Trimodal characteristics of tropical convection. J Clim 12(8):2397–2418

Khairoutdinov M, Randall D, Demott C (2005) Simulations of the atmospheric general circulation using a cloud-resolving model as a superparameterization of physical processes. J Atmos Sci 62:2136–2154

Khouider B (2014) A coarse grained stochastic multi-type particle interacting model for tropical convection: nearest neighbour interactions. Commun Math Sci 12(8):1379–1407. doi:10.4310/CMS.2014.v12.n8.a1

Khouider B, Majda AJ (2006a) Model multi-cloud parameterizations for convectively coupled tropical waves: detailed nonlinear wave evolution. Dynam Atmos Oceans 42:59–80

Khouider B, Majda AJ (2006b) A simple multicloud parameterization for convectively coupled tropical waves. Part I: linear analysis. J Atmos Sci 63:1308–1323

Khouider B, Majda AJ (2008) Multicloud model for organized tropical convection: enhanced congestus heating. J Atmos Sci 65:895–914

Khouider B, Biello J, Majda AJ et al (2010) A stochastic multicloud model for tropical convection. Commun Math Sci 8(1):187–216

Khouider B, St-Cyr A, Majda AJ, Tribbia J (2011) The MJO and convectively coupled waves in a coarse resolution GCM with a simple multicloud parameterization. J Atmos Sci 68:240–264. doi:10.1175/2010JAS3443.1

Kiladis GN, Straub K, Haertel P (2005) Zonal and vertical structure of the Madden–Julian oscillation. J Atmos Sci 62:2790–2809. doi:10.1175/JAS3520.1

Kim D, Sperber K, Stern W, Waliser D, Kang IS, Maloney E, Wang W, Weickmann K, Benedict J, Khairoutdinov M, Lee MI, Neale R, Suarez M, Thayer-Calder K, Zhang G (2009) Application of MJO simulation diagnostics to climate models. J Clim 22(23):6413–6436. doi:10.1175/2009JCLI3063.1

Krishnamurthy V, Ajayamohan RS (2010) Composite structure of monsoon low pressure systems and its relation to Indian rainfall. J Clim 23(16):4285–4305. doi:10.1175/2010JCLI2953.1

Krishnamurti T, Surgi N (1987) Observational aspects of summer monsoon. In: Chang CP, Krishnamurti TN (eds) Monsoon meteorology, 7. Oxford University Press, NY, pp 3–25

Krishnamurti TN, Kanamitsu M, Godbole R, Chang CB, Carr F, Chow JH (1975) Study of a monsoon depression (i): synoptic structure. J Meteorol Soc Jpn 53:227–239

Krishnamurti TN, Kanamitsu M, Godbole R, Chang CB, Carr F, Chow JH (1976) Study of a monsoon depression (ii): dynamical structure. J Meteorol Soc Jpn 54:208–224

Krishnamurti TN, Chakraborty A, Mishra AK (2010) Improving multimodel forecasts of the vertical distribution of heating using the TRMM profiles. J Clim 23(5):1079–1094. doi:10.1175/2009JCLI2878.1

Lappen CL, Schumacher C (2014) The role of tilted heating in the evolution of the MJO. J Geophys Res Atmos 119:2966–2989

Lin JL, Kiladis GN, Mapes BE, Weickmann KM, Sperber KR, Lin W, Wheeler MC, Schubert SD, Genio AD, Donner LJ, Emori S, Gueremy JF, Hourdin F, Rasch PJ, Roeckner E, Scinocca JF (2006) Tropical intraseasonal variability in 14 IPCC AR4 climate models part I: convective signals. J Clim 19:2665–2690

Majda AJ (2003) Introduction to PDEs and Waves for the atmosphere and ocean, courant lecture notes in mathematics, vol 9. American Mathematical Society, Providence

Majda AJ (2007) New multiscale models and self-similarity in tropical convection. J Atmos Sci 64(4):1393–1404. doi:10.1175/JAS3880.1

Majda AJ, Shefter M (2001) Models for stratiform instability and convectively coupled waves. J Atmos Sci 58:1567–1584

Majda AJ, Khouider B, Kiladis GN, Straub KH, Shefter MG (2004) A model for convectively coupled tropical waves: nonlinearity, rotation, and comparison with observations. J Atmos Sci 61:2188–2205

Mapes B, Tulich S, Lin J, Zuidema P (2006) The mesoscale convection life cycle: building block or prototype for large-scale tropical waves? Dyn Atmos Oceans 42:3–29. doi:10.1016/dynatmoce.2006.03.003

Mapes BE (1993) Gregarious tropical convection. J Atmos Sci 50:2026–2037

Mapes BE (2000) Convective inhibition, subgrid-scale triggering energy, and stratiform instability in a toy tropical wave model. J Atmos Sci 57(10):1515–1535

Mishra SK, Taylor MA, Nair RD, Lauritzen PH, Tufo HM, Tribbia JJ (2011) Evaluation of the HOMME dynamical core in the aquaplanet configuration of ncar CAM4: rainfall. J Clim 24(15):4037–4055. doi:10.1175/2011JCLI3860.1

Moncrieff M (1981) A theory of organized steady convection and its transport properties. Q J R Meteorol Soc 107(451):29–50. doi:10.1002/qj.49710745103

Moncrieff MW (2004) Analytic representation of the large-scale organization of tropical convection. J Atmos Sci 61(13):1521–1538. doi:10.1175/1520-0469(2004)061<1521:AROTLO>2.0.CO;2

Moncrieff MW (2013) The multiscale organization of moist convection and the intersection of weather and climate. In: Sun DZ, Bryan F (eds) Climate dynamics: why does climate vary? American Geophysical Union, pp 3–26. doi:

Mooley DA (1973) Some aspects of Indian monsoon depressions and the associated rainfall. Mon Weather Rev 101:271–280

Mooley DA, Shukla J (1987) Characteristics of the westward moving summer monsoon low pressure systems over the Indian region and their relationship with the monsoon rainfall. Center for Ocean Land Atmosphere Studies, Calverton, MD 20705, USA, available from COLA, USA

Mooley DA, Shukla J (1989) Main features of the westward-moving low pressure systems which form over the Indian region during the summer monsoon season and their relation to the monsoon rainfall. Mausam 40:137–152

Mukhopadhyay P, Taraphdar S, Goswami B, Krishnakumar K (2010) Indian summer monsoon precipitation climatology in a high-resolution regional climate model: impacts of convective parameterization on systematic biases. Weather Forecast 25(2):369–387

Nair R, Tufo HM (2007) Petascale atmospheric general circulation models. J Phys Conf Ser 78:012078. doi:10.1088/1742-6596/78/1/012078

Nair RD, Choi HW, Tufo H (2009) Computational aspects of a scalable high-order discontinuous galerkin atmospheric dynamical core. Comput Fluids 38(2):309–319. doi:10.1016/j.compfluid.2008.04.006

Narasimha R, Sikka D, Prabhu A (1997) The monsoon trough boundary layer. Indian Academy of Sciences, Bangalore p 422

Peters K, Jakob C, Davies L, Khouider B, Majda AJ (2013) Stochastic behavior of tropical convection in observations and a multicloud model. J Atmos Sci 70:3556–3575. doi:10.1175/JAS-D-13-031.1

Praveen V, Sandeep S, Ajayamohan RS (2015) On the relationship between mean monsoon precipitation and low pressure systems in climate model simulation. J Clim. doi:10.1175/2010JCLI2953.1

Ramamurthy K (1969) Monsoon of India: some aspects of 'break' in the Indian south west monsoon during July and August. Tech. rep., India Meteorological Department, New Delhi, forecasting Manual, Part IV.18.3

Sabeerali C, Ramu Dandi A, Dhakate A, Salunke K, Mahapatra S, Rao SA (2013) Simulation of boreal summer intraseasonal oscillations in the latest CMIP5 coupled GCMs. J Geophys Res 118(10):4401–4420. doi:10.1002/jgrd.50403

Schumacher C, Houze RAJ (2003) Stratiform rain in the tropics as seen by the TRMM precipitation radar. J Clim 16:1739–1756

Sikka DR (1977) Some aspects of the life history, structure and movement of monsoon depressions. Pure Appl Geophys 115:1501–1529

Stechmann SN, Majda AJ (2009) Gravity waves in shear and implications for organized convection. J Atmos Sci 66:2579–2599

Suhas E, Neena J, Goswami BN (2013) An Indian monsoon intraseasonal oscillations (miso) index for real time monitoring and forecast verification. Clim Dyn 40(11–12):2605–2616. doi:10.1007/s00382-012-1462-5

Sultan B, Janicot S, Diedhiou A (2003) The west African monsoon dynamics. Part I: documentation of intraseasonal variability. J Clim 16:3389–3406

Taylor M, Tribbia J, Iskandarani M (1997) The spectral element method for the shallow water equations on the sphere. J Comput Phys 130(1):92–108. doi:10.1006/jcph.1996.5554

Trenberth KE, Hurrell JW, Stepaniak DP (2006) The Asian monsoon: global perspectives. In: Wang B (ed) The Asian Monsoon, 1st edn, chap 2. Springer, Heidelberg, pp 67–87

Wang B (ed) (2006) The Asian monsoon, 1st edn. Springer, Heidelberg

Wheeler M, Kiladis GN (1999) Convectively coupled equatorial waves: analysis of clouds and temperature in the wavenumber-frequency domain. J Atmos Sci 56:374–399

Xavier PK, Joseph PV (2000) Vertical wind shear in relation to frequency of monsoon depressions and tropical cyclones of Indian seas. In: Proceedings of TROPMET-2000, Kochi, India, pp 242–245
Acknowledgments
The Center for Prototype Climate Modelling (CPCM) is fully funded by the Abu Dhabi Government through New York University Abu Dhabi (NYUAD) Research Institute grant. This research was initiated during an extended visit of BK and AM to the CPCM at NYUAD during winter 2014. The computations were carried out on the High Performance Computing resources at NYUAD and early tuning of the code were done at the University of Victoria using the West Grid computing Network. The research of AM is partially supported by the Office of Naval Research Grant ONR MURI N00014-12-1-0912. The research of BK is partially funded by Monsoon Mission Project, MoES, Government of India.
About this article
Cite this article
Ajayamohan, R.S., Khouider, B., Majda, A.J. et al. Role of stratiform heating on the organization of convection over the monsoon trough. Clim Dyn 47, 3641–3660 (2016). https://doi.org/10.1007/s00382-016-3033-7
Received:

Accepted:

Published:

Issue Date:

DOI: https://doi.org/10.1007/s00382-016-3033-7
Keywords
Stratiform heating

Organized convection

Stochastic parametrization

Monsoon trough

Monsoon Intraseasonal oscillations

Northward propagation

Low pressure systems