Abstract
The Etesians are among the most persistent regional scale wind systems in the lower troposphere that blow over the Aegean Sea during the extended summer season. In this study we evaluate the performance of three different reanalysis products (the twentieth century reanalysis, 20CR; the 40-year European Centre for Medium-Range Weather Forecasts, ECMWF, Re-Analysis, ERA40; and the recently released ECMWF reanalysis ERA-20C) in capturing the Etesian wind system. Three-hourly data from 24 stations over Greece are used and compared with reanalysis outputs for the extended summer season (May–September) from 1971 to 2000. An objective classification of Etesians based on the pressure difference over the Aegean is provided. Classified Etesian days are then investigated as well as the associated large scale atmospheric circulation. Results highlight the ability of the investigated reanalyses to adequately describe the Etesian meteorological regimes. Intense Etesians are associated with stronger geopotential height anomalies over western-central Europe and the Eastern Mediterranean and with pronounced changes in the mean position of the jet streams. Finally, station time series provide evidence for less frequent intense Etesian days at the end of the extended summer season.
Access options
Buy single article
Instant access to the full article PDF.
USD 39.95
Price excludes VAT (USA)
Tax calculation will be finalised during checkout.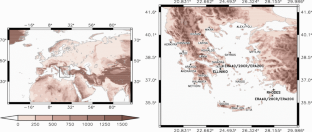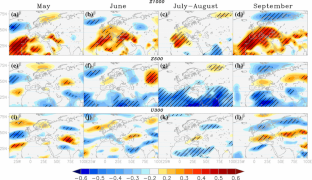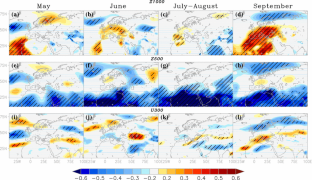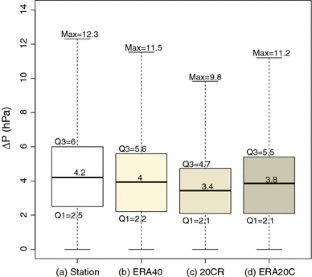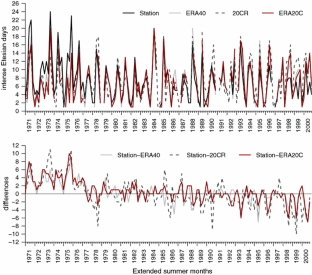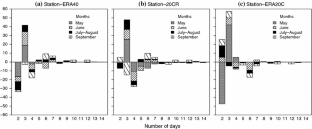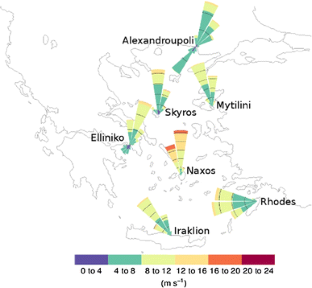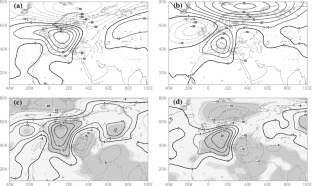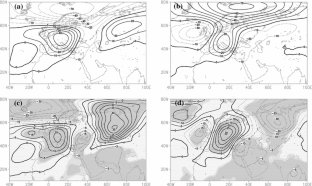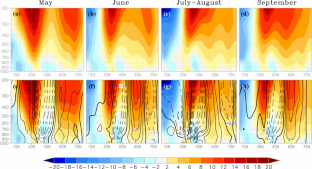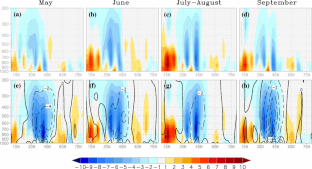 References
Amraoui M, Liberato MLR, Calado TJ, DaCamara CC, Coelho LP, Trigo RM, Gouveia CM (2013) Fire activity over Mediterranean Europe based on information from Meteosat-8. For Ecol Manage 294:62–75

Anagnostopoulou C, Zanis P, Katragkou E, Tegoulias I, Tolika K (2014) Recent past and future patterns of the Etesian winds based on regional scale climate model simulations. Clim Dyn 42:1819–1836. doi:10.1007/s00382-013-1936-0

Archer CL, Caldeira K (2008) Historical trends in the jet streams. Geophys Res Lett 35:L08803. doi:10.1029/2008GL033614

Aristotle, Lee HDP (1952) Meteorologica. Harvard University Press, Cambridge

Bartzokas A (1989) Dynamical factors influencing the daily barometric fluctuation in the vicinity of the ground, in the area of Greece, Ph.D. Thesis, University of Ioannena, Greece, p 208

Bloom A, Kotroni V, Lagouvardos K (2008) Climate change impact of wind energy availability in the Eastern Mediterranean using the regional climate model PRECIS. Nat Hazard Earth Syst Sci 8:1249–1257

Borhan Y (1998) Mesoscale interactions on wind energy potential in the northern Aegean region: a case study. Renew Sustain Energy Rev 2:353–360

Brönnimann S, Martius O, von Waldow H, Welker C, Luterbacher J, Compo GP, Sardeshmukh PD, Usbeck T (2012) Extreme winds at northern mid-latitudes since 1871. Meteorol Z 21:13–27. doi:10.1127/0941-2948/2012/0337

Burlando M (2009) The synoptic-scale surface wind climate regimes of the Mediterranean Sea according to the cluster analysis of ERA-40 wind fields. Theor Appl Climatol 96:69–83

Cameron AC, Trivedi PK (1990) Regression-based tests for overdispersion in the Poisson model. J Econom 46:347–364

Cameron AC, Trivedi PK (1998) Regression analysis of count data. Cambridge University Press, New York

Compo GP et al (2011) The twentieth century reanalysis project. Q J R Meteorol Soc 137:1–28

Furlan D (1977) The climate of southeast Europe. In: Wallen CC (ed) Climates of central and southern Europe—world survey of climatology, vol 6. Elsevier, Amsterdam, pp 185–235

Goswami BN, Krishnamurthy V, Annamalai H (1999) A broad- scale circulation index for interannual variability of the Indian summer monsoon. Q J R Meteorol Soc 125:611–633

Hannachi A, Joliffe I, Stephenson D (2007) Empirical orthogonal functions and related techniques in atmospheric science: a review. Int J Climatol 27:1119–1152. doi:10.1002/joc.1499

Kabouris J, Hatziargyriou N (2006) Wind Power in Greece–Current Situation Future Developments and Prospects. In: Proceedings of the IEEE 2006 general meeting, Montreal, Canada, 18–22 June 2006

Kajikawa Y, Yasunari T, Yoshida S, Fujinami H (2012) Advanced Asian summer monsoon onset in recent decades. Geophys Res Lett. doi:10.1029/2011GL050540

Kallos G, Kassomenos P, Pielke RA (1993) Synoptic and mesoscale weather conditions during air pollution episodes in Athens, Greece. Bound Layer Meteorol 63:163–184

Kallos G, Kotroni V, Lagouvardos K, Papadopoulos A (1998) On the long range transport of air pollutants from Europe to Africa. Geophys Res Lett 25:619–622. doi:10.1029/97GL03317

Kambezidis HD, Adamopoulos AD, Zevgolis D (2000) Case studies of spectral atmospheric transmittance in the ultraviolet and visible regions in Athens, Greece: I. Total transmittance. Atmos Res 54(4):223–232

Kanakidou M, Mihalopoulos N, Kindap T, Im U, Vrekoussis M, Gerasopoulos E, Dermitzaki E, Unal A, Kocak M, Markakis K, Melas D, Kouvarakis G, Youssef AF, Richter A, Hatzianastassiou N, Hilboll A, Ebojie F, von Savigny C, Ladstaetter-Weissenmayer A, Burrows J, Moubasher H (2011) Megacities as hot spots of air pollution in the Eastern Mediterranean. Atmos Environ 45:1223–1235

Kassomenos P, Sindosi O, Lolis C (2003) Seasonal variation of the circulation types occurring over southern Greece. A 50-year study. Clim Res 24:33–46

Koletsis I, Lagouvardos K, Kotroni V, Bartzokas A (2009) The interaction of northern wind flow with the complex topography of Crete Island-part 1: observational study. Nat Hazard Earth Syst 9:1845–1855

Kostopoulou E, Jones PD (2007) Comprehensive analysis of the climate variability in the eastern Mediterranean. Part II: relationships between atmospheric circulation patterns and surface climatic elements. Int J Climatol 27:1351–1371

Kotroni V, Lagouvardos K, Lalas D (2001) The effect of the island of Crete on the Etesian winds over the Aegean Sea. Q J R Meteorol Soc 127:1917–1937. doi:10.1002/qj.49712757604

Lorenz EN (1956) Empirical orthogonal functions and statistical weather prediction. scientific reports No. 1, Statistical Forecasting Project, MIT, Cambridge, MA, p 48

Ludwig FL, Byrd G (1980) A very efficient method for deriving mass consistent flow fields from wind observations in rough terrain. Atmos Environ 14:585–587

Maheras P (1980) Le probleme des Etesiens. Mediterranee 40:57–66

Maheras P, Flocas HA, Patrikas I, Anagnostopoulou C (2001) A 40 year objective climatology of surface cyclones in the Mediterranean region: spatial and temporal distribution. Int J Climatol 21:109–130

Makrogiannis TJ, Dikaiakos JC (1990) Large scale patterns of atmospheric circulation anomalies associated to long spells of etesian wind-days over Greece. In: Brazdil R (ed) Climatic change in the historical and the instrumental periods. Mararyk University, Brno, pp 307–309

Melas D, Ziomas IC, Klemm O, Zerefos C (1998) Anatomy of the sea breeze circulation in Athens area under weak large-scale ambient winds. Atmos Environ 32:2223–2237

Metaxas DA, Bartzokas A (1994) Pressure covariability over the Atlantic, Europe and N. Africa. application: centers of action for temperature, winter precipitation and summer winds in Athens, Greece. Theor Appl Climatol 49:9–18

Morton J (2001) The Role of the physical environment in ancient Greek seafaring. Brill, Leiden

Pezzoli A (2005) Observation and analysis of etesian wind storms in the Saroniko Gulf. Adv Geosci 2:187–194. doi:10.5194/adgeo-2-187-2005

Poli P, Hersbach H, Tan D, Dee D, Thépaut J-N, Simmons A, Peubey C, Laloyaux P, Komori T, Berrisford P, Dragani R, Trémolet Y, Holm E, Bonavita M, Isaksen L and Fisher M (2013) The data assimilation system and initial performance evaluation of the ECMWF pilot reanalysis of the 20th-century assimilating surface observations only (ERA-20C). ERA report series no. 14, ECMWF

Poupkou A, Zanis P, Nastos P, Papanastasiou D, Melas D, Tourpali K, Zerefos C (2011) Present climate trend analysis of the Etesian winds in the Aegean Sea. Theor Appl Climatol 106:459–472. doi:10.1007/s00704-011-0443-7

Raicich F, Pinardi N, Navarra A (2003) Teleconnections between Indian monsoon and Sahel rainfall and the Mediterranean. Int J Climatol 23:173–186

Rao BRS, Rao DVB, Rao VB (2004) Decreasing trend in the strength of Tropical Easterly Jet during the Asian summer monsoon season and the number of tropical cyclonic systems over Bay of Bengal. Geophys Res Lett. doi:10.1029/2004GL019817

Repapis C, Zerefos C, Tritakis B (1978) On the Etesians over the Aegean. Proceedings of the Academy of Athens 52:572–606

Rizou D, Flocas HA, Athanasiadis P, Bartzokas A (2014) Relationship between the Indian summer monsoon and the large-scale circulation variability over the Mediterranean. Atmos Res 152:159–169

Rodwell MJ, Hoskins B (1996) Monsoons and the dynamic of deserts. Q J R Meteorol Soc 122:1385–1404

Sreekala P, Bhaskara Rao S, Arunachalam M, Harikiran C (2013) A study of the decreasing trend in tropical easterly jet stream (TEJ) and its impact on Indian summer monsoon rainfall. Theor Appl Climatol. doi:10.1007/s00704-1049-z

Stickler A, Storz S, Wartenburger R, Hersbach H, Compo G, Poli P, Dee D, Brönnimann S (2015) Upper-air observations from the German Atlantic Expedition (1925–27) and comparison with the Twentieth Century and ERA-20C reanalysis. Meteorol Z 24(5):525–544

Toreti A, Xoplaki E, Maraun D, Kuglitsch FG, Wanner H, Luterbacher J (2010) Characterisation of extreme winter precipitation in the Mediterranean coastal sites and associated anomalous atmospheric circulation patterns. Nat Hazards Earth Syst 10:1037–1050

Türkeş M (1998) Influence of geopot ential heights, cyclone fre- quency and Southern Oscillation on rainfall variations in Turkey. Int J Climatol 18:649–680

Tyrlis E, Lelieveld J (2013) Climatology and dynamics of the summer Etesian winds over the eastern Mediterranean. J Atmos Sci 70:3374–3396. doi:10.1175/JAS-D-13-035.1

Tyrlis E, Lelieveld J, Steil B (2013) The summer circulation over the eastern Mediterranean and the Middle East: influence of the South Asian monsoon. Clim Dyn 40(5):1103–1123. doi:10.1007/s00382-012-1528-4

Uppala SM et al (2005) The ERA-40 re-analysis. Q J Roy Meteorol Soc 131:2961–3012

von Storch H, Zwiers F (1999) Statistical analysis in climate research. Cambridge University Press, Cambridge

Watanabe T, Yamazaki K (2012) Influence of the anticyclonic anomaly in the subtropical jet over the western Tibetan Plateau on the intraseasonal variability of the summer Asian monsoon in early summer. J Clim. 25(4):1291–1303

Wilks SS (1962) Mathematical statistics. Wiley, New York

Wilks DS (1995) Forecast verification. Statistical methods in the atmospheric sciences. Academic Press, New York

Xiang BQ, Wang B (2013) Mechanisms for the advanced Asian summer monsoon onset since the mid-to-late 1990s. J Clim 26:1993–2009

Zarrin A, Ghaemi H, Azadi M, Farajzadeh M (2009) The spatial pattern of summertime subtropical anticyclones over Asia and Africa: a climatological review. Int J Climatol 30:159–173

Zerefos C (1978) Surface wind energy density over eastern Greece. Arch Meteorol Geophys Bioklimatol Ser B 26:81–86

Zerefos CS, Kourtidis KA, Balis D, Bais A, Calpini B (2001) Photochemical activity over the Eastern Mediterranean under variable environmental conditions. Phys Chem Earth 26:549–554. doi:10.1016/S1464-1917(01)00045-9

Zerefos C, Kourtidis K, Melas D, Balis DS, Zanis P, Katsaros L, Mantis HT, Repapis C, Isaksen I, Sundet J, Herman J, Bhartia PK, Calpini B (2002) Photochemical activity and solar ultraviolet radiation (PAUR) modulation factors: an overview of the project. J Geophys Res 107(D18):8134. doi:10.1029/2000JD000134

Ziv B, Saaroni H, Alpert P (2004) The factors governing the summer regime of the Eastern Mediterranean. Int J Climatol 24:1859–1871. doi:10.1002/joc.1113
Acknowledgments
The authors wish to thank Prof. Fidel González-Rouco, Dr. Elena Garcia-Bustamante and the PalMA research group (University of Madrid) for many suggestions on a former version of this paper and fruitful discussions. We are grateful to the anonymous reviewers for their valuable critiques and suggestions, which improved the manuscript. We are indebted to the Hellenic National Meteorological Service for the observational dataset. The research leading to these results has received funding from the Greek State Scholarships Foundation. J. Luterbacher was supported by the LOEWE Large Scale Integrated Program (Excellency in research for the future of Hessen) FACE2FACE Folgen des Klimawandels, Anpassung an den Klimawandel und Verminderung der Treibhausgas-Emissionen bis 2050.
Electronic supplementary material
Below is the link to the electronic supplementary material.
About this article
Cite this article
Dafka, S., Xoplaki, E., Toreti, A. et al. The Etesians: from observations to reanalysis. Clim Dyn 47, 1569–1585 (2016). https://doi.org/10.1007/s00382-015-2920-7
Received:

Accepted:

Published:

Issue Date:

DOI: https://doi.org/10.1007/s00382-015-2920-7
Keywords
Etesians

Extreme wind

Mediterranean

Twentieth century reanalysis

ERA-20C

Summer circulation