Abstract
The southeast region of Brazil experienced in austral summer 2014 a major drought event leading to a number of impacts in water availability for human consumption, agricultural irrigation and hydropower production. This study aims to perform a diagnostic analysis of the observed climate conditions during this event, including an inspection of the occurred precipitation anomalies in the context of previous years, and an investigation of possible relationships with sea surface temperatures and atmospheric circulation patterns. The sea surface temperature analysis revealed that the southwestern South Atlantic Ocean region near the coast of southeast Brazil showed strong negative association with precipitation over southeast Brazil, indicating that increased sea temperatures in this ocean region are consistent with reduced precipitation as observed in summer 2014. The circulation analysis revealed prevailing anti-cyclonic anomalies at lower levels (850 hPa) with northerly anomalies to the west of southeast Brazil, channeling moisture from the Amazon towards Paraguay, northern Argentina and southern Brazil, and drier than normal air from the South Atlantic Ocean towards the southeast region of Brazil. This circulation pattern was found to be part of a large-scale teleconnection wave train linked with the subsidence branch of the Walker circulation in the tropical east Pacific, which in turn was generated by an anomalous tropical heat source in north/northeastern Australia. A regional Hadley circulation with an ascending branch to the south of the subsidence branch of the Walker circulation in the tropical east Pacific was identified as an important component connecting the tropical and extratropical circulation. The ascending branch of this Hadley circulation in the south Pacific coincided with an identified Rossby wave source region, which contributed to establishing the extratropical component of the large-scale wave train connecting the south Pacific and the Atlantic region surrounding southeast Brazil. This connection between the Pacific and the Atlantic was confirmed with Rossby ray tracing analyses. The local circulation response was associated to downward air motion (subsidence) over Southeast Brazil, contributing to the expressive negative precipitation anomalies observed during summer 2014, and leading to a major drought event in the historical context. The analysis of atmospheric and oceanic patterns of this event helped defining a schematic framework leading to the observed drought conditions in southeast Brazil, including the involved teleconnections, blocking high pressure, radiative and humidity transport effects.
Access options
Buy single article
Instant access to the full article PDF.
USD 39.95
Price includes VAT (USA)
Tax calculation will be finalised during checkout.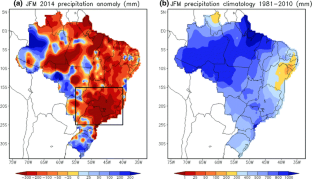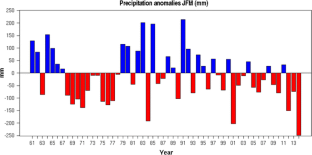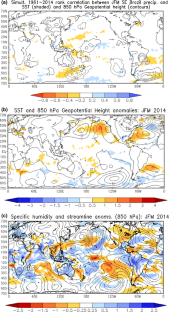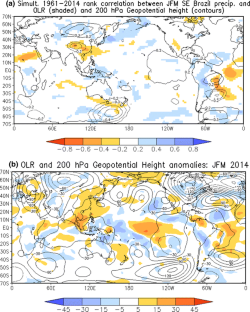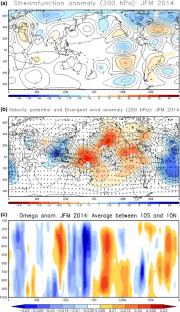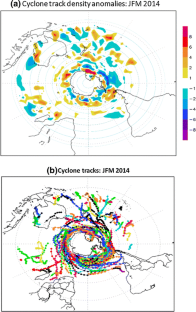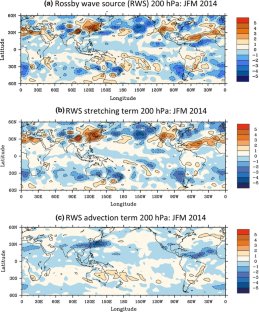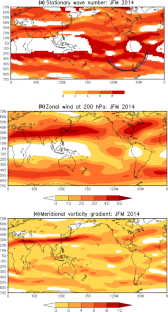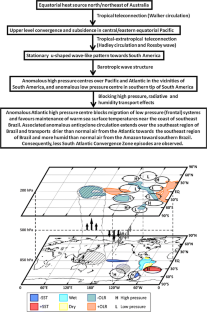 References
Bombardi RJ, Carvalho LMV, Jones C, Reboita MS (2013) Precipitation over eastern South America and the South Atlantic Sea surface temperature during neutral ENSO periods. Clim Dyn 42:1553–1568

Brankovic C, Palmer TN, Ferranti L (1994) Predictability of seasonal atmospheric variations. J. Clim 7:217–237

Charney JG, Shukla J (1981) Predictability of monsoons. In: Lighthill J, Pearce R (eds) Monsoon dynamics. Cambridge University Press, Cambridge, pp 99–109

Coelho CAS, Cardoso DHF, Firpo MAF (2015) Precipitation diagnostics of an exceptionally dry event in São Paulo, Brazil. Theor Appl Climatol. doi:10.1007/s00704-015-1540-9

Drumond ARM, Ambrizzi T (2005) The role of SST on the South American atmospheric circulation observed during the 2000/2001 austral summer. Clim Dyn 24:781–791

Espinoza JC, Marengo JA, Ronchail J, Carpio JM, Flores LN, Guyot JL (2014) The extreme 2014 flood in south-western Amazon basin: the role of tropical–subtropical South Atlantic SST gradient. Environ Res Lett. doi:10.1088/1748-9326/9/12/124007

Grimm AM (2003) The El Niño impact on summer monsoon in Brazil: regional processes versus remote influences. J Clim 16:263–280

Grimm AM, Silva Dias PL (1995) Analysis of tropical–extratropical interactions with influence functions of a barotropic model. J Atmos Sci 52:3538–3555

Grimm AM, Zilli MT (2009) Interannual variability and seasonal evolution of summer monsoon rainfall in South America. J Clim 22:2257–2275

Grimm AM, Pal J, Giorgi F (2007) Connection between spring conditions and peak summer monsoon rainfall in South America: role of soil moisture, surface temperature, and topography in eastern Brazil. J Clim 20:5929–5945

Herdies DL, DaSilva A, Silva Dias MAF, Ferreira RN (2002) The moisture budget of the bimodal pattern of the summer circulation over South America. J Geophys Res 107(D20):8075. doi:10.1029/2001JD000997

Hoskins BJ, Ambrizzi T (1993) Rossby wave propagation on a realistic longitudinaly varying flow. J Atmos Sci 50:1661–1671

Kalnay et al (1996) The NCEP/NCAR 40-year reanalysis project. Bull Am Meteorol Soc 77:437–470

Kodama YM (1992) Large-scale common features of sub-tropical precipitation zones (the Baiu Frontal Zone, the SPCZ, and the SACZ). Part I: characteristics of subtropical frontal zones. J Meteorol Soc Jpn 70:813–835

Kodama YM (1993) Large-scale common features of sub-tropical precipitation zones (the Baiu Frontal Zone, the SPCZ, and the SACZ). Part II: conditions of the circulations for generating the STCZs. J Meteorol Soc Jpn 71:581–610

Kousky VE (1979) Frontal influences on northeast Brazil. Mon Weather Rev 107:1142–1153

Marengo JA, Douglas M, Silva Dias P (2002) The South American low-level jet east of the Andes during the LBA-TRMM and WET AMC campaign of January–April 1999. J Geophys Res 107(47):1–11

Nogués-Paegle J, Mo KC (1997) Alternating wet and dry conditions over South America during summer. Mon Weather Rev 125:279–291

Porto RL, Porto MFA, Palermo M (2014) A ressurreição do volume morto do Sistema Cantareira na Quaresma. Rev DAE 62(197):18–25. doi:10.4322/dae.2014.131

Rayner NA, Parker DE, Horton EB, Folland CK, Alexander LV, Rowell DP, Kent EC, Kaplan A (2003) Global analyses of sea surface temperature, sea ice, and night marine air temperature since the late nineteenth century. J Geophys Res 108(D14):4407. doi:10.1029/2002JD002670

Reboita MS, Da Rocha RP, Ambrizzi T, Gouveia CD (2014) Trend and teleconnection patterns in the climatology of extratropical cyclones over the southern hemisphere. Clim Dyn. doi:10.1007/s00382-014-2447-3

Sardeshmukh PD, Hoskins BJ (1988) The generation of global rotational flow by steady idealized tropical divergence. J Atmos Sci 45(7):1228–1251

Schneider U, Becker A, Finger P, Meyer-Christoffer A, Ziese M, Rudolf B (2014) GPCC's new land surface precipitation climatology based on quality-controlled in situ data and its role in quantifying the global water cycle. Theor Appl Climatol 115:15–40. doi:10.1007/s00704-013-0860-x

Yang G-Y, Hoskins BJ (1996) Propagation of Rossby waves of nonzero frequency. J Atmos Sci 53:2365–2378
Acknowledgments
The research leading to these results has received funding from the SPECS project (Grant Agreement No. 308378) funded by the European Commission's Seventh Framework Research Programme. C.A.S.C. and T.A. were supported by Conselho Nacional de Desenvolvimento Científico e Tecnológico (CNPq) processes 306863/2013-8 and 300976/2010-0, respectively. T.A. also had the support from FAPESP (Proc. No. 2008/58101-9) and Vale Technological Institute. The National Meteorological Service (INMET) and regional meteorological centres in Brazil are acknowledged for making available the observed precipitation data used in this study. We thank Simone T. Ferraz and Ana Carolina V. Freitas for their help with Figs. 8 and 9. Two anonymous reviewers are thanked for providing constrictive criticisms that helped improved the quality of the paper.
About this article
Cite this article
Coelho, C.A.S., de Oliveira, C.P., Ambrizzi, T. et al. The 2014 southeast Brazil austral summer drought: regional scale mechanisms and teleconnections. Clim Dyn 46, 3737–3752 (2016). https://doi.org/10.1007/s00382-015-2800-1
Received:

Accepted:

Published:

Issue Date:
Keywords
Drought

Teleconnections

Sea surface temperature

Austral summer

Precipitation

Southeast Brazil