Abstract
The El Niño–Southern Oscillation (ENSO) phenomenon plays a large role in the modulation of Australian rainfall, particularly in the highly populated southeast. However, this influence is not stationary over time: weak ENSO teleconnections in Australia have been identified during 1920–1950, and palaeoclimate reconstructions indicate that a breakdown in global ENSO teleconnections may have also occurred in the early to mid-1800s. A lack of long-term instrumental data has prevented detailed examination of this intriguing earlier period. This study uses newly recovered instrumental rainfall observations to determine whether the weakening of ENSO teleconnections in the nineteenth century is apparent in eastern and southern southeastern Australia (SEA). Quantitative rainfall and rainday data from 1788 to 2012 are compared with three ENSO indices derived from palaeoclimate data. Statistical analysis suggests a weakening of the relationship between ENSO and SEA rainfall in the early nineteenth century data (~1835–1850), supporting results reported in previous global and regional studies based on palaeoclimate and documentary rainfall reconstructions. Possible causes of this weakening in teleconnection strength are then explored by examining a range of Southern Hemisphere circulation indices. The 1835–1850 period of low ENSO–SEA rainfall correlations appears to be characterised by a combination of reduced La Niña events and ENSO variance associated with a positive phase of the Interdecadal Pacific Oscillation, with the possible influence of a predominately negative phase of the Southern Annular Mode. However, current temporal and geographical data limitations prevent definitive conclusions from being drawn. Despite these caveats, this study illustrates the considerable value of historical instrumental climate data in assessing long-term variations in climate mode teleconnections, particularly in the data-poor Southern Hemisphere.
Access options
Buy single article
Instant access to the full article PDF.
US$ 39.95
Tax calculation will be finalised during checkout.
Subscribe to journal
Immediate online access to all issues from 2019. Subscription will auto renew annually.
US$ 119
Tax calculation will be finalised during checkout.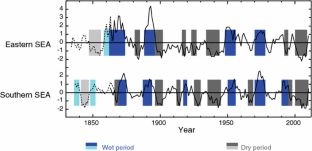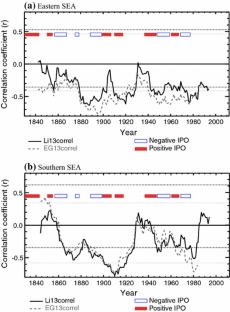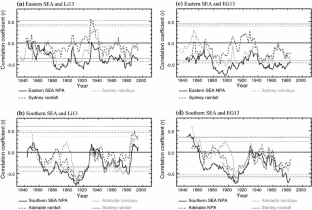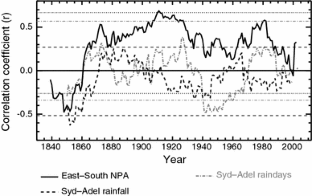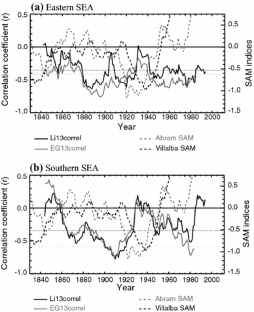 References
Abram NJ, Mulvaney R, Vimeux F, Phipps SJ, Turner J, England MH (2014) Evolution of the Southern Annular Mode during the past millennium. Nat Clim Change 4:564–569. doi:10.1038/nclimate2235

Adamson GCD, Nash DJ (2014) Documentary reconstruction of monsoon rainfall variability over western India, 1781–1860. Clim Dyn 42:749–769

Alexander LV, Uotila P, Nicholls N, Lynch A (2010) A new daily pressure dataset for Australia and its application to the assessment of changes in synoptic patterns during the last century. J Clim 23:1111–1126

Allan RJ (2000) ENSO and climatic variability in the past 150 years. In: Diaz HF, Markgraf V (eds) El Nino and the Southern Oscillation; multiscale variability and global and regional impacts. Cambridge University Press, Cambridge, pp 3–35

Allan RJ, D'Arrigo RD (1999) "Persistent" ENSO sequences: how unusual was the 1990–1995 El Niño? The Holocene 9:101–118. doi:10.1191/095968399669125102

Allan RJ, Lindesay J, Parker D (1996) El Nino: Southern oscillation and climatic variability. CSIRO, Melbourne

Allan RJ, Chambers D, Drosdowsky W, Hendon H, Latif M, Nicholls N, Smith I, Stone RC, Tourre Y (2001) Is there an Indian Ocean dipole and is it independent of the El Niño–Southern Oscillation? CLIVAR Exch 6:18–22

Arblaster JM, Meehl GA (2006) Contributions of external forcings to southern annular mode trends. J Clim 19:2896–2905. doi:10.1175/JCLI3774.1

Arblaster J, Meehl G, Moore A (2002) Interdecadal modulation of Australian rainfall. Clim Dyn 18:519–531. doi:10.1007/s00382-001-0191-y

Ashcroft L, Gergis J, Karoly DJ (2014a) A historical climate dataset for southeastern Australia, 1788–1859. Geosci Data J 1:158–178. doi:10.1002/gdj3.19

Ashcroft L, Karoly DJ, Gergis J (2014b) Southeastern Australian climate variability 1860–2009: a multivariate analysis. Int J Climatol 34:1928–1944. doi:10.1002/joc.3639

Brázdil R, Dobrovolný P, Luterbacher J, Moberg A, Pfister C, Wheeler D, Zorita E (2010) European climate of the past 500 years: new challenges for historical climatology. Clim Change 101:7–40. doi:10.1007/s10584-009-9783-z

Cai W, van Rensch P, Cowan T (2011) Teleconnection pathways of ENSO and the IOD and the mechanisms for impacts on Australian rainfall. J Clim 24:3910–3923

Cole JE, Cook ER (1998) The changing relationship between ENSO variability and moisture balance in the continental United States. Geophys Res Lett 25:4529–4532

Cole JE, Dunbar RB, McClanahan TR, Muthiga NA (2000) Tropical Pacific forcing of decadal SST variability in the western Indian Ocean over the past two centuries. Science 287:617–619. doi:10.1126/science.287.5453.617

Compo GP, Whitaker JS, Sardeshmukh PD et al (2011) The twentieth century reanalysis project. Q J R Meteorol Soc 137:1–28

D'Arrigo R, Cook E, Wilson R, Allan R, Mann ME (2005a) On the variability of ENSO over the past six centuries. Geophys Res Lett. doi:10.1029/2004GL022055

D'Arrigo R, Wilson R, Deser C, Wiles G, Cook E, Villalba R, Tudhope A, Cole J, Linsley B (2005b) Tropical-north Pacific climate linkages over the past four centuries*. J Clim 18:5253–5265. doi:10.1175/JCLI3602.1

D'Arrigo R, Wilson R, Palmer JG, Krusic PJ, Curtis A, Sakulich J, Bijaksana S, Zulaikah S, Ngkoimani L, Tudhope A (2006) The reconstructed Indonesian warm pool sea surface temperatures from tree rings and corals: linkages to Asian monsoon drought and El Nino–Southern Oscillation. Palaeoceanography 21:PA3005–1–PA3005–13. doi:10.1029/2005PA001256

Dommenget D (2011) An objective analysis of the observed spatial structure of the tropical Indian Ocean SST variability. Clim Dyn 36:2129–2145. doi:10.1007/s00382-101-0787-1

Emile-Geay J, Cobb KM, Mann ME, Wittenberg AT (2013) Estimating central equatorial Pacific SST variability over the past millennium. Part II: reconstructions and implications. J Clim 26:2329–2352. doi:10.1175/JCLI-D-11-00511.1

Fenby C, Gergis J (2013) A rainfall history of south-eastern Australia Part 1: comparing evidence from documentary and palaeoclimate records, 1788–1860. Int J Climatol 33:2956–2972. doi:10.1002/joc.3640

Fogt RL, Bromwich DH (2006) Decadal variability of the ENSO teleconnection to the high-latitude South Pacific governed by coupling with the Southern Annular Mode*. J Clim 19:979–997

Fogt RL, Bromwich DH, Hines KM (2010) Understanding the SAM influence on the South Pacific ENSO teleconnection. Clim Dyn 36:1555–1576. doi:10.1007/s00382-010-0905-0

Folland CK, Renwick JA, Salinger MJ, Mullan AB (2002) Relative influences of the interdecadal Pacific oscillation and ENSO on the South Pacific convergence zone. Geophys Res Lett 29:1643. doi:10.1029/2001gl014201

Fowler AM, Boswijk G, Lorrey AM, Gergis J, Pirie M, McCloskey SPJ, Palmer JG, Wunder J (2012) Multi-centennial tree-ring record of ENSO-related activity in New Zealand. Nat Clim Change 2:1–5. doi:10.1038/nclimate1374

Freeman GH, Halton JH (1951) Note on an exact treatment of contingency, goodness of fit and other problems of significance. Biometrika 38:141–149

Gallant AJE, Phipps SJ, Karoly DJ, Muhan AB, Lorrey AM (2013) Non-stationary Australasian teleconnections and implications for paleoclimate reconstructions. J Clim 26:8827–8849. doi:10.1175/JCLI-D-12-00338.1

Gergis J, Ashcroft L (2013) A rainfall history of southeastern Australia Part 2: a comparison of documentary, early instrumental and palaeoclimate records, 1788–2008. Int J Climatol 33:2973–2987. doi:10.1002/joc.3639

Gergis J, Fowler A (2009) A history of El Niño–Southern Oscillation (ENSO) events since A.D. 1525: implications for future climate change. Clim Change 92:343–387

Gergis J, Gallant A, Braganza K, Karoly DJ, Allen K, Cullen L, D'Arrigo R, Goodwin I, Grierson P, McGregor S (2012) On the long-term context of the 1997–2009 "Big Dry" in south-eastern Australia: insights from a 206-year multi-proxy rainfall reconstruction. Clim Change 111:923–944. doi:10.1007/s10584-011-0263-x

Goodwin ID, van Ommen TD, Curran MAJ, Mayewski PA (2004) Mid latitude winter climate variability in the South Indian and southwest Pacific regions since 1300 AD. Clim Dyn 22:783–794. doi:10.1007/s00382-004-0403-3

Hendon HH, Thompson DWJ, Wheeler MC (2007) Australian rainfall and surface temperature variations associated with the Southern Hemisphere annular mode. J Clim 20:2452–2467. doi:10.1175/JCLI4134.1

Hendon HH, Lim E-P, Arblaster JM, Anderson DLT (2013) Causes and predictability of the record wet east Australian spring 2010. Clim Dyn 42:1155–1174. doi:10.1007/s00382-013-1700-5

Jones JM, Widmann M (2004) Atmospheric science: early peak in Antarctic oscillation index. Nature 432:290–291. doi:10.1038/432290b

Jones DA, Wang W, Fawcett R (2009) High-quality spatial climate data-sets for Australia. Aust Meteorol Oceanogr J 58:233–248

Karoly DJ (1989) Southern Hemisphere circulation features associated with El Niño–Southern Oscillation events. J Clim 2:1239–1252. doi:10.1175/1520-0442(1989)002

Kestin TS, Karoly DJ, Yano J-I, Rayner NA (1998) Time-frequency variability of ENSO and stochastic simulations. J Clim 11:2258–2272. doi:10.1175/1520-0442

Knippertz P, Ulbrich U, Marques F, Corte-Real JO (2003) Decadal changes in the link between El Nino and springtime North Atlantic Oscillation and European-North African rainfall. Int J Climatol 23:1293–1311. doi:10.1002/joc.944

Lavery B, Joung G, Nicholls N (1997) An extended high-quality historical rainfall dataset for Australia. Aust Meteorol Mag 46:27–38

Li J, Xie S-P, Cook ER et al (2013) El Niño modulations over the past seven centuries. Nat Clim Change 3:822–826. doi:10.1038/nclimate1936

Linsley BK, Zhang P, Kaplan A, Howe SS, Wellington GM (2008) Interdecadal-decadal climate variability from multicoral oxygen isotope records in the South Pacific Convergence Zone region since 1650 A.D. Palaeoceanography 23:PA2219. doi:10.1029/2007PA001539

Mann M, Bradley R, Hughes M (2000) Long-term variability in the El Niño/Southern Oscillation and associated teleconnections. In: Diaz HAMV, Markgraf VADH (eds) El Nino and the Southern Oscillation; multiscale variability and global and regional impacts. Cambridge University Press, Cambridge, pp 327–372

McBride J, Nicholls N (1983) Seasonal relationships between Australian rainfall and the Southern Oscillation. Mon Weather Rev 111:1998–2004

McGregor S, Timmermann A, Timm O (2010) A unified proxy for ENSO and PDO variability since 1650. Clim Past 6:1–17

Meinke H, deVoil P, Hammer GL, Power S, Allan R, Stone RC, Folland C, Potgieter A (2005) Rainfall variability at decadal and longer time scales: signal or noise? J Clim 18:89–96. doi:10.1175/JCLI-3263.1

Meyers G, McIntosh P, Pigot L, Pook M (2007) The years of El Niño, La Niña, and interactions with the tropical Indian Ocean. J Clim 20:2872–2880. doi:10.1175/JCLI4152.1

Murphy B, Timbal B (2008) A review of recent climate variability and climate change in southeastern Australia. Int J Climatol 28:859–879

Nash DJ, Endfield GH (2002) A 19th century climate chronology for the Kalahari region of central southern Africa derived from missionary correspondence. Int J Climatol 22:821–841. doi:10.1002/joc.753

Nash DJ, Endfield GH (2008) "Splendid rains have fallen": links between El Nino and rainfall variability in the Kalahari, 1840–1900. Clim Change 86:257–290. doi:10.1007/s10584-007-9274-z

Nash D, Grab S (2010) "A sky of brass and burning winds": documentary evidence of rainfall variability in the Kingdom of Lesotho, Southern Africa, 1824–1900. Clim Change 101:617–653. doi:10.1007/s10584-009-9707-y

Nicholls N (2010) Local and remote causes of the southern Australian autumn–winter rainfall decline, 1958–2007. Clim Dyn 34:835–845. doi:10.1007/s00382-009-0527-6

Nicholls N, Collins D, Trewin B, Hope P (2006) Historical instrumental climate data for Australia—quality and utility for palaeoclimatic studies. J Quat Sci 21:681–688

Pepler A, Timbal B, Rakich C, Coutts-Smith A (2014) Indian Ocean Dipole overrides ENSO's influence on cool season rainfall across the Eastern Seaboard of Australia. J Clim 27:3816–3826. doi:10.1175/JCLI-D-13-00554.1

Power S, Tseitkin F, Torok SJ, Lavery B, Dahni R, McAveny B (1998) Australian temperature, Australian rainfall and the Southern Oscillation, 1910–1992: coherent variability and recent changes. Aust Meteorol Mag 47:85–101

Power S, Casey T, Folland C, Colman A (1999) Inter-decadal modulation of the impact of ENSO on Australia. Clim Dyn 15:319–324

Power S, Haylock M, Colman R, Wang XD (2006) The predictability of interdecadal changes in ENSO activity and ENSO teleconnections. J Clim 19:4755–4771. doi:10.1175/jcli3868.1

Rakich C, Holbrook N, Timbal B (2008) A pressure gradient metric capturing planetary-scale influences on eastern Australian rainfall. Geophys Res Lett 35:L08713. doi:10.1029/2007GL032970

Reason CJC, Allan RJ, Lindesay JA (1998) Climate variability on decadal time scales: mechanisms and implications for climate change. Palaeoclimates 3:25–49

Risbey JS, Pook MJ, McIntosh PC, Wheeler MC, Hendon HH (2009) On the remote drivers of rainfall variability in Australia. Mon Weather Rev 137:3233–3253

Ropelewski CF, Halpert MS (1987) Global and regional scale precipitation patterns associated with the El-Nino/southern oscillation. Mon Weather Rev 115:1606–1626

Speer MS, Leslie LM, Fierro AO (2010) Australian east coast rainfall decline related to large scale climate drivers. Clim Dyn 36:1419–1429. doi:10.1007/s00382-009-0726-1

Thiessen AH (1911) Precipitation averages for large areas. Mon Weather Rev 39:1082–1089. doi:10.1175/1520-0493

Timbal B (2010) The climate of the Eastern Seaboard of Australia: a challenging entity now and for future projections. IOP Conf Ser Earth Environ Sci 11:012013. doi:10.1088/1755-1315/11/1/012013

Timbal B, Drosdowsky W (2013) The relationship between the decline of Southeastern Australian rainfall and the strengthening of the subtropical ridge. Int J Climatol 33:1021–1034. doi:10.1002/joc.3492

Timbal B, Fawcett R (2012) A historical perspective on south-eastern Australia rainfall since 1865 using the instrumental record. J Clim 26:1112–1129. doi:10.1175/JCLI-D-12-00082.1

Torrence C, Webster PJ (1999) Interdecadal changes in the ENSO–monsoon system. J Clim 12:2679–2690

Trewin B, Fawcett R (2009) Reconstructing historical rainfall averages for the Murray–Darling Basin. Bull Aust Meteorol Oceanogr Soc 22:158–164

Ummenhofer CC, England MH, McIntosh PC, Meyers GA, Pook MJ, Risbey JS, Gupta AS, Taschetto AS (2009) What causes southeast Australia's worst droughts? Geophys Res Lett 36:L04706

Ummenhofer CC, Gupta AS, Briggs PR, England MH, McIntosh PC, Meyers GA, Pook MJ, Raupach MR, Risbey JS (2011) Indian and Pacific Ocean influences on southeast Australian drought and soil moisture. J Clim. doi:10.1175/2010JCLI3475.1

van Oldenborgh GJ, Burgers G (2005) Searching for decadal variations in ENSO precipitation teleconnections. Geophys Res Lett 32:L15701. doi:10.1029/2005GL023110

Verdon DC, Franks SW (2006) Long-term behaviour of ENSO: interactions with the PDO over the past 400 years inferred from paleoclimate records. Geophys Res Lett 33:L06712. doi:10.1029/2005GL025052

Verdon-Kidd DC, Kiem AS (2009) Nature and causes of protracted droughts in southeast Australia: comparison between the Federation, WWII, and Big Dry droughts. Geophys Res Lett. doi:10.1029/2009GL041067

Villalba R, Lara A, Masiokas MH et al (2012) Unusual Southern Hemisphere tree growth patterns induced by changes in the Southern Annular Mode. Nat Geosci 5:793–798. doi:10.1038/ngeo1613

Visbeck M (2009) A station-based Southern Annular Mode Index from 1884 to 2005. J Clim 22:940–950. doi:10.1175/2008JCLI2260.1

Wittenberg AT (2009) Are historical records sufficient to constrain ENSO simulations? Geophys Res Lett. doi:10.1029/2009GL038710

Lough J (2007) Tropical river flow and rainfall reconstructions from coral luminescence: Great Barrier Reef, Australia. Paleoceanography 22:PA2218. doi:10.1029/2006PA001377

Zhao Y, Nigam S (2015) The Indian Ocean dipole: a monopole in SST. J Clim 28:3–19. doi:10.1175/JCLI-D-14-00047.1

Zwiers FW, Zhang X, Feng Y (2011) Anthropogenic influence on long return period daily temperature extremes at regional scales. J Clim 24:881–892. doi:10.1175/2010JCLI3908.1
Acknowledgments
This study was conducted as part of the South Eastern Australian Recent Climate History (SEARCH) project, supported by the Australian Research Council (ARC) Linkage Project LP0990151. LA and DK were also supported by the ARC Centre of Excellence for Climate System Science, and JG acknowledges funding from ARC fellowship DE130100668. We thank Blair Trewin, Claire Fenby, Ailie Gallant and three anonymous reviewers for advice that helped improve this manuscript.
About this article
Cite this article
Ashcroft, L., Gergis, J. & Karoly, D.J. Long-term stationarity of El Niño–Southern Oscillation teleconnections in southeastern Australia. Clim Dyn 46, 2991–3006 (2016). https://doi.org/10.1007/s00382-015-2746-3
Received:

Accepted:

Published:

Issue Date:
Keywords
Historical climatology

Palaeoclimatology

Southeastern Australia

Instrumental data

El Niño–Southern Oscillation

Teleconnections

Southern Hemisphere