Abstract
Unusually hot summer conditions occurred during the 1930s over the central United States and undoubtedly contributed to the severity of the Dust Bowl drought. We investigate local and large-scale conditions in association with the extraordinary heat and drought events, making use of novel datasets of observed climate extremes and climate reanalysis covering the past century. We show that the unprecedented summer heat during the Dust Bowl years was likely exacerbated by land-surface feedbacks associated with springtime precipitation deficits. The reanalysis results indicate that these deficits were associated with the coincidence of anomalously warm North Atlantic and Northeast Pacific surface waters and a shift in atmospheric pressure patterns leading to reduced flow of moist air into the central US. Thus, the combination of springtime ocean temperatures and atmospheric flow anomalies, leading to reduced precipitation, also holds potential for enhanced predictability of summer heat events. The results suggest that hot drought, more severe than experienced during the most recent 2011 and 2012 heat waves, is to be expected when ocean temperature anomalies like those observed in the 1930s occur in a world that has seen significant mean warming.
Access options
Buy single article
Instant access to the full article PDF.
US$ 39.95
Tax calculation will be finalised during checkout.
Subscribe to journal
Immediate online access to all issues from 2019. Subscription will auto renew annually.
US$ 119
Tax calculation will be finalised during checkout.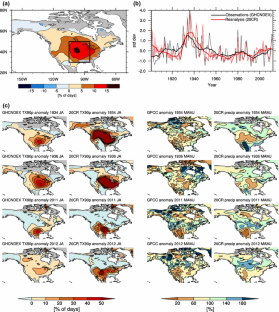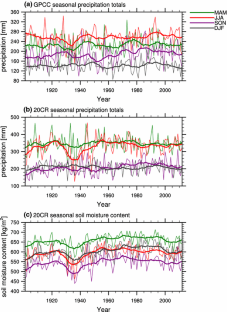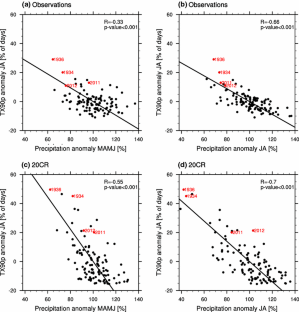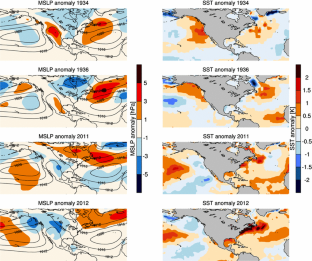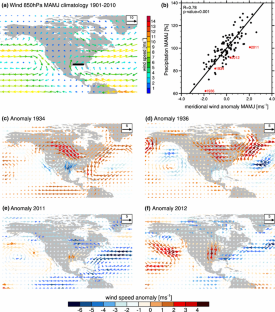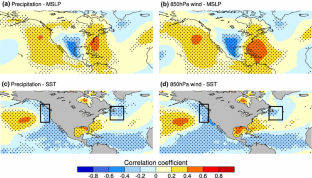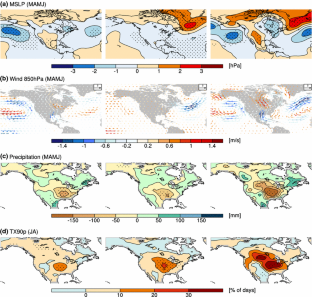 References
Brönnimann S, Stickler A, Griesser T, Ewen T, Grant AN, Fischer AM, Schraner M, Peter T, Rozanov E, Ross T (2009) Exceptional atmospheric circulation during the "Dust Bowl". Geophys Res Lett 36:L08802

Collins M, Knutti R, Arblaster JM, Dufresne JL, Fichefet T, Friedlingstein P, Gao X, Gutowski WJ, Johns T, Krinner G, Shongwe M, Tebaldi C, Weaver AJ Wehner M (2013) Long-term climate change: projections, commitments and irreversibility. In: Stocker TF, Qin D, Plattner GK, Tignor M, Allen SK, Boschung J, Nauels A, Xia Y, Bex V Midgley PM (eds.), Climate change 2013: the physical science basis. Contribution of working group I to the fifth assessment report of the intergovernmental panel on climate change. Cambridge University Press, Cambridge, United Kingdom and New York, NY, USA

Compo GP et al (2011) The twentieth century reanalysis project. Q J R Meteorol Soc 137:1–28

Cook BI, Miller RL, Seager R (2009) Amplification of the North American "Dust Bowl" drought through human-induced land degradation. Proc Natl Acad Sci 106:4997–5001

Cook BI, Cook ER, Anchukaitis KJ, Seager R, Miller RL (2011a) Forced and unforced variability of twentieth century North American droughts and pluvials. Clim Dyn 37:1097–1110

Cook BI, Seager R, Miller RL (2011b) Atmospheric circulation anomalies during two persistent North American droughts: 1932–1939 and 1948–1957. Clim Dyn 36:2339–2355

Cook BI, Smerdon J, Seager R, Cook E (2014a) Pan-continental droughts in North America over the last millennium. J Clim 27:383–397. doi:10.1175/JCLI-D-13-00100.1

Cook BI, Seager R, Smerdon JE (2014b) The worst North American drought year of the last millennium: 1934. Geophys Res Lett. doi:10.1002/2014GL061661

Donat MG, Alexander LV, Yang H, Durre I, Vose R, Caesar J (2013a) Global land-based datasets for monitoring climatic extremes. Bull Am Meteorol Soc 94:997–1006

Donat MG, Alexander LV et al (2013b) Updated analyses of temperature and precipitation extreme indices since the beginning of the twentieth century: the HadEX2 dataset. J Geophys Res Atmos 118:2098–2118

Durre I, Wallace JM, Lettenmaier DP (2000) Dependence of extreme daily maximum temperatures on antecedent soil moisture in the contiguous United States during summer. J Clim 13:2641–2651

Feng S, Fu Q (2013) Expansion of global drylands under a warming climate. Atmos Chem Phys 13:10081–10094

Feng S, Hu Q, Oglesby RJ (2011) Influence of Atlantic sea surface temperatures on persistent drought in North America. Clim Dyn 37:569–586

Hoerling M, Quan XW, Eischeid J (2009) Distinct causes for two principal US droughts of the 20th century. Geophys Res Lett 36(19):L19708

Hoerling M, Schubert S, Mo K et al (2013) An interpretation of the origins of the 2012 Central Great Plains drought (NOAA Assessment Report www.drought.gov/drought/content/drought-task-force-report-page)

Johnstone JA, Mantua NJ (2014) Atmospheric controls on northeast Pacific temperature variability and change, 1900–2012. Proc Natl Acad Sci 111(40):14360–14365

Kidston J, Gerber EP (2010) Intermodel variability of the poleward shift of the austral jet stream in the CMIP3 integrations linked to biases in 20th century climatology. Geophys Res Lett 37:L09708. doi:10.1029/2010GL042873

King AD, Donat MG, Alexander LV, Karoly DJ (2014) The ENSO-Australian rainfall teleconnection in reanalysis and CMIP5. Clim Dyn. doi:10.1007/s00382-014-2159-8

Kistler R, Collins W, Saha S, White G, Woollen J, Kalnay E et al (2001) The NCEP–NCAR 50-year reanalysis: monthly means CD-ROM and documentation. Bull Am Meteorol Soc 82(2):247–267

Knight JR, Folland CK, Scaife AA (2006) Climate impacts of the Atlantic multidecadal oscillation. Geophys Res Lett 33:L17706. doi:10.1029/2006GL026242

Koster RD, Sud YC, Guo Z, Dirmeyer PA, Bonan G et al (2006) GLACE: the global land-atmosphere coupling experiment. Part I: overview. J Hydrometeorol 7(4):590–610

Kumar A, Chen M, Hoerling M, Eischeid J (2013) Do extreme climate events require extreme forcings? Geophys Res Lett 40:3440–3445

McCabe GJ, Palecki MA, Betancourt JL (2004) Pacific and Atlantic Ocean influences on multidecadal drought frequency in the United States. Proc Natl Acad Sci 101:4136–4141

Mitchell TD, Jones PD (2005) An improved method of constructing a database of monthly climate observations and associated high-resolution grids. Int J Climatol 25:693–712

Mueller B, Seneviratne SI (2012) Hot days induced by precipitation deficits at the global scale. Proc Natl Acad Sci 109:12398–12403

Nigam S, Guan B, Ruiz-Barradas A (2011) Key role of the Atlantic multidecadal oscillation in 20th century drought and wet periods over the Great Plains. Geophys Res Lett 38:L16713

Peterson TC, Vose RS (1997) An overview of the global historical climatology network temperature database. Bull Am Meteorol Soc 78:2837–2849

Peterson TC, Heim RR, Hirsch R, Kaiser DP, Brooks H, Diffenbaugh NS et al (2013) Monitoring and understanding changes in heat waves, cold waves, floods and droughts in the United States: state of knowledge. Bull Am Meteorol Soc 94:821–834

Quan X-W, Hoerling MP, Lyon B, Kumar A, Bell MA et al (2012) Prospects for dynamical prediction of meteorological drought. J Appl Meteorol Climatol 51:1238–1252

Rayner NA, Parker DE, Horton EB, Folland CK, Alexander LV et al (2003) Global analyses of sea surface temperature, sea ice, and night marine air temperature since the late nineteenth century. J Geophys Res 108(D14):4407

Scaife AA, Woollings T, Knight J, Martin G, Hinton T (2010) Atmospheric blocking and mean biases in climate models. J Clim 23:6143–6152

Schneider U, Becker A, Finger P, Meyer-Christoffer A, Ziese M, Rudolf B (2014) GPCC's new land surface precipitation climatology based on quality-controlled in situ data and its role in quantifying the global water cycle. Theor Appl Climatol 115(1–2):15–40

Schubert SD, Suarez MJ, Pegion PJ, Koster RD, Bacmeister JT (2004) On the cause of the 1930s Dust Bowl. Science 303:1855–1859

Schubert S, Gutzler D, Wang H, Dai A, Delworth T, Deser C et al (2009) A US CLIVAR project to assess and compare the responses of global climate models to drought-related SST forcing patterns: overview and results. J Clim 22:5251–5272

Seager R, Hoerling M (2014) Atmosphere and ocean origins of North American droughts. J Clim 27:4581–4606

Seager R, Kushnir Y, Ting M, Cane M, Naik N, Miller J (2008) Would advance knowledge of 1930s SSTs have allowed prediction of the Dust Bowl drought? J Clim 21:3261–3281

Seneviratne SI, Corti T, Davin EL, Hirschi M, Jaeger EB, Lehner I, Orlowsky B, Teuling AJ (2010) Investigating soil moisture–climate interactions in a changing climate: a review. Earth Sci Rev 99:125–161

Sutton RT, Hodson DL (2005) Atlantic Ocean forcing of North American and European summer climate. Science 309:115–118

Trenberth KE, Hurrell JW (1994) Decadal atmosphere–ocean variations in the Pacific. Clim Dyn 9:303–319

Wang H, Schubert S, Koster R, Ham YG, Suarez M (2014) On the role of SST forcing in the 2011 and 2012 extreme US heat and drought: a study in contrasts. J Hydrometeorol 15:1255–1273. doi:10.1175/JHM-D-13-069.1

Williams AP, Allen CD, Macalady AK et al (2013) Temperature as a potent driver of regional forest drought stress and tree mortality. Nat Clim Change 3:292–297

Yin D, Roderick ML, Leech G, Sun F, Huang Y (2014) The contribution of reduction in evaporative cooling to higher surface air temperatures during drought. Geophys Res Lett 41:7891–7897. doi:10.1002/2014GL062039
Acknowledgments
This study was supported by the Australian Research Council grants CE110001028, LP100200690 and DE150100456, the U.S. National Science Foundation Grant AGS1243125 (JTO), and a Victorian Centre for Climate Change Adaptation Research Fellowship (JTO). We are grateful to Gil Compo for providing daily data from all 20CR ensemble members to calculate the extremes indices. Support for the 20CR Project is provided by the U.S. Department of Energy, Office of Science Innovative and Novel Computational Impact on Theory and Experiment (DOE INCITE) program, and Office of Biological and Environmental Research (BER), and by the National Oceanic and Atmospheric Administration Climate Program Office. We also express our thanks to two anonymous reviewers for their constructive comments that helped to improve the manuscript.
Electronic supplementary material
Below is the link to the electronic supplementary material.
About this article
Cite this article
Donat, M.G., King, A.D., Overpeck, J.T. et al. Extraordinary heat during the 1930s US Dust Bowl and associated large-scale conditions. Clim Dyn 46, 413–426 (2016). https://doi.org/10.1007/s00382-015-2590-5
Received:

Accepted:

Published:

Issue Date:
Keywords
Extreme heat

Drought

Seasonal predictability

Climate variability

Teleconnections

20th century reanalysis

GHCNDEX