Abstract
The relationship between the seasonal modes of interannual variability of a multiscalar drought index over Europe and the large-scale atmospheric circulation and sea surface temperature (SST) anomaly fields is investigated through statistical analysis of observed and reanalysis data. It is shown that the seasonal modes of dryness and wetness variability over Europe and their relationship with the large-scale atmospheric circulation and global SST anomaly fields differ from one season to another. During winter, the dominant modes of dryness and wetness variability are influenced by the Arctic Oscillation (AO)/North Atlantic Oscillation (NAO), the Scandinavian pattern, the East Atlantic pattern and the East Atlantic/Western Russia pattern. The spring dryness/wetness modes are influenced mainly by the AO, Polar/Eurasian patterns and the Atlantic Multidecadal Oscillation conditions. The phases (positive or negative) and the superposition of these large scale variability modes play a significant role in modulating the drought conditions over Europe. During summer, the atmospheric blocking is one of the main drivers of dryness and wetness conditions, while during autumn dryness/wetness conditions variability can be related to the NAO or with a wave train like pattern in the geopotential height at 850mb, which develops over the Atlantic Ocean and extends up to Siberia. It is also found that the response of the dryness and wetness conditions to global SST is more regional in summer, compared to the other seasons, when local processes may play a more important role.
Access options
Buy single article
Instant access to the full article PDF.
US$ 39.95
Tax calculation will be finalised during checkout.
Subscribe to journal
Immediate online access to all issues from 2019. Subscription will auto renew annually.
US$ 119
Tax calculation will be finalised during checkout.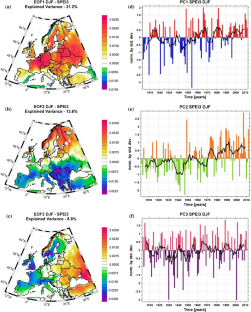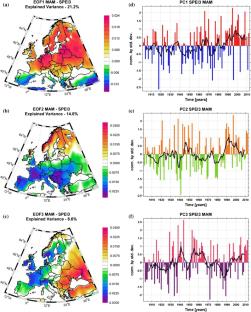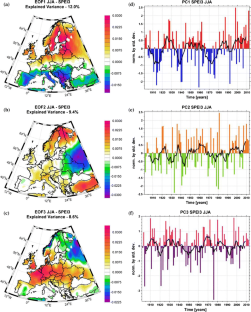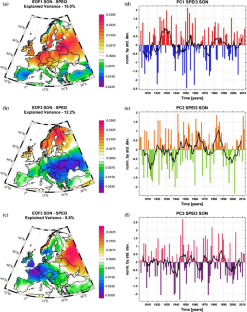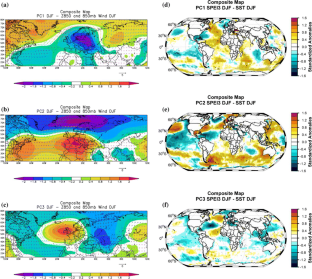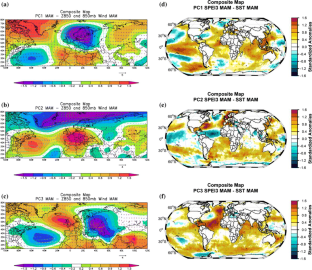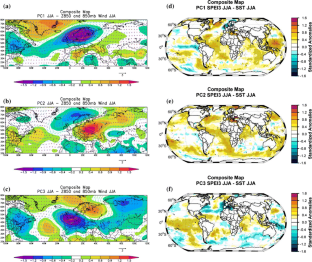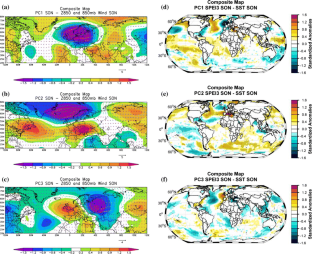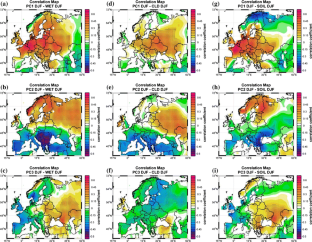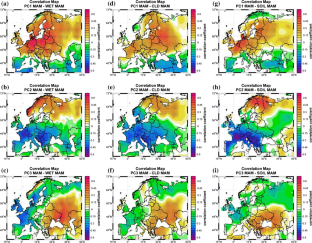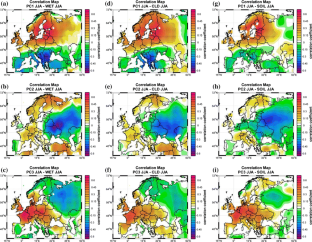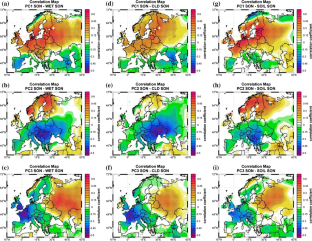 References
Alley WM (1984) The Palmer drought severity index: limitations and applications. J Appl Meteorol 23:1100–1109

Barnston AG, Livezey RE (1987) Classification, seasonality, and persistence of low-frequency atmospheric circulation patterns. Mon Weather Rev 115:1083–1126

Boroneant, C, Potop V, Mozný M, Štepánek P, Skalák P (2012) Large scale circulation patterns associated to seasonal dry and wet conditions over the Czech Republic. pp 271–280 in Cambio climático. Extremos e impactos. Publicaciones de la Asociación Española de Climatología (AEC), 2012, Serie A, n. 8, Salamanca. ISBN: 978-84-695-4331-3

Briffa KR, van der Schrier G, Jones PD (2009) Wet and dry summers in Europe since 1750: evidence of increasing drought. Int J Climatol 29:1894–1905

Brown RD, Robinson DA (2011) Northern Hemisphere spring snow cover variability and change over 1922–2010 including an assessment of uncertainty. The Cryosphere 5:219–229. doi:10.5194/tc-5-219-2011

Cai W, Cowan T (2008) Evidence of impacts from rising temperature on inflows to the Murray–Darling Basin. Geophys Res Lett 35:L07701. doi:10.1029/2008GL033390

Cassou C, Terray L, Phillips A (2005) Tropical Atlantic influence on European heat waves. J Clim 18:2011–2805

Cattiaux J, Vautard R, Yiou P (2010) North-Atlantic SST amplified recent wintertime European land temperature extremes and trends. Clim Dyn 36(11–12):2113–2128. doi:10.1007/s00382-010-0869-0

Comas-Bru L, McDermott F (2013) Impacts of the EA and SCA patterns on the European twentieth century NAO–winter climate relationship. QJR Meteorol Soc. doi:10.1002/qj.2158

Compo GP, Whitaker JS, Sardeshmukh PD (2006) Feasibility of a 100 year reanalysis using only surface pressure data. Bull Am Meteorol Soc 87:175–190

Compo GP, Whitaker JS, Sardeshmukh PD, Matsui N, Allan RJ, Yin X, Gleason BE, Vose RS, Rutledge G, Bessemoulin P, Brönnimann S, Brunet M, Crouthamel RI, Grant AN, Groisman PY, Jones PD, Kruk M, Kruger AC, Marshall GJ, Maugeri M, Mok HY, NordlI Ø, Ross TF, Trigo RM, Wang XL, Woodruff SD, Worley SJ (2011) The twentieth century reanalysis project. QJR Meteorol Soc 137:1–28. doi:10.1002/qj.776

Corte-Real J, Zhang X, Wang X (1995) Large-scale circulation regimes and surface climatic anomalies over the Mediterranean. Int J Climatol 15:1135–1150

Dai A (2011a) Drought under global warming: a review. Wiley Interdiscip Rev Clim Change 2:45–65

Dai A (2011b) Characteristics and trends in various forms of the Palmer Drought Severity Index during 1900–2008. J Geophys Res 116:D12115. doi:10.1029/2010JD015541

Della-Marta PM, Haylock MR, Luterbacher J, Wanner H (2007) Doubled length of western European summer heat waves since 1880. J Geophys Res 112:D15103

Dima M, Rimbu N, Stefan S, Dima I (2001) Quasi-decadal variability in the Atlantic Basin involving tropics-midlatitudes and ocean–atmosphere interactions. J Climate 14:823–832

Dirmeyer PA, Brubaker KL (1999) Contrasting evaporative moisture sources during the drought of 1988 and the flood of 1993. J Geophys Res 104(D16):19383–19397. doi:10.1029/1999JD900222

Dole R, Hoerling M, Perlwitz J, Eischeid J, Pegion P, Zhang T, Quan XW, Xu T, Murray D (2011) Was there a basis for anticipating the 2010 Russian heat wave? Geophys Res Lett 38:L06702. doi:10.1029/2010GL046582

Estrela MJ, Penarrocha D, Millan M (2000) Multi-annual drought episodes in the Mediterranean (Valencia region) from 1950–1996. A spatio-temporal analysis. Int J Climatol 20:1599–1618

Farago T, Kozma E, Nemes C (1989) Drought indices in meteorology. Idojaras 93(1):45–59

Feudale L, Shukla J (2010) Influence of sea surface temperature on the European heat wave of 2003 summer. Part I: an observational study. Clim Dyn 36:1691–1703

Fischer EM, Seneviratne SI, Vidale PL, Lüthi D, Schär C (2007a) Soil moisture–atmosphere interactions during the 2003 European summer heat wave. J Clim 20:5081–5099

Fischer EM, Seneviratne SI, Lüthi D, Schär C (2007b) Contribution of land atmosphere coupling to recent European summer heat waves. Geophys Res Lett 34:L06707. doi:10.1029/2006GL029068

Folland CK, Karl TR, Christy JR, Clarke RA, Gruza GV, Jouzel J, Mann ME, Oerlemans J, Salinger JM, Wang SW (2001) Observed climate variability and change. In Climate change 2001: The scientific basis. Contribution of Working Group I to the Third Assessment Report of the Intergovernmental Panel on Climate Change, ed. Houghton JT, Ding Y, Griggs DJ, Noguer M, van der Linden PJ, Dai X, Maskell K, Johnson CA, 881. Cambridge University Press, Cambridge

Garcia-Herrera R, Diaz J, Trigo RM, Luterbacher J, Fischer EM (2010) A review of the European summer heat wave of 2003. Crit Rev Environ Sci Technol 40:267–306

Greene H, Leighton HG, Stewart RE (2011) Drought and associated cloud fields over the Canadian Prairie Provinces. Atmos Ocean 49(4):356–365

Harris I, Jones PD, Osborn TJ, Lister DH (2013) Updated high-resolution grids of monthly climatic observations. Int J Climatol. doi:10.1002/joc.3711

Heim RR (2002) A review of twentieth-century drought indices used in the United States. Bull Am Meteorol Soc 83(8):1149–1165

Hoerling M, Eischeid J, Perlwitz J, Quan X, Zhang T, Pegion P (2012) On the increased frequency of mediterranean drought. J Clim 25:2146–2161

Hurrel JW (1995) Decadal trends in the North Atlantic Oscillation regional temperatures and precipitation. Science 269:676–679

Hurrell JW (1996) Influence of variations in extratropical wintertime teleconnections on Northern Hemisphere temperature. Geophys Res Lett 23:665–668

Ionita M, Lohmann G, Rimbu N (2008) Prediction of Elbe discharge based on stable teleconnections with winter global temperature and precipitation. J Clim 21:6215–6226. doi:10.1175/2008JCLI2248.1

Ionita M, Rimbu N, Lohmann G (2011) Decadal variability of the Elbe River streamflow. Int J Climatol 31:22–30. doi:10.1002/joc.2054

Ionita M, Lohmann G, Rimbu N, Chelcea S, Dima M (2012a) Interannual to decadal summer drought variability over Europe and its relationship to global sea surface temperature. Clim Dyn 38(1–2):363–377

Ionita M, Lohmann G, Rimbu N, Chelcea S (2012b) Interannual variability of Rhine River streamflow and its relationship with large-scale anomaly patterns in spring and autumn. J Hydrometeorol 13:172–188

Ionita M, Lohmann G, Rimbu N, Scholz P (2012c) Dominant modes of Diurnal Temperature Range variability over Europe and their relationships with large-scale atmospheric circulation and sea surface temperature anomaly patterns. J Geophys Res. doi:10.1029/2011JD016669

Ionita M, Rimbu N, Chelcea S, Patrut S (2013) Multidecadal variability of summer temperature over Romania and its relation with Atlantic Multidecadal Oscillation. Theor Appl Climatol 113:305–315

Jones PD, Moberg A (2003) Hemispheric and large-scale surface air temperature variations: an extensive revision and an update to 2001. J Clim 16:206–223

Jones RJA, Houšková B, Bullock P, Montanarella L (eds) (2005) Soil resources of Europe, 2nd edn. European Soil Bureau Research Report No. 9, EUR 20559 EN. Office for Official Publications of the European Communities, Luxembourg

Knight JR, Allan RJ, Folland CK, Vellinga M, Mann ME (2005) A signature of persistent natural thermohaline circulation cycles in observed climate. Geophys Res Lett 32:L20708. doi:10.1029/2005GL024233

Koleva E, Alexandrov V (2008) Drought in the Bulgarian low regions during the 20th century. Theor Appl Climatol 92:113–120

Latif M, Roeckner E, Botzet M, Esch M, Haak H, Hagemann S, Jungclaus J, Legutke S, Marsland S, Mikolajewicz U, Mitchell JFB (2004) Reconstructing, monitoring, and predicting multidecadal-scale changes in the North Atlantic thermohaline circulation with sea surface temperature. J Clim 17:1605–1614

Livada I, Assimakopoulos VD (2007) Spatial and temporal analysis of drought in Greece using the Standardized Precipitation Index (SPI). Theor Appl Climatol 89:143–153

Lloyd-Hughes B, Saunders MA (2002) A drought climatology for Europe. Int J Climatol 22:1571–1592

Madden RA, Williams J (1978) The correlation between temperature and precipitation in the United States and Europe. Mon Weather Rev 106:142–147

Maracchi G (2000) Agricultural drought—a practical approach to definition, assessment and mitigation strategies. In: Vogt JV, Somma F (eds) Drought and drought mitigation in Europe. Advances in natural and technological hazards research, vol 14. Kluwer Academic, Dordrecht, pp 63–75

Mariotti A, Zeng N, Lau K-M (2002) Euro-Mediterranean rainfall and ENSO—a seasonally varying relationship. Geophys Res Lett. doi:10.1029/2001GL014248

McKee TBN, Doesken J, Kleist J (1993) The relationship of drought frequency and duration to time scales. In: Proceedings of the eighth conference on applied climatology. American Meteorological Society, Anaheim, CA, pp 179–184

Mudiare O (1985) Influence of light rainfall activity and cloud cover on evapotranspiration demands. Ph.D. Thesis, University of Saskatchewan, Saskatoon, SK, p 105

Nicholls N (2004) The changing nature of Australian droughts. Clim Change 63:323–326

North GR, Bell TL, Cahalan RF, Moeng FJ (1982) Sampling errors in the estimation of empirical orthogonal functions. Mon Weather Rev 110(7):699–706

Pal JS, Eltahir EAB (2001) Pathways relating soil moisture conditions to future summer rainfall within a model of the land–atmosphere system. J Clim 14:1227–1242

Palme WC (1965) Meteorological drought. Res Paper No. 45. Weather Bureau Washington, DC

Ped DA (1975) On parameters of drought and humidity. Pap USSSR Hydrometeorol Cent 156:19–38 (in Russian)

Potop V, Boroneanţ C, Mozný M, Štepánek P, Skalák P (2013) Observed spatiotemporal characteristics of drought on various time scales over the Czech Republic. Theor Appl Climatol. doi:10.1007/s00704-013-0908-y

Rayner NA, Parker DE, Horton EB, Folland CK, Alexander LV, Rowell DP, Kent EC, Kaplan A (2003) Globally complete analyses of sea surface temperature, sea ice and night marine air temperature, 1871–2000. J Geophys Res 108:4407. doi:10.1029/2002JD002670

Reichle RH, Koster RD (2003) Assessing the impact of horizontal error correlations in background fields on soil moisture estimation. J Hydrometeorol 4:1229–1242

Rimbu N, Dima M, Lohmann G, Stefan S (2004) Impacts of the North Atlantic Oscillation and the El Niño-Southern Oscillation on Danube river flow variability. Geophys Res Lett 31:L23203. doi:10.1029/2004GL020559

Schär C, Luthi D, Beyerle U, Heise E (1999) The soil–precipitation feedback: a process study with a regional climate model. J Clim 12:722–741

Schubert SD, Wang H, Koster RD, Suarez MJ, Groisman PY (2014) Northern Eurasian heat waves and droughts. J Clim 27:3169–3207

Seneviratne SI, Luethi D, Michael L, Schaer C (2006) Land–atmosphere coupling and climate change in Europe. Nature 443:205–209

Slonosky VC, Jones PD, Davies TD (2001) Atmospheric circulation and surface temperature in Europe from the 18th century to 1995. Int J Climatol 21:63–75

Solomon S, Qin D, Manning M, Marquis M, Averyt K, Tignor MMB, Miller HL, Chen Z (2007) Climate change 2007: the physical science basis. Cambridge University Press, Cambridge

Sutton R, Dong B (2012) Atlantic Ocean influence on a shift in European climate in the 1990s. Nat Geosci 5(10):788–792

Sutton RT, Hodson DLR (2005) Atlantic Ocean forcing of North American and European summer climate. Science 309:115–118

Tang Q, Leng G, Groisman PY (2012) European hot summers associated with a reduction of cloudiness. J Clim 25:3637–3644

Tao H, Borth H, Fraedrich K, Su B, Zhu X (2014) Drought and wetness variability in the Tarim River Basin and connection to large-scale atmospheric circulation. Int J Climatol 34:2678–2684. doi:10.1002/joc.3867

Trenberth KE, Shea DJ (2005) Relationships between precipitation and surface temperature. Geophys Res Lett 32:L14703. doi:10.1029/2005GL022760

Trnka M, Kysely J, Možný M, Dubrovský M (2009) Changes in Central-European soil-moisture availability and circulation patterns in 1881–2005. Int J Climatol 29(5):655–672

van Oldenborgh GJ, Burgers G, Klein Tank A (2000) On the El Nino teleconnection to spring precipitation in Europe. Int J Climatol 20:565–574

Vicente-Serrano SM, Beguería S, López-Moreno JI (2010) A multi-scalar drought index sensitive to global warming: the Standardized Precipitation Evapotranspiration Index—SPEI. J Clim 23(7):1696–1718

Vicente-Serrano SM, López-Moreno JI, Drumond A, Gimeno L et al (2011a) Effects of warming processes on droughts and water resources in the NW Iberian Peninsula (1930–2006). Clim Res 48:203–212

Vicente-Serrano SM, Beguería S, López-Moreno JI (2011b) Comment on "Characteristics and trends in various forms of the Palmer Drought Severity Index (PDSI) during 1900–2008" by A. Dai. J Geophys Res Lett Atmos 116:D19112. doi:10.1029/2011JD016410

von Storch H, Zwiers FW (1999) Statistical analysis in climate research. Cambridge University Press, Cambridge

Weber L, Nkemdirim LC (1998) The Palmer drought severity index revisited. Geogr Ann 80A:153–172

Whitaker JS, Compo GP, Wei X, Hamill TM (2004) Reanalysis without radiosondes using ensemble data assimilation. Mon Weather Rev 132:1190–1200

Wilhite DA, Glantz MH (1985) Understanding the drought phenomenon: the role of definitions. Water Int 10:111–120

World Meteorological Organization (WMO) (1975) Drought and agriculture. WMO/TN 138, WMO, Geneva

Xoplaki E, Gonzalez-Rouco JF, Luterbacher J, Wanner H (2003) Mediterranean summer air temperature variability and its connection to the large-scale atmospheric circulation and SSTs. Clim Dyn 20:723–739. doi:10.1007/s00382-003-0304-x

Zampieri M, D'Andrea F, Vautard R, Ciais P, De Noblet-Ducoudré N, Yiou P (2009) Hot European summers and the role of soil moisture in the propagation of Mediterranean drought. J Clim 22:4747–4758

Zveryaev II (2006) Seasonally varying modes in long-term variability of European precipitation during the 20th century. J Geophys Res 111:D21116. doi:10.1029/2005JD006821

Zveryaev II, Gulev SK (2009) Seasonality in secular changes and interannual variability of European air temperature during the twentieth century. J Geophys Res 114:D02110. doi:10.1029/2008JD010624
Acknowledgments
The work was supported by the REKLIM (Regionale Klimaänderungen/Regional Climate Change) Project and Polar Regions and Coasts in a changing Earth System Project (PACES II). C. Boroneanṭ was supported by the European Community's Seventh Framework Programme (FP7/2007–2013) under Grant Agreement 607193 (UERRA: Uncertainties in Ensembles of Regional Reanalyses).  
About this article
Cite this article
Ionita, M., Boroneanṭ, C. & Chelcea, S. Seasonal modes of dryness and wetness variability over Europe and their connections with large scale atmospheric circulation and global sea surface temperature. Clim Dyn 45, 2803–2829 (2015). https://doi.org/10.1007/s00382-015-2508-2
Received:

Accepted:

Published:

Issue Date:
Keywords
Drought variability

Standardized precipitation evapotranspiration index

Standardized precipitation index

Atmospheric circulation

NAO