Abstract
The interannual variation of autumn precipitation in Southwest China (SWC) and the possible influence of tropical Northwest Pacific (NWP) sea surface temperature (SST) are investigated. Statistical analysis shows that SWC precipitation is negatively correlated with concurrent NWP SST. The warm NWP SST that promotes dry conditions in SWC is linked to three dynamical processes: (1) Warm NWP SST excites an anomalous cyclone over the South China Sea, which is oriented against the climatological flow, weakening the transportation of moisture from the NWP. (2) Warm NWP SST strengthens the westerlies along the equatorial Indian Ocean. As a result, most of the moisture is transported over the maritime continent and thus the poleward flow carrying moisture from the Indian Ocean into SWC becomes weaker. (3) Warm NWP SST provokes anomalous ascent and upper-level divergence in situ, with one path of the outflow heading northwestward and converging over SWC, which induces compensating subsidence over the SWC region. The results of numerical experiments, forced by SST anomalies in the NWP alone, are found to reproduce the observed atmospheric response, indicating that the impact of NWP SST on SWC precipitation is physical and that the moisture conditions over SWC are triggered primarily by the fluctuation of NWP SST. Due to the persistent SST anomaly over NWP from summer to autumn, the NWP SST in the preceding summer can be considered a predictor for autumn drought in SWC. Furthermore, autumn precipitation in SWC has experienced a significant decrease since 1994, probably maintained by the long-lasting warm NWP SST in recent decades.
Access options
Buy single article
Instant access to the full article PDF.
USD 39.95
Price excludes VAT (USA)
Tax calculation will be finalised during checkout.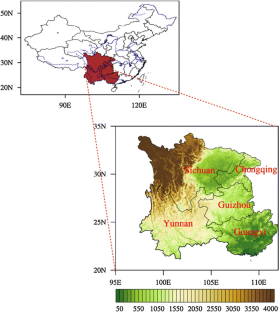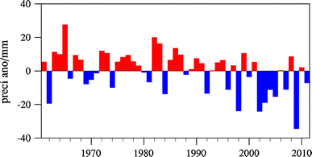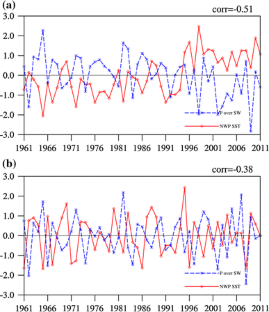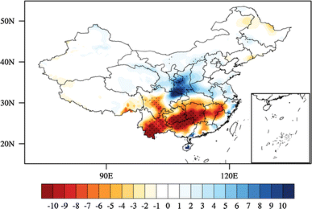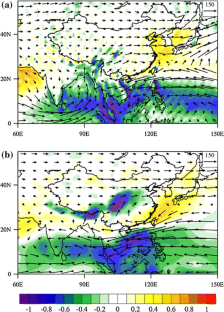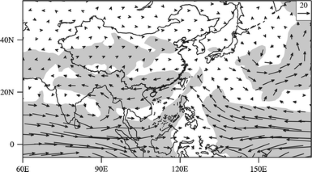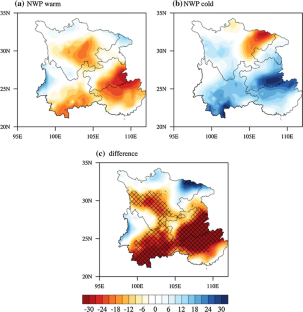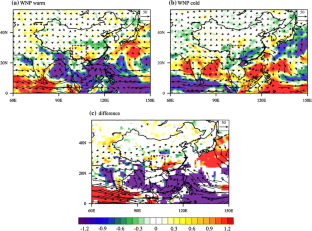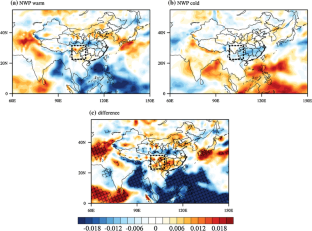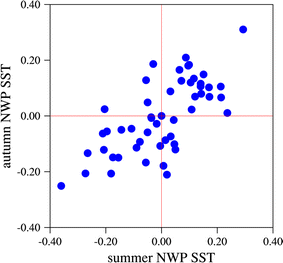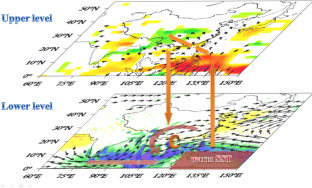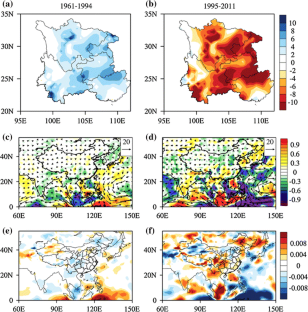 References
Barriopedro D, Gouveia CM, Trigo RM, Wang L (2012) The 2009/10 drought in China: possible causes and impacts on vegetation. J Hydrometeor 13:1251–1267

Chen W, Wang L, Xue Y, Sun S (2009) Variabilities of the spring river runoff system in East China and their relations to precipitation and sea surface temperature. Int J Climatol 29:1381–1394. doi:10.1002/joc.1785

Chen W, Feng J, Wu R (2013a) Roles of ENSO and PDO in the link of the East Asian Winter Monsoon to the following summer monsoon. J Clim 26:622–635

Chen W, Lan X, Wang L, Ma Y (2013b) The combined effects of the ENSO and the Arctic Oscillation on the winter climate anomalies in East Asia. Chin Sci Bull 58:1355–1362

Ding Y, Wang Z, Sun Y (2008) Inter-decadal variation of the summer precipitation in East China and its association with decreasing Asian summer monsoon. Part I: observed evidences. Int J Climatol 28:1139–1161

Ebita A, Kobayashi S, Ota Y, Moriya M, Kumabe R, Onogi K, Harada Y, Yasui S, Miyaoka K, Takahashi K (2011) The Japanese 55-year reanalysis "JRA-55": an interim report. Sola 7:149–152

Feng L, Li T, Yu W (2014) Cause of severe droughts in Southwest China during 1951–2010. Clim Dyn 43:2033–2042. doi:10.1007/s00382-013-2026-z

Gill AE (1980) Some simple solutions for heat-induced tropical circulation. Q J R Meteorol Soc 106:447–462

Huang G (2004) An index measuring the interannual variation of the East Asian summer monsoon—the EAP index. Adv Atmos Sci 21:41–52

Li Y, Xu H, Liu D (2009) Features of the extremely severe drought in the east of Southwest China and anomalies of atmospheric circulation in summer 2006. Acta Meteorol Sin 67:122–132

Li X, Wen Z, Zhou W, Wang D (2012) Atmospheric water vapor transport associated with two decadal rainfall shifts over East China. J Meteor Soc Jpn 90:587–602

Li X, Zhou W, Li C, Song J (2013) Comparison of the annual cycles of moisture supply over Southwest and Southeast China. J Clim 26:10139–10158

Liu Y, Huang G, Huang R (2011) Inter-decadal variability of summer rainfall in Eastern China detected by the Lepage test. Theor Appl Climatol 106:481–488

Lu E, Luo Y, Zhang R, Wu Q, Liu L (2011) Regional atmospheric anomalies responsible for the 2009–2010 severe drought in China. J Geophys Res Atmos 116:D21114

Qiu J (2010) China drought highlights future climate threats. Nature 465:142

Shang K, Zhan F, He J, Qi L (2014) Impact of the preceding-summer heat content over western Pacific warm pool on spring Persistent Rain and its possible meachanism. Acta Oceanol Sin 36(1):86–97 (in Chinese)

Smith TM, Reynolds RW, Peterson TC, Lawrimore J (2008) Improvements to NOAA's historical merged land–ocean surface temperature analysis (1880–2006). J Clim 21:2283–2296

Wang B, Wu R, Fu X (2000) Pacific-East Asian teleconnection: how does ENSO affect East Asian climate? J Clim 13:1517–1536

Wang YH, Chen W, Zhang JY, Nath D (2013) Relationship between soil temperature in May over Northwest China and the East Asian summer monsoon precipitation. Acta Meteor Sin 27(5):716–724

Wu R, Wen Z, Yang S, Li Y (2010) An interdecadal change in Southern China summer rainfall around 1992/93. J Clim 23:2389–2403

Yang J, Gong D, Wang W, Hu M, Mao R (2012) Extreme drought event of 2009/2010 over southwestern China. Meteor Atmos Phys 115:173–184

Ye T, Shi P, Wang J, Liu L, Fan Y, Hu J (2012) China's drought disaster risk management: perspective of severe droughts in 2009–2010. Int J Disaster Risk Sci 3:84–97

Yuan F, Chen W (2013) Roles of the tropical convective activities over different regions in the earlier onset of the South China Sea summer monsoon after 1993. Theor Appl Climatol 113:175–185

Zhang J, Jiang L, Feng Z, Li P (2012a) Detecting effects of the recent drought on vegetation in southwestern China. J Resour Ecol 3:43–49

Zhang L, Xiao J, Li J, Wang K, Lei L, Guo H (2012b) The 2010 spring drought reduced primary productivity in southwestern China. Environ Res Lett 7:045706

Zhang M, He J, Wang B, Wang S, Li S, Liu W, Ma X (2013a) Extreme drought changes in Southwest China from 1960 to 2009. J Geogr Sci 23:3–16

Zhang W, Jin FF, Zhao JX, Qi L, Ren HL (2013b) The possible influence of a non-conventional El Niño on the severe autumn drought of 2009 in Southwest China. J Clim 26:8392–8405

Zhou W, Chan JCL (2006) ENSO and the South China Sea summer monsoon onset. Int J Climatol 27(2):157–167

Zhou W, Li C, Chan JCL (2006) The interdecadal variations of the summer monsoon rainfall over South China. Meteor Atmos Phys 93:165–175

Zhou W, Chen W, Wang DX (2012) The implications of El Niño-Southern Oscillation signal for South China monsoon climate. Aquat Ecosyst Health Manag 15:14–19
Acknowledgments
We thank two anonymous reviewers for their constructive suggestions and comments, which lead to a significant improvement in the paper. This work was supported by the National Natural Science Foundation of China Grants 41461144001 and 41230527, National Science Fund for Distinguished Young Scholars 41425019, and the Jiangsu Collaborative Innovation Center for Climate Change.
About this article
Cite this article
Wang, L., Chen, W., Zhou, W. et al. Teleconnected influence of tropical Northwest Pacific sea surface temperature on interannual variability of autumn precipitation in Southwest China. Clim Dyn 45, 2527–2539 (2015). https://doi.org/10.1007/s00382-015-2490-8
Received:

Accepted:

Published:

Issue Date:

DOI: https://doi.org/10.1007/s00382-015-2490-8
Keywords