Abstract
A new triggering mechanism for deep convection based on the heated condensation framework (HCF) is implemented into the National Centers for Environmental Prediction climate forecast system version 2 (CFSv2). The new trigger is added as an additional criterion in the simplified Arakawa–Schubert scheme for deep convection. Seasonal forecasts are performed to evaluate the influence of the new triggering mechanism in the representation of the Indian summer monsoon in the CFSv2. The HCF trigger improves the seasonal representation of precipitation over the Indian subcontinent. The new triggering mechanism leads to a significant, albeit relatively small, improvement in the bias of seasonal precipitation totals. In addition, the new trigger improves the representation of the seasonal precipitation cycle including the monsoon onset, and the probability distribution of precipitation intensities. The mechanism whereby the HCF improves convection over India seems to be related not only to a better representation of the background state of atmospheric convection but also to an increase in the frequency in which SAS is triggered. As a result, there was an increase in convective precipitation over India favored by the availability of moist convective instability. The increase in precipitation intensity leads to a reduction in the dry bias.
Access options
Buy single article
Instant access to the full article PDF.
US$ 39.95
Tax calculation will be finalised during checkout.
Subscribe to journal
Immediate online access to all issues from 2019. Subscription will auto renew annually.
US$ 119
Tax calculation will be finalised during checkout.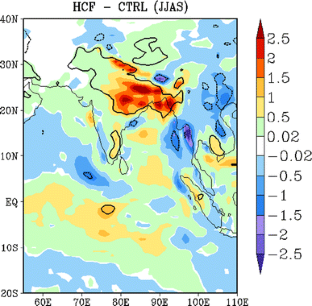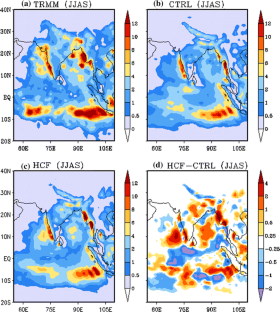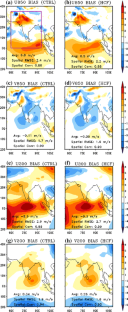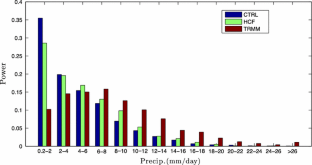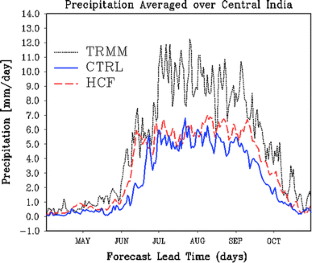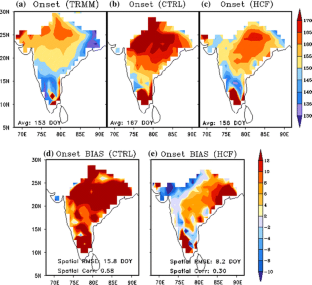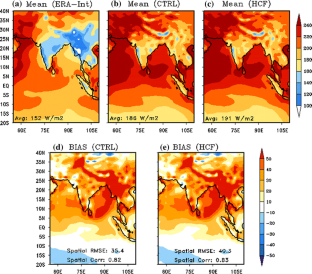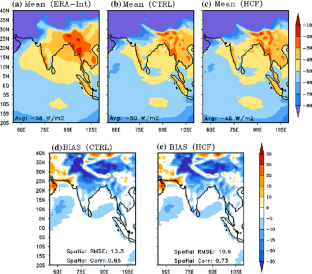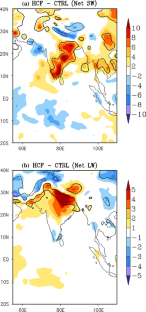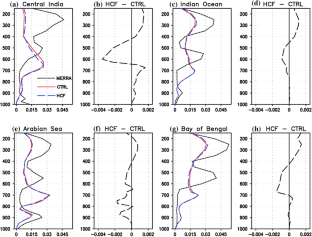 References
Bombardi RJ, Carvalho LMV (2009) IPCC global coupled model simulations of the South America monsoon system. Clim Dyn 33:893–916. doi:10.1007/s00382-008-0488-1

Chao WC (2012) Correction of excessive precipitation over steep and high mountains in a GCM. J Atmos Sci 69:1547–1561. doi:10.1175/JAS-D-11-0216.1

Chao WC (2013) Catastrophe-concept-based cumulus parameterization: correction of systematic errors in the precipitation diurnal cycle over land in a GCM. J Atmos Sci 70:3599–3614. doi:10.1175/JAS-D-13-022.1

Dee DP, Uppala SM, Simmons AJ et al (2011) The ERA-interim reanalysis: configuration and performance of the data assimilation system. Q J R Meteorol Soc 137:553–597. doi:10.1002/qj.828

Fasullo J, Webster PJ (2002) Hydrological signatures relating the Asian summer monsoon and ENSO. J Clim 15:3082–3095. doi:10.1175/1520-0442(2002)015<3082:HSRTAS>2.0.CO;2

Griffies SM, Harrison MJ, Pacanowski RC, Rosati A (2004) A technical guide to MOM4. GFDL ocean group technical report no. 5. 281

Han J, Pan H-L (2011) Revision of convection and vertical diffusion schemes in the NCEP global forecast system. Weather Forecast 26:520–533. doi:10.1175/WAF-D-10-05038.1

Hong S-Y, Pan H-L (1998) Convective trigger function for a mass-flux cumulus parameterization scheme. Mon Weather Rev 126:2599–2620

Huffman GJ, Bolvin DT, Nelkin EJ et al (2007) The TRMM multisatellite precipitation analysis (TMPA): quasi-global, multiyear, combined-sensor precipitation estimates at Fine Scales. J Hydrometeorol 8:38–55. doi:10.1175/JHM560.1

Joseph PV, Eischeid JK, Pyle RJ (1994) Interannual variability of the onset of the Indian summer monsoon and its association with atmospheric features, El Niño, and sea surface temperature anomalies. J Clim 7:81–105. doi:10.1175/1520-0442(1994)007<0081:IVOTOO>2.0.CO;2

Kang I-S, Yang Y-M, Tao W-K (2014) GCMs with implicit and explicit representation of cloud microphysics for simulation of extreme precipitation frequency. Clim Dyn. doi:10.1007/s00382-014-2376-1

Kumar S, Hazra A, Goswami BN (2013) Role of interaction between dynamics, thermodynamics and cloud microphysics on summer monsoon precipitating clouds over the Myanmar Coast and the Western Ghats. Clim Dyn 43:911–924. doi:10.1007/s00382-013-1909-3

Liebmann B, Marengo JA (2001) Interannual variability of the rainy season and rainfall in the Brazilian Amazon Basin. J Clim 14:4308–4318. doi:10.1175/1520-0442(2001)014<4308:IVOTRS>2.0.CO;2

Moorthi S, Suarez MJ (1992) Relaxed Arakawa–Schubert. A parameterization of moist convection for general circulation models. Mon Weather Rev 120:978–1002. doi:10.1175/1520-0493(1992)120<0978:RASAPO>2.0.CO;2

Pan H-L, Wu W-S (1995) Implementing a mass flux convective parameterization package for the NMC medium range forecast model. NMC Off Note 409. http://www.emc.ncep.no

Pokhrel S, Chaudhari HS, Saha SK et al (2012) ENSO, IOD and Indian summer monsoon in NCEP climate forecast system. Clim Dyn 39:2143–2165. doi:10.1007/s00382-012-1349-5

Rienecker MM, Suarez MJ, Todling R, et al. (2008) The GEOS-5 data as- similation system—documentation of versions 5.0.1 and 5.1.0, and 5.2.0. NASA Tech. Rep. Series on global modeling and data assimilation, NASA/TM-2008-104606/Vol 27

Rienecker MM, Suarez MJ, Gelaro R et al (2011) MERRA: NASA's modern-era retrospective analysis for research and applications. J Clim 24:3624–3648. doi:10.1175/JCLI-D-11-00015.1

Rienecker MM, Dee D, Woollen J, et al. (2012) Atmospheric reanalyses—recent progress and prospects for the future. NASA Tech. Rep. Series on Global Modeling and Data Assimilation, NASA/TM–2012-104606/Vol 29

Saha S, Nadiga S, Thiaw C et al (2006) The NCEP climate forecast system. J Clim 19:3483–3517. doi:10.1175/JCLI3812.1

Saha S, Moorthi S, Pan H-L et al (2010) The NCEP climate forecast system reanalysis. Bull Am Meteorol Soc 91:1015–1057. doi:10.1175/2010BAMS3001.1

Saha S, Moorthi S, Wu X et al (2014a) The NCEP climate forecast system version 2. J Clim. doi:10.1175/JCLI-D-12-00823.1

Saha SK, Pokhrel S, Chaudhari HS et al (2014b) Improved simulation of Indian summer monsoon in latest NCEP climate forecast system free run. Int J Climatol 34:1628–1641. doi:10.1002/joc.3791

Silva GAM, Dutra LMM, da Rocha RP et al (2014) Preliminary analysis on the global features of the NCEP CFSv2 seasonal hindcasts. Adv Meteorol 2014:1–21. doi:10.1155/2014/695067

Smith RB, Minder JR, Nugent AD et al (2012) Orographic precipitation in the tropics: the Dominica experiment. Bull Am Meteorol Soc 93:1567–1579. doi:10.1175/BAMS-D-11-00194.1

Stevens B (2005) Atmospheric moist convection. Annu Rev Earth Planet Sci 33:605–643. doi:10.1146/annurev.earth.33.092203.122658

Suhas E, Zhang GJ (2014) Evaluation of trigger functions for convective parameterization schemes using observations. J Clim. doi:10.1175/JCLI-D-13-00718.1

Tawfik AB, Dirmeyer PA (2014) A process-based framework for quantifying the atmospheric preconditioning of surface-triggered convection. Geophys Res Lett 41:173–178. doi:10.1002/2013GL057984

Yang S, Zhang Z, Kousky VE et al (2008) Simulations and seasonal prediction of the Asian summer monsoon in the NCEP climate forecast system. J Clim 21:3755–3775. doi:10.1175/2008JCLI1961.1

Zhu J, Shukla J (2013) The role of air–sea coupling in seasonal prediction of Asia–Pacific summer monsoon rainfall. J Clim 26:5689–5697. doi:10.1175/JCLI-D-13-00190.1
Acknowledgments
We thank the support from the National Monsoon Mission, Ministry of Earth Sciences, Government of India. We also thank the support from NSF (0830068), NOAA (NA09OAR4310058) and NASA (NNX09AN50G). We thank the two anonymous reviewers for their suggestions for the improvement of this manuscript. In addition, we thank the European Centre for Medium-Range Weather Forecasts (ECMWF) for making available the ERA-interim reanalysis and the National Aeronautics and Space Administration (NASA) for making available the MERRA reanalysis and the TRMM analysis. This work used the Extreme Science and Engineering Discovery Environment (XSEDE), which is supported by National Science Foundation grant number ACI-1053575.
Appendix: Precipitation changes in the tropics
Appendix: Precipitation changes in the tropics
Figure 14 shows the JJAS precipitation bias for the entire tropics as well as the difference between HCF and CTRL. As mentioned before, the new triggering mechanism causes only small changes in the CFSv2 precipitation bias (Fig. 14a, b). Besides changes in the Indian summer monsoon, there are significant differences in precipitation over the Central America, the Amazon, tropical Atlantic Ocean, and tropical Africa (Fig. 14c). Although the new trigger improves precipitation over the Indian region, the magnitude of the bias increases over the tropical Atlantic and over tropical Africa (Fig. 14c). Consistent results (slightly smaller differences) are observed when evaluating the simulations for different periods, such as May through July (not shown). This is an example of a well-known phenomenon in developing climate models. When making model modifications it is common to observe the improvement of some regions and the detriment of others. The most important aspect of this research is the fact that we are making the parameterization more physically realistic. In addition, biases can be compensated in the future from the other parameterizations that were tuned to have the best performance in relation to the prior convective trigger.
Presumably, the changes in the precipitation biases in the Indian region could be due to changes in convection elsewhere, like the tropical Pacific, due to teleconnections. However, we did not identify significant circulation changes showing wave-like patterns between HCF and CTRL simulations (not shown). Rather, the changes in circulations are very local. Therefore, although remote influences could be playing a role in the changes in the precipitation biases over India, the mechanisms discussed in the conclusions are likely the dominant mechanisms.
About this article
Cite this article
Bombardi, R.J., Schneider, E.K., Marx, L. et al. Improvements in the representation of the Indian summer monsoon in the NCEP climate forecast system version 2. Clim Dyn 45, 2485–2498 (2015). https://doi.org/10.1007/s00382-015-2484-6
Received:

Accepted:

Published:

Issue Date:
Keywords
Trigger function

CFSv2

Indian summer monsoon

Seasonal predictability

Convection