Abstract
Temporal variations in the Mascarene High (MH), defined by the sea level pressure (SLP) maximum within the region of [40°–120°E, 50°–10°S] in austral summer (November–January), were investigated using atmospheric reanalysis datasets. The MH longitudinal position has a dominant timescale at about 6 years, which appears to be independent of the MH intensity variation. The MH longitudinal movement is caused by a combination of SLP variations in the eastern South Indian Ocean (ESIO) and in the western South Indian Ocean (WSIO), as follows. (1) Pressure variations in the ESIO region are confined to the lower atmosphere up to the mid-troposphere, and are associated with the El Niño-Southern Oscillation events. (2) Pressure variations in the WSIO region, characterized by a quasi-barotropic structure throughout the troposphere, are related to the meridional movement of storm track. Sea surface temperature anomalies associated with the longitudinal movement of the MH show a southwest–northeast dipole structure, but this is shifted 10° westward in longitude compared with that associated with the MH intensity.
This is a preview of subscription content,
to check access.
Access this article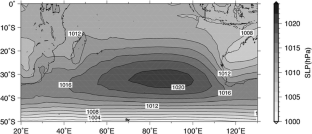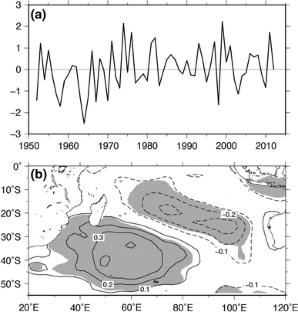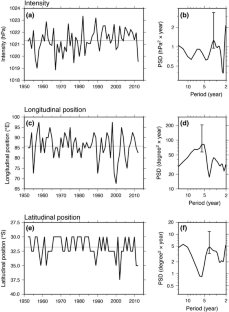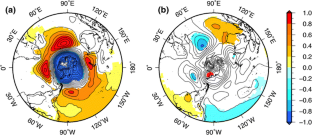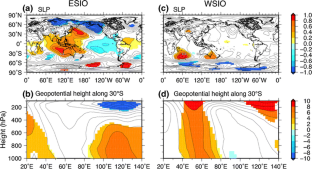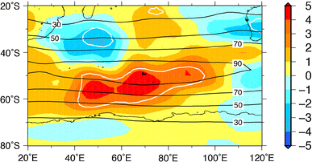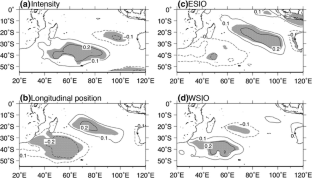 References
Ashok K, Tam CY, Lee WJ (2009) ENSO Modoki impact on the Southern Hemisphere storm track activity during extended austral winter. Geophys Res Lett. doi:10.1029/2009GL038847

Behera SK, Yamagata T (2001) Subtropical SST dipole events in the southern Indian Ocean. Geophys Res Lett 28:327–330

Chiodi AM, Harrison DE (2007) Mechanisms of summertime subtropical southern Indian Ocean sea surface temperature variability: on the importance of humidity anomalies and the meridional advection of water vapor. J Clim 20:4835–4852

Fauchereau N, Trzaska S, Richard Y, Roucou P, Camberlin P (2003) Sea-surface temperature co-variability in the southern Atlantic and Indian Oceans and its connections with the atmospheric circulation in the Southern Hemisphere. Int J Climatol 23:663–677

Gill AE (1980) Some simple solutions for heat-induced tropical circulation. Q J R Met Soc 106:447–462

Hermes JC, Reason CJC (2005) Ocean model diagnosis of interannual coevolving SST variability in the south Indian and south Atlantic oceans. J Clim 18:2864–2882

Kalnay E et al (1996) The NCEP/NCAR 40-year reanalysis project. Bull Amer Meteorol Soc 77:437–471

Manatsa D, Morioka Y, Behera SK, Matarira CH, Yamagata T (2014) Impact of Mascarene High variability on the east African 'short rains'. Clim Dyn. doi:10.1007/s00382-013-1848-z

Matsuno T (1966) Quasi-geostrophic motions in the equatorial area. J Meteor Soc Japan 44:25–43

Miyasaka T, Nakamura H (2010) Structure and mechanisms of the Southern Hemisphere summertime subtropical anticyclones. J Clim 23:2115–2130

Morioka Y, Tozuka T, Yamagata T (2010) Climate variability in the southern Indian Ocean as revealed by self-organizing maps. Clim Dyn 35:1059–1072

Morioka Y, Tozuka T, Masson S, Terray P, Luo JJ, Yamagata T (2012) Subtropical dipole modes simulated in a coupled general circulation model. J Clim 25:4029–4047

Morioka Y, Tozuka T, Yamagata T (2013) How is the Indian Ocean subtropical dipole excited? Clim Dyn 41:1955–1968

Nakamura H, Shimpo A (2004) Seasonal variations in the Southern Hemisphere storm tracks and jet streams as revealed in a reanalysis dataset. J Clim 17:1828–1844

Nan S, Li J (2003) The relationship between the summer precipitation in the Yangtze river valley and the boreal spring Southern Hemisphere annular mode. Geophys Res Lett 30. doi:10.1029/2003GL018381

Ogawa F, Nakamura H, Nishii K, Miyasaka T, Kuwano-Yoshida A (2012) Dependence of the climatological axial latitudes of the tropospheric westerlies and storm tracks on the latitude of an extratropical oceanic front. Geophys Res Lett 39. doi:10.1029/2011GL049922

Reason CJC (2001) Subtropical Indian Ocean SST dipole events and southern African rainfall. Geophys Res Lett 28:2225–2227

Smith TM, Reynolds RW, Peterson TC, Lawrimore J (2008) Improvements to NOAA's historical merged land–ocean surface temperature analysis (1880–2006). J Clim 21:2283–2296

Suzuki R, Behera SK, Iizuka S, Yamagata T (2004) Indian Ocean subtropical dipole simulated using coupled general circulation model. J Geophys Res 109. doi:10.1029/2003JC001974

Thomson DWJ, Wallace JM (2000) Annular modes in the extratropical circulation. Part I: month-to-month variability. J Clim 13:1000–1016

Tozuka T, Kataoka T, Yamagata T (2014) Locally and remotely forced atmospheric circulation anomalies of Ningaloo Niño/Niña. Clim Dyn 43:2197–2205

Trenberth KE (1997) The definition of El Niño. Bull Amer Meteor Soc 78:2771–2777

White WB, Peterson RG (1996) An Antarctic circumpolar wave in surface pressure, wind, temperature and sea-ice extent. Nature 380:699–702
Acknowledgments
The authors express their sincere gratitude to the members of the Physical Oceanography Group at Tohoku University. Numerous comments from and discussions with Dr. Tozuka and Dr. Morioka were very useful and appreciated. We are also grateful to two anonymous reviewers for their constructive comments, which helped improved our manuscript. The first author was financially supported by the Sasakawa Scientific Research Grant from the Japan Science Society.
About this article
Cite this article
Ohishi, S., Sugimoto, S. & Hanawa, K. Zonal movement of the Mascarene High in austral summer. Clim Dyn 45, 1739–1745 (2015). https://doi.org/10.1007/s00382-014-2427-7
Received:

Accepted:

Published:

Issue Date:

DOI: https://doi.org/10.1007/s00382-014-2427-7
Keywords