Abstract
Our results reveal long-term trends in ice out dates (1836–2013) for twelve lakes in Maine, New Brunswick and New Hampshire, in eastern North America. The trends are remarkably coherent between lakes (rs = 0.462–0.933, p < 0.01) and correlate closely with the March–April (MA) instrumental temperature records from the region (rs = 0.488–0.816, p < 0.01). This correlation permits use of ice out dates as a proxy to extend the shorter MA instrumental record (1876–2013). Mean ice out dates trended progressively earlier during the recovery from the Little Ice Age through to the 1940s, and gradually became later again through to the late 1970s, when ice out dates had returned to values more typical of the late nineteenth century. Post-1970's ice out dates resumed trending toward earlier dates, with the twenty-first century being characterized by the earliest ice out dates on record. Spectral and wavelet time series analysis indicate that ice out is influenced by several teleconnections including the Quasi-biennial Oscillation, El Niño-Southern Oscillation, North Atlantic Oscillation, as well as a significant correlation between inland lake records and the Atlantic Multidecadal Oscillation. The relative influence of these teleconnections is variable with notable shifts occurring after ~1870, ~1925, and ~1980–2000. The intermittent expression of these cycles in the ice out and MA instrumental record is not only influenced by absolute changes in the intensity of the various teleconnections and other climate drivers, but through phase interference between teleconnections, which periodically damps the various signals.
This is a preview of subscription content,
to check access.
Access this article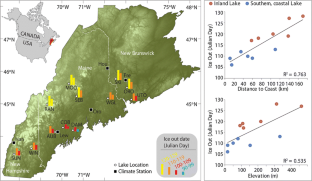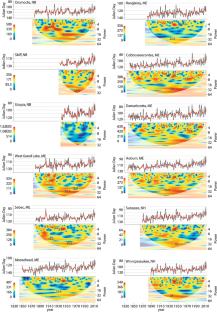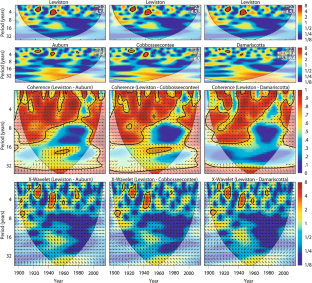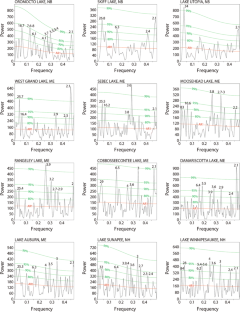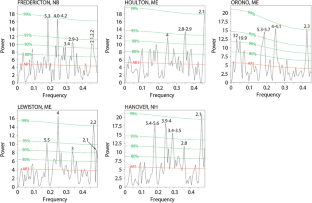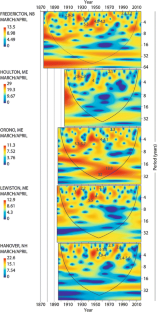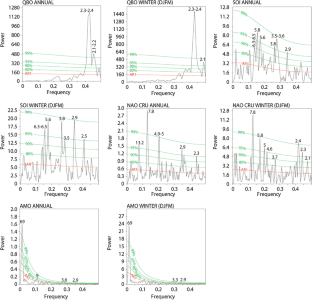 Similar content being viewed by others
References
Anderson DM, Mauk EM, Wahl ER, Morrill C, Wagner AJ, Easterling D, Rutishauser T (2013) Global warming in an independent record of the past 130 years. Geophys Res Lett 40:189–193

Appenzeller C, Stocker TF, Anklin M (1998) North Atlantic Oscillation dynamics recorded in Greenland ice cores. Science 282:446–449

Arhonditsis GB, Winder M, Brett MT, Schindler DE (2004) Patterns and mechanisms of phytoplankton variability in Lake Washington (USA). Water Res 38:4013–4027

Assel RA, Robertson DM (1995) Changes in winter air temperatures near Lake Michigan 1851–1993 as determined from regional lake ice out record. Limnol Oceanogr 40:815–821

Baldwin MP, Gray LJ, Dunkerton TJ, Hamilton K, Haynes PH, Randel WJ, Holton JR, Alexander MJ, Hirota I, Horinouchi T, Jones DBA, Kinnersley JS, Marquardt C, Sato K, Takahash M (2001) The Quasi-biennial Oscillation. Rev Geophys 39:179–229

Benson BJ, Magnuson JJ, Jensen OP, Card VM, Hodgkins G, Korhonen J, Livingstone DM, Stewart KM, Weyhenmeyer GA, Granin NG (2012) Extreme events, trends, and variability in Northern Hemisphere lake ice phenology (1855–2005). Clim Change 112:299–323

Blenckner T, Omstedt A, Rummukainen M (2002) A Swedish case study of contemporary and possible consequences of climate change on lake function. Aquat Sci 64:171–184

Bradley RS, Jones PD (1993) 'Little Ice Age' summer temperature variations: their nature and relevance to recent global warming trends. Holocen 3(4):367–376

Burakowski EA, Braswell RH, Wake CP, Bradbury J, Brown DP (2010) Influence of NAO, ENSO, and AMO on northeast US winter temperatures and snow cover: 1949–2005. Carbon Solutions New England report, p 12

Burroughs WJ (2007) Climate change: a multidisciplinary approach, 2nd edn. Cambridge University Press, Cambridge

Chiodi AM, Harrison DE (2013) El Niño impacts on seasonal U.S. atmospheric circulation, temperature, and precipitation anomalies: the OLR-event perspective. J Clim 26:822–837

Cleveland WS (1979) Robust locally weighted fitting and smoothing scatterplots. J Am Stat Assoc 74:829–836

Cleveland WS (1981) A program for smoothing scatterplots by robust locally weighted fitting. Am Stat 35:54

Dima M, Lohmann G (2007) A hemispheric mechanism for the Atlantic Multidecadal Oscillation. J Clim 20:2706–2719

Duguay CR, Prowse TD, Bonsal BR, Brown RD, Lacroix MP, Ménard P (2006) Recent trends in Canadian lake ice cover. Hydrol Process 20:781–801

Fagan B (2001) The Little Ice Age: How Climate Made History 1300-1850. Basic Books, New York

Fortin D, Lamoureux SF (2009) Multidecadal hydroclimatic variability in northeastern North America since 1550 AD. Clim Dyn 33:427–432

Futter MN (2003) Patterns and trends in southern Ontario Lake ice phenology. Environ Monit Assess 88:31–444

Gennaretti F, Arseneault D, Nicault A, Perreault L, Bégin Y (2014) Volcano-induced regime shifts in millennial tree-ring chronologies from northeastern North America. Proc Nat Acad Sci USA. doi:10.1073/pnas.1324220111

Ghanbari RN, Bravo HR, Magnuson JJ, Hyzer WG, Benson BJ (2009) Conherence between lake ice cover, local climate and teleconnections (Lake Mendota, Wisconsin). J Hydrol 374:282–293

Gray LJ, Beer J, Geller M, Haigh JD, Lockwood M, Matthes K, Cubasch U, Fleitmann D, Harrison G, Hood L, Luterbacher J, Meehl GA, Shindell D, van Geel B, White W (2010) Solar influences on climate. Rev Geophys 48:RG4001. doi:10.1029/2009RG000282

Grenci LM, Nese JM (2010) A world of weather: fundamentals of meteorology, 5th edn. Kendall Hunt Publishing, Dubuque

Grinsted A, Moore JC, Jevrejeva S (2004) Application of the cross wavelet transform and wavelet coherency to geophysical time series. Nonlinear Proc Geophys 11:561–566

Hammer Ø, Harper DAT, Ryan PD (2001) PAST, paleontological statistics software package for education and data analysis. Palaeontol Electron 4:9

Hodgkins GA (2010) Historical ice-out dates for 29 lakes in New England, 1807–2008. USGS Open File Report 2010-1214, p 32

Hodgkins GA (2013) The importance of record length in estimating the magnitude of climate changes: an example using 175 years of lake ice-out dates in New England. Clim Change 119:705–718

Hodgkins GA, James IC II, Huntington TG (2002) Historical changes in lake ice out dates as indicators of climate change in New England, 1850–2000. Int J Climatol 22:1819–1827

Hubeny JB, King JW, Santos A (2006) Subdecadal to multidecadal cycles of Late Holocene North Atlantic climate variability preserved by estuarine fossil pigments. Geology 34:569–572

Huntington TG, Hidgkings GA, Dudley RW (2003) Historical trend in river ice thickness and coherence in hydroclimatological trends in Maine. Clim Change 61:217–236

Hurrell J, National Center for Atmospheric Research Staff (eds) (2014) The climate data guide: Hurrell North Atlantic Oscillation (NAO) Index (station-based). Retrieved from https://climatedataguide.ucar.edu/climate-data/hurrell-north-atlantic-oscillation-nao-index-station-based. Last modified 20 Jun 2014. Accessed 9 Jul 2014

IPCC (2013) Climate Change (2013) The physical science basis. In: Stocker TF, Qin D, Plattner, G-K, Tignor, M, Allen, SK, Boschung J, Nauels A, Xia, Y, Bex V, Midgley PM (eds) Contribution of working group I to the fifth assessment report of the intergovernmental panel on climate change. Cambridge University Press, Cambridge

Kavvada A, Ruiz-Barradas A, Nigam S (2013) AMO's structure and climate footprint in observations and IPCC AR5 simulations. Clim Dyn 41:1345–1364

Knight JR, Folland CK, Scaife AA (2006) Climate impacts of the Atlantic Multidecadal Oscillation. Geophys Res Lett 33:L17706. doi:10.1029/2006GL026242

Knudsen MF, Seidenkrantz M-S, Jacobson BH, Kuijpers A (2011) Tracking the Atlantic Multidecadal Oscillation through the last 8,000 years. Nat Commun 2:178. doi:10.1038/ncomms1186

Korhonen J (2006) Long-term trends in lake ice cover in Finland. In: Proceedings of the 18th IAHR international symposium on ice. 28 August–1 September, Sapporo, Japan, pp 71–78

Kuusisto E (1987) An analysis of the longest ice observation series make on Finnish lakes. Aqua Fennica 17:123–132

Kuusisto E, Elo A-R (2000) Lake and river ice variables as climate indicators in Northern Europe. Verh Internat Verein Limnol 27:2761–2764

Lees JM, Parks J (1995) Multi-taper spectral analysis: a stand-alone C subroutine. Comput Geosci 21:199–236

Lewis N, Curry JA (2014) The implications for climate sensitivity of AR5 forcing and heat uptake estimates. Clim Dyn. doi:10.1007/s00382-014-2342-y

Livingstone DM (2000) Large-scale climatic forcing detected in historical observations of lake ice break-up. Verh Internat Verein Limnol 27:2775–2783

Livingstone DM, Adrian R (2009) Modeling the duration of intermittent ice cover on a lake for climate-change studies. Limnol Oceanogr 54:1709–1722

Magnuson JJ, Robertson DM, Benson BJ, Wynne RH, Livingstone DM, Arai T, Assel RW, Barry RG, Card V, Kuusisto E, Granin NG, Prowse TD, Stewart KM, Vuglinski VS (2000) Historical trends in lake and river ice cover in the northern hemisphere. Science 289:1743–1746

Magnuson JJ, Benson BJ, Kratz TK (2004) Patterns of coherent dynamics within and between lake districts at local to intercontinental scales. Boreal Environ Res 9:359–369

Magnuson JJ, Benson BJ, Jensen OP, Clark TB, Card V, Futter MN, Soranno PA, Stewart KM (2005) Persistence of coherence of ice-off dates for inland lakes across the Laurentian Great Lakes region. Verh Internat Verein Limnol 29:521–527

Maine Department of Environmental Protection (2013) The economics of lakes—Dollars and $ense. http://www.maine.gov/dep/water/lakes/research.html. Accessed 21 May 2014

Maraun D, Kurths J (2004) Cross wavelet analysis: significance testing and pitfalls. Nonlinear Proc Geoph 11:505–514

McCabe GJ, Palecki MA, Betancourt JL (2004) Pacific and Atlantic Ocean influences on multidecadal drought frequency in the United States. Proc Nat Acad Sci USA 101:4136–4141

New Brunswick Environment and Local Government (2014) The importance of lakes. http://www2.gnb.ca/content/gnb/en/departments/elg/environment/content/water/content/lakes/the_importance_oflakes.html. Accessed 21 May 2014

Ning L, Bradley RS (2014) Winter precipitation variability and corresponding teleconnections over the northeaster United States. J Geophys Res 119:7931–7945

Olsen J, Anderson NJ, Knudsen MF (2012) Variability of the North Atlantic Oscillation over the past 5,200 years. Nat Geosci 5:808–812

Patterson RT, Chang AS, Prokoph A, Roe HM, Swindles GT (2013) Influence of the Pacific Decadal Oscillation and solar forcing on climate and primary productivity changes in the northeast Pacific. Quat Int 310:124–139

Philander SGH (1990) El Niño, La Niña, and the southern oscillation. Academic, London

Prowse T, Alfredsen K, Beltaos S, Bonsal B, Duguay C, Korhola A, McNamara J, Pienitz R, Vincent WF, Vuglinsky V, Weyhenmeyer GA (2011) Past and future changes in Arctic lake and river ice. Ambio 40:53–62

Rind DH, Lean JL, Jonas J (2014) The impact of different absolute solar irradiance values on current climate model simulations. J Clim 27:1100–1120

Robertson DM, Ragotzkie RA, Magnuson JJ (1992) Lake ice records use to detect historical and future climatic changes. Clim Change 21:407–427

Rowe CM, Derry LE (2012) Trends in record-breaking temperatures for the conterminous United States. Geophys Res Lett 39:L16703. doi:10.1029/2012GL052775

Ruiz-Barradas A, Nigam S, Kavvada A (2013) The Atlantic Multidecadal Oscillation in twentieth century climate simulations: uneven progress from CMIP3 to CMIP5. Clim Dyn 41:3301–3315

Sagarin R (2001) False estimates of the advance of spring. Nature 414:600

Schlesinger ME, Ramankutty N (1994) An oscillation in the global climate system of period 65–70 years. Nature 367:723–726

Schulz M, Mudelsee M (2002) REDFIT, estimating red-noise spectra directly from unevenly spaced paleoclimatic time series. Comput Geosci 28:421–426

Schulz M, Stattegger K (1997) SPECTRUM, spectral analysis of unevenly spaced paleoclimatic time series. Comput Geosci 23:929–945

Schwarzacher W (1993) Cyclostratigraphy and the Milankovitch theory. Elsevier, Amsterdam

Sharma S, Magnuson JJ (2014) Oscillatory dynamics do not mask linear trends in the timing of ice breakup for Northern Hemispher lakes from 1855 to 2004. Clim Change 124:835–847

Sharma S, Magnuson JJ, Mendoza G, Carpenter SR (2013) Influence of local weather, large-scale climatic drivers, and the ca. 11 year solar cycle on lake ice breakup dates; 1905–2004. Clim Change 118:857–870

Shuter BJ, Minns CK, Fund SR (2013) Empirical models for forecasting changes in the phenology of ice cover for Canadian lakes. Can J Fish Aquat Sci 70:982–991

Stocker TF et al (2013) Climate change 2013: the physical science basis. Summary For Policymakers. Cambridge University Press, Cambridge

Sutton RT, Hodson DLR (2005) Atlantic Ocean forcing of North American and European summer climate. Science 309:115–118

Thomson DJ (1982) Spectrum estimation and harmonic analysis. Proc IEEE 70:1055–1096

Torrence C, Compo GP (1998) A practical guide to wavelet analysis. Bull Am Meteorol Soc 79:61–78

Trewartha GT, Horn LH (1980) An introduction to climate, 5th edn. McGraw-Hill, New York

Vincent LA, Wang XL, Milewska EJ, Wan H, Yang F, Swail V (2012) A second generation of homogenized Canadian monthly surface air temperature for climate trend analysis. J Geophys Res 117:D18110. doi:10.1029/2012JD017859

Weyhenmeyer GA, Meili M, Livingstone DM (2004) Nonlinear temperature response of lake ice breakup. Geophys Res Lett 31:L07203. doi:10.1029/2004GL019530

Wyatt MG, Kravtsov S, Tsonis AA (2012) Atlantic Multidecadal Oscillation and Northern Hemisphere's climate variability. Clim Dyn 38:929–949

Wynne RH, Magnuson JJ, Clayton MK, Lillesand TM, Rodman DC (1996) Determinants of temporal coherence in the satellite-derived 1987–1994 ice breakup dates of lakes on the Laurentian Shield. Limnol Oceangr 41:832–838

Zielinski GA, Keim BD (2003) New England weather, New England climate. University Press of New England, Lebanon
Acknowledgments
This research was supported by a Natural Sciences and Engineering Research Council (NSERC) Discovery grant to RTP. We thank three anonymous reviewers for their helpful comments and suggestions. We thank Clayton Piercy and the Oromocto Lake Association for providing the Oromocto Lake, New Brunswick ice out record as well as Larry Parks of the Lake Utopia Preservation Association for providing the Lake Utopia, New Brunswick ice out data. We also thank the generations of citizen scientists who collected the ice out data for all the lakes used in this study.
Electronic supplementary material
Below is the link to the electronic supplementary material.
About this article
Cite this article
Patterson, R.T., Swindles, G.T. Influence of ocean–atmospheric oscillations on lake ice phenology in eastern North America. Clim Dyn 45, 2293–2308 (2015). https://doi.org/10.1007/s00382-014-2415-y
Received:

Accepted:

Published:

Issue Date:

DOI: https://doi.org/10.1007/s00382-014-2415-y
Keywords