Abstract
Snow is a vital resource for a host of natural and human systems. Global warming is projected to drive widespread decreases in snow accumulation by the end of the century, potentially affecting water, food, and energy supplies, seasonal heat extremes, and wildfire risk. However, over the next few decades, when the planning and implementation of current adaptation responses are most relevant, the snow response is more uncertain, largely because of uncertainty in regional and local precipitation trends. We use a large (40-member) single-model ensemble climate model experiment to examine the influence of precipitation variability on the direction and magnitude of near-term Northern Hemisphere snow trends. We find that near-term uncertainty in the sign of regional precipitation change does not cascade into uncertainty in the sign of regional snow accumulation change. Rather, temperature increases drive statistically robust consistency in the sign of future near-term snow accumulation trends, with all regions exhibiting reductions in the fraction of precipitation falling as snow, along with mean decreases in late-season snow accumulation. However, internal variability does create uncertainty in the magnitude of hemispheric and regional snow changes, including uncertainty as large as 33 % of the baseline mean. In addition, within the 40-member ensemble, many mid-latitude grid points exhibit at least one realization with a statistically significant positive trend in net snow accumulation, and at least one realization with a statistically significant negative trend. These results suggest that the direction of near-term snow accumulation change is robust at the regional scale, but that internal variability can influence the magnitude and direction of snow accumulation changes at the local scale, even in areas that exhibit a high signal-to-noise ratio.
This is a preview of subscription content, log in to check access.
Access options
Buy single article
Instant access to the full article PDF.
US$ 39.95
Price includes VAT for USA
Subscribe to journal
Immediate online access to all issues from 2019. Subscription will auto renew annually.
US$ 199
This is the net price. Taxes to be calculated in checkout.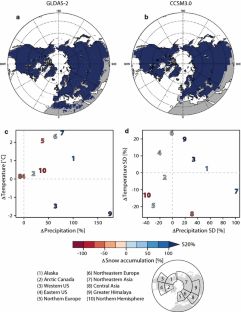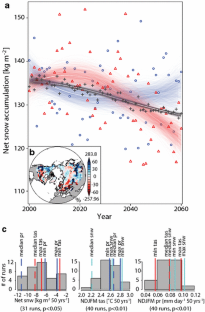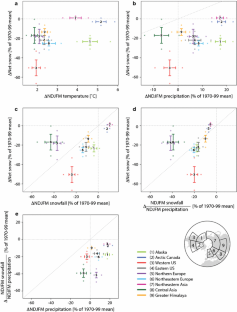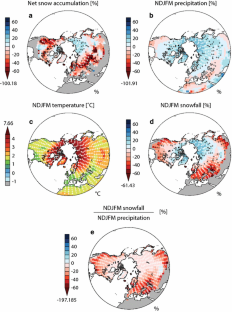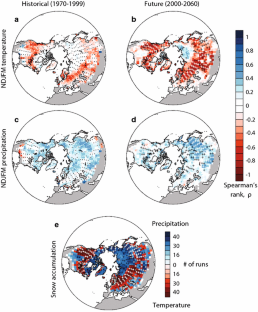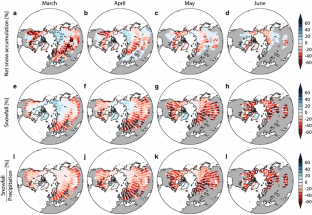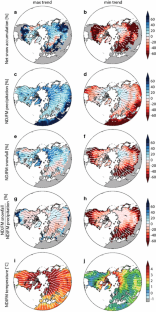 References
Adam JC, Hamlet AF, Lettenmaier DP (2009) Implications of global climate change for snowmelt hydrology in the twenty-first century. Hydrol Process 972:962–972. doi:10.1002/hyp.7201/full

Akhtar M, Ahmad N, Booij MJ (2009) Use of regional climate model simulations as input for hydrological models for the Hindukush-Karakorum-Himalaya region. Hydrol Earth Syst Sci 13(7):1075–1089

Alexander MA et al (2010) The atmospheric response to projected terrestrial snow changes in the late twenty-first century. J Clim 23(23):6430–6437. doi:10.1175/2010JCLI3899.1

Ashfaq M et al (2010) Influence of climate model biases and daily-scale temperature and precipitation events on hydrological impacts assessment: a case study of the United States. J Geophys Res 115(D14):D14116. doi:10.1029/2009JD012965

Ashfaq M et al (2013) Near-term acceleration of hydroclimatic change in the western U.S. J Geophys Res Atmos 118:1–18. doi:10.1002/jgrd.50816

Barnett TP, Adam JC, Lettenmaier DP (2005) Potential impacts of a warming climate on water availability in snow-dominated regions. Nature 438(7066):303–309

Barnett TP et al (2008) Human-induced changes in the hydrology of the western United States. Science 319:1080–1083

Bohr GS, Aguado E (2001) Use of April 1 SWE measurements as estimates of peak seasonal snowpack and total cold-season precipitation. Water Resour Res 37(1):51–60. doi:10.1029/2000WR900256/full

Bony S, Colman R, Kattsov V (2006) How well do we understand and evaluate climate change feedback processes? J Clim 19:3445–3482. doi:10.1175/JCLI3819.1

Brown RD, Mote PW (2009) The response of Northern Hemisphere snow cover to a changing climate. J Clim 22(8):2124–2145. doi:10.1175/2008JCLI2665.1

Cane MA (2010) Climate science: decadal predictions in demand. Nat Geosci 3(4):231–232

Carter TR (2007) et al New assessment methods and the characterisation of future conditions. In: Parry ML et al. (eds) Climate change 2007: impacts, adaptation and vulnerability. Contribution of working group II to the fourth assessment report of the intergovernmental panel on climate change. Cambridge University Press, Cambridge, pp 133–171

Cohen JL et al (2012) Arctic warming, increasing snow cover and widespread boreal winter cooling. Environ Res Lett 7(1):014007

Collins WD et al (2004) Description of the NCAR community atmosphere model (CAM 3.0). http://hanson.geog.udel.edu/~hanson/hanson/CLD_GCM_Experiment_S11_files/description.pdf. Accessed 5 Nov 2013

Collins WD et al (2006) The community climate system model version 3 (CCSM3). J Clim 19:2122–2143. doi:10.1175/JCLI3761.1

Deser C et al (2006) Tropical Pacific and Atlantic climate variability in CCSM3. J Clim 19:2451–2481. doi:10.1175/JCLI3759.1

Deser C et al (2010) The seasonal atmospheric response to projected Arctic sea ice loss in the late twenty-first century. J Clim 23(2):333–351. doi:10.1175/2009JCLI3053.1

Deser C et al (2012a) Uncertainty in climate change projections: the role of internal variability. Clim Dyn 38(3–4):527–546. doi:10.1007/s00382-010-0977-x

Deser C et al (2012b) Communication of the role of natural variability in future North American climate. Nat Clim Change 2:775–780

Diffenbaugh NS, Field CB (2013) Changes in ecologically critical terrestrial climate conditions. Science 341:486–492

Diffenbaugh NS et al (2005) Fine-scale processes regulate the response of extreme events to global climate change. Proc Natl Acad Sci USA 102(44):15774–15778

Diffenbaugh NS, Scherer M, Ashfaq M (2012) Response of snow-dependent hydrologic extremes to continued global warming. Nat Clim Change 3(11):379–384

Fletcher CG et al (2009) Circulation responses to snow albedo feedback in climate change. Geophys Res Lett 36(9):L09702. doi:10.1029/2009GL038011

Füssel H-M (2007) Adaptation planning for climate change: concepts, assessment approaches, and key lessons. Sustain Sci 2(2):265–275. doi:10.1007/s11625-007-0032-y

Hall A, Qu X (2006) Using the current seasonal cycle to constrain snow albedo feedback in future climate change. Geophys Res Lett 33(3):L03502

Hall A, Qu X, Neelin JD (2008) Improving predictions of summer climate change in the United States. Geophys Res Lett 35(1):L01702

Hamlet AF et al (2005) Effects of temperature and precipitation variability on snowpack trends in the Western United States. J Clim 18(21):4545–4561. doi:10.1175/JCLI3538.1

Hartmann DL, Tank AMGK, Rusticucci M (2013) Chapter 2: observations: atmosphere and surface. In: Working group I contribution to the IPCC 5th assessment report "climate change 2013: the physical science basis", p 165

Hatfield JL et al (2011) Climate Impacts on agriculture: implications for crop production. Agron J 103(2):351–370

Hawkins E, Sutton R (2009) The potential to narrow uncertainty in regional climate predictions. Bull Am Meteorol Soc 90(8):1095–1107. doi:10.1175/2009BAMS2607.1

Hawkins E, Sutton R (2010) The potential to narrow uncertainty in projections of regional precipitation change. Clim Dyn 37(1–2):407–418. doi:10.1007/s00382-010-0810-6

Hayhoe K et al (2004) Emissions pathways, climate change, and impacts on California. Proc Natl Acad Sci USA 101(34):12422–12427

Held IM, Soden BJ (2006) Robust responses of the hydrological cycle to global warming. J Clim 19:5686–5699

Howat IM, Tulaczyk S (2005) Trends in spring snowpack over a half-century of climate warming in California, USA. Ann Glaciol 40(1):151–156

Hsiang SM (2013) Visually-weighted regression. http://papers.ssrn.com/sol3/papers.cfm?abstract_id=2265501. Accessed 24 Jan 2014

John VO, Soden BJ (2007) Temperature and humidity biases in global climate models and their impact on climate feedbacks. Geophys Res Lett 34(18):L18704. doi:10.1029/2007GL030429

Kapnick SB, Delworth TL (2013) Controls of global snow under a changed climate. J Clim 26(15):5537–5562. doi:10.1175/JCLI-D-12-00528.1

Kapnick SB, Hall A (2011) Causes of recent changes in western North American snowpack. Clim Dyn 38(9–10):1885–1899. doi:10.1007/s00382-011-1089-y

Knutti R, Sedláček J (2012) Robustness and uncertainties in the new CMIP5 climate model projections. Nat Clim Change 3(4):369–373. doi:10.1038/nclimate1716

Krasting JP et al (2013) Future changes in Northern Hemisphere snowfall. J Clim 130520135404007. doi:10.1175/JCLI-D-12-00832.1

Kunreuther H et al (2013) Risk management and climate change. Nat Clim Change 3(5):447–450. doi:10.1038/nclimate1740

Lawrence DM, Slater AG (2009) The contribution of snow condition trends to future ground climate. Clim Dyn 34(7–8):969–981. doi:10.1007/s00382-009-0537-4

Meehl GA et al (2006) Climate change projections for the twenty-first century and climate change commitment in the CCSM3. J Clim 19(11):2597–2616. doi:10.1175/JCLI3746.1

Meehl GA et al (2009) Decadal prediction. Bull Am Meteorol Soc 90(10):1467–1485. doi:10.1175/2009BAMS2778.1

Mote PW (2006) Climate-driven variability and trends in mountain snowpack in Western North America. J Clim 19:6209–6220

Mote PW et al (2005) Declining mountain snowpack in Western North America. Bull Am Meteorol Soc 86(1):39–49. doi:10.1175/BAMS-86-1-39

Mudryk LR, Kushner PJ, Derksen C (2013) Interpreting observed northern hemisphere snow trends with large ensembles of climate simulations. Clim Dyn. doi:10.1007/s00382-013-1954-y

Oleson KW et al (2004) Technical description of the Community Land Model (CLM), NCAR Technical Note NCAR/TN-461+STR. National Center for Atmospheric Research, Boulder, CO

Peters GP et al (2013) The challenge to keep global warming below 2°C. Nat Clim Change 3(1):4–6. doi:10.1038/nclimate1783

Pierce DW, Cayan DR (2013) The uneven response of different snow measures to human-induced climate warming. J Clim 26(12):4148–4167. doi:10.1175/JCLI-D-12-00534.1

Putkonen J et al (2009) Rain on snow: little understood killer in the north. Eos 90(26):221–228

Qu X, Hall A (2007) What controls the strength of snow-albedo feedback? J Clim 20(15):3971–3981. doi:10.1175/JCLI4186.1

Räisänen J (2007) Warmer climate: less or more snow? Clim Dyn 30(2–3):307–319. doi:10.1007/s00382-007-0289-y

Rauscher SA et al (2008) Future changes in snowmelt-driven runoff timing over the western US. Geophys Res Lett 35(16):L16703. doi:10.1029/2008GL034424

Rodell M, Houser P (2004) The global land data assimilation system. Bull Am Meteorol Soc 381–394. doi:10.1175/BAMS-85-3-381

Roesch A (2006) Evaluation of surface albedo and snow cover in AR4 coupled climate models. J Geophys Res 111:D15111. doi:10.1029/2005JD006473

Rogelj J, Meinshausen M, Knutti R (2012) Global warming under old and new scenarios using IPCC climate sensitivity range estimates. Nat Clim Change 2(4):248–253. doi:10.1038/nclimate1385

Rood SB et al (2008) Declining summer flows of Rocky Mountain rivers: changing seasonal hydrology and probable impacts on floodplain forests. J Hydrol 349(3–4):397–410

Rupp DE et al (2013) Detection and attribution of observed changes in Northern Hemisphere spring snow cover. J Clim 26:6904–6914. doi:10.1175/JCLI-D-12-00563.1

Santer BD et al (2000) Statistical significance of trends and trend differences in layer-average atmospheric temperature time series. J Geophys Res 105(D6):7337. doi:10.1029/1999JD901105

Scherrer SC, Appenzeller C (2006) Swiss Alpine snow pack variability: major patterns and links to local climate and large-scale flow. Clim Res 32:187–199

Seager R et al (2010) Northern Hemisphere winter snow anomalies: ENSO, NAO and the winter of 2009/10. Geophys Res Lett 37(14):n/a–n/a. doi:10.1029/2010GL043830

Serreze M, Walsh J, Chapin FS (2000) Observational evidence of recent change in the northern high-latitude environment. Clim Change 46:159–207. doi:10.1023/A:1005504031923

Sheffield J et al (2004) A simulated soil moisture based drought analysis for the United States. J Geophys Res 109(D24):D24108. doi:10.1029/2004JD005182

Siegfried T et al (2011) Will climate change exacerbate water stress in Central Asia? Clim Change 112(3–4):881–899. doi:10.1007/s10584-011-0253-z

Sobolowski S, Gong G, Ting M (2010) Modeled climate state and dynamic responses to anomalous North American snow cover. J Clim 23(3):785–799. doi:10.1175/2009JCLI3219.1

Stewart IT (2009) Changes in snowpack and snowmelt runoff for key mountain regions. Hydrol Process 94:78–94. doi:10.1002/hyp.7128/full

Tague C, Peng H (2013) The sensitivity of forest water use to the timing of precipitation and snowmelt recharge in the California Sierra: implications for a warming climate. J Geophys Res Biogeosci 118(2):875–887. doi:10.1002/jgrg.20073

Taylor RG (2013) Ground water and climate change. Nat Clim Change 3:322–329

Viviroli D et al (2007) Mountains of the world, water towers for humanity: typology, mapping, and global significance. Water Resour Res 43:W07447. doi:10.1029/2006WR005653

Westerling AL et al (2006) Warming and earlier spring increase western U.S. forest wildfire activity. Science 313(5789):940–943

Yin JH (2005) A consistent poleward shift of the storm tracks in simulations of 21st century climate. Geophys Res Lett 32(18):L18701. doi:10.1029/2005GL023684
Acknowledgments
We thank two anonymous reviewers for their insightful and constructive comments. The CCSM3 simulations—called the "twenty-first century CCSM3 Large Ensemble Project"—were produced by the NCAR Climate Variability and Climate Change Working Group and were analyzed using computing resources provided by the Center for Computational Earth and Environmental Sciences (CEES) at Stanford University. We thank NCAR and the Earth System Grid Federation (earthsystemgrid.org) for access to the CCSM3 simulations. The GLDAS-2 data used in this study were acquired as part of the mission of NASA's Earth Science Division and archived and distributed by the Goddard Earth Sciences (GES) Data and Information Services Center (DISC). We acknowledge Felix Schönbrodt for his R statistical routine "visually-weighted regression," (available here: http://www.nicebread.de/visually-weighted-watercolor-plots-new-variants-please-vote/). Our work was supported by the Margaret Jonsson Family Fellowship and NSF award 0955283.
About this article
Cite this article
Mankin, J.S., Diffenbaugh, N.S. Influence of temperature and precipitation variability on near-term snow trends. Clim Dyn 45, 1099–1116 (2015). https://doi.org/10.1007/s00382-014-2357-4
Received:

Accepted:

Published:

Issue Date:
Keywords
Snow

CCSM3

Climate variability

Water availability

Global warming