Abstract
The relationship between ENSO and tropical cyclones (TCs) activity in the Bay of Bengal (BoB) during October–December under cold (1950–1974) and warm (1975–2006) phase of Pacific Decadal Oscillation (PDO) is investigated. A statistically significant difference in the formation of total number of TCs and intense TCs (Category-1 and above) between El Niño and La Niña years is observed when the PDO was in warm phase. Our analysis shows that, there is a tendency to form more number of TCs during La Niña years (2.62 TCs per season) than during El Niño years (1.6 TCs per season) under warm phase of PDO. Moreover, the difference is quite high for intense TCs cases, such as, relatively more number of intense TCs forms in the BoB during La Niña years (1.4 TCs per season) compared to El Niño years (0.10 TCs per season) under warm phase of PDO. However, the difference in the formation of total number of TCs and intense TCs between La Niña and El Niño years is not significant under cold phase of PDO. Significant enhancement in low level cyclonic vorticity and mid-troposphere humidity during La Niña years compared to El Niño years when the PDO was in warm phase, rather than the PDO was in cold phase leads to this difference. Our analysis further shows that how the ENSO related teleconnection to the Indian Ocean region differ under warm and cold phase of PDO.
Access options
Buy single article
Instant access to the full article PDF.
USD 39.95
Price includes VAT (USA)
Tax calculation will be finalised during checkout.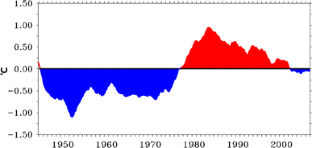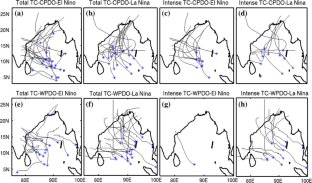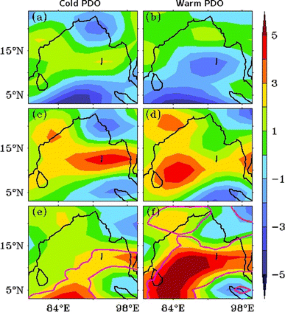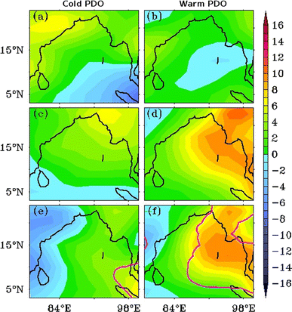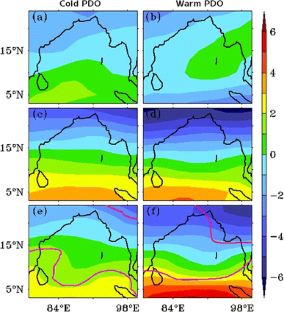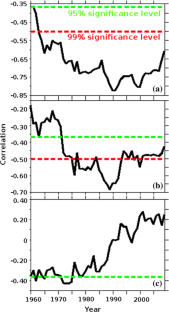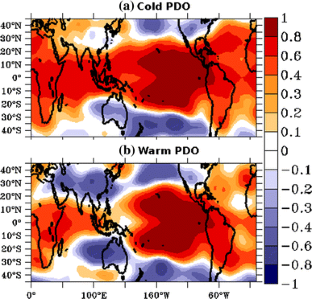 References
Burls NJ, Reason CJC, Penven P, Philander SG (2012) Energetics of the tropical Atlantic zonal mode. J Clim 25(21):7442–7466. doi:10.1175/JCLI-D-11-00602.1

Camargo SJ, Emanuel KA, Sobel AH (2007) Use of a genesis potential index to diagnose ENSO effects on tropical cyclone genesis. J Clim 20:4819–4830

Chen GT-J, Wang C–C, Lin L-F (2006) A diagnostic study of a retreating Mei-Yu front and the accompanying low-level jet formation and intensification. Mon Weather Rev 134:874–896

Chiang J, Sobel A (2002) Tropical tropospheric temperature variations caused by ENSO and their influence on the remote tropical climate*. J Clim 15:2616–2631. doi:10.1175/1520-0442(2002)015<2616:TTTVCB>2.0.CO;2

Chowdary JS, Xie S-P, Tokinaga H, Okumura YM, Kubota H, Johnson N, Zheng X-T (2012) Interdecadal variations in ENSO teleconnection to the Indo-Western Pacific for 1870–2007*. J Clim 25:1722–1744. doi:10.1175/JCLI-D-11-00070.1

DeBlander EF (2012) Relationship between tropical Atlantic sea surface temperature variability and southern Indian Ocean tropical cyclones. Master of Science Thesis, Oregon State University

DeMaria M (1996) The effect of vertical shear on tropical cyclone intensity change. J Atmos Sci 53:2076–2088. doi:10.1175/1520-0469(1996)053<2076:TEOVSO>2.0.CO;2

Elsner JB, Kossin JP, Jagger TH (2008) The increasing intensity of the strongest tropical cyclones. Nature 455:92–95

Emanuel KA (1999) Thermodynamic control of hurricane intensity. Nature 401:665–669. doi:10.1038/44326

Evan AT, Kossin JP, Chung CE, Ramanathan V (2011) Arabian Sea tropical cyclones intensified by emissions of black carbon and other aerosols. Nature 479:94–97. doi:10.1038/nature10552

Felton C, Subrahmanyam B, Murty VSN (2013) ENSO Modulated cyclogenesis over the Bay of Bengal. J Clim 26:9806–9818

Gershunov A, Barnett TP (1998) Interdecadal modulation of ENSO teleconnections. Bull Am Meteorol Soc 79:2715–2725

Gill AE (1980) Some simple solutions for heat-induced tropical circulation. Q J R Meteorol Soc 106(449):447–462. doi:10.1002/qj.49710644905

Girishkumar MS, Ravichandran M (2012) The influences of ENSO on tropical cyclone activity in the Bay of Bengal during October–December. J Geophys Res. doi:10.1029/2011JC007417

Goodrich GB (2007) Influence of the Pacific Decadal Oscillation on winter precipitation and drought during years of neutral ENSO in the Western United States. Weather Forecast 22:116–124. doi:10.1175/WAF983.1

Goswami BN, Xavier PK (2005) ENSO control on the south Asian monsoon through the length of the rainy season. Geophys Res Lett 32(18):L18717. doi:10.1029/2005GL023216

Gray WM (1979) Hurricanes: their formation structure and likely role in the tropical circulation. In: Shaw DB (ed) Meteorology over the tropical oceans. Royal Meteorological Society. Reading, UK, pp 155–218

Hui S, Neelin D, Meyerson JE (2003) Sensitivity of tropospheric temperature to see surface temperature forcing. J Clim 16:1283–1301

Hui S, Neelin D, Meyerson JE (2005) Mechanisms for lagged atmospheric Response to ENSO SST forcing*. J Clim 18:4195–4215. doi:10.1175/JCLI3514.1

Kalnay E et al (1996) The NCEP/NCAR 40-year reanalysis project. Bull Am Meteorol Soc 77:437–471

Kaplan J, DeMaria MJ, Knaff A (2010) A revised tropical cyclone rapid intensification index for the Atlantic and eastern North Pacific Basins. Weather Forecast 25:220–241. doi:10.1175/2009WAF2222280.1

Kim J-W, Yeh S-W, Chang E-C (2013) Combined effect of El Niño-Southern Oscillation and Pacific Decadal Oscillation on the East Asian winter monsoon. Clim Dyn. doi:10.1007/s00382-013-1730-z

Klotzbach PJ (2012) El Niño–Southern Oscillation, the Madden–Julian Oscillation and Atlantic basin tropical cyclone rapid intensification. J Geophys Res. doi:10.1029/2012JD017714

Knapp KR, Kruk MC, Levinson DH, Diamond HJ, Neumann CJ (2010) The international best track archive for climate stewardship (IBTrACS): unifying tropical cyclone best track data. Bull Am Meteorol Soc 91:363–376. doi:10.1175/2009BAMS2755.1

Kousky VE, Kagano MT, Cavalcanti IFA (1984) Review of the Southern Oscillation: oceanic–atmospheric circulation changes and related rainfall anomalies. Tellus Ser A 36:490–504

Krishna Kumar K, Rajagopalan B, Cane MA (1999) On the weakening relationship between the Indian monsoon and ENSO. Science 284:2156–2159

Krishnamurthy L, Krishnamurthy V (2013) Influence of PDO on South Asian summer monsoon and monsoon–ENSO relation. Clim Dyn 42:2397–2410. doi:10.1007/s00382-013-1856-z

Krishnan R, Sugi M (2003) Pacific decadal oscillation and variability of the Indian summer monsoon rainfall. Clim Dyn 21:233–242. doi:10.1007/s00382-003-0330-8

Kumar P, Rupa Kumar K, Rajeevan M, Sahai AK (2007) On the recent strengthening of the relationship between ENSO and northeast monsoon rainfall over South Asia. Clim Dyn 28:649–660. doi:10.1007/s00382-006-0210-0

Latif M, Barnett TP (1996) Decadal climate variability over the North Pacific and North America: dynamics and predictability. J Clim 9:2407–2423

Lau N-C, Nath MJ (2001) Impact of ENSO on SST variability in the North Pacific and North Atlantic: seasonal dependence and role of extratropical sea–air coupling. J Clim 14:2846–2866

Lee HS, Yamashita T, Mishima T (2012) Multi-decadal variations of ENSO, the Pacific Decadal Oscillation and tropical cyclones in the western North Pacific. Prog Oceanogr 105:67–80. doi:10.1016/j.pocean.2012.04.009

Li Z, Yu W, Li T, Murty VSN, Tangang F (2013) Bimodal character of cyclone climatology in the Bay of Bengal modulated by monsoon seasonal cycle. J Clim 26:1033–1046. doi:10.1175/JCLI-D-11-00627.1

Lübbecke JF, Böning CW, Keenlyside NS, Xie S-P (2010) On the connection between Benguela and equatorial Atlantic Niños and the role of the South Atlantic Anticyclone. J Geophys Res 115(C9):C09015. doi:10.1029/2009JC005964

Lupo AR, Johnston GJ (2000) The variability in Atlantic Ocean Basin hurricane occurrence and intensity as related to ENSO and the North Pacific Oscillation. Natl Wea Dig 24(1–2):3–13

Lupo AR, Latham TK, Magill TH (2008) The interannual variability of hurricane activity in the Atlantic and East Pacific regions. Natl Wea Dig 32:11–33

Mantuna NJ, Hare SR (2002) The Pacific decadal Ocillation. J Oceanogr 58:35–44

Mantuna NJ, Hare SR, Zhang Y, Wallace JM, Francis RC (1997) A Pacific interdecadal climate oscillation with impacts on salmon production. Bull Am Meteorol Soc 78:1069–1079

McPhaden MJ (2002) El Niño and La Niña: causes and global consequences. In: Munn T (ed) Encyclopedia of global environmental change. Wiley, Chichester, pp 353–370

Ng EKW, Chan JCL (2012) Interannual variations of tropical cyclone activity over the north Indian Ocean. Int J Climatol 32:819–830

Niyas NT, Srivastava AK, Hatwar HR (2009) Variability and trend in the cyclonic storms over north Indian Ocean. Met Monogr, no. 3, Cyclone warning-3/2009

Parker DE, Folland CK, Jackson M (1995) Marine surface temperature: observed variations and data requirements. Clim Chang 31:559–600

Picaut J, Ioualalen M, Delcroix T, Masia F, Murtugudde R, Vialard J (2001) The oceanic zone of convergence on the eastern edge of the Pacific warm pool: a synthesis of results and implications for El Niño–Southern Oscillation and biogeochemical phenomena. J Geophys Res 106:2363–2386

Pottapinjara V, Girishkumar MS, Ravichandran M, Murtugudde R (2014) Influence of the Atlantic Zonal mode on monsoon depressions in the Bay of Bengal during boreal summer. JGR Atmos. doi:10.1002/2014JD021494

Power SB, Casey T, Folland C, Colman A, Mehta V (1999) Interdecadal modulation of the impact of ENSO on Australia. Clim Dyn 15:319–324

Rajeevan M, McPhaden MJ (2004) Tropical Pacific upper ocean heat content variations and Indian summer monsoon rainfall. Geophys Res Lett 31:L18203. doi:10.1029/2004GL020631

Rajeevan M, Sridhar L (2008) Interannual relationship between Atlantic sea surface temperature anomalies and Indian summer monsoon. Geophys Res Lett 35:L21704. doi:10.1029/2008GL036025

Rajeevan M, Srinivasan J, Niranjankumar K, Gnanaseelan C, Ali MM (2013) On the epochal variation of intensity of tropical cyclones in the Arabian Sea. Atmos Sci Lett 14(4):249–255

Rasmusson E, Carpenter T (1982) Variations in tropical sea surface temperature and surface wind fields associated with the Southern Oscillation/El Niño. Mon Weather Rev 110:354–384. doi:10.1175/1520-0493(1982)110<0354:VITSST>2.0.CO;2

Reynolds RW, Rayner NA, Smith TM, Stokes DC, Wang W (2002) An improved in situ and satellite SST analysis for climate. J Clim 15:1609–1625

Saji NH, Goswami BN, Vinayachandran PN, Yamagata T (1999) A dipole mode in the tropical Indian Ocean. Nature 401:360–363. doi:10.1038/43854

Tanimoto Y, Iwasaka N, Hanawa K, Toba Y (1993) Characteristic variation of sea surface temperature with multiple time scales in the North Pacific. J Clim 6:1153–1160

Torrence C, Webster PJ (1999) Interdecadal changes in the ENSO–monsoon system. J Clim 12:2679–2710

Tziperman E, Cane MA, Zebiak S, Xue Y, Blumenthal B (1998) Locking of El Niño's peak time to the end of the calendar year in the delayed oscillator picture of ENSO. J Clim 11:2191–2199. doi:10.1175/1520-0442(1998)011<2191:LOENOS>2.0.CO;2

Wang L, Chen W, Huang R (2008) Interdecadal modulation of PDO on the impact of ENSO on the east Asian winter monsoon. Geophys Res Lett 35:L20702. doi:10.1029/2008GL035287

Webster PJ, Moore AW, Loschnigg JP, Leben RR (1999) Coupled ocean-atmosphere dynamics in the Indian Ocean during 1997–1998. Nature 401:356–360. doi:10.1038/43848

Wu L, Su H, Fovell RG, Wang B, Shen JT, Kahn BH, Hristova-Veleva SM, Lambrigtsen BH, Fetzer EJ, Jiang JH (2012) Relationship of environmental relative humidity with North Atlantic tropical cyclone intensity and intensification rate. Geophys Res Lett 39:L20809. doi:10.1029/2012GL053546

Xie S-P, Carton JA (2004) Tropical Atlantic variability: patterns, mechanisms, and impacts. In: Wang C, Xie SP, Carton JA (eds) Earth's climate. American Geophysical Union, Washington, DC

Yadav RK (2012) Why is ENSO influencing Indian northeast monsoon in the recent decades? Int J Climatol 32:2163–2180. doi:10.1002/joc.2430

Yadav RK, Yoo JH, Kucharski F, Abid MA (2010) Why is ENSO influencing Northwest India Winter precipitation in recent decades? J Clim 23:1979–1993. doi:10.1175/2009JCLI3202.1

Zebiak SE (1993) Air–sea interaction in the equatorial Atlantic region. J Clim 6(8):1567–1586. doi:10.1175/1520-0442(1993)006<1567:AIITEA>2.0.CO;2

Zhang Y, Wallace JM, Battisti DS (1997) ENSO-like interdecadal variability: 1900–93. J. Climate. 10:1004–1020
Acknowledgments
The encouragement provided by the Director, INCOIS is gratefully acknowledged. We would also like to acknowledge two anonymous reviewers, whose comments and suggestions greatly improved the manuscript. The ONI used in this study was obtained from the National Oceanic and Atmospheric Administration (NOAA) Climate Prediction Center (www.cpc.ncep.noaa.gov). Graphics are generated using Ferret. This is INCOIS publication 199.
About this article
Cite this article
Girishkumar, M.S., Thanga Prakash, V.P. & Ravichandran, M. Influence of Pacific Decadal Oscillation on the relationship between ENSO and tropical cyclone activity in the Bay of Bengal during October–December. Clim Dyn 44, 3469–3479 (2015). https://doi.org/10.1007/s00382-014-2282-6
Received:

Accepted:

Published:

Issue Date:
Keywords
Tropical cyclone

Bay of Bengal

El Niño–Southern Oscillation (ENSO)

Pacific Decadal Oscillation (PDO)