Abstract
The authors analyze the historical record of tornado reports in the United States and find evidence for changes in tornado climatology possibly related to global warming. They do this by examining the annual number of days with many tornadoes and the ratio of these days to days with at least one tornado and by examining the annual proportion of tornadoes occurring on days with many tornadoes. Additional evidence of a changing tornado climate is presented by considering tornadoes in geographic clusters and by analyzing the density of tornadoes within the clusters. There is a consistent decrease in the number of days with at least one tornado at the same time as an increase in the number of days with many tornadoes. These changes are interpreted as an increasing proportion of tornadoes occurring on days with many tornadoes. Coincident with these temporal changes are increases in tornado density as defined by the number of tornadoes per area. Trends are insensitive to the begin year of the analysis. The bottom line is that the risk of big tornado days featuring densely concentrated tornado outbreaks is on the rise. The results are broadly consistent with numerical modeling studies that project increases in convective energy within the tornado environment.
Access options
Buy single article
Instant access to the full article PDF.
USD 39.95
Price includes VAT (USA)
Tax calculation will be finalised during checkout.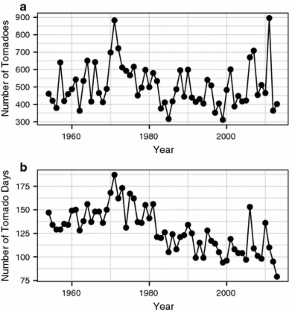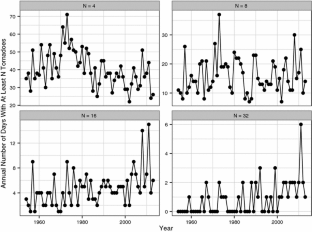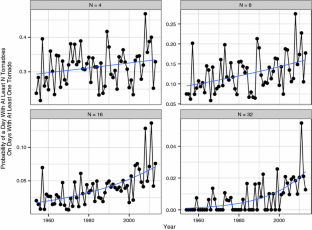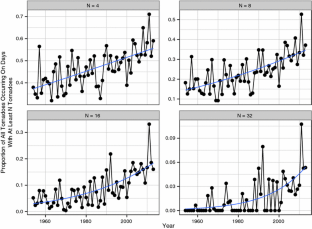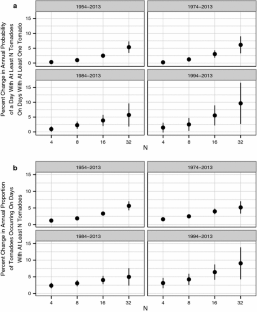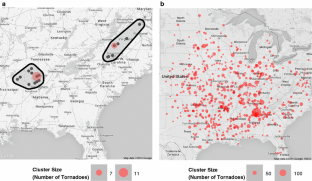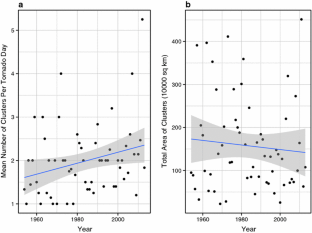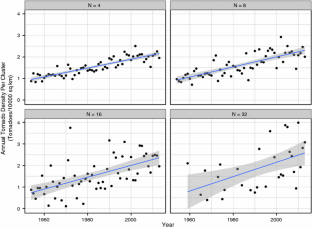 References
Anderson CJ, Wikle CK, Zhou Q (2007) Population influences on tornado reports in the United States. Weather Forecast 22:571–579

Brooks H, Doswell C (2001) Normalized damage from major tornadoes in the United States: 18901999. Weather Forecast 16:168–176

Coleman TA, Dixon PG (2014) An objective analysis of tornado risk in the United States. Weather Forecast 29:366–376

Dean AR (2010) An analysis of clustered tornado events. In: 25th conference on severe local storms, American Meteorological Society

Diffenbaugh NS, Scherer M, Trapp RJ (2013) Robust increases in severe thunderstorm environments in response to greenhouse forcing. Proceedings of the National Academy of Sciences. doi10.1073/pnas.1307758110

Doswell CA, Brooks HE, Kay MP (2005) Climatological estimates of daily local nontornadic severe thunderstorm probability for the United States. Weather Forecast 20:577–595

Duda RO, Hart PE (1973) Pattern classification and scene analysis. Wiley, New York

Edwards R, LaDue JG, Ferree JT, Scharfenberg K, Maier C, Coulbourne WL (2013) Tornado intensity estimation: past, present, and future. Bull Am Meteorol Soc 94:641–653

Elsner JB, Widen HM (2014) Predicting spring tornado activity in the central Great Plains by March 1st. Mon Weather Rev 142:259–267

Elsner JB, Michaels LE, Scheitlin KN, Elsner IJ (2013) The decreasing population bias in tornado reports. Weather Clim Soc 5:221–232

Fujita T, Pearson AD (1973) Results of FPP classification of 1971 and 1972 tornadoes. In: Eight conference on severe local storms, pp 142–145

Genio ADD, Yao MS, Jonas J (2007) Will moist convection be stronger in a warmer climate? Geophys Res Lett 34(L16):703. doi:10.1029/2007GL030525

Grazulis TP (1990) Significant Tornadoes, 1880–1989: Discussion and analysis. Significant Tornadoes, 1880–1989, Environmental Films. http://books.google.com/books?id=E8hFAAAAYAAJ

Groisman PY, Knight RW, Karl TR, Easterling DR, Sun B, Lawrimore JH (2004) Contemporary changes of the hydrological cycle over the contiguous United States: trends derived from in situ observations. J Hydrometeorol 5:64–85

Hennig C (2014) fpc: Flexible procedures for clustering. http://CRAN.R-project.org/package=fpc, r package version 2.1-7

Klooster SLV, Roebber PJ (2009) Surface-based convective potential in the contiguous United States in a business-as-usual future climate. J Clim 22:3317–3330

Kunkel K et al (2013) Monitoring and understanding trends in extreme storms. Bull Am Meteorol Soc 94:499–514

Ramsdell JV Jr, Rishel JP (2007) Tornado Climatology of the Contiguous United States. Tech. Rep. NUREG/CR-4461, PNNL-15112, Pacific Northwest National Laboratory, P.O. Box 999, Richland, WA 99352

Reynolds A, Richards G, de la Iglesia B, Rayward-Smith V (1992) Clustering rules: a comparison of partitioning and hierarchical clustering algorithms. J Math Model Algorithms 5:475–504

Schaefer JT, Edwards R (1999) The SPC tornado/severe thunderstorm database. In: 11th conference on applied climatology, American Meteorological Society

Shafer CM, Doswell CA (2011) Using kernel density estimation to identify, rank, and classify severe weather outbreak events. Electron J Severe Storms Meteorol 6:1–28

Simmons KM, Sutter D (2012) The 2011 tornadoes and the future of tornado research. Bull Am Meteorol Soc 93(7):959–961

Speheger DA, Doswell CA, Stumpf GJ (2002) The tornadoes of 3 May 1999: event verification in central Oklahoma and related issues. Weather Forecast 17:362–381

Trapp RJ, Diffenbaugh NS, Brooks HE, Baldwin ME, Robinson ED, Pal JS (2007) Changes in severe thunderstorm environment frequency during the 21st century caused by anthropogenically enhanced global radiative forcing. Proc Natl Acad Sci 104(50):19,719–19,723. doi:10.1073/pnas.0705494104

Verbout SM, Brooks HE, Leslie LM, Schultz DM (2006) Evolution of the U.S. tornado database: 1954–2003. Weather Forecast 21:86–93
Acknowledgments
The Department of Geography at Florida State University and Climatek provided partial financial support for this research.
About this article
Cite this article
Elsner, J.B., Elsner, S.C. & Jagger, T.H. The increasing efficiency of tornado days in the United States. Clim Dyn 45, 651–659 (2015). https://doi.org/10.1007/s00382-014-2277-3
Received:

Accepted:

Published:

Issue Date:
Keywords
Tornado

Trends

Cluster

Outbreak

Efficiency