Abstract
The low level jetstream (LLJ) transports moisture from the surrounding Oceans to Indian land mass and hence an important component of the Indian summer monsoon (ISM). Widening of tropical belt and poleward shifts in mid-latitude jetstreams have been identified as major impacts of global warming on large-scale atmospheric dynamics. A general northward shift in ISM circulation has been suggested recently, based on the Coupled Model Inter-comparison Project (CMIP5) simulations. Here, we investigate the current and projected future changes in LLJ in observations as well as the coupled model (CMIP3/CMIP5) simulations. A poleward shift in the monsoon LLJ has been detected both in the observations and coupled model simulations. The poleward shift is also reflected in the future projections in a warming scenario, with the magnitude of shift depending on the degree of warming. Consistent with the LLJ shift, a drying (wet) trend in the southern (northern) part of the western coast of India is also observed in the last three decades. Further analysis reveals that enhanced land-sea contrast resulted in a strengthening of the cross-equatorial sea level pressure gradient over Indian Ocean, which in turn resulted in the northward shift of the zero absolute vorticity contour from its climatological position. The poleward shift in zero absolute vorticity contour is consistent with that of LLJ core (location of maximum low-level zonal winds). Possible uncertainties in the results are discussed in the context of known model biases and ensemble sample sizes. These results assume significance in the context of the concerns over ecologically fragile Western Ghats region in a warming scenario.
Access options
Buy single article
Instant access to the full article PDF.
USD 39.95
Price excludes VAT (USA)
Tax calculation will be finalised during checkout.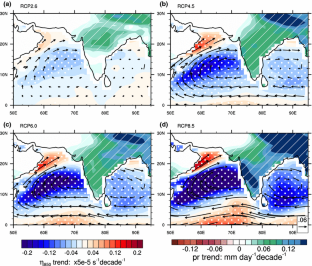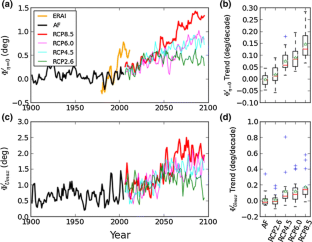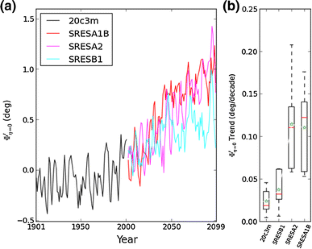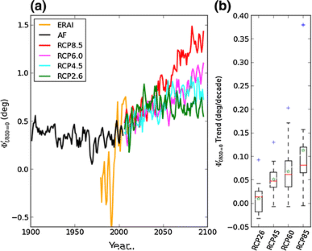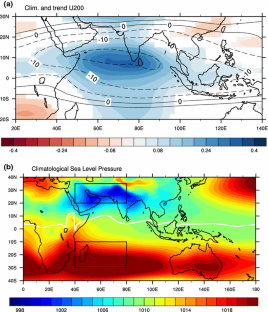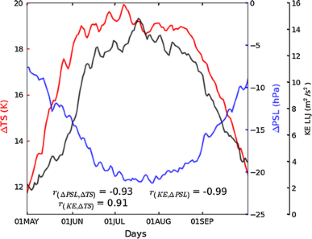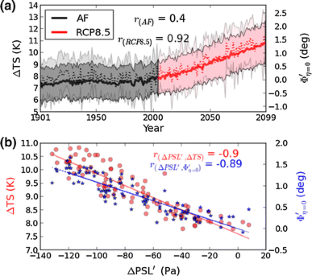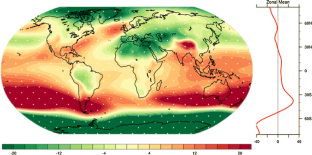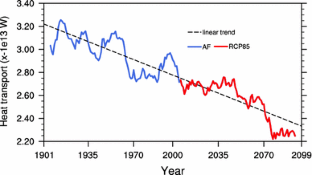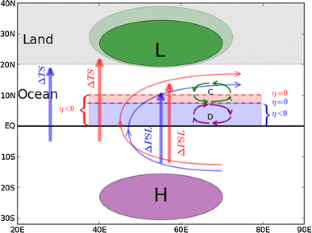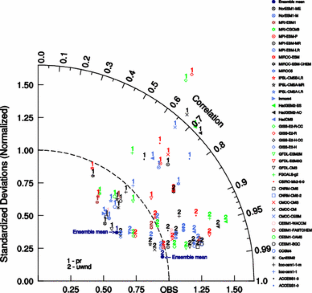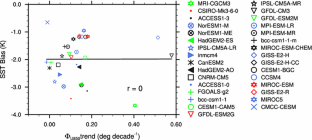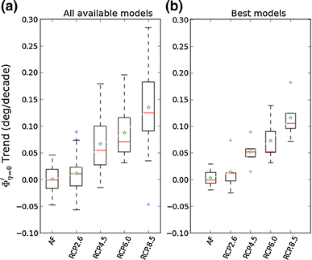 References
Abish B, Joseph PV, Johannessen OM (2013) Weakening trend of the tropical easterly jet stream of the boreal summer monsoon season 1950–2009. J Clim 26(23):9408–9414. doi:10.1175/jcli-d-13-00440.1

Ajayamohan RS, Rao SA (2008) Indian ocean dipole modulates the number of extreme rainfall events over India in a warming environment. J Meteorol Soc Jpn 86:245–252

Ajayamohan RS, Merryfield WJ, Kharin VV (2010) Increasing trend of synoptic activity and its relationship with extreme rain events over central India. J Clim 23(4):1004–1013

Ashrit RG, Douville H, Kumar KR (2003) Response of the Indian monsoon and ENSO-monsoon teleconnection to enhanced greenhouse effect in the CNRM coupled model. J Meteorol Soc Jpn 81(4):779–803

Ashrit RG, Kitoh A, Yukimoto S (2005) Transient response of ENSO-monsoon teleconnection in MRI.CGCM. 2 climate change simulations. J Meteorol Soc Jpn 83:273–291

Bollasina M, Ming Y, Ramaswamy V (2011) Anthropogenic aerosols and the weakening of the South Asian summer monsoon. Science 334(6055):502–505. doi:10.1126/science.1204994

Dee DP, Uppala SM, Simmons AJ, Berrisford P, Poli P, Kobayashi S, Andrae U, Balmaseda MA, Balsamo G, Bauer P, Bechtold P, Beljaars ACM, van de Berg L, Bidlot J, Bormann N, Delsol C, Dragani R, Fuentes M, Geer AJ, Haimberger L, Healy SB, Hersbach H, Hólm EV, Isaksen L, Kållberg P, Köhler M, Matricardi M, McNally AP, Monge-Sanz BM, Morcrette JJ, Park BK, Peubey C, de Rosnay P, Tavolato C, Thépaut JN, Vitart F (2011) The ERA-interim reanalysis: configuration and performance of the data assimilation system. Q J R Meteorol Soc 137(656):553–597. doi:10.1002/qj.828

Findlater J (1969) A major low-level air current near the Indian ocean during the northern summer. Q J R Meteorol Soc 95(404):362–380. doi:10.1002/qj.49709540409

Fu Q (2006) Enhanced mid-latitude tropospheric warming in satellite measurements. Science 312. doi:10.1126/science.1125566

Fu C, Fletcher JO (1985) The relationship between tibet-tropical ocean thermal contrast and interannual variability of Indian monsoon rainfall. J Clim Appl Meteorol 24(8):841–847. doi:10.1175/1520-0450(1985)024<0841:TRBTTO>2.0.CO;2

Fu Q, Lin P (2011) Poleward shift of subtropical jets inferred from satellite-observed lower-stratospheric temperatures. J Clim 24(21):5597–5603. doi:10.1175/JCLI-D-11-00027.1

Gadgil S, Gadgil S (2006) The Indian monsoon, GDP and agriculture. Econ Polit Wkly 41(47):4887–4895

Gadgil M, Krishnan BJ, Ganeshaiah KN, Vijayan VS, Borges R, Sukumar R, Noronha L, Nayak SV, Subramaniam DK, Varma RV, Gautam SP, Navalgund RR, Subrahmanyam GV (2011) Report of the Western Ghats ecology expert panel part 1. New Delhi

Goswami BN, Venugopal V, Sengupta D, Madhusoodanan MS, Xavier PK (2006) Increasing trend of extreme rain events over India in a warming environment. Science 314(5804):1442–1445. doi:10.1126/science.1132027

Guhathakurta P, Rajeevan M (2008) Trends in the rainfall pattern over India. Int J Climatol 28(11):1453–1469. doi:10.1002/joc.1640

Hirabayashi Y, Mahendran R, Koirala S, Konoshima L, Yamazaki D, Watanabe S, Kim H, Kanae S (2013) Global flood risk under climate change. Nat Clim Change 3(9):816–821. doi:10.1038/nclimate1911

IPCC (2007) Contribution of working group I to the fourth assessment report of the intergovernmental panel on climate change, 2007. Climate change 2007: the physical science basis. IPCC, Cambridge, UK and New York, USA

Joseph PV, Raman PL (1966) Existence of low level westerly jet-stream over peninsular India during July. Indian J Meteorol Geophys 17:407–410

Joseph PV, Sijikumar S (2004) Intraseasonal variability of the low-level jet stream of the Asian summer monsoon. J Clim 17(7):1449–1458. doi:10.1175/1520-0442(2004)017<1449:IVOTLJ>2.0.CO;2

Joseph PV, Simon A (2005) Weakening trend of the southwest monsoon current through peninsular India from 1950 to the present. Curr Sci 89(4):687–694

Kasturirangan K, Babu CR, Mauskar JM, Chopra K, Kishwan J, Shanar D, Narain S, Roy PS, Tyagi A, Chandrasekharan I (2013) Report of the high level working group on Western Ghats, vol 1. New Delhi

Kharin VV, Zwiers FW, Gagnon N (2001) Skill of seasonal hindcasts as a function of the ensemble size. Clim Dyn 17(11):835–843. doi:10.1007/s003820100149

Kitoh A, Hirokazu E, Kumar KK, Iracema FAC, Prashant G, Tianjun Z (2013) Monsoons in a changing world: a regional perspective in a global context. J Geophys Res Atmos 118. doi:10.1002/jgrd.50258

Krishnan R, Sabin TP, Ayantika DC, Kitoh A, Sugi M, Murakami H, Turner AG, Slingo JM, Rajendran K (2013) Will the South Asian monsoon overturning circulation stabilize any further? Clim Dyn 40(1–2):187–211. doi:10.1007/s00382-012-1317-0

Kumar KK, Kamala K, Rajagopalan B, Hoerling M, Eischeid J, Patwardhan SK, Srinivasan G, Goswami BN, Nemani R (2011) The once and future pulse of Indian monsoonal climate. Clim Dyn 36(11–12):2159–2170. doi:10.1007/s00382-010-0974-0

Lau KM, Kim KM (2006) Observational relationships between aerosol and Asian monsoon rainfall, and circulation. Geophys Res Lett 33. doi:10.1029/2006GL027546

Levine RC, Turner AG, Marathayil D, Martin GM (2013) The role of northern Arabian Sea surface temperature biases in CMIP5 model simulations and future projections of Indian summer monsoon rainfall. Clim Dyn 41(1):155–172. doi:10.1007/s00382-012-1656-x

Li C, Yanai M (1996) The onset and interannual variability of the Asian summer monsoon in relation to land-sea thermal contrast. J Clim 9(2):358–375. doi:10.1175/1520-0442(1996)009<0358:TOAIVO>2.0.CO;2

Marathayil D, Turner AG, Shaffrey LC, Levine RC (2013) Systematic winter sea-surface temperature biases in the northern Arabian Sea in HiGEM and the CMIP3 models. Environ Res Lett 8(1):014028. doi:10.1088/1748-9326/8/1/014028

May W (2002) Simulated changes of the Indian summer monsoon under enhanced greenhouse gas conditions in a global time-slice experiment. Geophys Res Lett 29. doi:10.1029/2001GL013808

Meehl GA, Arblaster JM (2003) Mechanisms for projected future changes in south Asian monsoon precipitation. Clim Dyn 21(7–8):659–675. doi:10.1007/s00382-003-0343-3

Meehl GA, Covey C, Taylor KE, Delworth T, Stouffer RJ, Latif M, McAvaney B, Mitchell JFB (2007) THE WCRP CMIP3 multimodel dataset: a new era in climate change research. Bull Am Meteorol Soc 88(9):1383–1394. doi:10.1175/BAMS-88-9-1383

Menon A, Levermann A, Schewe J (2013a) Enhanced future variability during India's rainy season. Geophys Res Lett 40(12):3242–3247. doi:10.1002/grl.50583

Menon A, Levermann A, Schewe J, Lehmann J, Frieler K (2013b) Consistent increase in Indian monsoon rainfall and its variability across CMIP-5 models. Earth Syst Dyn 4(2):287–300. doi:10.5194/esd-4-287-2013

Moss RH, Edmonds JA, Hibbard KA, Manning MR, Rose SK, van Vuuren DP, Carter TR, Emori S, Kainuma M, Kram T, Meehl GA, Mitchell JFB, Nakicenovic N, Riahi K, Smith SJ, Stouffer RJ, Thomson AM, Weyant JP, Wilbanks TJ (2010) The next generation of scenarios for climate change research and assessment. Nature 463(7282):747–756. doi:10.1038/nature08823

Nakicenovic N, Alcamo J, Davis G, de Vries B, Fenhann J, Gaffin S, Gregory K, Grübler A, Jung TY, Kram T, La Rovere EL, Michaelis L, Mori S, Morita T, Pepper W, Pitcher H, Price L, Riahi K, Roehrl A, Rogner H–H, Sankovski A, Schlesinger M, Shukla P, Smith S, Swart R, van Rooijen S, Victor N, Dadi Z (2000) Special report on emission scenarios. IPCC, UK

Nigam S, Bollasina M (2010) "Elevated heat pump" hypothesis for the aerosol-monsoon hydroclimate link: "Grounded" in observations? J Geophys Res Atmos 115. doi:10.1029/2009jd013800

Rajendran K, Kitoh A, Srinivasan J, Mizuta R, Krishnan R (2012) Monsoon circulation interaction with Western Ghats orography under changing climate. Theoret Appl Climatol 110(4):555–571. doi:10.1007/s00704-012-0690-2

Rajendran K, Sajani S, Jayasankar CB, Kitoh A (2013) How dependent is climate change projection of Indian summer monsoon rainfall and extreme events on model resolution? Curr Sci 104(10):1409–1418

Ramanathan V, Chung C, Kim D, Bettge T, Buja L, Kiehl JT, Washington WM, Fu Q, Sikka DR, Wild M (2005) Atmospheric brown clouds: impacts on South Asian climate and hydrological cycle. Proc Natl Acad Sci USA 102(15):5326–5333. doi:10.1073/pnas.0500656102

Seidel DJ, Randel W, J. (2007) Recent widening of the tropical belt: Evidence from tropopause observations. J Geophys Res 112. doi:10.1029/2007JD008861

Rayner NA, Parker DE, Horton EB, Folland CK, Alexander LV, Rowell DP, Kent EC, Kaplan A (2003) Global analyses of sea surface temperature, sea ice, and night marine air temperature since the late nineteenth century. J Geophys Res 108(D14):4407. doi:10.1029/2002jd002670

Sathiyamoorthy V (2005) Large scale reduction in the size of the tropical easterly jet. Geophys Res Lett 32(14). doi:10.1029/2005gl022956

Sperber KR, Annamalai H, Kang IS, Kitoh A, Moise A, Turner A, Wang B, Zhou T (2013) The Asian summer monsoon: an intercomparison of CMIP5 vs. CMIP3 simulations of the late 20th century. Clim Dyn 41(9–10):2711–2744. doi:10.1007/s00382-012-1607-6

Stowasser M, Annamalai H, Hafner J (2009) Response of the South Asian summer monsoon to global warming: mean and synoptic systems. J Clim 22(4):1014–1036. doi:10.1175/2008jcli2218.1

Sun Y, Ding Y, Dai A (2010) Changing links between South Asian summer monsoon circulation and tropospheric land-sea thermal contrasts under a warming scenario. Geophys Res Lett 37(2). doi:10.1029/2009gl041662

Taylor KE, Stouffer RJ, Meehl GA (2011) An overview of CMIP5 and the experiment design. Bull Am Meteorol Soc 93(4):485–498. doi:10.1175/BAMS-D-11-00094.1

Tokinaga H, Xie S-P (2011) Wave-and anemometer-based sea surface wind (WASWind) for climate change analysis. J Clim 24(1):267–285. doi:10.1175/2010JCLI3789.1

Tomas RA, Webster PJ (1997) The role of inertial instability in determining the location and strength of near-equatorial convection. Q J R Meteorol Soc 123(542):1445–1482. doi:10.1002/qj.49712354202

Turner AG, Annamalai H (2012) Climate change and the South Asian summer monsoon. Nat Clim Change 2(8):587–595. doi:10.1038/nclimate1495

Turner AG, Inness PM, Slingo JM (2007) The effect of doubled CO2 and model basic state biases on the monsoon-ENSO system. I: mean response and interannual variability. Q J R Meteorol Soc 133(626):1143–1157. doi:10.1002/qj.82

Wang B, Liu J, Kim H-J, Webster PJ, Yim S-Y, Xiang B (2013) Northern hemisphere summer monsoon intensified by mega-El Niño/southern oscillation and Atlantic multidecadal oscillation. Proc Natl Acad Sci 110(14):5347–5352

Webster PJ, Fasullo J (2003) MONSOON: dynamical theory. In: Encyclopedia of atmospheric sciences. Academic Press, pp 1370–1386. doi:10.1016/b0-12-227090-8/00236-0

Wu G, Liu Y, He B, Bao Q, Duan A, Jin F–F (2012) Thermal controls on the Asian summer monsoon. Sci Rep 2. doi:10.1038/srep00404

Wu P, Christidis N, Stott P (2013) Anthropogenic impact on earth's hydrological cycle. Nat Clim Change 3(9):807–810. doi:10.1038/nclimate1932

Xie S-P, Xu H, Saji NH, Wang Y, Liu WT (2006) Role of narrow mountains in large-scale organization of Asian monsoon convection. J Clim 19(14):3420–3429. doi:10.1175/JCLI3777.1

Yatagai A, Kamiguchi K, Arakawa O, Hamada A, Yasutomi N, Kitoh A (2012) APHRODITE: constructing a long-term daily gridded precipitation dataset for Asia based on a dense network of rain gauges. Bull Am Meteorol Soc 93(9):1401–1415. doi:10.1175/BAMS-D-11-00122.1
Acknowledgments
The Center for Prototype Climate Modeling (CPCM) is fully funded by the Government of Abu Dhabi through New York University Abu Dhabi Research Institute grant. The authors thank various modeling groups that provided CGCM simulations of CMIP3 and CMIP5 experiments. NYUAD HPC resources are utilized for this work.
About this article
Cite this article
Sandeep, S., Ajayamohan, R.S. Poleward shift in Indian summer monsoon low level jetstream under global warming. Clim Dyn 45, 337–351 (2015). https://doi.org/10.1007/s00382-014-2261-y
Received:

Accepted:

Published:

Issue Date:

DOI: https://doi.org/10.1007/s00382-014-2261-y
Keywords
Indian monsoon

Low level jet

Global warming

Hydrological cycle

Western Ghats