Abstract
An ensemble of future climate projections performed with the regional climate model RegCM4 is used to assess changes in inter-annual variability of precipitation over Southern Mexico and Central America (SMECAM). Two different Global Climate Models (GCMs) from the coupled model intercomparison project phase 5 are used to provide boundary conditions for two different RegCM4 configurations. This results in four regional climate projections extending from 1970 to 2100 for the greenhouse gas representative concentration pathway RCP8.5. The precipitation variability over the SMECAM region and its dependence on the gradient between Atlantic and Pacific sea surface temperature (SST) anomalies are verified by reproducing SST anomaly patterns during wettest and driest years similar to those seen in observational datasets. RegCM4 does a comparably better job than the driving GCMs. This strong relationship between precipitation and SST anomalies does not appear to change substantially under future climate conditions. For the rainy season, June to September, we find a future change in inter-annual variability of precipitation towards a much greater occurrence of very dry seasons over the SMECAM region, with this change being more pronounced in the regional than in the global model projections. A greater warming of the Tropical Northeastern Pacific (TNP) compared to the Tropical North Atlantic (TNA), which causes stronger wind fluxes from the TNA to the TNP through the Caribbean Low Level Jet, is identified as the main process responsible for these drier conditions.
Access options
Buy single article
Instant access to the full article PDF.
US$ 39.95
Tax calculation will be finalised during checkout.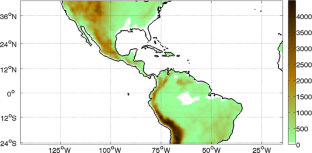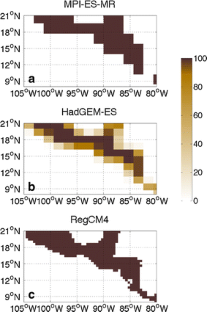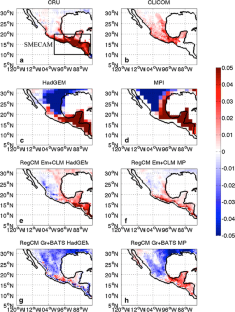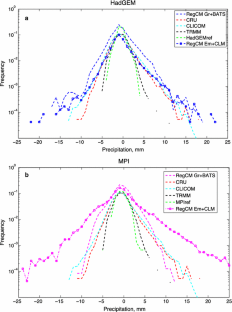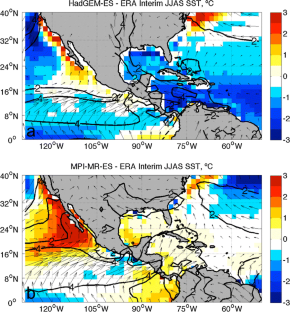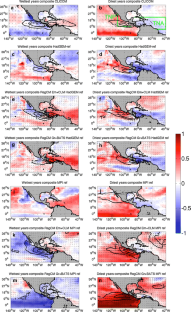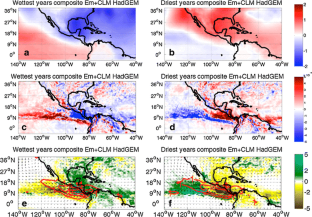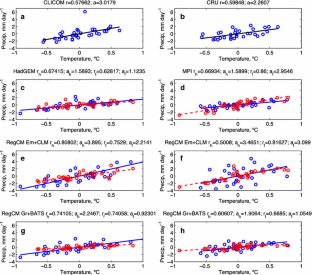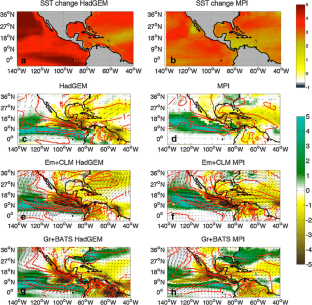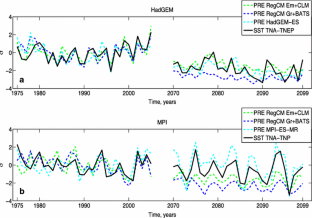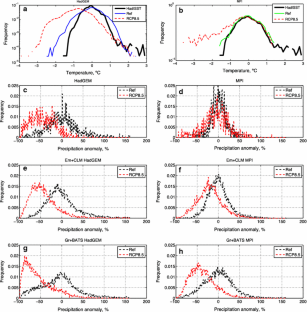 References
Christensen JH et al (2007) Regional climate model projections. Climate change 2007: the physical science basis. Contribution of WGI to the IPCC AR4. In: Solomon S et al (eds) Cambridge University Press, Cambridge

Alexander MA, Bladé I, Newman M, Lanzante JR, Lau NC, Scott JD (2002) The atmospheric bridge: the influence of ENOS teleconnections on air-sea interaction over the global oceans. J Clim 15(16):2205–2231

Castro CL, Chang H-I, Dominguez F, Carrillo C, Schemm J-K, Juang MH (2012) Can a regional climate model improve the ability to forecast the North American Monsoon? J Clim 25:8212–8237

Coppola E, Giorgi F (2010) An assessment of temperature and precipitation change projections over Italy from recent global and regional climate model simulations. Int J Clim 30(1):11–32

Coppola E, Giorgi F, Raffaele F, Fuentes-Franco F, Giuliani G, LLopart-Pereira M, Mamgain A, Mariotti L, Diro GT, Torma C (2014) The bias and climate change signal in the phase I CREMA experiment (submitted)

Dickinson RE, Henderson-Sellers A, Kennedy PJ (1993) Biosphere–atmosphere transfer scheme (BATS) version1E as coupled to the NCAR community model. In: NCAR Technical report. TN-387 + STR, NCAR, Boulder, CO

Diro GT, Rauscher SA, Giorgi F, Tompkins AM (2012) Sensitivity of seasonal climate and diurnal precipitation over Central America to land and sea surface schemes in RegCM4. Clim Res 52:31–48

Diro GT, Giorgi F, Fuentes-Franco R, Walsh KJE, Giuliani G, Coppola E (2014) Tropical cyclones in an ensemble of regional climate change projections with RegCM4 over the CORDEX Central America domain (submitted)

Elguindi N, Giorgi F, Turuncoglu U (2013) Assessment of CMIP5 global model simulations over the subset of CORDEX domains used in the phase I CREMA. Clim Change. doi:10.1007/S10584-013-0935-9

Emanuel K (1991) A scheme for representing cumulus convection in large scale models. J Atmos Sci 48:2313–2335

Enfield DB (1996) Relationship of inter-American rainfall to tropical Atlantic and Pacific SST variability. Geophys Res Lett 23:3305–3308. doi:10.1016/S0921-8181(02)00193-5

Enfield DB, Alfaro EJ (1999) The dependence of Caribbean rainfall on the interaction of the tropical Atlantic and Pacific Oceans. J Clim 12(7):2093–2103

Englehart PJ, Douglas AV (2002) Mexico's summer rainfall patterns: an analysis of regional modes and changes in their teleconnectivity. Atmósfera 15:147–164

Fuentes-Franco R, Coppola E, Giorgi F, Graef F, Pavia EG (2014) Assessment of RegCM4 simulated inter-annual variability and daily-scale statistics of temperature and precipitation over Mexico. Clim Dyn 42:629–647. doi:10.1007/s00382-013-1686-z

Giorgi F (2006) Climate change hot-spots. Geophys Res Lett 33:L08707. doi:10.1029/2006GL025734

Giorgi F, Bi X (2005) Updated regional precipitation and temperature changes for the 21st century from ensembles of recent AOGCM simulations. Geophys Res Lett 32(21):L21715. doi:10.1029/2005GL024288

Giorgi F, Marinucci MR, Bates GT (1993a) Development of a second generation regional climate model (REGCM2). Part I: boundary layer and radiative transfer processes. Mon Weather Rev 121:2794–2813

Giorgi F, Marinucci MR, Bates GT, DeCanio G (1993b) Development of a second generation regional climate model (REGCM2). Part II: convective processes and assimilation of lateral boundary conditions. Mon Weather Rev 121:2814–2832

Giorgi F, Jones C, Asrar GR (2009) Addressing climate information needs at the regional level: the CORDEX framework. World Meteorol Organ Bull 58(3):175

Giorgi F et al (2012) RegCM4: model description and preliminary tests over multiple CORDEX domains. Clim Res 52:7–29

Giorgi F, Coppola E, Raffaele F, Diro GT, Fuentes-Franco F, Giuliani G, Mamgain A, LLopart-Pereira M, Mariotti L, Torma C (2014) Changes in extremes and hydroclimatic regimes in the CREMA ensemble projections. Clim Change 125:1–5. doi:10.1007/s10584-014-1166-4

Grell GA (1993) Prognostic evaluation of assumptions used by cumulus parameterizations. Mon Weather Rev 121:764–787

Hastenrath S (1967) Rainfall distribution and regime in Central America. Arch Meteorol Geophys Bioklimatol Ser B 15:201–241

Holtslag A, De Bruijn E, Pan HL (1990) A high resolution air mass transformation model for short range weather forecasting. Mon Weather Rev 118:1561–1575

Hu ZZ, Kumar A, Huang B, Xue Y, Wang W, Jha B (2011) Persistent atmospheric and oceanic anomalies in the North Atlantic from summer 2009 to summer 2010. J Clim 24(22):5812–5830

Huffman G, Adler R, Bolvin D, Gu G et al (2007) The TRMM Multisatellite Precipitation Analysis (TMPA): quasi-global, multiyear, combined-sensor precipitation estimates at fine scales. J Hydrometeorol 8:38–55

Jones RG, Noguer M, Hassell D, Hudson D, Wilson S, Jenkins G, Mitchell J (2004) Generating high resolution climate change scenarios using PRECIS (manual). Hadley Centre for Climate Prediction and Research Met Office, Exeter, p 40

Karmalkar AV, Bradley RS, Diaz HF (2011) Climate change in Central America and Mexico: regional climate model validation and climate change projections. Clim Dyn 37(3–4):605–629

Karmalkar AV, Taylor MA, Campbell J, Stephenson T, New M, Centella A, Charlery J (2013) A review of observed and projected changes in climate for the islands in the Caribbean. Atmósfera 26(2):283–309

Karnauskas B, Busalacchi AJ (2009) The role of SST in the East Pacific warm pool in the interannual variability of Central American rainfall. J Clim 22:2605–2623

Kiehl J, Hack J, Bonan G, Boville B, Briegleb B, Williamson D, Rasch P (1996) Description of the NCAR community climate model (CCM3). In: NCAR Technical report. TN-420 + STR, NCAR, Boulder, CO, USA

Klein SA, Soden BJ, Lau NC (1999) Remote sea surface temperature variations during ENOS: evidence for a tropical atmospheric bridge. J Clim 12(4):917–932

Knaff JA (1997) Implications of summertime sea level pressure anomalies in the tropical Atlantic region. J Clim 10(4):789–804

Kozar ME, Misra V (2013) Evaluation of twentieth-century Atlantic Warm Pool simulations in historical CMIP5 runs. Clim Dyn 41:2375–2391

Leloup J, Clement A (2009) Why is there a minimum in projected warming in the tropical North Atlantic Ocean? Geophys Res Lett 36:L14802. doi:10.1029/2009GL038609

Magaña V, Caetano E (2005) Temporal evolution of summer convective activity over the Americas warm pools. Geophys Res Lett 32:L02803. doi:10.1029/2004GL021033

Magaña V, Amador JA, Medina S (1999) The midsummer drought over Mexico and Central America. J Clim 12(6):1577–1588

Maloney E, Camargo S, Chang E, Colle B, Fu R, Geil K, Hu Q Jiang X, Johnson N, Karnauskas K, Kinter J, Kirtman B, Kumar S, Langenbrunner B, Lombardo K, Long L, Mariotti A, Meyerson J, Mo K, Neelin D, Pan Z, Seager R, Serra Y, Seth A, Sheffield J, Stroeve J, Thibeault J, Xie S, Wang C, Wyman B, Zhao M (2013) North American Climate in CMIP5 experiments: part III: assessment of 21st century projections. J. Clim. doi:10.1175/JCLI-D-13-00273.1 (in press)

Martinez-Sanchez JN, Cavazos T (2014) Eastern Tropical Pacific hurricane variability and landfalls on Mexican coasts. Clim Res 58:221–234

Méndez M, Magaña V (2010) Regional aspects of prolonged meteorological droughts over Mexico and Central America. J Clim 23(5):1175–1188

Mitchell T, Jones D (2005) An improved method of constructing a database of monthly climate observations and associated high-resolution grids. Int J Climatol 25:693–712

Moss RH, Edmonds JA, Hibbard KA, Manning MR, Rose SK, Van Vuuren DP, Wilbanks TJ (2010) The next generation of scenarios for climate change research and assessment. Nature 463(7282):747–756

Munoz-Arriola F, Lettenmaier DP, Zhu C, Avissar R (2009) Water resources sensitivity of the Rio Yaqui Basin, Mexico to agriculture extensification under multi-scale climate conditions. Water Resour Res 45:W00A20. doi:10.1029/2007WR006783

Oleson KW, Niu GY, Yang ZL, Lawrence D et al (2008) Improvements to the community land model and their impact on the hydrological cycle. J Geophys Res 113:G01021. doi:10.1029/2007JG000563

Pal JS, Small EE, Eltahir EAB (2000) Simulation of regional-scale water and energy budgets: representation of subgrid cloud and precipitation processes within RegCM. J Geophys Res 105(D24):29579–29594

Pal JS, Giorgi F, Bi X, Elguindi N, Solmon F, Gao X, Francisco R, Zakey A, Winter J, Ashfaq M, Syed F, Bell J, Diffenbaugh N, Karmacharya J, Konare A, Martinez-Castro D, Porfirio da Rocha R, Sloan L, Steiner A (2007) Regional climate modeling for the developing world: the ICTP RegCM3 and RegCNET. Bull Am Meteorol Soc 88:1395–1409

Peña M, Douglas MW (2002) Characteristics of wet and dry spells over the Pacific side of Central America during the rainy season. J Clim 130:3054–3073

Rauscher SA, Giorgi F, Diffenbaugh NS, Seth A (2008) Extension and intensification of the Meso-American midsummer drought in the twenty century. Clim Dyn 31:551–571. doi:10.1007/s00382-007-0359.1

Rauscher SA, Kucharski F, Enfield DB (2011) The role of regional SST warming variations in the drying of Meso-America in future projections. J Clim 24:2003–2016

Rodwell M, Hoskins BJ (2001) Subtropical anticyclones and summer monsoons. J Clim 14:3192–3211

Seager R, Harnik N, Kushnir Y, Robinson W, Miller J (2003) Mechanisms of hemispheri- cally symmetric climate variability. J Clim 16:2960–2978

Seager R et al (2009) Mexican drought: an observational, modeling and tree ring study of variability and climate change. Atmósfera 22:1–31

Seneviratne SI, Corti T, Davin EL, Hirschi M, Jaeger EB, Lehner I, Orlowsky B, Teuling AJ (2010) Investigating soil moisture-climate interactions in a changing climate: a review. Earth Sci Rev 99(3–4):125–161. doi:10.1016/j.earscirev.2010.02.004

Small RJO, De Szoeke SP, Xie SP (2007) The Central American midsummer drought: regional aspects and large-scale forcing. J Clim 20(19):4853–4873

Taylor MA, Enfield DB, Chen AA (2002) Influence of the tropical Atlantic versus the tropical Pacific on Caribbean rainfall. J Geophys Res 107(C9):3127

Taylor MA, Stephenson TS, Owino A, Chen AA, Campbell JD (2011) Tropical gradient influences on Caribbean rainfall. J Geophys Res 116:D00Q08. doi:10.1029/2010JD015580

Taylor KE, Stouffer RJ, Meehl GA (2012) An overview of CMIP5 and the 1207 experiment design. Bull Am Meteorol Soc 93:485–498. doi:10.1175/BAMS-D-11-120800094.1

Taylor MA, Whyte FS, Stephenson TS, Campbell JD (2013) Why dry? Investigating the future evolution of the Caribbean low level jet to explain projected Caribbean drying. Int J Climatol 33(3):784–792

Torres-Alavez A, Cavazos T, Turrent C (2014). Land-sea thermal contrast and intensity of the North American Monsoon under climate change conditions. J Clim. doi:10.1175/JCLI-D-13-00557.1

Vecchi GA, Soden BJ (2007) Increased tropical Atlantic wind shear in model projections of global warming. Geophys Res Lett 34:L08702. doi:10.1029/2006GL028905

Wang C (2007) Variability of the Caribbean low-level jet and its relations to climate. Clim Dyn 29:411–422

Wang C, Lee SK (2007) Atlantic warm pool, Caribbean low level jet, and their potential impact on Atlantic hurricanes. Geophys Res Lett 34(2):L02703. doi:10.1029/2006GL028579

Zhu C, Lettenmaier DP (2007) Long-term climate and derived surface hydrology and energy flux data for Mexico: 1925–2004. J Clim 20(9):1936–1946
Acknowledgments
We are grateful to three anonymous reviewers who helped us to improve our original manuscript. This work has been partially funded by the Project "NextData" of the Italian Ministry for Education, University and Research, and the Italian Ministry of Environment, Land and Sea. Additional support came from the Mexican National Council of Science and Technology.
About this article
Cite this article
Fuentes-Franco, R., Coppola, E., Giorgi, F. et al. Inter-annual variability of precipitation over Southern Mexico and Central America and its relationship to sea surface temperature from a set of future projections from CMIP5 GCMs and RegCM4 CORDEX simulations. Clim Dyn 45, 425–440 (2015). https://doi.org/10.1007/s00382-014-2258-6
Received:

Accepted:

Published:

Issue Date:
Keywords
Interannual variability

Change

CORDEX

Southern Mexico

Central America