Abstract
Climate change is expected to alter the mean and variability of future spring and summer drought and wet conditions during the twenty-first century across North America, as characterized by the Standardized Precipitation Index (SPI). Based on Coupled Model Intercomparison Project phase 5 simulations, statistically significant increases are projected in mean spring SPI over the northern part of the continent, and drier conditions across the southwest. Dry conditions in summer also increase, particularly throughout the central Great Plains. By end of century, greater changes are projected under a higher radiative forcing scenario (RCP 8.5) as compared to moderate (RCP 6.0) and lower (RCP 4.5). Analysis of projected changes standardized to a range of global warming thresholds from +1 to +4 °C reveals a consistent spatial pattern of wetter conditions in the northern and drier conditions in the southwestern part of the continent in spring that intensifies under increased warming, suggesting that the magnitude of projected changes in wetness and drought may scale with global temperature. For many regions, SPI interannual variability is also projected to increase (even for regions that are projected to become drier), indicating that climate may become more extreme under greater warming, with increased frequency of both extreme dry and wet seasons. Quantifying the direction and magnitude of projected future trends from global warming is key to informing strategies to mitigate human influence on climate and help natural and managed resources adapt.
Access options
Buy single article
Instant access to the full article PDF.
US$ 39.95
Tax calculation will be finalised during checkout.
Subscribe to journal
Immediate online access to all issues from 2019. Subscription will auto renew annually.
US$ 119
Tax calculation will be finalised during checkout.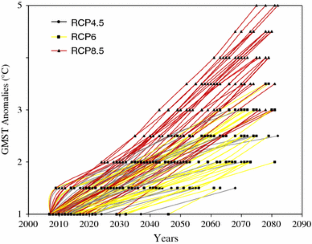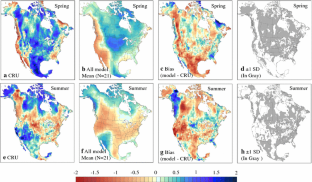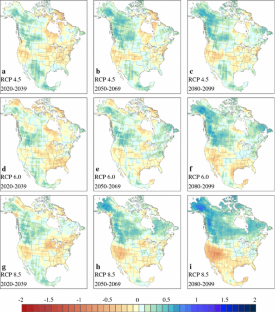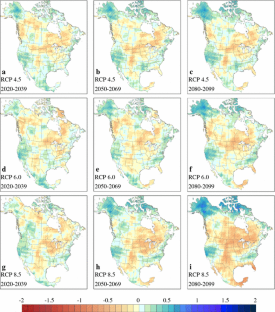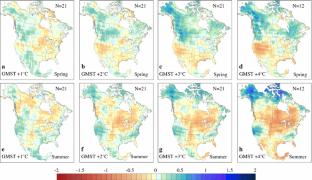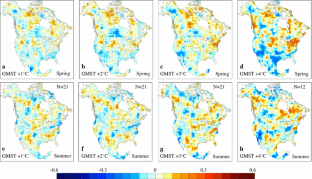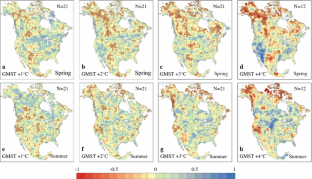 References
Allen MR, Ingram WJ (2002) Constraints on future changes in climate and the hydrologic cycle. Nature 419:224–232

Andreadis KM, Lettenmaier DP (2006) Trends in 20th century drought over the continental United States. Geophys Res Lett 33:L10403. doi:10.1029/2006GL025711

Appendini K, Liverman D (1994) Agricultural policy, climate change and food security in Mexico. Food Policy 19:149–164

Byun H, Wilhite DA (1999) Objective quantification of drought severity and duration. J Clim 12:2747–2756

Cook B, Smerdon J, Seager R, Coats S (2014) Global warming and 21st century drying. Clim Dyn. doi:10.1007/s00382-014-2075-y

Dai A (2011) Drought under global warming: a review. Wiley Interdiscip Rev Clim Change 2:45–65

Dai A (2013) Increasing drought under global warming in observations and models. Nat Clim Change 3:52–58

Dai A, Trenberth KE, Qian T (2004) A global dataset of Palmer Drought Severity Index for 1870–2002: relationship with soil moisture and effects of surface warming. J Hydrometeorol 5:1117–1130

Donat MG et al (2013) Updated analyses of temperature and precipitation extreme indices since the beginning of the twentieth century: the HadEX2 dataset. J Geophys Res Atmos 118:1–16. doi:10.1002/jgrd.50150

Feng S, Krueger AB, Oppenheimer M (2010) Linkages among climate change, crop yields and Mexico–US cross-border migration. Proc Natl Acad Sci 107:14257–14262

Gregory JM, Mitchell JF, Brady AJ (1997) Summer drought in northern mid-latitudes in a time-dependent CO2 climate experiment. J Clim 10:662–686

Groisman PY, Richard WK, Thomas RK (2001) Heavy precipitation and high stream flow in the contiguous United States: trends in the twentieth century. Bull Am Meteorol Soc 82:219–246

Guttman NB (1999) Accepting the Standardized Precipitation Index: a calculation algorithm. J Am Water Resour Assoc 35:311–322

Hall A, Qu X (2006) Using the current seasonal cycle to constrain snow albedo feedback in future climate change. Geophys Res Lett 33:L03502. doi:10.1029/2005GL025127

Harris I, Jones PD, Osborn TJ, Lister DH (2013) Updated high-resolution grids of monthly climatic observations—the CRU TS3.10 dataset. Int J Climatol. doi:10.1002/joc.3711

Hayes MJ, Svoboda MD, Wilhite DA, Vanyarkho OV (1999) Monitoring the 1996 drought using the Standardized Precipitation Index. Bull Am Meteorol Soc 80:429–438

Hayhoe K, Cayan D, Field C, Frumhoff P, Maurer E, Miller N, Moser S, Schneider S, Cahill K, Cleland E, Dale L, Drapek R, Hanemann RM, Kalkstein L, Lenihan J, Lunch C, Neilson R, Sheridan S, Verville J (2004) Emissions pathways, climate change, and impacts on California. Proc Natl Acad Sci USA 101(34):12422–12427

Heim RR Jr (2002) A review of twentieth-century drought indices used in the United States. Bull Am Meteorol Soc 83:1149–1165

Held I, Soden B (2006) Robust responses of the hydrological cycle to global warming. J Clim 19(21):5686–5699

James R, Washington R (2013) Changes in African temperature and precipitation associated with degrees of global warming. Clim Change 117:859–872

Johnson WC, Millett BV, Gilmanov T, Voldseth RA, Guntenspergen GR, Naugle DE (2005) Vulnerability of northern prairie wetlands to climate change. Bioscience 55:863–872

Kaplan JO, New M (2006) Arctic climate change with a 2°C global warming: timing, climate patterns and vegetation change. Clim Change 79:213–241

Karl TR, Knight RW (1998) Secular trends of precipitation amount, frequency, and intensity in the United States. Bull Am Meteorol Soc 79:231–241

Karl TR, Trenberth KE (2003) Modern global climate change. Science 302:1719–1723. doi:10.1126/science.1090228

Karl TR, Melillo JM, Peterson TC (2009) Global climate change impacts in the United States. Cambridge University Press, Cambridge

Keyantash J, Dracup JA (2002) The quantification of drought: an evaluation of drought indices. Bull Am Meteorol Soc 83:1167–1180

Knutti R, Furrer R, Tebaldi C, Cermak J, Meehl GA (2010) Challenges in combining projections from multiple climate models. J Clim 23:2739–2758

Kunkel KE, Easterling DR, Redmond K, Hubbard K (2003) Temporal variations of extreme precipitation events in the United States: 1895–2000. Geophys Res Lett 30(17):1900. doi:10.1029/2003GL018052.j

Kunkel KE, Karl TR, Brooks H et al (2013) Monitoring and understanding trends in extreme storms: state of knowledge. Bull Am Meteorol Soc 94:499–514

Langford S, Stevenson S, Noone D (2014) Analysis of low-frequency precipitation variability in CMIP5 historical simulations for southwestern North America. J Clim 27:2735–2756

Liu SC, Fu C, Shiu CJ, Chen JP, Wu F (2009) Temperature dependence of global precipitation extremes. Geophys Res Lett 36:L17702. doi:10.1029/2009GL040218

Lloyd-Hughes B, Saunders MA (2002) A drought climatology for Europe. Int J Climatol 22:1571–1592

McIntyre NE, Wright CK, Swain S, Hayhoe K, Liu G, Schwartz FW, Henebry GM (2014) Climate forcing of wetland landscape connectivity in the Great Plains. Front Ecol Environ 12:59–64

McKee, TB, Doesken NJ, Kleist J (1993) The relationship of drought frequency and duration to time scales. In: Proceedings of the 8th conference on applied climatology, AMS, Boston, pp 179–184

Melillo JM, Richmond T, Yohe GW Eds. (2014) Climate change impacts in the United States: the third national climate assessment. U.S. Global change research program, 841 pp. doi:10.7930/J0Z31WJ2

Mishra V, Wallace JM, Lettenmaier DP (2012) Relationship between hourly extreme precipitation and local air temperature in the United States. Geophys Res Lett 39:L16403. doi:10.1029/2012GL052790

Mitchell JFB, Davis RA, Ingram WJ, Senior CA (1995) On surface temperature, greenhouse gases, and aerosols: models and observations. J Clim 8:2364–2386

Mote P (2006) Climate-driven variability and trends in mountain snowpack in western North America. J Clim 19:6209–6220

Muller RC, Cudder CM, Porter ME, Trotter RT III, Gehring CA, Whitham TG (2005) Differential tree mortality in response to severe drought: evidence for long-term vegetation shifts. J Ecol 93:1085–1093

NDMC (2013) What is drought? National Drought Mitigation Center. http://drought.unl.edu/DroughtBasics/WhatisDrought.aspx. Accessed 22 June 2013

NOAA (2013) Billion-dollar weather/climate disasters. http://www.ncdc.noaa.gov/billions/events.pdf. Accessed 16 Sept 2013

NRC (2011) Climate stabilization targets: emissions, concentrations, and impacts over decades to millennia. National Research Council, The National Academies Press, Washington

Orlowsky B, Seneviratne SI (2013) Elusive drought: uncertainty in observed trends and short- and long-term CMIP5 projections. Hydr Earth Syst Sci 17:1765–1780

Palmer WC (1965) Meteorological drought. Research Paper No. 45, 58 pp., Department of Commerce, Washington

Pielke RA, Downton MW (2000) Precipitation and damaging floods: trends in the United States, 1932–97. J Clim 13:3625–3637

Ryu JH, Hayhoe K (2014) Understanding the sources of Caribbean precipitation biases in CMIP3 and CMIP5 simulations. Clim Dyn 42(11–12):3233–3252

Seager R, Vecchi GA (2010) Greenhouse warming and the 21st century hydroclimate of southwestern North America. Proc Natl Acad Sci 107:21277–21282

Seager R et al (2007) Model projections of an imminent transition to a more arid climate in southwestern North America. Science 316:1181–1184

Seager R, Ting M, Li C, Naik N, Cook B, Nakamura J, Liu H (2012) Projections of declining surface-water availability for the southwestern United States. Nat Clim Change. doi:10.1038/nclimate1787

Seneviratne SI, Nicholls N, Easterling D, Goodess CM, Kanae S, Kossin J, Luo Y, Marengo J, McInnes K, Rahimi M, Reichstein M, Sorteberg A, Vera C, Zhang X (2012) Changes in climate extremes and their impacts on the natural physical environment. In: Field CB, Barros V, Stocker TF, Qin D, Dokken DJ, Ebi KL, Mastrandrea MD, Mach KJ, Plattner G-K, Allen SK, Tignor M, Midgley PM (eds) Managing the risks of extreme events and disasters to advance climate change adaptation. A Special Report of Working Groups I and II of the Intergovernmental Panel on Climate Change (IPCC). Cambridge University Press, Cambridge, pp 109–230

Shabbar A, Skinner W (2004) Summer drought patterns in Canada and the relationship to global sea surface temperatures. J Clim 17:2866–2880

Sheffield J, Wood EF (2008a) Global trends and variability in soil moisture and drought characteristics, 1950–2000, from observation-driven simulations of the terrestrial hydrologic cycle. J Clim 21:432–458

Sheffield J, Wood EF (2008b) Projected changes in drought occurrence under future global warming from multi-model, multi-scenario, IPCC AR4 simulations. Clim Dyn 31:79–105

Sheffield J, Barrett AP, Colle B, Fernando DN, Fu R, Geil KL, Hu Q, Kinter J, Kumar S, Langenbrunner B, Lombardo K, Long LN, Maloney E, Mariotti A, Meyerson JE, Mo KC, Neelin JD, Nigam S, Pan Z, Ren T, Ruiz-Barradas A, Serra YL, Seth A, Thibeault JM, Stroeve JC, Yang Z, Yin L (2013) North American climate in CMIP5 experiments. Part I: evaluation of historical simulations of continental and regional climatology. J Clim 26:9209–9245

Skinner WR, Stocks BJ, Martell DL, Bonsal B, Shabbar A (1999) The association between circulation anomalies in the midtroposphere and area burned by wildland fire in Canada. Theoret Appl Climatol 63:89–105

Smith AB, Katz RW (2013) US billion-dollar weather and climate disasters: data sources, trends, accuracy and biases. Nat Hazards 67:387–410

Sorenson LG, Goldberg R, Root TL, Anderson MG (1998) Potential effects of global warming on waterfowl populations breeding in the Northern Great Plains. Clim Change 40:343–369

Soulé PT (1992) Spatial patterns of drought frequency and duration in the contiguous USA based on multiple drought event definitions.  Int J Climatol 12:11–24

Stahle DW, Cook ER, Villanueva Díaz J, Fye FK, Burnette DJ, Griff RD, Acuña Soto R, Seager R, Heim RR Jr (2009) Early 21st-century drought in Mexico. EOS transactions. Am Geophys Union 90:89–90

Stocks BJ, Mason JA, Todd JB, Bosch EM, Wotton BM, Amiro BD, Flannigan MD, Hirsch KG, Logan KA, Martell DL, Skinner WR (2003) Large forest fires in Canada, 1959–1997. J Geophys Res 108:8149. doi:10.1029/2001JD000484

Tebaldi C, Hayhoe K, Arblaster JM, Meehl GA (2006) Going to the extremes: an intercomparison of model-simulated historical and future changes in extreme events. Clim Change 79:185–211

United Nations Framework Convention on Climate Change (UNFCCC) (1992) Article 2. http://unfccc.int/essential_background/convention/background/items/1353.php. Accessed 12 Dec 2013

Van Vuuren DP, Edmonds J, Kainuma M et al (2011) The representative concentration pathways: an overview. Clim Change 109:5–31

Wang G (2005) Agricultural drought in a future climate: results from 15 global climate models participating in the IPCC 4th assessment. Clim Dyn 25:739–753

Weigel AP, Knutti R, Liniger MA, Appenzeller C (2010) Risks of model weighting in multimodel climate projections. J Clim 23:4175–4191

Westerling AL, Hidalgo HG, Cayan DR, Swetnam TW (2006) Warming and earlier spring increase western U.S. forest wildfire activity. Science 313:940–943

Westra S, Alexander LV, Zwiers FW (2013) Global increasing trends in annual maximum daily precipitation. J Clim 26:3904–3918

Wheaton EE, Arthur LM, Chorney B, Shewchuk C, Thorpe J, Whitting J, Whittrock K (1992) The prairie drought of 1988. Climatol Bull 26:188–205

Wheaton E, Kulshreshtha S, Wittrock V, Koshida G (2008) Dry times: hard lessons from the Canadian drought of 2001 and 2002. Can Geogr 52:241–262

Wild M, Grieser J, Schar C (2008) Combined surface solar brightening and increasing greenhouse effect support recent intensification of the global land-based hydrological cycle. Geophys Res Lett 35:L17706. doi:10.1029/2008GL034842

Wilhite DA, Glantz MH (1985) Understanding the drought phenomenon: the role of definitions. Water Int 10:111–120

Wuebbles DJ, Meehl G, Hayhoe K et al (2013) CMIP5 climate 1 model analyses: climate extremes in the United States. Bull Am Meteorol Soc. doi:10.1175/BAMS-D-12-00172.1
Electronic supplementary material
Below is the link to the electronic supplementary material.
About this article
Cite this article
Swain, S., Hayhoe, K. CMIP5 projected changes in spring and summer drought and wet conditions over North America. Clim Dyn 44, 2737–2750 (2015). https://doi.org/10.1007/s00382-014-2255-9
Received:

Accepted:

Published:

Issue Date:
Keywords
North America

Great Plains

Drought

Standardized Precipitation Index

Climate projections

CMIP5