Abstract
Decadal and longer timescale variability in the winter North Atlantic Oscillation (NAO) has considerable impact on regional climate, yet it remains unclear what fraction of this variability is potentially predictable. This study takes a new approach to this question by demonstrating clear physical differences between NAO variability on interannual-decadal (<30 year) and multidecadal (>30 year) timescales. It is shown that on the shorter timescale the NAO is dominated by variations in the latitude of the North Atlantic jet and storm track, whereas on the longer timescale it represents changes in their strength instead. NAO variability on the two timescales is associated with different dynamical behaviour in terms of eddy-mean flow interaction, Rossby wave breaking and blocking. The two timescales also exhibit different regional impacts on temperature and precipitation and different relationships to sea surface temperatures. These results are derived from linear regression analysis of the Twentieth Century and NCEP-NCAR reanalyses and of a high-resolution HiGEM General Circulation Model control simulation, with additional analysis of a long sea level pressure reconstruction. Evidence is presented for an influence of the ocean circulation on the longer timescale variability of the NAO, which is particularly clear in the model data. As well as providing new evidence of potential predictability, these findings are shown to have implications for the reconstruction and interpretation of long climate records.
Access options
Buy single article
Instant access to the full article PDF.
US$ 39.95
Tax calculation will be finalised during checkout.
Subscribe to journal
Immediate online access to all issues from 2019. Subscription will auto renew annually.
US$ 119
Tax calculation will be finalised during checkout.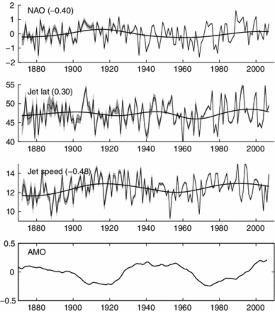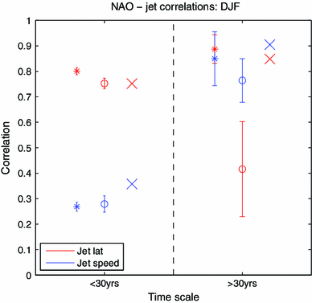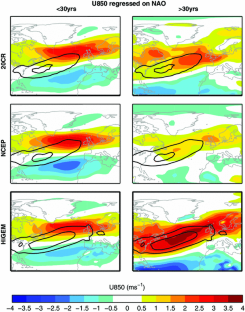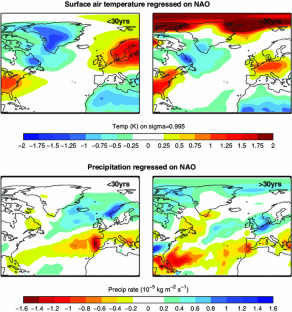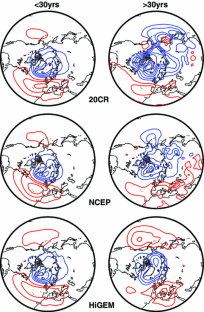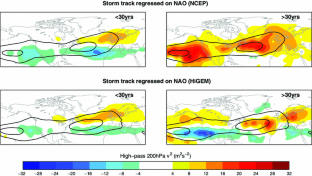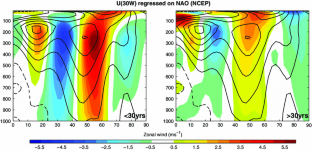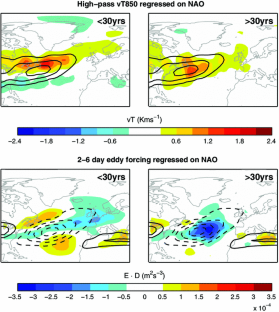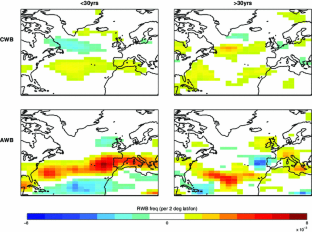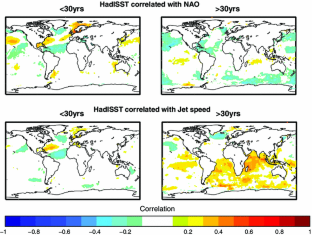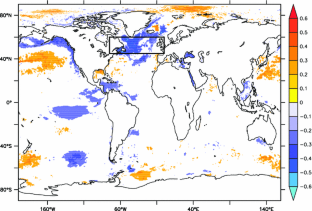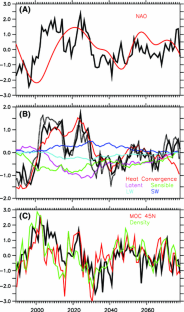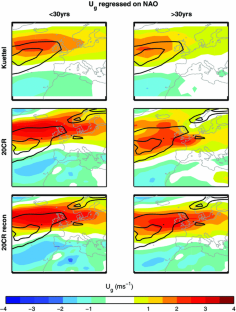 Notes
1.

Or equivalently, the Arctic Oscillation or Northern Annular Mode (Feldstein and Franzke 2006).
References
Altenhoff AM, Martius O, Croci-Maspoli M, Schwierz C, Davies HC (2008) Linkage of atmospheric blocks and synoptic-scale rossby waves: a climatological analysis. Tellus A 60(5):1053–1063

Alvarez-Garcia F, Latif M, Biastoch A (2008) On multidecadal and quasi-decadal North Atlantic variability. J Clim 21(14):3433–3452

Archambault HM, Keyser D, Bosart LF (2010) Relationships between large-scale regime transitions and major cool-season precipitation events in the northeastern United States. Mon Weather Rev 138(9):3454–3473

Bader J, Latif M (2003) The impact of decadal-scale Indian ocean sea surface temperature anomalies on Sahelian rainfall and the North Atlantic Oscillation. Geophys Res Lett 30:2169

Bader J, Mesquita MD, Hodges KI, Keenlyside N, Østerhus S, Miles M (2011) A review on Northern Hemisphere sea-ice, storminess and the North Atlantic Oscillation: observations and projected changes. Atmos Res 101(4):809–834

Barnes EA, Hartmann DL (2012) Detection of Rossby wave breaking and its response to shifts of the midlatitude jet with climate change. J Geophys Res 117(D09117) . doi:10.1029/2012JD017469

Benedict JJ, Lee S, Feldstein SB (2004) Synoptic view of the North Atlantic Oscillation. J Atmos Sci 61(2):121–144

Cappellini V (1978) Digital filters and their applications. Academic, New York

Castanheira J, Graf H-F (2003) North Pacific–North Atlantic relationships under stratospheric control? J Geophys Res 108:4036

Casty C, Handorf D, Raible C, González-Rouco J, Weisheimer A, Xoplaki E, Luterbacher J, Dethloff K, Wanner H (2005) Recurrent climate winter regimes in reconstructed and modelled 500 hPa geopotential height fields over the North Atlantic/European sector 1659–1990. Clim Dyn 24(7–8):809–822

Comas-Bru L, McDermott F (2013) Impacts of the EA and SCA patterns on the European twentieth century NAO-winter climate relationship. Q J R Meteorol Soc. doi:10.1002/qj.2158

Compo GP, Whitaker JS, Sardeshmukh PD, Matsui N, Allan RJ, Yin X, Gleason BE, Vose RS, Rutledge G, Bessemoulin P, Brönnimann S, Brunet M, Crouthamel RI, Grant AN, Groisman PY, Jones PD, Kruk MC, Kruger AC, Marshall GJ, Maugeri M, Mok HY, Nordli Ø, Ross TF, Trigo RM, Wang XL, Woodruff SD, Worley SJ (2011) The twentieth century reanalysis project. Q J R Meteorol Soc 137:1–28

Croci-Maspoli M, Schwierz C, Davies H (2007) Atmospheric blocking—space-time links to the NAO and PNA. Clim Dyn 29:713–725

Czaja A, Frankignoul C (1999) Influence of the North Atlantic SST on the atmospheric circulation. Geophys Res Lett 26(19):2969–2972

Davini P, Cagnazzo C, Fogli PG, Manzini E, Gualdi S, Navarra A (2013) European blocking and Atlantic jet stream variability in the NCEP/NCAR reanalysis and the CMCC-CMS climate model. Clim Dyn. doi:10.1007/s00382-013-1873-y

Delworth TL, Mann ME (2000) Observed and simulated multidecadal variability in the northern hemisphere. Clim Dyn 16(9):661–676

Deser C, Blackmon ML (1993) Surface climate variations over the North Atlantic Ocean during winter: 1900–1989. J Clim 6(9):1743–1753

Deser C, Magnusdottir G, Saravanan R, Phillips A (2004) The effects of North Atlantic SST and sea ice anomalies on the winter circulation in CCM3. Part II: direct and indirect components of the response. J Clim 17:877–889

Eden C, Willebrand J (2001) Mechanism of interannual to decadal variability of the North Atlantic circulation. J Clim 14(10):2266–2280

Enfield DB, Mestas-Nuñez AM, Trimble PJ (2001) The Atlantic multidecadal Oscillation and its relation to rainfall and river flows in the continental US. Geophys Res Lett 28(10):2077–2080

Feldstein SB (2000a) Is interannual zonal mean flow variability simply climate noise? J Clim 13(13):2356–2362

Feldstein SB (2000b) The timescale, power spectra, and climate noise properties of teleconnection patterns. J Clim 13:4430–4440

Feldstein SB (2003) The dynamics of NAO teleconnection pattern growth and decay. Q J R Meteorol Soc 129(589):901–924

Feldstein SB, Franzke C (2006) Are the North Atlantic Oscillation and the Northern annular mode distinguishable? J Atmos Sci 63:2915–2930

Folland C, Scaife A, Lindesay J, Stephenson D (2012) How potentially predictable is northern European winter climate a season ahead? Int J Climatol 32(6):801–818

Franzke C, Woollings T (2011) On the persistence and predictability properties of North Atlantic climate variability. J Clim 24:466–472

Franzke C, Lee S, Feldstein SB (2004) Is the North Atlantic Oscillation a breaking wave? J Atmos Sci 61(2):145–160

Franzke C, Woollings T, Martius O (2011) Persistent circulation regimes and preferred regime transitions in the North Atlantic. J Atmos Sci 68:2809–2825

Gabriel A, Peters D (2008) A diagnostic study of different types of Rossby wave breaking events in the northern extratropics. J Meteorol Soc Jpn 86(5):613–631

Gastineau G, Frankignoul C (2012) Cold-season atmospheric response to the natural variability of the Atlantic meridional overturning circulation. Clim Dyn 39:37–57. doi:10.1007/s00382-011-1109-y

Gómara I, Pinto JG, Woollings T, Masato G, Zurita-Gotor P, Rodríguez-Fonseca B (2014) Rossby wave-breaking analysis of explosive cyclones in the Euro-Atlantic sector. Q J R Meteorol Soc 140:738–753. doi:10.1002/qj.2190

Greatbatch RJ, Gollan G, Jung T, Kunz T (2012) Factors influencing northern hemisphere winter mean atmospheric circulation anomalies during the period 1960/61 to 2001/02. Q J R Meteorol Soc 138(669):1970–1982

Gulev SK, Latif M, Keenlyside N, Park W, Koltermann KP (2013) North Atlantic Ocean control on surface heat flux on multidecadal timescales. Nature 499(7459):464–467

Häkkinen S, Rhines PB, Worthen DL (2011) Atmospheric blocking and Atlantic multidecadal ocean variability. Science 334:655–659

Hanley J, Caballero R (2012) The role of large-scale atmospheric flow and Rossby wave breaking in the evolution of extreme windstorms over Europe. Geophys Res Lett 39(21):L21708

Haylock M, Jones P, Allan R, Ansell T (2007) Decadal changes in 1870–2004 northern hemisphere winter sea level pressure variability and its relationship with surface temperature. J Geophys Res 112(D11):D11103

Hodson DL, Sutton RT (2012) The impact of resolution on the adjustment and decadal variability of the Atlantic meridional overturning circulation in a coupled climate model. Clim Dyn 39(12):3057–3073

Hoerling MP, Hurrell JW, Xu T (2001) Tropical origins for recent North Atlantic climate change. Science 292:90–92

Hoskins BJ, James IN, White GH (1983) The shape, propagation and mean-flow interaction of large-scale weather systems. J Atmos Sci 40:1595–1612

Hurrell JW (1995) Decadal trends in the North Atlantic Oscillation: regional temperatures and precipitation. Science 269:676–679

Ineson S, Scaife AA, Knight JR, Manners JC, Dunstone NJ, Gray LJ, Haigh JD (2011) Solar forcing of winter climate variability in the northern hemisphere. Nature Geosci 4(11):753–757

Joshi MM, Charlton AJ, Scaife AA (2006) On the influence of stratospheric water vapor changes on the tropospheric circulation. Geophys Res Lett 33:L09806

Jung T, Hilmer M, Ruprecht E, Kleppek S, Gulev SK, Zolina O (2003) Characteristics of the recent eastward shift of interannual NAO variability. J Clim 16(20):3371–3382

Kalnay E et al (1996) The NCEP/NCAR 40-year reanalysis project. Bull Am Meteorol Soc 77:437–471

Keeley S, Sutton R, Shaffrey L (2012) The impact of North Atlantic sea surface temperature errors on the simulation of North Atlantic European region climate. Q J R Meteorol Soc 138(668):1774–1783

Keeley SPE, Sutton R, Shaffrey L (2009) Does the North Atlantic Oscillation show unusual persistence on intraseasonal timescales? Geophys Res Lett 36:L22706

Knight JR, Allan RJ, Folland CK, Vellinga M, Mann ME (2005) A signature of persistent natural thermohaline circulation cycles in observed climate. Geophys Res Lett 32:L20708

Krueger O, Schenk F, Feser F, Weisse R (2013) Inconsistencies between long-term trends in storminess derived from the 20CR reanalysis and observations. J Clim 26(3):868–874

Kucharski F, Molteni F, Bracco A (2006) Decadal interactions between the western Tropical Pacific and the North Atlantic Oscillation. Clim Dyn 26:79–91

Kunz T, Fraedrich K, Lunkeit F (2009) Impact of synoptic-scale wave breaking on the NAO and its connection with the stratosphere in ERA-40. J Clim 22(20):5464–5480

Küttel M, Xoplaki E, Gallego D, Luterbacher J, Garcia-Herrera R, Allan R, Barriendos M, Jones P, Wheeler D, Wanner H (2010) The importance of ship log data: reconstructing North Atlantic, European and Mediterranean sea level pressure fields back to 1750. Clim Dyn 34(7–8):1115–1128

Lee S-S, Lee J-Y, Wang B, Ha K-J, Heo K-Y, Jin F-F, Straus DM, Shukla J (2012) Interdecadal changes in the storm track activity over the North Pacific and North Atlantic. Clim Dyn 39(1–2):313–327

Li C, Wettstein JJ (2012) Thermally driven and eddy-driven jet variability in reanalysis. J Clim 25(5):1587–1596

Lu J, Greatbatch RJ (2002) The changing relationship between the NAO and northern hemisphere climate variability. Geophys Res Lett 29(7):52-1–52-4

Luo D, Diao Y, Feldstein SB (2011) The variability of the Atlantic storm track and the North Atlantic Oscillation: a link between intraseasonal and interannual variability. J Atmos Sci 68(3):577–601

Mak M, Cai M (1989) Local barotropic instability. J Atmos Sci 46(21):3289–3311

Manganello JV (2008) The influence of sea surface temperature anomalies on low-frequency variability of the North Atlantic Oscillation. Clim Dyn 30(6):621–641

Marshall J, Schott F (1999) Open-ocean convection: observations, theory, and models. Rev Geophys 37(1):1–64

Martius O, Schwierz C, Davies HC (2007) Breaking waves at the tropopause in the wintertime Northern Hemisphere: climatological analyses of the orientation and the theoretical LC1/2 classification. J Atmos Sci 64:2576–2592

Masato G, Hoskins BJ, Woollings TJ (2009) Can the frequency of blocking be described by a red noise process? J Atmos Sci 66:2143–2149

McHugh MJ, Rogers JC (2005) Multi-model representation of the North Atlantic Oscillation in the 20th and 21st centuries. Geophys Res Lett 32:L21713

Monahan AH, Fyfe JC, Ambaum MHP, Stephenson DB, North GR (2009) Empirical orthogonal functions: the medium is the message. J Clim 22:6501–6514

Moore GWK, Renfrew IA, Pickart RS (2013) Multidecadal mobility of the North Atlantic Oscillation. J Clim 26:2453–2466

Mosedale TJ, Stephenson DB, Collins M, Mills TC (2006) Granger causality of coupled climate processes: ocean feedback on the North Atlantic Oscillation. J Clim 19(7):1182–1194

Nakamura H, Wallace JM (1993) Synoptic behavior of baroclinic eddies during the blocking onset. Mon Weather Rev 121:1892–1903

Omrani N-E, Keenlyside NS, Bader J, Manzini E (2014) Stratosphere key for wintertime atmospheric response to warm Atlantic decadal conditions. Clim Dyn 42(3–4):649–663

Peings Y, Magnusdottir G (2014) Forcing of the wintertime atmospheric circulation by the multidecadal fluctuations of the North Atlantic ocean. Environ Res Lett 9(3):034018

Pelly JL, Hoskins BJ (2003) A new perspective on blocking. J Atmos Sci 60:743–755

Pinto JG, Raible CC (2012) Past and recent changes in the North Atlantic Oscillation. WIREs Clim Change 3:79–90

Pinto JG, Reyers M, Ulbrich U (2011) The variable link between PNA and NAO in observations and in multi-century CGCM simulations. Clim Dyn 36(1–2):337–354

Pozo-Vázquez D, Esteban-Parra M, Rodrigo F, Castro-Diez Y (2001) A study of NAO variability and its possible non-linear influences on European surface temperature. Clim Dyn 17(9):701–715

Raible C, Luksch U, Fraedrich K, Voss R (2001) North Atlantic decadal regimes in a coupled GCM simulation. Clim Dyn 18(3–4):321–330

Raible CC, Stocker TF, Yoshimori M, Renold M, Beyerle U, Casty C, Luterbacher J (2005) Northern hemispheric trends of pressure indices and atmospheric circulation patterns in observations, reconstructions, and coupled GCM simulations. J Clim 18:3968–3982

Raible CC, Casty C, Luterbacher J, Pauling A, Esper J, Frank DC, Büntgen U, Roesch AC, Tschuck P, Wild M et al (2006) Climate variability-observations, reconstructions, and model simulations for the Atlantic-European and Alpine region from 1500–2100 AD. Clim Change 79(1–2):9–29

Raible CC, Ziv B, Saaroni H, Wild M (2010) Winter synoptic-scale variability over the Mediterranean Basin under future climate conditions as simulated by the ECHAM5. Clim Dyn 35(2–3):473–488

Raible CC, Lehner F, Rouco J FG, Donado LF (2014) Changing correlation structures of the Northern Hemisphere atmospheric circulation from 1000 to 2100 AD. Clim Past 10:537–550

Rayner NA, Parker DE, Horton EB, Folland CK, Alexander LV, Rowell DP, Kent EC, Kaplan A (2003) Global analyses of sea surface temperature, sea ice, and night marine air temperature since the late nineteenth century. J Geophys Res 10(D14):4407

Rivière G, Orlanski I (2007) Characteristics of the Atlantic storm-track eddy activity and its relation with the North Atlantic Oscillation. J Atmos Sci 64:241–266

Rodwell MJ, Rowell DP, Folland CK (1999) Oceanic forcing of the wintertime North Atlantic Oscillation and European climate. Nature 398:320–323

Scherrer SC, Croci-Maspoli M, Schwierz C, Appenzeller C (2006) Two-dimensional indices of atmospheric blocking and their statistical relationship with winter climate patterns in the Euro-Atlantic region. Int J Climatol 26:233–249

Schneider EK, Bengtsson L, Hu Z-Z (2003) Forcing of northern hemisphere climate trends. J Atmos Sci 60(12):1504–1521

Selten FM, Branstator GW, Dijkstra HA, Kliphuis M (2004) Tropical origins for recent and future Northern Hemisphere climate change. Geophys Res Lett 31:L21205

Shabbar A, Huang J, Higuchi K (2001) The relationship between the wintertime North Atlantic Oscillation and blocking episodes in the North Atlantic. Int J Climatol 21:355–369

Shaffrey L, Sutton R (2006) Bjerknes compensation and the decadal variability of the energy transports in a coupled climate model. J Clim 19:1167–1181

Shaffrey LC et al (2009) U.K. HiGEM: the new U.K. High-resolution global environment model—model description and basic evaluation. J Clim 22:1861–1896

Shutts GJ (1983) The propagation of eddies in diffluent jet streams: Eddy vorticity forcing of blocking flow fields. Q J R Meteorol Soc 109:737–761

Stephenson DB, Pavan V, Bojariu R (2000) Is the North Atlantic Oscillation a random walk? Int J Climatol 20:1–18

Strong C, Magnusdottir G (2008) How Rossby wave breaking over the Pacific forces the North Atlantic Oscillation. Geophys Res Lett 35(10):L10706

Strong C, Magnusdottir G (2008) Tropospheric Rossby wave breaking and the NAO/NAM. J Atmos Sci 65:2861–2876

Sutton R, Hodson D (2003) Influence of the ocean on North Atlantic climate variability 1871–1999. J Clim 16(20):3296–3313

Sutton RT, Dong B (2012) Atlantic Ocean influence on a shift in European climate in the 1990s. Nature Geosci 5(11):788–792

Thompson DWJ, Wallace JM (2001) Regional climate impacts of the Northern Hemisphere annular mode. Science 293:85–89

Thompson DWJ, Lee S, Baldwin MP (2002) Atmospheric processes governing the Northern Hemisphere annular mode/North Atlantic Oscillation. In: Hurrell JW, Kushnir Y, Ottersen G, Visbeck M (eds) The North Atlantic Oscillation: climatic significance and environmental impact, vol 134. AGU Geophysical Monograph Series, New York

Tibaldi S, Molteni F (1990) On the operational predictability of blocking. Tellus 42A:343–365

Vicente-Serrano SM, López-Moreno JI (2008) Nonstationary influence of the North Atlantic Oscillation on European precipitation. J Geophys Res 113(D20):D20120

Wallace JM (2000) North Atlantic Oscillation/annular mode: two paradigms—one phenomenon. Q J R Meteorol Soc 126(564):791–805

Walter K, Graf H-F (2002) On the changing nature of the regional connection between the North Atlantic Oscillation and sea surface temperature. J Geophys Res 107(D17):4338

Wang Y-H, Magnusdottir G, Stern H, Tian X, Yu Y (2012) Decadal variability of the NAO: introducing an augmented NAO index. Geophys Res Lett 39(21):L21702

Woollings T, Blackburn M (2012) The North Atlantic jet stream under climate change, as described by the NAO and EA patterns. J Clim 25:886–902

Woollings T, Hannachi A, Hoskins B (2010) Variability of the North Atlantic eddy-driven jet stream. Q J R Meteorol Soc 649:856–868

Woollings T, Gregory JM, Pinto JG, Reyers M, Brayshaw DJ (2012) Response of the North Atlantic storm track to climate change shaped by ocean–atmosphere coupling. Nature Geosci 5:313–317

Woollings T, Czuchnicki C, Franzke C (2014) Twentieth century North Atlantic jet variability. Q J R Meteorol Soc 140:783–791. doi:10.1002/qj.2197

Woollings TJ, Hoskins BJ, Blackburn M, Berrisford P (2008) A new Rossby wave-breaking interpretation of the North Atlantic Oscillation. J Atmos Sci 65:609–626

Wunsch C (1999) The interpretation of short climate records, with comments on the North Atlantic and Southern Oscillations. Bull Am Meteorol Soc 80(2):245–255
Acknowledgments
NCEP Reanalysis data provided by the NOAA/OAR/ESRL PSD, Boulder, Colorado, USA, from their Web site at http://www.esrl.noaa.gov/psd/. Support for the Twentieth Century Reanalysis Project dataset is provided by the U.S. Department of Energy, Office of Science Innovative and Novel Computational Impact on Theory and Experiment (DOE INCITE) program, and Office of Biological and Environmental Research (BER), and by the National Oceanic and Atmospheric Administration Climate Program Office. CF is supported by the German Research Foundation through the cluster of excellence CliSAP. DLRH was supported by the National Centre for Atmospheric Science (NCAS) and the Natural Environmental Research Council (NERC) during this work. CCR is supported by the Swiss National Science Foundation under the grant CRSI122-130642 (FUPSOL). JGP was partially supported by the German Federal Ministry of Education and Research (BMBF) under the project Probabilistic Decadal Forecast for Central and western Europe (MIKLIP-PRODEF, contract 01LP1120A). The authors would like to thank Len Shaffrey and the HiGEM project http://higem.nerc.ac.uk/ for use of the HiGEM data in this study, and two anonymous reviewers for constructive comments.
About this article
Cite this article
Woollings, T., Franzke, C., Hodson, D.L.R. et al. Contrasting interannual and multidecadal NAO variability. Clim Dyn 45, 539–556 (2015). https://doi.org/10.1007/s00382-014-2237-y
Received:

Accepted:

Published:

Issue Date:
Keywords
North Atlantic Oscillation

Jet variability

Atmosphere–ocean interaction

Climate reconstructions