Abstract
Atlantic tropical cyclone activity is known to oscillate between multi-annual periods of high and low activity. These changes have been linked to the Atlantic multidecadal oscillation (AMO), a mode of variability in Atlantic sea surface temperature which modifies the large-scale conditions of the tropical Atlantic. Cyclone activity is also modulated at higher frequencies by a series of other climate factors, with some of these influences appearing to be more consistent than others. Using the HURDAT2 database and a second set of tropical cyclone data corrected for possible missing storms in the earlier part of the record, we investigate, through Poisson regressions, the relationship between a series of climate variables and a series of metrics of seasonal Atlantic cyclone activity during both phases of the AMO. We find that, while some influences, such as El Niño Southern oscillation, remain present regardless of the AMO phase, other climate factors show an influence during only one of the two phases. During the negative phase, Sahel precipitation and the North Atlantic oscillation (NAO) are measured to play a role, while during the positive phase, the 11-year solar cycle and dust concentration over the Atlantic appear to be more important. Furthermore, we show that during the negative phase of the AMO, the NAO influences all our measures of tropical cyclone activity, and we go on to provide evidence that this is not simply due to changes in steering current, the mechanism by which the NAO is usually understood to impact Atlantic cyclone activity. Finally, we conclude by demonstrating that our results are robust to the sample size as well as to the choice of the statistical model.
Access options
Buy single article
Instant access to the full article PDF.
USD 39.95
Price includes VAT (USA)
Tax calculation will be finalised during checkout.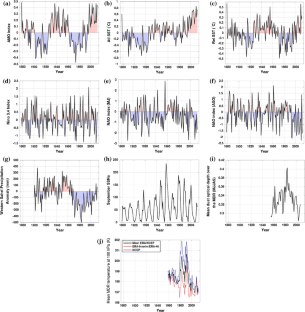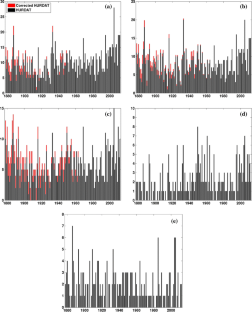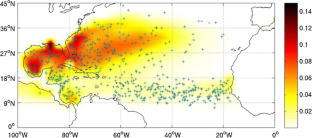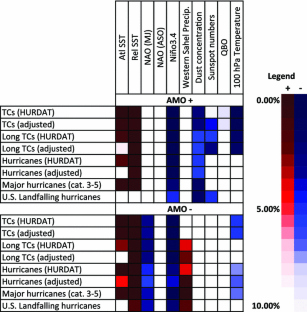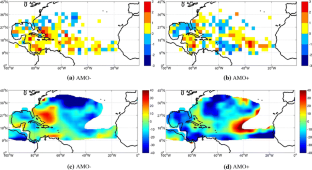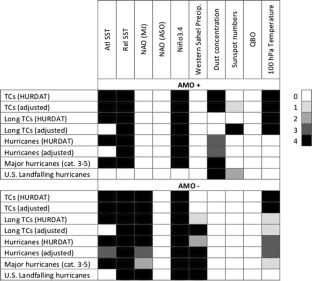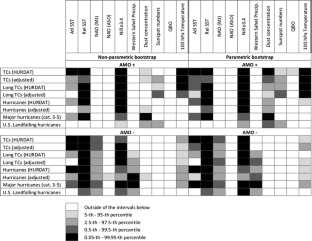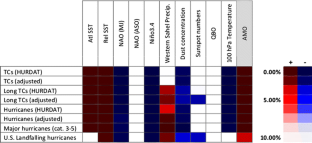 Notes
1.

A short-lived system is one for which the lifetime is shorter than 48 hours.

2.

For a full discussion on this issue, we refer the interested reader to Vecchi and Knutson (2008).

3.

We are using the latest version of HURDAT2, which was last updated in June 2013 to revise the 1851–1945 hurricane seasons.

4.

Following results from the available literature, we performed our analyses using both September SSNs and SSNs averaged over ASO. We found that September SSNs generally returned smaller p values. We thus chose to include only those results obtained using September SSNs.

5.

We performed the regressions using a range of ENSO indices and found the Niño3.4 and Niño4 indices to return the smallest p values. Regressions performed using the Southern Oscillation Index (SOI), Niño3 and Niño1+2 indices were, in general, also significant, but returned larger p values. Only the results obtained with the Niño3.4 are shown here.

6.

Whereas Fink et al. (2010) used data covering the period 1921–2007, we used data covering 1900–2012. We repeated our analysis using their dataset and the results were not significantly affected.

7.

The difference has been constructed using the ten most negative and ten most positive NAO (MJ) years during the period for which NCEP reanalysis is available, 1960–2012. Furthermore, failure to remove the linear trend from the GPI timeseries does not significantly impact the result.

8.

The exact p values are given as supplementary information.

9.

For the exact p values of each regression, please consult the two Excel files associated with the supplementary information.
References
Bell GD, Chelliah M (2006) Leading tropical modes associated with interannual and multidecadal fluctuations in North Atlantic Hurricane activity. J Clim 19(4):590–612

Bister M, Emanuel KA (1998) Dissipative heating and hurricane intensity. Meteorol Atmos Phys 65(3–4):233–240

Bruyère CL, Holland GJ, Towler E (2012) Investigating the use of a genesis potential index for tropical cyclones in the North Atlantic basin. J Clim 25(24):8611–8626

Camargo SJ, Barnston AG, Klotzbach PJ, Landsea CW (2007a) Seasonal tropical cyclone forecasts. WMO Bull 56:297–309

Camargo SJ, Emanuel KA, Sobel AH (2007b) Use of a genesis potential index to diagnose ENSO effects on tropical cyclone genesis. J Clim 20(19):4819–4834

Camargo SJ, Sobel AH (2010) Revisiting the influence of the Quasi-Biennial oscillation on tropical cyclone activity. J Clim 23(21):5810–5825

Camargo SJ, Ting M, Kushnir Y (2012) Influence of local and remote SST on North Atlantic tropical cyclone potential intensity. Clim Dyn 40(5–6):1515–1529

Caron L-P, Jones CG (2011) Understanding and simulating the link between African easterly waves and Atlantic tropical cyclones using a regional climate model: the role of domain size and lateral boundary conditions. Clim Dyn 39(1–2):113–135

Caron L-P, Jones P, Jones CG, Doblas-Reyes F (2014) Multi-year prediction skill of Atlantic hurricane activity in CMIP5 decadal hindcasts. Clim Dyn 42:2675–2690

Caron L-P, Jones CG, Vaillancourt PA, Winger K (2012) On the relationship between cloud-radiation interaction, atmospheric stability and Atlantic tropical cyclones in a variable-resolution climate model. Clim Dyn 40(5–6):1257–1269

Colbert AJ, Soden BJ (2012) Climatological variations in North Atlantic tropical cyclone tracks. J Clim 25(2):657–673

Dee DP, Uppala SM, Simmons AJ, Berrisford P, Poli P, Kobayashi S, Andrae U, Balmaseda MA, Balsamo G, Bauer P, Bechtold P, Beljaars ACM, Van De Berg L, Bidlot J, Bormann N, Delsol C, Dragani R, Fuentes M, Geer AJ, Haimberger L, Healy SB, Hersbach H, Hólm EV, Isaksen L, Kållberg P, Köhler M, Matricardi M, McNally AP, Monge-Sanz BM, Morcrette JJ, Park BK, Peubey C, De Rosnay P, Tavolato C, Thépaut JN, Vitart F (2011) The ERA-Interim reanalysis: configuration and performance of the data assimilation system. Quart J Roy Meteorol Soc 137(656):553–597

Dickhaus T (2014) Simultaneous statistical inference: with applications in the life sciences. Springer, Berlin

Dunstone NJ, Smith DM, Booth BBB, Hermanson L, Eade R (2013) Anthropogenic aerosol forcing of Atlantic tropical storms. Nat Geosci 6(7):1–6

Elsner JB (2003) Tracking Hurricanes. Bull Am Meteorol Soc 84(3):353–356

Elsner JB, Jagger TH (2006) Prediction models for annual U.S. Hurricane counts. J Clim 19:2935–2952

Elsner JB, Jagger TH (2008) United States and Caribbean tropical cyclone activity related to the solar cycle. Geophys Res Lett 35(18):L18705

Elsner JB, Jagger TH, Niu X-F (2000a) Changes in the rates of North Atlantic major activity during the 20th century. Geophys Res Lett 27(12):1743–1746

Elsner JB, Kara AB, Owens MA (1999) Fluctuations in North Atlantic hurricane frequency. J Clim 12:427–437

Elsner JB, Kocher B (2000) Global Tropical Cyclone activity: a link to the North Atlantic oscillation. Geophys Res Lett 27(1):129–132

Elsner JB, Liu K-B, Kocher B (2000b) Spatial variations in major U.S. Hurricane activity : statistics and a physical mechanism. J Clim 13:2293–2305

Emanuel KA (1995) Sensitivity of tropical cyclones to surface exchange coefficients and a revised steady-state model incorporating eye dynamics. J Atmos Sci 52:3969–3972

Emanuel KA (2005) Increasing destructiveness of tropical cyclones over the past 30 years. Nature 436(7051):686–8

Emanuel KA (2007) Environmental factors affecting tropical cyclone power dissipation. J Clim 20(22):5497–5509

Emanuel KA (2010) Tropical cyclone activity downscaled from NOAA-CIRES Reanalysis, 1908–1958. J Adv Model Earth Syst 2:1–12

Emanuel KA, Solomon S, Folini D, Davis S, Cagnazzo C (2013) Influence of tropical tropopause layer cooling on Atlantic Hurricane activity. J Clim 26(7):2288–2301

Enfield DB, Mestas-Nuñez AM, Trimble PJ (2001) The Atlantic multidecadal oscillation and its relation to rainfall and river flows in the continental U.S. Geophys. Res Lett 28(10):2077–2080

Evan AT (2012) Atlantic hurricane activity following two major volcanic eruptions. J Geophys Res 117:D06101

Evan AT, Dunion J, Foley JA, Heidinger AK, Velden CS (2006) New evidence for a relationship between Atlantic tropical cyclone activity and African dust outbreaks. Geophys Res Lett 33(19):L19813

Evan AT, Heidinger AK, Bennartz R, Bennington V, Mahowald NM, Corrada-Bravo H, Velden CS, Myhre G, Kossin JP (2008) Ocean temperature forcing by aerosols across the Atlantic tropical cyclone development region. Geochem Geophys Geosyst 9(5):Q05V04

Evan AT, Mukhopadhyay S (2010) African Dust over the Northern Tropical Atlantic: 1955–2008. J Appl Meteorol Climatol 49(11):2213–2229

Fink AH, Schrage JM, Kotthaus S (2010) On the potential causes of the nonstationary correlations between West African precipitation and Atlantic Hurricane activity. J Clim 23(20):5437–5456

Goldenberg SB, Landsea CW, Mestas-Nunez AM, Gray WM (2001) The recent increase in Atlantic hurricane activity: causes and implications. Science 293(5529):474–479

Goldenberg SB, Shapiro LJ (1996) Physical mechanisms for the association of El Niño and West African rainfall with Atlantic major Hurricane activity. J Clim 9:1169–1187

Gourieroux C, Monfort A, Trognon A (1984a) Pseudo maximum likelihood methods: applications to Poisson models. Econometrica 52(3):701–720

Gourieroux C, Monfort A, Trognon A (1984b) Pseudo maximum likelihood methods: theory. Econometrica 52(3):681–700

Gray WM (1979) Hurricanes: Their formation, structure and likely role in the tropical circulation. In: Shaw D (ed) Meteorology over tropical oceans, pp 155–218. Roy Meteorol Soc, James Glaisher House, Grenville Place, Bracknell, Berkshire, RG12 1BX.

Gray WM (1984a) Atlantic Seasonal Hurricane Frequency. Part I: El Niño and 30 mb Quasi-Biennial Oscillation influences. Mon Weather Rev 112:1649–1668

Gray WM (1984b) Atlantic seasonal Hurricane frequency. Forecasting its variability. Monthly Weather Review, Part II

Gray WM, Landsea CW (1992) African rainfall as a precursor of Hurricane-related destruction on the U.S. East Coast. Bull Am Meteorol Soc 73(9):1352–1364

Gray WM, Landsea CW, Mielke PW Jr, Berry KJ (1993) Predicting Atlantic basin seasonal tropical cyclone activity by 1 August. Weather Forecast 8:73–86

Hodges RE, Elsner JB (2010) Evidence linking solar variability with US hurricanes. Int J Climatol 31(13):1897–1907

Hodges RE, Elsner JB (2012) The spatial pattern of the Sun-Hurricane connection across the North Atlantic. ISRN Meteorol 2012:1–9

Hoyos CD, Agudelo PA, Webster PJ, Curry JA (2006) Deconvolution of the factors contributing to the increase in global hurricane intensity. Science 312(5770):94–7

Jagger TH, Elsner JB, Niu X-F (2001) A dynamic probability model of Hurricane winds in Coastal counties of the United States. J Appl Meteorol 40(5):853–863

Jones PD, Jonsson T, Wheeler D (1997) Extension to the North Atlantic oscillation using early instrumental pressure observations from Gibraltar and South West Iceland. Int J Climatol 17:1433–1450

Kalnay E, Kanamitsu M, Kistler R, Collins W, Deaven D, Gandin L, Iredell M, Saha S, White G, Woollen J, Zhu Y, Leetmaa A, Reynolds R, Chelliah M, Ebisuzaki W, Higgins W, Janowiak J, Mo KC, Ropelewski C, Wang J, Jenne R, Joseph D (1996) The NCEP/NCAR 40-year reanalysis project. Bull Am Meteorol Soc 77(3):437–471

Kim H-M, Webster PJ, Curry JA (2009) Impact of shifting patterns of Pacific Ocean warming on North Atlantic tropical cyclones. Science 325(5936):77–80

Klotzbach PJ (2011a) El Niño-Southern Oscillation's Impact on Atlantic Basin Hurricanes and U.S. Landfalls. J Clim 24(4):1252–1263

Klotzbach PJ (2011b) The Influence of El Niño-Southern oscillation and the Atlantic multidecadal oscillation on Caribbean Tropical cyclone activity. J Clim 24(3):721–731

Knight JR, Folland CK, Scaife AA (2006) Climate impacts of the Atlantic multidecadal oscillation. Geophys Res Lett 33(17):L17706

Kossin JP, Camargo SJ, Sitkowski M (2010) Climate modulation of North Atlantic Hurricane tracks. J Clim 23(11):3057–3076

Kossin JP, Vimont DJ (2007) A More General Framework for Understanding Atlantic Hurricane variability and trends. Bull Am Meteorol Soc 88(11):1767–1781

Kozar ME, Mann ME, Camargo SJ, Kossin JP, Evans JL (2012) Stratified statistical models of North Atlantic basin-wide and regional tropical cyclone counts. J Geophys Res 117(D18):D18103

Landsea CW (2007) Counting Atlantic tropical cyclones back to 1900. EOS 88(18):197–208

Landsea CW, Feuer S, Hagen A, Glenn DA, Sims J, Perez R, Chenoweth M, Anderson N (2012) A Reanalysis of the 1921–30 Atlantic Hurricane Database. J Clim 25(3):865–885

Landsea CW, Franklin JL (2013) Atlantic Hurricane database uncertainty and presentation of a New Database format. Mon Weather Rev 141(10):3576–3592

Landsea CW, Glenn DA, Bredemeyer W, Chenoweth M, Ellis R, Gamache J, Hufstetler L, Mock C, Perez R, Prieto R, Sánchez-Sesma J, Thomas D, Woolcock L (2008) A reanalysis of the 1911–20 Atlantic Hurricane database. J Clim 21(10):2138–2168

Landsea CW, Gray WM (1992) The strong association between Western Sahelian Monsoon rainfall and Intense Atlantic Hurricanes. J Clim 5:435–453

Landsea CW, Gray WM, Mielke PW Jr, Berry KJ (1992) Long-term variations of Western Sahelian Monsoon rainfall and intense U.S. Landfalling Hurricanes. J Clim 5:1528–1534

Landsea CW, Pielke RA Jr, Mestas-Nunez AM, Knaff JA (1999) Atlantic basin hurricanes: indices of climatic changes. Clim Change 42:89–129

Landsea CW, Vecchi GA, Bengtsson L, Knutson TR (2010) Impact of duration thresholds on Atlantic tropical cyclone counts. J Clim 23(10):2508–2519

Latif M, Keenlyside N, Bader J (2007) Tropical sea surface temperature, vertical wind shear, and hurricane development. Geophys Res Lett 34(1):L01710

McCullagh P, Nelder JA (1989) Generalized linear models, 2nd edn. Chapman and Hall/CRC, Boca Raton

Naujokat B (1986) An update of the observed Quasi-Biennial oscillation of the stratospheric winds over the tropics. J Atmos Sci 43(17):1873–1877

Pielke RAJ, Landsea CN (1999) La Niña, El Niño and Atlantic Hurricane damages in the United States. Bull Am Meteorol Soc 80(10):2027–2033

Rayner NA, Brohan P, Parker DE, Folland CK, Kennedy JJ, Vanicek M, Ansell TJ, Tett SFB (2006) Improved analyses of changes and uncertainties in Sea surface temperature measured in situ since the mid-nineteenth century: The HadSST2 Dataset. J Clim 19(3):446–469

Saunders MA, Lea AS (2008) Large contribution of sea surface warming to recent increase in Atlantic hurricane activity. Nature 451(7178):557–60

Shaffer JP (1995) Multiple hypothesis testing. Annu Rev Psychol 46:561–584

Shapiro LJ (1989) The Relationship of the Quasi-biennial oscillation to Atlantic Tropical storm activity. Mon Weather Rev 117:1545–1552

Shapiro LJ, Goldenberg SB (1998) Atlantic sea surface temperatures and tropical cyclone formation. J Clim 11(4):578–590

Smith DM, Eade R, Dunstone NJ, Fereday D, Murphy JM, Pohlmann H, Scaife AA (2010) Skilful multi-year predictions of Atlantic hurricane frequency. Nat Geosci 3(12):846–849

Smith TM, Reynolds RW, Peterson TC, Lawrimore J (2008) Improvements to NOAA's historical merged land-ocean surface temperature analysis (1880–2006). J Clim 21(10):2283–2296

Solow A, Nicholls N (1990) The Relationship between the southern oscillation and tropical cyclone frequency in the Australian Region. J Clim 3:1097–1101

Swanson KL (2008) Nonlocality of Atlantic tropical cyclone intensities. Geochem Geophys Geosyst 9(4):Q04V01

Thorncroft C, Hodges KI (2001) African easterly wave variability and its relationship to Atlantic tropical cyclone activity. J Clim 14(6):1166–1179

Tippett MK, Camargo SJ, Sobel AH (2011) A Poisson Regression Index for tropical cyclone genesis and the role of large-scale vorticity in genesis. J Clim 24(9):2335–2357

Trenberth KE (1997) The Definition of El Niño. Bull Am Meteorol Soc 78(12):2771–2777

Uppala S, Kållberg P, Simmmons A, Andrea U, da Costa Bechtold V, Fiorino M, Gibson J, Haseler J, Hernandez A, Kelly G, Li X, Onogi K, Saarinen S, Sokka N, Allan R, Andersson E, Arpe K, Balmaseda M, Beljaars A, de Berg LV, Bidlot J, Bormann N, Caires S, Chevallier F, Dethof A, Dragosavac M, Fisher M, Fuentes M, Hagemann S, Hólm E, Hoskin B, Isaken L, Janssen P, Jenne R, McNally A, Mahfouf J-F, Morcrette J-J, Rayner N, Saunders R, Simon P, Sterl A, Trenberth K, Untch A, Vasiljevic D, Viterbo P, Woollen J (2005) The ERA-40 re-analysis. Quart J Roy Meteorol Soc 131:2961–3012

Vecchi GA, Fueglistaler S, Held IM, Knutson TR, Zhao M (2013) Impacts of atmospheric temperature trends on tropical cyclone activity. J Clim 26(11):3877–3891

Vecchi GA, Knutson TR (2008) On estimates of historical North Atlantic tropical cyclone activity. J Clim 21(14):3580–3600

Vecchi GA, Knutson TR (2011) Estimating annual numbers of Atlantic Hurricanes missing from the HURDAT database (1878–1965) Using Ship Track Density. J Clim 24(6):1736–1746

Vecchi GA, Zhao M, Wang H, Villarini G, Rosati A, Kumar A, Held IM, Gudgel R (2011) Statistical-dynamical predictions of seasonal North Atlantic Hurricane activity. Mon Weather Rev 139(4):1070–1082

Villarini G, Vecchi GA, Knutson TR, Smith JA (2011) Is the recorded increase in short-duration North Atlantic tropical storms spurious? J Geophys Res 116(D10):D10114

Villarini G, Vecchi GA, Smith JA (2010) Modeling the dependence of Tropical Storm counts in the North Atlantic basin on climate Indices. Mon Weather Rev 138(7):2681–2705

Villarini G, Vecchi GA, Smith JA (2012) U.S. Landfalling and North Atlantic Hurricanes: statistical modeling of their frequencies and ratios. Mon Weather Rev 140(1):44–65

Vimont DJ, Kossin JP (2007) The Atlantic Meridional Mode and hurricane activity. Geophys Res Lett 34(7):L07709

Wang C, Dong S, Evan AT, Foltz GR, Lee S-K (2012) Multidecadal covariability of North Atlantic Sea Surface Temperature, African Dust, Sahel Rainfall, and Atlantic Hurricanes. J Clim 25(15):5404–5415

Winkelmann R (2010) Econometric analysis of count data. Springer, Berlin

Zhang R, Delworth TL (2006) Impact of Atlantic multidecadal oscillations on India/Sahel rainfall and Atlantic hurricanes. Geophys Res Lett 33(17):L17712
Acknowledgments
The authors would like to thank all the people and organizations who made their data available: Gabriel Vecchi, Amato Evan, the National Hurricane Center, the Climate Research Unit of East Anglia, the Hadley Centre, the Earth System Research Laboratory, the National Climatic Data Center, the Solar Influences Data Analysis Center, the National Geophysical Data Center, ECMWF, the Department of Earth Sciences at the University of Berlin and the Joint Institute for the Study of the Atmosphere and Ocean at the University of Washington. Special thanks to Andreas Fink and Malvin Schneidewind who provided us with additional data, and to Thomas Jagger for some valuable feedback in the earlier stage of this project. We would also like to thank Katherine Barrett for putting her proofreading skills at our disposal and Jean-Philippe Boucher for providing additional comments on the statistics of this paper. We are also most grateful to Chris Landsea and an anonymous reviewer for taking the time to review an earlier version of this document, and for their most helpful comments and suggestions. Finally, Mathieu Boudreault would like to acknowledge support from the Natural Sciences and Engineering Research Council of Canada, and Louis-Philippe Caron would like to acknowledge financial support from the EU-funded SPECS project (Grant # 3038378).
Electronic supplementary material
Below is the link to the electronic supplementary material.
About this article
Cite this article
Caron, LP., Boudreault, M. & Bruyère, C.L. Changes in large-scale controls of Atlantic tropical cyclone activity with the phases of the Atlantic multidecadal oscillation. Clim Dyn 44, 1801–1821 (2015). https://doi.org/10.1007/s00382-014-2186-5
Received:

Accepted:

Published:

Issue Date:
Keywords
Tropical cyclones

Atlantic variability

Poisson regression

Atlantic multi-decadal oscillation