Abstract
A homogeneous monthly data set of sea surface temperature (SST) and pseudo wind stress based on in situ observations is used to investigate the climatic trends over the tropical Atlantic during the last five decades (1964–2012). After a decrease of SST by about 1 °C during 1964–1975, most apparent in the northern tropical region, the entire tropical basin warmed up. That warming was the most substantial (>1 °C) in the eastern tropical ocean and in the longitudinal band of the intertropical convergence zone. Surprisingly, the trade wind system also strengthened over the peirod 1964–2012. Complementary information extracted from other observational data sources confirms the simultaneity of SST warming and the strengthening of the surface winds. Examining data sets of surface heat flux during the last few decades for the same region, we find that the SST warming was not a consequence of atmospheric heat flux forcing. Conversely, we suggest that long-term SST warming drives changes in atmosphere parameters at the sea surface, most notably an increase in latent heat flux, and that an acceleration of the hydrological cycle induces a strengthening of the trade winds and an acceleration of the Hadley circulation. These trends are also accompanied by rising sea levels and upper ocean heat content over similar multi-decadal time scales in the tropical Atlantic. Though more work is needed to fully understand these long term trends, especially what happens from the mid-1970's, it is likely that changes in ocean circulation involving some combination of the Atlantic meridional overtuning circulation and the subtropical cells are required to explain the observations.
Access options
Buy single article
Instant access to the full article PDF.
USD 39.95
Price excludes VAT (USA)
Tax calculation will be finalised during checkout.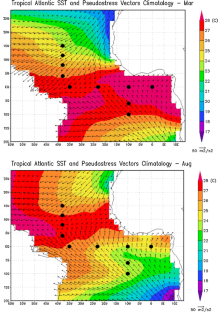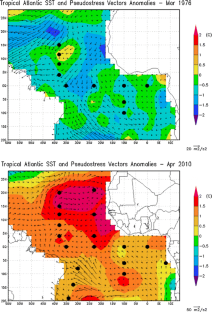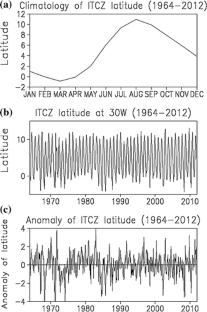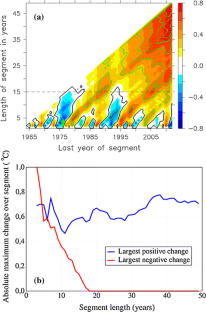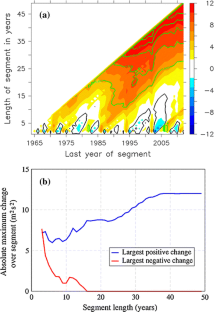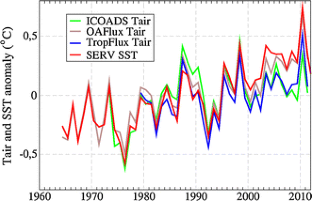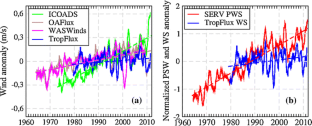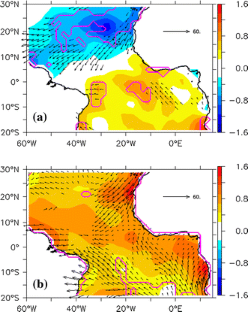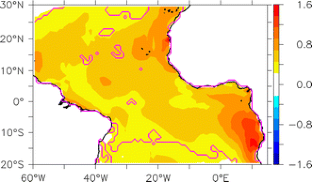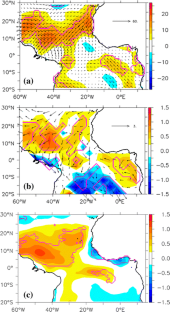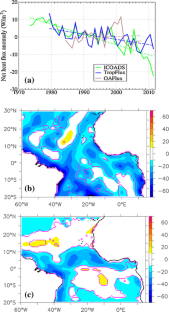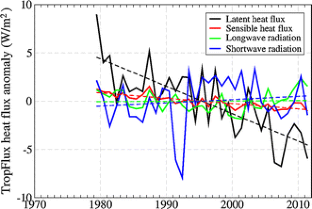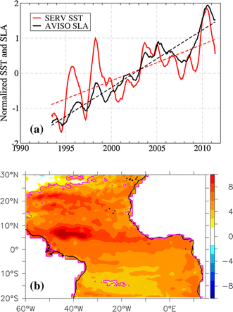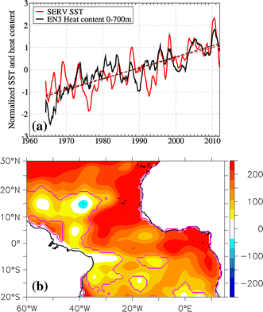 References
Antonov JI, Levitus S, Boyer TP (2005) Thermosteric sea level rise, 1955–2003. Geophys Res Lett 32:L12602. doi:10.1029/2005GL023112

Ashok K, Behera SK, Rao SA, Weng H, Yamagata T (2007) El Niño Modoki and its possible teleconnection. J Geophys Res 112:C11007. doi:10.1029/2006JC003798

Berry DI, Kent EC (2009) A new air–sea interaction gridded dataset from ICOADS with uncertainty estimates. Bull Am Meteorol Soc 90:645–656. doi:10.1175/2008BAMS2639.1

Berry DI, Kent EC (2011) Air–sea fluxes from ICOADS: the construction of a new gridded dataset with uncertainty estimates. Int J Climatol 31:987–1001. doi:10.1002/joc.2059

Bourlès B, LumpkinR McPhadenMJ, Hernandez F, Nobre P, Campos E, Yu L, Planton S, Busalacchi A, Moura AD, Servain J, Trotte J (2008) The PIRATA program: history, accomplishments, and future directions. Bull Am Meteorol Soc 89:1111–1125

Bunker AF (1980) Trends of variables and energy fluxes over the Atlantic Ocean from 1948 to 1972. Mon Weather Rev 108:720–732

Caniaux G, Brut A, Bourras D, Giordani H, Paci A, Prieur L, Reverdin G (2005a) A one year sea surface heat budget in the northeastern Atlantic basin during the POMME experiment: 1. Flux estimates. J Geophys Res 110:C07S02. doi:10.1029/2004JC002596

Caniaux G, Belamari S, Giordani H, Paci A, Prieur L, Reverdin G (2005b) A one year sea surface heat budget in the northeastern Atlantic basin during the POMME experiment: 1. Flux correction. J Geophys Res 110:C07S03. doi:10.1029/2004JC002695

Cardone VJ, Greenwood J, Cane MA (1990) On trends in historical marine wind data. J Clim 3:113–127

Cazenave A, Llovel W (2010) Contemporary sea level rise. Annu Rev Mar Sci 2:145–173

Chang P, Ji L, Li H (1997) A decadal climate variation in the tropical Atlantic Ocean from thermodynamic air–sea interactions. Nature 385:516–518

Cressman GP (1959) An operational objective analysis system. Mon Weather Rev 87:367–374

Cronin MF, Fairall C, McPhaden MJ (2006a) An assessment of buoy derived and numerical weather prediction surface heat fluxes in the tropical Pacific. J Geophys Res 111:C06038. doi:10.1029/2005JC003324

Cronin MF, Bond N, Fairall CW, Weller RA (2006b) Surface cloud forcing in the East Pacific Stratus Deck/Cold Tongue/ITCZ complex. J Clim 19:392–409

Demarcq H (2009) Trends in primary production, sea surface temperature and wind in upwelling systems (1998–2007). Prog Oceanogr 83:376–385

Déqué M, Servain J (1989) Teleconnections between tropical Atlantic sea surface temperatures and midlatitude 50 KPa heights during 1964–1986. J Clim 2:929–944

Desbruyères D, Thierry V, Mercier H (2013) Simulated decadal variability of the meridional overturning circulation across the A25-Ovide section. J Geophys Res 118:462–475. doi:10.1029/2012JC008342

Domingues CM, Church JA, White NJ, Gleckler PJ, Wijffels SE, Barker PM, Dunn JR (2008) Improved estimates of upper-ocean warming and multi-decadal sea-level rise. Nature 453:1090–1093. doi:10.1038/nature07080

Enfield DB, Mayer DA (1997) Tropical Atlantic SST variability and its relation to El Niño-Southern Oscillation. J Geophys Res 102:929–945

Fairall CW, Bradley EF, Hare JE, Grachev AA, Edson JB (2003) Bulk parameterization on air–sea fluxes: updates and verification for the COARE algorithm. J Clim 16:571–591

Flohn H, Kapala A, Knoche HR, Mädchel H (1990) Recent changes of the tropical water and energy budget and of midlatitude circulations. Clim Dyn 4:237–252

Flohn H, Kapala A, Knoche HR, Mächel H (1992) Water vapour as an amplifier of the greenhouse effect: new aspects. Meteorology NF1:122–138

Folland CK, Parker DE (1995) Correction of instrumental biases in historical sea surface temperature data. Q J R Meteorol Soc 121:319–367

Folland CK, Reynolds RW, Gordon M, Parker DE (1993) A study of six operational sea surface temperature analyses. J Clim 6:96–113

Foltz G, McPhaden MJ (2008) Trends in Saharan dust and tropical Atlantic climate during 1980–2006. Geophys Res Lett 35:L20706. doi:10.1029/2008GL035042

Fu Q, Johanson CM, Wallace JM, Reichler T (2006) Enhanced mid-latitude tropospheric warming in satellite measurements. Science 312:1179

Graham NE (1994) Decadal-scale climate variability in the 1970s and 1980s: observations and model results. Clim Dyn 10:135–159

Grist JP, Josey SA, Marsh R, Good SA, Coward AC, de Cuevas BA, Alderson SG, New AL, Madec G (2010) The roles of surface heat flux and ocean heat transport convergence in determining Atlantic Ocean temperature variability. Ocean Dyn 60:771–790. doi:10.1007/s10236-010-0292-4

Guan B, Nigan S (2009) Analysis of Atlantic SST variability factoring interbasin links and the secular trend: clarified structure of the Atlantic multidecadal oscillation. J Clim 22:4228–4240

Gulev SK, Latif M, Keenlyde N, Park W, Koltermann KP (2013) North-Atlantic Ocean control on surface heat flux on multidecadal timescales. Nat Lett 499:464–467

Hande LB, Siems ST, Manton MJ (2012) Observed trends in wind speed over the southern ocean. Geophys Res Lett 39:L11802. doi:10.1029/2012GL051734

Hellerman S, Rosenstein M (1983) Normal monthly wind stress over the World Ocean with error estimates. J Phys Oceanogr 13:1093–1104

Hurrell JW (1995) Decadal trends in the North Atlantic Oscillation: regional temperatures and precipitation. Science 269:676–679

Hurrell JW, van Loon H (1997) Decadal variations in climate associated with the North Atlantic Oscillation. Clim Change 36:301–326

Ingleby B, Huddleston M (2007) Quality control of ocean temperature and salinity profiles—historical and real-time data. J Mar Syst 65:158–175. doi:10.1016/j.jmarsys.2005.11.019

Kent EC, Berry DI (2005) Quantifying random measurement errors in voluntary observing ships' meteorological observations. Int J Climatol 25:843–856

Kent EC, Taylor PK (2006) Toward estimating climatic trends in SST. Part I: methods of measurement. J Atmos Ocean Technol 23:464–475

Kent EC, Woodruff SD, Berry DI (2007) Metadata from WMO publication no. 47 and an assessment of voluntary observing ship observation heights in ICOADS. J Atmos Ocean Technol 24:214–234

Konda M, Imasato N, Shibata A (1996) A new method to determine near-sea surface air temperature by using satellite data. J Geophys Res Oceans 101(C6):14349–14360

Kröger J, Busalacchi AJ, Ballabrera-Poly J, Malanotte-Rizzoli P (2005) Decadal variability of shallow cells and equatorial sea surface temperature in a numerical model of the Atlantic. J Geophys Res 110:C12003. doi:10.1029/2004JC002703

Kumar BP, Vialard J, Lengaigne M, Murty VSN, McPhaden MJ (2012a) TropFlux: air–sea fluxes for the global tropical oceans—description and evaluation. Clim Dyn 38:1521–1543. doi:10.1007/s00382-011-1115-0

Kumar BP, Vialard J, Lengaigne M, Murty VSN, McPhaden MJ, Cronin MF, Pinsard F, Gopala Reddy K (2012b) TropFlux wind stresses over the tropical oceans: evaluation and comparison with other products. Clim Dyn. doi:10.1007/s00382-012-1455-4. Accessed 25 July 2012

Lefèvre N, Caniaux G, Janicot S, Gueye AK (2013) Increased CO2 outgassing in February–May 2010 in the tropical Atlantic following the 2009 Pacific El Niño. J Geophys Res 118:1–13. doi:10.1002/jgrc.20107

Levitus S, Antonov JI, Boyer TP (2005) Warming of the World Ocean, 1955–2003. Geophys Res Lett 32:L02604. doi:10.1029/2004GL021592

Levitus S, Antonov JI, Boyer TP, Locarnini RA, Garcia HE, Mishonov AV (2009) Global Ocean heat content 1955–2007 in light of recently revealed instrumentation problems. Geophys Res Lett 36:L07608. doi:10.1029/2008GL037155

Liebmann B, Dole RM, Jones C, Bladé I, Allured D (2010) Influence of choice of time period on global surface temperature trends estimates. Bull Am Meteor Soc 91:1485–1491. doi:10.1175/2010BAMS3030.1

Lin J-L, Han W, Lin X (2008) Observational analysis of the wind-evaporation-SST feedback over the tropical Pacific Ocean. Atmos Sci Lett 9:231–236

Lindau R (1995) Time-dependent calibration of marine Beaufort estimates using individual pressure differences. In: Proceedings of the international COADS winds workshop. Institut für Meereskunde Kiel and National Oceanic and Atmospheric Administration, Kiel, pp 253–269

Lindau R (2003) Errors of Atlantic air–sea fluxes derived from ship observations. J Clim 16:783–788

Lindau R (2006) The elimination of spurious trends in marine wind data using pressure observations. Int J Climatol 26:797–817. doi:10.1002/joc.1284

Lindau R, Isemer HA, Hasse L (1990) Towards time dependent calibration of historical wind observations at sea. Trop Ocean Atmos Newslett 54:7–12

Lu J, Vecchi GA, Reichler T (2007) Expansion of the Hadley cell under global warming. Geophys Res Lett 34:L06805. doi:10.1029/2006GL028443

Lyman JM, Good SA, Gouretski VV, Ishi M, Johnson GC, Palmer MD, Smith DM, Willis JK (2010) Robust warming of the global upper ocean. Nat Lett 465:20. doi:10.1038/nature09043

Mantua NJ, Hare SR (2002) The Pacific decadal oscillation. J Oceanogr 58:35–44. doi:10.1023/A:1015820616384

Mantua NJ, Hare SR, Zhang Y, Wallace JM, Francis RC (1997) A Pacific interdecadal climate oscillation with impacts on salmon production. Bull Am Meteorol Soc 78:1069–1079

McCormick MP, Thomasson LW, Trepte CR (1995) Atmospheric effects of the Mt Pinatubo. Nature 373:399–404

McPhaden MJ, Lee TJ, McClurg D (2011) El Niño and its relationship to changing background conditions in the tropical Pacific Ocean. Geophys Res Lett 38:LI5709. doi:10.1029/2011GL048275

Mitas CM, Clement A (2005) Has the Hadley been strengthening in recent decades? Geophys Res Lett 32:L03809. doi:10.1029/2004GL021765

Moyer KA, Weller RA (1997) Observations of surface forcing from the subduction experiment: a comparison with global model products and climatological datasets. J Clim 10:2725–2742

Nakamura H, Lin G, Yamagata T (1997) Decadal climate variability in the North Pacific during the recent decades. Bull Am Meteorol Soc 78:2215–2225

Oort A, Yienger JJ (1996) Observed interannual variability in the Hadley circulation and its connection to ENSO. J Clim 9:2751–2767

Palmer MD, Haines K, Tett SFB, Ansell TJ (2007) Isolating the signal of ocean global warming. Geophys Res Lett 34:L23610. doi:10.1029/2007GL031712

Palmer MD, Antonov J, Barker P, Bindoff N, Boyer T, Carson M, Domingues C, Gille S, Gleckler P, Good S, Gouretski V, Guinehut S, Haines K, Harrison DE, Ishii M, Johnson G, Levitus S, Lozier S, Lyman J, Meijers A, von Shuckmann K, Smith D, Wijffels S, Willis J (2009a) Future observations for monitoring global ocean heat content. Community white paper published in the proceedings of ocean obs'09. Sustained Ocean Observations and Information for Society, 21–25 September 2009, Venice, Italy. http://www.oceanobs09.net/proceedings/cwp/cwp68/index.php

Palmer MD, Good SA, Haines K, Rayner NA, Stott PA (2009b) A new perspective on warming of the global oceans. Geophys Res Lett 36:L20709. doi:10.1029/2009GL039491

Peng S, Robinson WA, Li S, Hoerling MP (2005) Tropical Atlantic SST forcing of coupled north Atlantic seasonal responses. J Clim 18:480–496. doi:10.1175/JCLI-3270.1

Picaut J, Servain J, Lecomte P, Séva M, Lukas S, Rougier G (1985) Monthly wind stress and sea surface temperature fields in the tropical Atlantic from 1964 to 1979. Trop Ocean Atm Newslett 30:13–15

Quan XW, Diaz HF, Hoerling MP (2004) Changes in the tropical Hadley cell since 1950. In: Diaz HF, Bradley RS (eds) The Hadley circulation: present, past, and future. Kluwer Academic, Dordrecht, pp 85–120

Rahmstorf S, Schaffernicht E, Feulner G, Mann M (2013) Evidence for a sudden slowdown in Atlantic overturning around 1970. Geophys Res Abstr 15: 10704. EGU2013, EGU General Assembly 2013

Rayner NA, Parker DE, Horton EB, Folland CK, Alexander LV, Rowell DP, Kent EC, Kaplan A (2003) Global analyses of SST, sea ice and night marine air temperature since the late 19th century. J Geophys Res 108(D14):4407. doi:10.1029/2002JD002670

Rayner NA, Brohan P, Parker DE, Folland CK, Kennedy JJ, Vanicek M, Ansell TJ, Tett SFB (2006) Improved analyses of changes and uncertainties in sea surface temperature measured in situ since the mid-nineteenth century: the HadSST2 dataset. J Clim 19:446–469. doi:10.1175/JCLI3637.1

Rodrigues RR, Haarsma RJ, Campos EJD, Ambrizzi T (2011) The impacts of inter-El Niño variability on the tropical Atlantic and Northeast Brazil climate. J Clim 24:3402–3422. doi:10.1175/2011JCLI3983.1

Rosmorduc V, Bronner E, Maheu C, Mertz F (2013) Aviso: altimetry products and service in 2013. Geophys Res Abstr 15:3085. EGU2013

Rossow WB, Schiffer RA (1991) ISCCP cloud data products. Bull Am Meteorol Soc 72:2–20

Servain J (1991) Simple climatic indices for the tropical Atlantic Ocean and some applications. J Geophys Res 96:15137–15146

Servain J, Arnault S (1995) On forecasting abnormal climatic events in the tropical Atlantic Ocean. Ann Geophys 13:995–1008

Servain J, Legler DM (1986) Empirical orthogonal function analyses of tropical Atlantic sea surface temperature and wind stress: 1964–1979. J Geophys Res 91:14181–14191

Servain J, Lukas S (1990) Climatic Atlas of the tropical Atlantic wind stress and sea surface temperature 1985–1989, edited by IFREMER, SDP, BP 70, 29280 Plouzané, France, pp 146

Servain J, Picaut J, Busalacchi AJ (1985) Interannual and seasonal variability of the tropical Atlantic ocean depicted by sixteen years of sea surface temperature and wind stress. In: Nihoul JCJ (ed) Coupled ocean-atmosphere models. Elsevier, Amsterdam, pp 211–237

Servain J, Séva M, Lukas S, Rougier G (1987) Climatic atlas of the tropical Atlantic wind stress and sea surface temperature: 1980–1984. Ocean Air Interact J 1:109–182

Servain J, Busalacchi A, Moura A, McPhaden MJ, Reverdin G, Vianna M, Zebiak S (1998) A pilot research moored array in the tropical Atlantic (PIRATA). Bull Am Meteorol Soc 79:2019–2031

Servain J, Wainer I, McCreary JP, Dessier A (1999) Relationship between the equatorial and meridional modes of climatic variability in the tropical Atlantic. Geophys Res Lett 26:485–488

Servain J, Wainer I, Ayina HL, Roquet TH (2000) A numerical study of the relationship between the climatic variability modes in the tropical Atlantic. Int J Climatol 20:939–953

Servain J, Clauzet G, Wainer I (2003) Modes of tropical Atlantic variability observed by PIRATA. Geophys Res Lett 30(5):8003. doi:10.1029/2002GL015124

Smith TM, Reynolds RW (2002) Bias corrections for historic sea surface temperatures based on marine air temperatures. J Clim 15:73–87

Smith TM, Reynolds RW (2004) Improved extended reconstruction of SST (1854–1997). J Clim 17:2466–2477

Smith SR, Bourassa MA, Sharp RJ (1999) Establishing more truth in true winds. J Atmos Ocean Technol 16:939–952

Smith SR, Servain J, Legler DM, Stricherz JN, Bourassa MA, O'Brien JJ (2004) In-situ based pseudo-wind stress products for the tropical oceans. Bull Am Meteorol Soc 85:979–994

Smith TM, Reynolds RW, Peterson TC, Lawrimore J (2008) Improvements to NOAA's historical merged land-ocean surface temperature analysis (1880–2006). J Clim 21:2283–2296

Tanaka HL, Ishizaki N, Kitoh A (2004) Trend and interannual variability of Walker, monsoon and Hadley circulations defined by velocity potential in the upper troposphere. Tellus 56A:250–269

Tanaka HL, Ishizaki N, Nohara D (2005) Intercomparison of the intensities and trends of Hadley, Walker and monsoon circulations in the global warming projections. SOLA 1:77–80. doi:10.2151/sola.2005-021. https://www.jstage.jst.go.jp/browse/sola/

Thomas BR, Kent EC, Swail VR (2005) Methods to homogenize wind speeds from ships and buoys. Int J Climatol 25:979–995

Thomas BR, Kent EC, Swail VR, Berry DI (2008) Trends in ship wind speeds adjusted for observation method and height. Int J Climatol 28:747–763

Thompson DWJ, Wallace JM, Kennedy JJ, Jones PD (2010) An abrupt drop in Northern Hemisphere sea surface temperature around 1970. Nat Lett Res 467:444–447. doi:10.1038/nature09394

Tokinaga H, Xie S-P (2011a) Wave and Anemometer-based Sea Surface Wind (WASWind) for climate change analysis. J Clim 24:267–285

Tokinaga H, Xie S-P (2011b) Weakening of the equatorial Atlantic cold tongue over the past six decades. Nat Geosci 4. doi:10.1038/NGEO1078. www.nature.com/naturegeoscience

Trenberth KE, Christy JR, Hurrell JW (1992) Monitoring global monthly mean surface temperature. J Clim 5:1405–1423

Vecchi G, Soden B (2007) Global warming and the weakening of the tropical circulation. J Clim 20:4316–4340

Wainer I, Servain J, Clauzet G (2008) Is the decadal variability in the tropical Atlantic a precursor of the NAO? Ann Geophys 26:4075–4080

Ward NM, Hoskins BJ (1996) Near surface wind over the global Ocean 1949–1988. J Clim 9:1877–1895

Weller RA, Furey PW, Spall MA, Davis RE (2004) The large scale context for oceanic subduction in the northeast Atlantic. Deep Sea Res Part I 51:665–699

Wen C, Chang P, Saravanan R (2010) Effect of Atlantic meridional overtuning circulation changes on tropical Atlantic sea surface temperature variability: a 21/2-layer reduced-gravity ocean model study. J Clim 23:312–332

Wen C, Chang P, Saravanan R (2011) Effect of Atlantic meridional overtuning circulation changes on tropical Atlantic sea surface temperature variability: a regional coupled model study ocean model study. J Clim 24:3323–3343

Wentz FJ, Ricciardulli L, Hilburn K, Mears C (2007) How much more rain will global warming bring? Science 317:233–235

Whysall KDB, Cooper NS, Bigg GR (1987) Long-term changes in the tropical Pacific surface wind field. Nature 327:216–219. doi:10.1038/327216a0

Willebrand J (1978) Temporal and spatial scales of the wind field over the North Pacific and North Atlantic. J Phys Oceanogr 8:1080–1094

Woodruff SD, Diaz HF, Elms JD, Worley SJ (1998) COADS release 2 data and metadata enhancements for improvements of marine surface flux fields. Phys Chem Earth 23:517–527

Woodruff SD, Worley SJ, Lubker SJ, Ji Z, Freeman JE, Berry DI, Brohan P, Kent EC, Reynolds RW, Smith SR, Wilkinson C (2011) ICOADS release 2.5: extensions and enhancements to the surface marine meteorological archive. Publications, Agencies and Staff of the U.S. Department of Commerce, Paper 332. http://digitalcommons.unl.edu/usdeptcommercepub/332

Wright PB (1988) On the reality of climatic changes in wind over the Pacific. J Climatol 8:521–527

Xie S-P, Philander SGH (1994) A coupled ocean–atmosphere model of relevance to the ITCZ in the eastern Pacific. Tellus 46A:340–350

Xie S-P, Tanimoto Y (1998) A pan-Atlantic decadal climate oscillation. Geophys Res Lett 25:2185–2188

AVISO/DUACS gridded products. http://www.aviso.oceanobs.com/en/data/products/sea-surface-height-products/global/index.html

Yasuda T, Hanawa K (1997) Decadal changes in the mode waters in the midlatitude North Pacific. J Phys Oceanogr 27:858–870

Young IR, Zieger S, Babanin AV (2011) Global trends in wind speed and wave height. Science 332(6028):451–455. doi:10.1126/science.1197219

Yu L, Jin X (2012) Buoy perspective of a high-resolution global ocean vector wind analysis constructed from passive radiometers and active scatterometers (1987-present). J Geophys Res 117:C11013. doi:10.1029/2012JC008069

Yu L, Weller RA (2007) Objectively analyzed air–sea heat fluxes for the global ice-free oceans (1981–2005). Bull Am Meteorol Soc 88:527–539. doi:10.1175/BAMS-88-4-527

Yu L, Jin X, Weller RA (2008) Multidecade global flux datasets from the objectively analyzed air–sea fluxes (OAFlux) project: latent and sensible heat fluxes, ocean evaporation, and related surface meteorological variables. OA-2008-1, Woods Hole Oceanographic Institution, 64 pp

Zhang Y, Rossow WB, Lacis AA, Oinas V, Mishchenko MI (2004) Calculation of radiative fluxes from the surface to top of atmosphere based on ISCCP and other global data sets: refinements of the radiative transfer model and the input data. J Geophys Res 109:D19105. doi:10.1029/2003JD004457

Zhou YP, Xu KM, Sud YC, Betts AK (2011) Recent trends of the tropical hydrological cycle inferred from Global Precipitation Climatology Project and International Satellite Cloud Climatology Project data. J Geophys Res 116:D09101. doi:10.1029/2010JD015197
Acknowledgments
This work was initially performed at FUNCEME (Fortaleza, CE, Brazil) during the FINEP Project "Centro de Alerta de Fenômenos Extremos" (CAFE), No. FINEP Process 01080617/00, and was concluded at UFPE (Recife, PE, Brazil) during the CNPq Project "Mudanças Climáticas no Atlântico Tropical" (MUSCAT) No. Process: 400544/2013-0. JS thanks CNPq for the PVE grant associated to Project MUSCAT. JS and YKK thank FUNCAP for the Grants #BPV-0025-00055.01.00/11 and #127432779 respectively. GC was granted by the AMMA project. YKK thanks IRD for the grant 2011–2013 through the Project JEAI-ALOCGG. MJM was supported by NOAA (PMEL contribution number 4022). This is a contribution of the INCT "AmbTropic", Brazilian National Institute of Science and Technology for Tropical Marine Environments, CNPq/FAPESB (Grants 565054/2010-4 and 8936/2011). Thanks to G. A. Hounsou-gbo for help in some analyses, and thanks to B. Bourlès and three anonymous reviewers for their useful comments. This work is dedicated to Joël Picaut and Jacques Merle.
Additional information
This paper is a contribution to the special issue on tropical Atlantic variability and coupled model climate biases that have been the focus of the recently completed Tropical Atlantic Climate Experiment (TACE), an international CLIVAR program (http://www.clivar.org/organization/atlantic/tace). This special issue is coordinated by William Johns, Peter Brandt, and Ping Chang, representatives of the TACE Observations and TACE Modeling and Synthesis working groups.
Jacques Servain was visiting scientist at Departamento de Oceanografia, Universidade Federal de Pernambuco, Recife-PE, Brazil during the period October to December 2013.
About this article
Cite this article
Servain, J., Caniaux, G., Kouadio, Y.K. et al. Recent climatic trends in the tropical Atlantic. Clim Dyn 43, 3071–3089 (2014). https://doi.org/10.1007/s00382-014-2168-7
Received:

Accepted:

Published:

Issue Date:

DOI: https://doi.org/10.1007/s00382-014-2168-7
Keywords
Tropical Atlantic

Climatic trends

Long-term warming