Abstract
Simultaneous mooring arrays were maintained along the path of the Equatorial Undercurrent (EUC) at three longitudes (23°W, 10°W, and 0°E), from October 2007 to June 2011, as part of the CLIVAR Tropical Atlantic Climate Experiment. The measurements allow for the first time a description of the seasonal cycle and interannual variability of the EUC across the Atlantic basin. The mean transport of the EUC at 23°W is 14.3 ± 0.6 Sv, decreasing to 12.1 ± 0.9 and 9.4 ± 0.6 Sv at 10°W and 0°E, respectively. The EUC shows a changing seasonal cycle across the basin: at 23°W, the strongest EUC transport occurs in boreal fall in association with maximum easterly wind stress, at 10°W the EUC transport shows a semiannual cycle with a maximum in boreal spring and fall, while at 0°E the EUC has a single spring maximum. At all locations the EUC core exhibits a similar seasonal vertical migration, with shallowest core depths occurring in boreal spring and deepest core depths in boreal fall. The maximum core intensity occurs in boreal spring all across the basin, when the EUC is shallow, during the annual wind relaxation. The weakest EUC core intensity occurs during the boreal summer cold tongue phase, especially in the eastern part of the basin. At both 23°W and 10°W, a deep extension of the EUC occurs in boreal summer, which increases the transport in the lower thermocline and partially offsets the weaker upper EUC transport during boreal summer. No clear linkage could be established between the interannual variability of the EUC in the eastern part of the basin and the intensity of the summer cold tongue, despite evidence for such a linkage in the western part of the basin.
This is a preview of subscription content, log in to check access.
Access options
Buy single article
Instant access to the full article PDF.
US$ 39.95
Tax calculation will be finalised during checkout.
Subscribe to journal
Immediate online access to all issues from 2019. Subscription will auto renew annually.
US$ 199
Tax calculation will be finalised during checkout.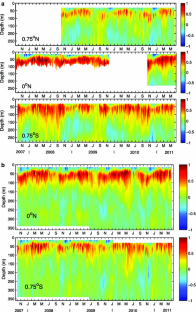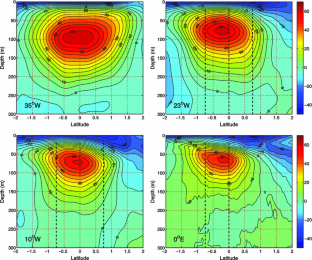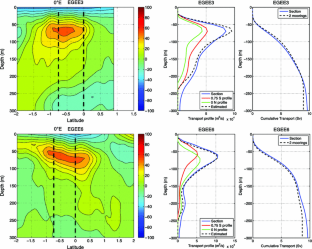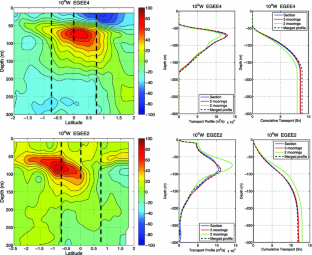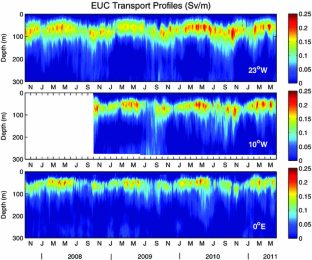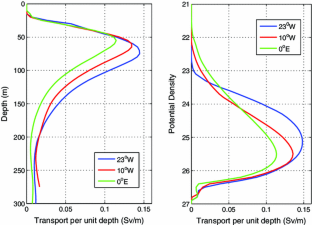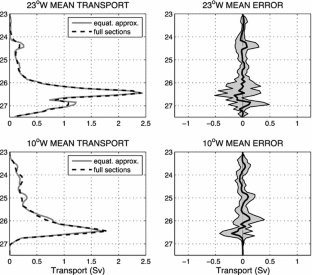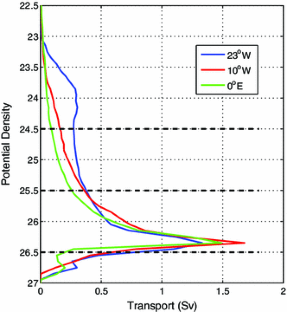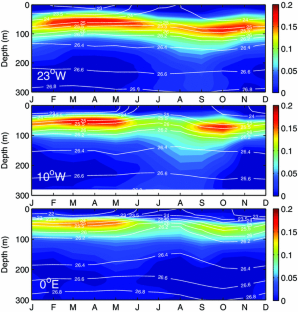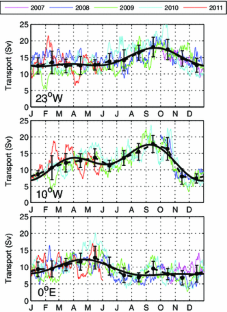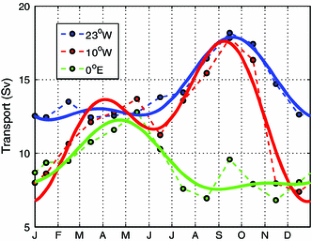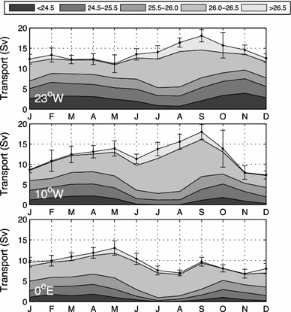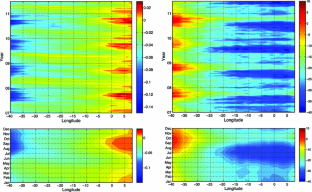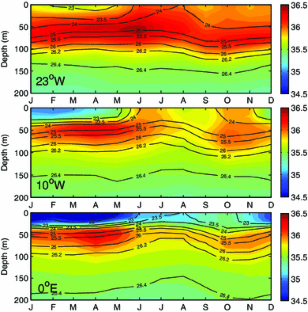 References
Arhan M, Treguier AM, Bourles B, Michel S (2006) Diagnosing the annual cycle of the Equatorial Undercurrent in the Atlantic Ocean from a general circulation model. J Phys Oceanogr 36:1502–1522

Athie G, Marin F (2008) Cross-equatorial structure and temporal modulation of intraseasonal variability at the surface of the Tropical Atlantic Ocean. J Geophys Res 113:C08020. doi:10.1029/2007JC004332

Athie G, Marin F, Treguier A-M, Bourlès B, Guiavarc'h C (2009) Sensitivity of near surface tropical instability waves to sub-monthly wind forcing in the tropical Atlantic. Ocean Model 30:241–255

Atlas R, Hoffman RN, Ardizzone J, Leidner SM, Jusem JC, Smith DK, Gombos D (2011) A cross-calibrated multiplatform ocean surface wind velocity product for meteorological and oceanographic applications. Bull Am Meteorol Soc 92:157–174

Bourlès B, D'Orgeville M, Eldin G, Gouriou Y, Chuchla R, DuPenhoat Y, Arnault S (2002) On the evolution of the thermocline and subthermocline eastward currents in the equatorial Atlantic. Geophys Res Lett 29(1785):2002G. doi:10.1029/LO15098

Bourlès B, Brandt P, Caniaux G, Dengler M, Gouriou Y, Key E, Lumpkin R, Marin F, Molinari RL, Schmid C (2007) African Monsoon Multidisciplinary Analysis (AMMA): special measurements in the tropical Atlantic. CLIVAR Exch Lett 41(Vol. 12, n°2): 7–9

Bourlès B et al (2008) The PIRATA program: history, accomplishments, and future directions. Bull Am Meteor Soc 89:1111–1125

Brandt P, Eden C (2005) Annual cycle and interannual variability of the mid-depth tropical Atlantic Ocean. Deep Sea Res Part I 52:199–219

Brandt P, Schott F, Provost C, Kartavtseff A, Hormann V, Bourles B, Fischer J (2006) Circulation in the central equatorial Atlantic—mean and intraseasonal to seasonal variability. Geophys Res Lett 33:L07609. doi:10.1029/2005GL025498

Brandt P, Araujo M, Bourlès B, Chang P, Dengler M, Johns WE, Lazar A, Lumpkin CF, McPhaden MJ, Nobre P, Terray L (2013a) Tropical Atlantic Climate Experiment (TACE). CLIVAR Exch 18(61; 1):26–31. ISSN 1026-0471

Brandt P, Funk A, Tantet A, Johns WE, Fischer J (2013b) The Equatorial Undercurrent in the central Atlantic and its relation to tropical Atlantic variability. Clim Dyn. doi:10.1007/s00382-014-2061-4

Bunge L, Provost C, Lilly J, D'Orgeville M, Kartavtseff A, Melice JL (2006) Variability of the horizontal velocity structure in the upper 1600 m of the water column on the equator at 10 W. J Phys Oceanogr 36:1287–1304

Cane MA, Sarachik ES (1981) The response of a linear baroclinic equatorial ocean to periodic forcing. J Mar Res 39:651–693

Carton JA, Cao XH, Giese BS, daSilva AM (1996) Decadal and interannual SST variability in the tropical Atlantic Ocean. J Phys Oceanogr 26(7):1165–1175

Chang Ching-Yee, Carton JA, Grodsky SA, Nigam S (2007) Seasonal climate of the tropical Atlantic sector in the NCAR community climate system model 3: error structure and probable causes of errors. J Clim 20:1053–1070

Davey M et al (2002) STOIC: a study of coupled model climatology and variability in tropical ocean regions. Clim Dyn 18:403–420

DeWitt DG (2005) Diagnosis of the tropical Atlantic near-equatorial SST bias in a directly coupled atmosphere-ocean general circulation model. Geophys Res Lett 32:L01703. doi:10.1029/2004GL021707

Enfield DB, Cid-Serrano L (2010) Secular and multidecadal warmings in the North Atlantic and their relationships with major hurricane activity. Int J Climatol 30:174–184

Foltz GR, McPhaden MJ (2010) Abrupt equatorial wave-induced cooling of the Atlantic cold tongue in 2009. Geophys Res Lett 37:L24605. doi:10.1029/2010GL045522

Fratantoni DM, Johns WE, Townsend TL, Hurlburt HE (2000) Low-latitude circulation and mass transport pathways in a model of the tropical Atlantic Ocean. J Phys Oceanogr 30:1944–1966

Giannini A, Saravanan R, Chang P (2003) Oceanic forcing of Sahel rainfall on interannual to interdecadal time scales. Science 302(5647):1027–1030

Giarolla E, Nobre P, Malagutti M, Pezzi L (2005) The Atlantic Equatorial Undercurrent: PIRATA observations and simulations with GFDL Modular Ocean model at CPTEC. Geophys Res Lett 32(10):L10617. doi:10.1029/2004GL022206

Gouriou Y, Reverdin G (1992) Isopycnic and diapynal circulation of the upper equatorial Atlantic Ocean in 1983–1984. J Geophys Res Ocean 97:3543–3572

Hazeleger W, de Vries P, Friocourt Y (2003) Sources of the Equatorial Undercurrent in the Atlantic in a high-resolution ocean model. J Phys Oceanogr 33:677–693

Hisard P, Henin C (1987) Response of the equatorial Atlantic Ocean to the 1983–1984 wind from the Programme Français Océan et Climat dans l'Atantique Equatorial cruise data set. J Geophys Res 92(C4):3759–3768

Horel JD, Kousky VE, Kagano MT (1986) Atmospheric conditions in the Atlantic sector during 1983 and 1984. Nature 322(6076):248–251

Hormann V, Brandt P (2007) Atlantic Equatorial Undercurrent and associated cold tongue variability. J Geophys Res 112:C06017. doi:10.1029/2006JC003931

Hummels R, Dengler M, Bourles B (2013) Seasonal and regional variability of upper ocean diapycnal heat flux in the Atlantic cold tongue. Prog Oceanogr 111:52–74

Izumo T (2005) The Equatorial Undercurrent, meridional overturning circulation, and their roles in mass and heat exchanges during El Niño events in the tropical Pacific ocean. Ocean Dyn 55(2):110–123

Johnson GC, Sloyan BM, Kessler WS, McTaggart KE (2002) Direct measurements of upper ocean currents and water properties across the tropical Pacific during the 1990s. Prog Oceanogr 52(1):31–61

Jouanno J, Marin F, du Penhoat Y, Sheinbaum J, Molines J-M (2011) Seasonal heat balance in the upper 100 m of the equatorial Atlantic Ocean. J Geophys Res-Ocean 116:C09003. doi:10.1029/2010JC006912

Keenlyside N, Kleeman R (2002) Annual cycle of equatorial zonal currents in the Pacific. J Geophys Res 107(C8):Art. No. 3093

Knox RA, Halpern D (1982) Long range Kelvin wave propagation of transport variations in Pacific Ocean equatorial currents. J Mar Res 40(329):39

Kolodziejczyk N, Bourles B, Marin F, Grelet J, Chuchla R (2009) Seasonal variability of the Equatorial Undercurrent at 10 degrees W as inferred from recent in situ observations. J Geophys Res Ocean 114:C06014. doi:10.1029/2008JC004976

Kolodziejczyk N, Marin F, Bourlès B, Gouriou Y, Berger H (2013) Seasonal variability of the equatorial undercurrent termination and associated salinity maximum in the Gulf of Guinea. Submitted in Clim Dyn

Lukas R, Firing E (1985) The annual Rossby wave in the central equatorial Pacific Ocean. J Phys Oceanogr 15:55–67

Lumpkin R, Garraffo Z (2005) Evaluating the decomposition of tropical Atlantic drifter observations. J Atmos Ocean Technol 22:1403–1415

Malanotte-Rizzoli P, Hedstrom K, Arango H, Haidvogel DB (2000) Water mass pathways between the subtropical and tropical ocean in a climatological simulation of the North Atlantic Ocean circulation. Dyn Atmos Oceans 32:331–371

McCreary JP (1984) Equatorial beams. J Mar Res 42:395–430

McCreary JP, Lu P (1994) On the interaction between the subtropical and equatorial ocean circulation: the subtropical cell. J Phys Oceanogr 24:466–497

Mercier H, Arhan M, Lutjeharms JRE (2003) Upper-layer circulation in the eastern Equatorial and South Atlantic Ocean in January–March 1995. Deep-Sea Res 50(7):863–887

Perez RC, Lumpkin R, Johns WE, Foltz GR, Hormann V (2012) Interannual variations of Atlantic tropical instability waves. J Geophys Res-Ocean 117:C03011. doi:10.1029/2011JC007584

Philander SGH, Chao Y (1991) On the contrast between the seasonal cycles of the equatorial Atlantic and Pacific Oceans. J Phys Oceanogr 21(9):1399–1406

Philander SGH, Pacanowski RC (1986) A model of the seasonal cycle in the tropical Atlantic Ocean. J Geophys Res 91(C12):14192–14206

Qiao L, Weisberg R (1997) The zonal momentum balance of the Equatorial Undercurrent in the central Pacific. J Phys Oceanogr 27(6):1094–1119

Richter I, Xie S-P (2008) On the origin of equatorial Atlantic biases in coupled general circulation models. Clim Dyn 31:587–598

Richter I, Behera SK, Masumoto Y, Taguchi B, Sasaki H, Yamagata T (2013) Multiple causes of interannual sea surface temperature variability in the equatorial Atlantic Ocean. Nat Geosci 6(1):43–47. doi:10.1038/Ngeo1660

Roemmich D, Gilson J (2009) The 2004–2008 mean and annual cycle of temperature, salinity, and steric height in the global ocean from the Argo Program. Prog Oceanogr 82:81–100

Ruiz-Barradas A, Carton J, Nigam S (2000) Structure of interannual-to-decadal climate variability in the tropical Atlantic sector. J Clim 13(18):3285–3297

Schott FA, Boning CW (1991) The WOCE model in the western equatorial Atlantic—upper layer circulation. J Geophys Res Oceans 96:6993–7004

Schott FA, Fischer J, Stramma L (1998) Transports and pathways of the upper-layer circulation in the western tropical Atlantic. J Phys Oceanogr 28:1904–1928

Schott F, Dengler M, Brandt P, Affler K, Fischer J, Bourles B, Gouriou Y, Molinari R, Rhein M (2003) The zonal currents and transports at 35 W in the tropical Atlantic. Geophys Res Lett 30(7):1349. doi:10.1029/2002GL016849

von Schuckmann KV, Brandt P, Eden C (2008) Generation of tropical instability waves in the Atlantic Ocean. J Geophys Res 113:C08034. doi:10.1029/2007JC004712

Wacongne S (1989) Dynamical regimes of a fully nonlinear stratified model of the Atlantic Equatorial Undercurrent. J Geophys Res 94(C4):4801–4815

Wacongne S, Piton B (1992) The near-surface circulation in the northeastern corner of the South Atlantic Ocean. Deep-Sea Res 39:1273–1298

Yu XR, McPhaden MJ (1999a) Dynamical analysis of seasonal and interannual variability in the equatorial Pacific. J Phys Oceanogr 29(9):2350–2369

Yu X, McPhaden MJ (1999b) Seasonal variability in the equatorial Pacific. J Phys Oceanogr 29:925–947

Zebiak SE (1993) Air-sea interaction in the Equatorial Atlantic region. J Clim 6(8):1567–1568

Zhang D, McPhaden MJ, Johns WE (2003) Observational evidence for flow between the subtropical and tropical Atlantic: the Atlantic subtropical cells. J Phys Oceanogr 33(8):1783–1797
Acknowledgments
This research was supported by the U. S. National Science Foundation under awards OCE0623552 and OCE1129874, and by the Deutsche Bundesministerium für Bildung und Forschung (BMBF) as part of the projects NORDATLANTIK (03F0443B), RACE (03F0651B), MIKLIP (01LP1114A) and by the Deutsche Forschungsgemeinschaft through several research cruises with RV Meteor and RV Maria S. Merian, and as part of the Sonderforschungsbereich 754 ''Climate–Biogeochemistry Interactions in the Tropical Ocean''. Moored velocity observations were acquired in cooperation with the PIRATA project. The authors thank the PIRATA program for their timely and free provision of data to the scientific community. Special thanks go to Mark Graham and Robert Jones (RSMAS), and Jacques Grelet and Fabrice Roubaud (IRD) who contributed to the RSMAS ADCP mooring maintenance at 0°E and 10°W during PIRATA-FR and US/RSMAS cruises.
Additional information
This paper is a contribution to the special issue on tropical Atlantic variability and coupled model climate biases that have been the focus of the recently completed Tropical Atlantic Climate Experiment (TACE), an international CLIVAR program (http://www.clivar.org/organization/atlantic/tace). This special issue is coordinated by William Johns, Peter Brandt, and Ping Chang, representatives of the TACE Observations and TACE Modeling and Synthesis working groups.
About this article
Cite this article
Johns, W.E., Brandt, P., Bourlès, B. et al. Zonal structure and seasonal variability of the Atlantic Equatorial Undercurrent. Clim Dyn 43, 3047–3069 (2014). https://doi.org/10.1007/s00382-014-2136-2
Received:

Accepted:

Published:

Issue Date:
Keywords
Tace

Acoustic Doppler Current Profiler

Boreal Summer

Cold Tongue

Boreal Spring