Abstract
The future rate of Greenland Ice Sheet (GrIS) deglaciation and the future contribution of GrIS deglaciation to sea level rise will depend critically on the magnitude of northern hemispheric polar amplification and global equilibrium climate sensitivity. Here, these relationships are analyzed using an ensemble of multi-century coupled ice-sheet/climate model simulations seeded with observationally-constrained initial conditions and then integrated forward under tripled preindustrial CO2. Polar amplifications and climate sensitivities were varied between ensemble members in order to bracket current uncertainty in polar amplification and climate sensitivity. A large inter-ensemble spread in mean GrIS air temperature, albedo and surface mass balance trends stemming from this uncertainty resulted in GrIS ice volume loss ranging from 5 to 40 % of the original ice volume after 500 years. The large dependence of GrIS deglaciation on polar amplification and climate sensitivity that we find indicates that the representation of these processes in climate models will exert a strong control on any simulated predictions of multi-century GrIS evolution. Efforts to reduce polar amplification and equilibrium climate sensitivity uncertainty will therefore play a critical role in constraining projections of GrIS deglaciation and sea level rise in a future high-CO2 world.
Access options
Buy single article
Instant access to the full article PDF.
US$ 39.95
Tax calculation will be finalised during checkout.
Subscribe to journal
Immediate online access to all issues from 2019. Subscription will auto renew annually.
US$ 119
Tax calculation will be finalised during checkout.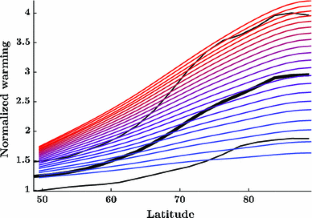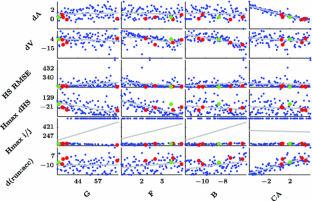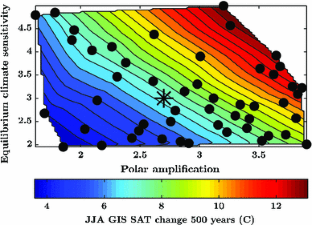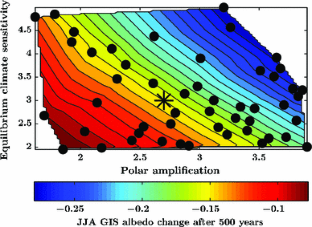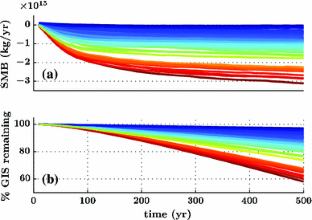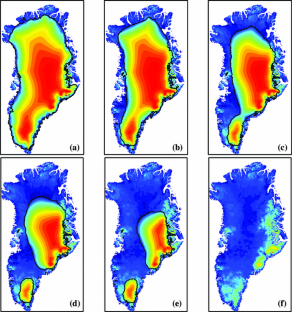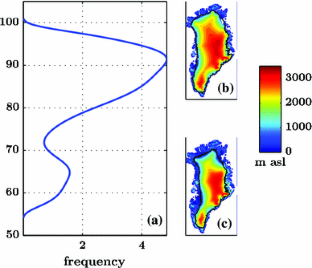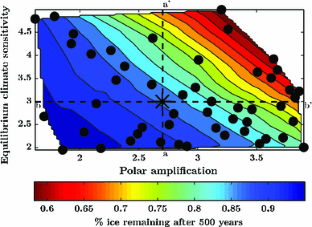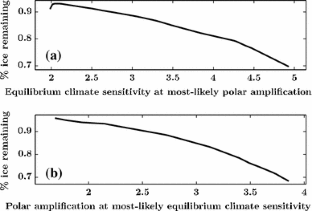 References
Applegate P.J., Kirchner N., Stone E.J., Keller K., Greve R. (2012) An assessment of key model parametric uncertainties in projections of Greenland Ice Sheet behavior. Cryosphere 6:589–606. doi:10.5194/tc-6-589-2012

Bamber JL, Layberry RL, Gogineni S (2001) A new ice thickness and bed data set for the Greenland ice sheet 1: measurement, data reduction, and errors. J Geophys Res 106:33773–33780

Brady E, Otto-Bliesner B, Kay J, Rosenbloom N (2013) Sensitivity to glacial forcing in the CCSM4. J Clim 26:1901–1925. doi:10.1175/JCLI-D-11-00416.1

Charbit S, Paillard D, Ramstein G (2008) Amount of CO2 emissions irreversibly leading to the total melting of Greenland. Geophys Res Lett 35:L12503. doi:10.1029/2008GL033472

Cuffey K, Paterson W (2010) The physics of glaciers. Elsevier, Amsterdam

DeConto R, Pollard D, Harwood D (2007) Sea ice feedback and Cenozoic evolution of Antarctic climate and ice sheets. Paleoceanography 22:PA3214. doi:10.1029/2006PA001350

Eby M, Zickfeld M, Montenegro A, Archer D, Meissner K, Weaver A (2009) Lifetime of anthropogenic climate change: millennial timescales of potential CO2 and surface temperature perturbations. J Clim 22:2501–2511. doi:10.1175/2008JCLI2554.1

Ettema J, van den Broeke M, van Meijgaard E, van de Berg WJ, Bamber J, Box J, Bales R (2009) Higher surface mass balance of the Greenland ice sheet revealed by high-resolution climate modeling. Geophys Res Lett 36:L12501. doi:10.1029/2009GL038110

Flanner M, Zender C, Randerson J, Rasch P (2007) Present-day climate forcing and response from black carbon in snow. J Geophys Res 112:D11202. doi:10.1029/2006JD008003

Fyke J, Eby M (2012) Comment on climate sensitivity estimated from temperature reconstructions of the last glacial maximum. Science 337:1294. doi:10.1126/science.1221371

Fyke J, Weaver A, Pollard D, Eby M, Carter L, Mackintosh A (2011) A new coupled ice sheet-climate model: description and sensitivity to model physics under Eemian, Last Glacial Maximum, late Holocene and modern climate conditions. Geosci Model Dev 4:117–136. doi:10.5194/gmd-4-117-2011

Fyke J, Sacks W, Lipscomb W (2013) A technique for generating consistent ice sheet initial conditions for coupled ice-sheet/climate models. Geosci Model Dev Discuss 6:2491–2516. doi:10.5194/gmdd-6-2491-2013

Hanna E, Navarro F, Pattyn F, Domingues C, Fettweis X, Ivins E, Nicholls R, Ritz C, Smith B, Tulaczyk S, Whitehouse P, Zwally H (2013) Ice-sheet mass balance and climate change. Nature 498:51–59. doi:10.1038/nature12238

Holland M, Bitz C (2003) Polar amplification of climate change in coupled models. Clim Dyn 21:221–232

Lipscomb W, Fyke J, Vizcaíno M, Sacks W, Wolfe J, Vertenstein M, Craig T, Kluzek E, Lawrence D (2013) Implementation and initial evaluation of the Glimmer Community Ice Sheet Model in the Community Earth System Model. J Clim. doi:10.1175/JCLI-D-12-005.1

Loeppky J, Sacks J, Welch W (2009) Choosing the sample size of a computer experiment: a practical guide. Technometrics 51:366–376. doi:10.1198/TECH.2009.08040

Manabe S, Wetherald R (1975) The effects of doubling the CO2 concentration on the climate of a general circulation model. J Atmos Sci 32:3–15. doi:10.1175/1520-0469(1975)032<0003:TEODTC>2.0.CO;2

Meehl G, Stocker T, Collins W, Friedlingstein P, Gaye A, Gregory J, Kitoh A, Knutti R, Murphy J, Noda A, Raper S, Watterson I, Weaver A, Zhao ZC (2007) Global climate projections. In: Climate change 2007: the physical science basis. Contribution of working group I to the fourth assessment report of the intergovernmental panel on climate change, Cambridge University Press, Cambridge, pp 747–845

PALEOSENS Project Members (2012) Making sense of palaeoclimate sensitivity. Nature 491:683–691. doi:10.1038/nature11574

Pollard D (2000) Comparisons of ice-sheet surface mass budgets from Paleoclimate Modeling Intercomparison Project (PMIP) simulations. Glob Plan Change 24(2):79–106. doi:10.1016/S0921-8181(99)00071-5

Pollard D, DeConto R (2009) Modelling West Antarctic ice sheet growth and collapse through the past five million years. Nature 458:329–332. doi:10.1038/nature07809

Pollard D, DeConto R (2012a) Description of a hybrid ice sheet-shelf model, and application to Antarctica. Geosci Model Dev 5:1273–1295. doi:10.5194/gmd-5-1273-2012

Pollard D, DeConto R (2012b) A simple inverse method for the distribution of basal sliding coefficients under ice sheets, applied to antarctica. Cryosphere 6(5):953–971. doi:10.5194/tc-6-953-2012. http://www.the-cryosphere.net/6/953/2012/

Quiquet A, Punge HJ, Ritz C, Fettweis X, Gallée H, Kageyama M, Krinner G, Salas y Mélia D, Sjolte J (2012) Sensitivity of a greenland ice sheet model to atmospheric forcing fields. Cryosphere 6:999–1018. doi:10.5194/tc-6-999-2012

Ridley J, Huybrechts P, Gregory J, Lowe J (2005) Elimination of the Greenland Ice Sheet in a high CO2 climate. J Clim 18:3409–3427. doi:10.1175/JCLI3482.1

Rignot E, Bamber J, van den Broeke M, Davis C, Li Y, van de Berg W, van Meijgaard E (2008) Recent Antarctic ice mass loss from radar interferometry and regional climate modelling. Nat Geosci 1:106–110. doi:10.1038/ngeo102

Robinson A, Calov R, Ganopolski A (2011) Greenland ice sheet model parameters constrained using simulations of the Eemian Interglacial. Clim Past 7:381–396. doi:10.5194/cp-7-381-2011

Rogner H (1997) An assessment of world hydrocarbon resources. Annu Rev Energy Environ 22:217–262

Rogozhina I, Martinec Z, Hagedoorn J, Thomas M, Fleming K (2011) On the long term memory of the Greenland Ice Sheet. J Geophys Res 116:F01011. doi:10.1029/2010JF001787

Schmittner A, Urban N, Shakun J, Mahowald N, Clark P, Bartlein P, Mix A, Rosell-Melé A (2011) Climate sensitivity estimated from temperature reconstructions of the Last Glacial Maximum. Science 334:1385–1388. doi:10.1126/science.1203513

Schoof C (2010) Ice-sheet acceleration driven by melt supply variability. Nature 468:803–806. doi:10.1038/nature09618

Serreze M, Barry R (2011) Processes and impacts of Arctic amplification: a research synthesis. Glob Planet Change 77:85–96. doi:10.1016/j.gloplacha.2011.03.004

Stone EJ, Lunt DJ, Annan JD, Hargreaves JC (2013) Quantification of the greenland ice sheet contribution to last interglacial sea level rise. Clim Past 9:621–639. doi:10.5194/cp-9-621-2013

Tebaldi C, Knutti R (2007) The use of the multi-model ensemble in probabilistic climate projections. Phil Trans Royal Soc A 365:2053–2075. doi:10.1098/rsta.2007.2076

Vizcaíno M, Mikolajewicz U, Jungclaus J, Schurgers G (2010) Climate modification by future ice sheet changes and consequences for ice sheet mass balance. Clim Dyn 43:301–324. doi:10.1007/s00382-009-0591-y

Weertman J (1961) Stability of ice-age ice sheets. J Geophys Res 66(11):3783–3792. doi:10.1029/JZ066i011p03783

Yoshimori M, Abe-Ouchi A (2012) Sources of spread in multimodel projections of the Greenland Ice Sheet surface mass balance. J Clim 25:1157–1175. doi:10.1175/2011JCLI4011.1

Zickfeld K, Eby M, Matthews H, Weaver A (2009) Setting cumulative emissions targets to reduce the risk of dangerous climate change. Proc Natl Acad Sci 106:16129–16134. doi:10.1073/pnas.0805800106
Acknowledgments
This research was supported by a Victoria University of Wellington Doctoral Scholarship to J. Fyke and the New Zealand government ANZICE program. He is currently supported by the U.S. Department of Energy Office of Science. The research was further enabled through use of computing resources provided by WestGrid and Compute/Calcul Canada. We wish to thank two anonymous reviewers and Lionel Carter and Ed Wiebe for greatly improving the quality of this manuscript.
About this article
Cite this article
Fyke, J., Eby, M., Mackintosh, A. et al. Impact of climate sensitivity and polar amplification on projections of Greenland Ice Sheet loss. Clim Dyn 43, 2249–2260 (2014). https://doi.org/10.1007/s00382-014-2050-7
Received:

Accepted:

Published:

Issue Date:
Keywords
Climate sensitivity

Polar amplification

Greenland Ice Sheet