Abstract
The formation mechanism of diurnal rainfall in Taiwan is commonly recognized as a result of local forcings involving solar thermal heating and island-scale land–sea breeze (LSB) interacting with orography. This study found that the diurnal variation of the large-scale circulation over the East Asia-Western North Pacific (EAWNP) modulates considerably the diurnal rainfall in Taiwan. It is shown that the interaction between the two LSB systems—the island-scale LSB and the large-scale LSB over EAWNP—facilitates the formation of the early morning rainfall in western Taiwan, afternoon rainfall in central Taiwan, and nighttime rainfall in eastern Taiwan. Moreover, the post-1998 strengthening of a shallow, low-level southerly wind belt along the coast of Southeast China appears to intensify the diurnal rainfall activity in Taiwan. These findings reveal the role of the large-scale LSB and its long-term variation in the modulation of local diurnal rainfall.
Access options
Buy single article
Instant access to the full article PDF.
USD 39.95
Price excludes VAT (USA)
Tax calculation will be finalised during checkout.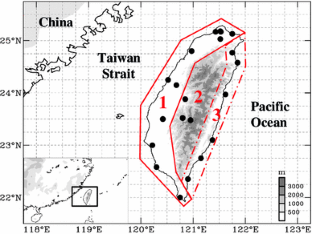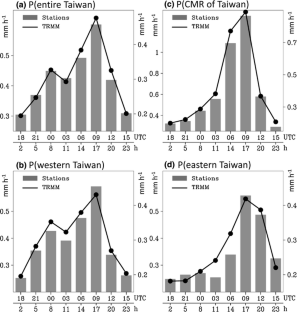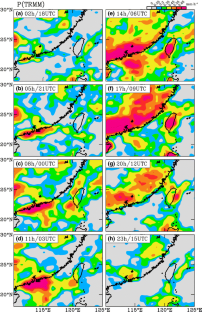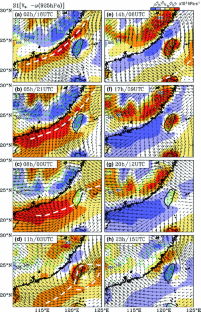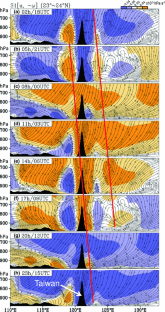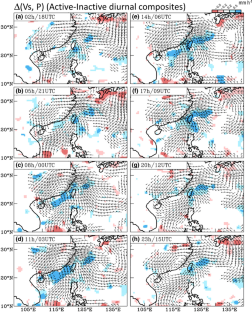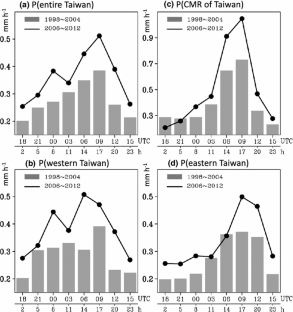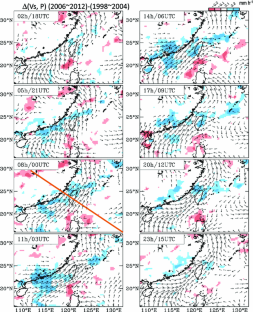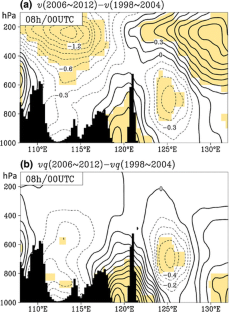 References
Alpers W, Chen JP, Lin II, Lien CC (2007) Atmospheric fronts along the east coast of Taiwan studied by ERS synthetic aperture radar images. J Atmos Sci 64:922–937

Alpers W, Chen JP, Pi CJ, Lin II (2010) On the origin of atmospheric frontal lines off the east coast of Taiwan observed on space borne synthetic aperture radar images. Mon Weather Rev 138:475–496

Aves S, Johnson RH (2008) The diurnal cycle of convection over the northern South China Sea. J Meteorol Soc Jpn 86:919–934

Chen GTJ (1983) Observational aspects of the Mei-Yu phenomenon in subtropical China. J Meteorol Soc Jpn 61:306–312

Chen YL (1993) Some synoptic-scale aspects 682 of the surface fronts over southern China during TAMEX. Mon Weather Rev 121:50–64

Chen CS, Chen YL (2003) The rainfall characteristics of Taiwan. Mon Weather Rev 131:1323–1341

Chen TC, Yen MC, Hsieh JC, Arritt RW (1999) Diurnal and seasonal variations of the rainfall measured by the automatic rainfall and meteorological telemetry system in Taiwan. Bull Am Meteorol Soc 80:2299–2312

Chen CS, Chen YL, Liu CL, Lin PL, Chen WC (2007) Statistics of heavy rainfall occurrences in Taiwan. Weather Forecast 22:981–1002

Chen GTJ, Wang CC, Chang SW (2008) A diagnostic case study of Mei-Yu frontogenesis and development of wavelike frontal disturbances in the subtropical environment. Mon Weather Rev 136:41–61

Chen G, Sha W, Sawada M, Iwasaki T (2013) Influence of summer monsoon diurnal cycle on moisture transport and precipitation over eastern China. J Geophys Res Atmos 118:3163–3177

Dai A, Deser C (1999) Diurnal and semidiurnal variations in global surface wind and divergence fields. J Geophys Res 104:31109–31125

Dai A, Lin X, Hsu KL (2007) The frequency, intensity, and diurnal cycle of precipitation in surface and satellite observations over low- and mid-latitudes. Clim Dyn 29:727–744

Geng B, Yamada H (2007) Diurnal variations of the Meiyu/Baiu rain belt. Sci Online Lett Atmos 3:61–64

Hong Y, Hsu KL, Sorooshian S, Gao X (2005) Improved representation of diurnal variability of rainfall retrieved from the Tropical Rainfall Measurement Mission Microwave Imager adjusted Precipitation estimation from Remotely Sensed Information Using Artificial Neural Networks (PERSIANN) system. J Geophys Res 110:D06102. doi:10.1029/2004JD005301

Huang WR, Chan JCL (2011) Maintenance mechanisms for the early-morning maximum summer rainfall over Southeast China. Q J R Meteorol Soc 137:959–968

Huang WR, Chan JCL (2012) Seasonal variation of diurnal and semidiurnal variation of rainfall over Southeast China. Clim Dyn 39:1913–1927

Huang WR, Chan JCL, Wang SY (2010) A planetary-scale land–sea breeze circulation in East Asia and the western North Pacific. Q J R Meteorol Soc 136:1543–1553

Huang WR, Chan JCL, Au-Yeung AYM (2013) Regional climate simulations of summer diurnal rainfall variations over East Asia and Southeast China. Clim Dyn 40:1625–1642

Johnson RH, Bresch JF (1991) Diagnosed characteristics of precipitation systems over Taiwan during the May–June 1987 TAMEX. Mon Weather Rev 119:2540–2557

Kerns BWJ, Chen YL, Chang MY (2010) The diurnal cycle of winds, rain, and clouds over Taiwan during the Mei-Yu, summer, and autumn rainfall regimes. Mon Weather Rev 138:497–516

Kishtawal CM, Krishnamurti TN (2001) Diurnal variation of summer rainfall over Taiwan and its detection Using TRMM observations. J Appl Meteor 40:331–344

Li J, Chen YL, Lee WC (1997) Analysis of a heavy rainfall event during TAMEX. Mon Weather Rev 125:1060–1081

Li J, Yu R, Zhou T (2008) Seasonal variation of the diurnal cycle of rainfall in southern Contiguous China. J Clim 21:6036–6043

Mao JY, Wu GX (2012) Diurnal variations of summer precipitation over the Asian monsoon region as revealed by TRMM satellite data. Sci China Earth Sci 55:554–566

Ramage CS (1952) Diurnal variation of summer rainfall over east China, Korea and Japan. J Atmos Sci 9:83–86

Rienecker MM et al (2011) MERRA: NASA's modern-era retrospective analysis for research and applications. J Clim 24:3624–3648

Ruppert JHJ, Johnson RH, Rowe AK (2013) Diurnal circulations and rainfall in Taiwan during SoWMEX/TiMREX (2008). Mon Weather Rev. doi:10.1175/MWR-D-12-00301.1

Simpson JS, Kummerow C, Tao WK, Adler RF (1996) On the tropical rainfall measuring mission (TRMM). Meteorol Atmos Phys 60:19–36

Sun J, Zhang F (2012) Impacts of mountain-plains solenoid on diurnal variations of rainfalls along the Mei-Yu front over the East China Plains. Mon Weather Rev 140:379–397

Wang SY, Chen TC (2008) Measuring East Asian summer monsoon rainfall contributions by different weather systems over Taiwan. J Appl Meteorol Clim 47:2068–2080

Wang CC, Huang WM (2009) High-resolution simulation of a nocturnal narrow convective line off the southeastern coast of Taiwan in the Mei-Yu season. Geophys Res Lett 36:L06815. doi:10.1029/2008GL037147

Wang SY, Chia HH, Gillies RR, Jiang X (2013a) Quasi-biweekly mode and its modulation on the diurnal rainfall in Taiwan forecasted by the CFS. Wea Forecast. doi:10.1175/WAF-D-12-00120.1

Wang SY, L'Heureux M, Yoon JH (2013b) Are Greenhouse gases changing ENSO precursors in the Western North Pacific? J Clim 26:6309–6322

Yeh HC, Chen YL (1998) Characteristics of rainfall distributions over Taiwan during the Taiwan Area Mesoscale Experiment (TAMEX). J Appl Meteorol 37:1457–1469

Yu CK, Lin CY (2008) Statistical location and timing of the convective lines off the mountainous coast of southeastern Taiwan from long-term radar observations. Mon Weather Rev 136:5077–5094

Yu R, Li J, Chen H (2009) Diurnal variation of surface wind over central eastern China. Clim Dyn 33:1089–1097. doi:10.1007/s00382-008-0478-3

Zhou T, Yu R, Chen H, Dai A, Pan Y (2008) Summer precipitation frequency, intensity, and diurnal cycle over China: a comparison of satellite data with rain gauge observations. J Clim 21:3997–4010
Acknowledgments
The authors thank anonymous reviewers for their comments and suggestions which greatly improved the manuscript. This research was supported by the National Science Council of Taiwan under NSC 101-2119-M-003-006-MY2 and NSC 102-2621-M-492-001. SYW was supported by Grant MOTC-CWB-101-M-15, Grant NNX13AC37G, and the Utah Agricultural Experiment Station, Utah State University as Journal Paper # 8464.
About this article
Cite this article
Huang, WR., Wang, SY. Impact of land–sea breezes at different scales on the diurnal rainfall in Taiwan. Clim Dyn 43, 1951–1963 (2014). https://doi.org/10.1007/s00382-013-2018-z
Received:

Accepted:

Published:

Issue Date:

DOI: https://doi.org/10.1007/s00382-013-2018-z
Keywords