Abstract
Ship-based acoustic Doppler current profiler (ADCP) velocity measurements collected by several major field programs in the tropical Atlantic are averaged and combined with estimates of the mean near-surface velocity derived from drifters and Argo float surface drifts (ADCP+D) to describe the mean cross-equatorial and vertical structure of the meridional currents along 23°W and 10°W. Data from moored ADCPs and fixed-depth current meters, a satellite-derived velocity product, and a global ocean reanalysis were additionally used to evaluate the mean ADCP+D meridional velocity. The dominant circulation features in the long-term mean ADCP+D meridional velocity in the upper 100 m are the tropical cells (TCs) located approximately between 5°S and 5°N, with near-surface poleward flow and subsurface equatorward flow that is stronger and shallower in the northern cell compared to the southern cell. The thickness of the surface limb of the TCs decreases and the northern cell is found to shift further south of the equator from the central to eastern tropical Atlantic. Analysis of two-season means estimated from the ship-based ADCP, near-surface drift, and moored velocity data, as well as the simulated fields, indicates that the maximum poleward velocity in the surface limb of the TCs intensifies during December–May along 23°W largely due to seasonal compensation between the geostrophic and ageostrophic (or wind-driven) components of the meridional velocity, whereas the maximum equatorward flow in the subsurface limb of the northern cell intensifies during June–November along both 23°W and 10°W due to the seasonality of the geostrophic meridional velocity.
This is a preview of subscription content, log in to check access.
Access options
Buy single article
Instant access to the full article PDF.
US$ 39.95
Tax calculation will be finalised during checkout.
Subscribe to journal
Immediate online access to all issues from 2019. Subscription will auto renew annually.
US$ 199
Tax calculation will be finalised during checkout.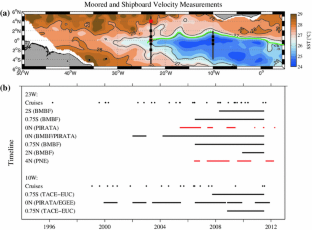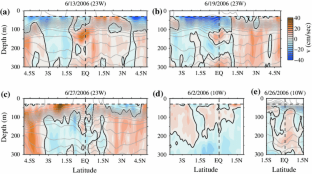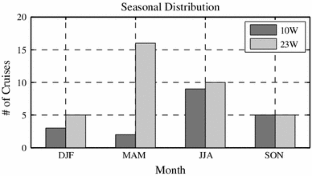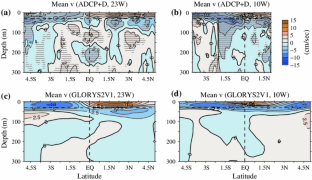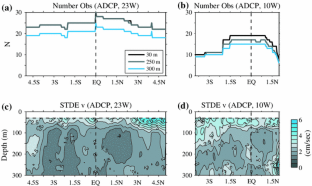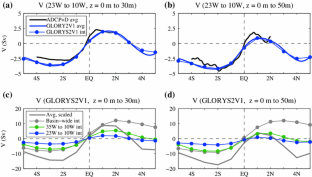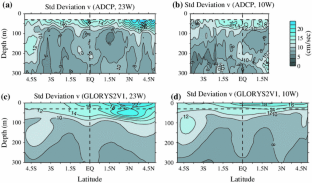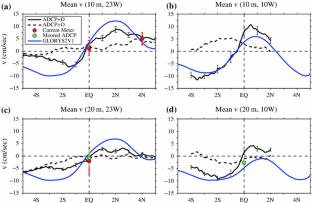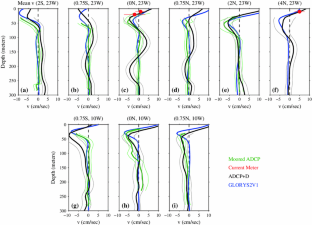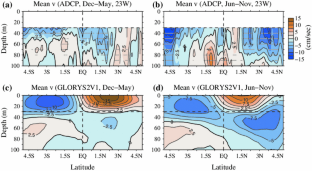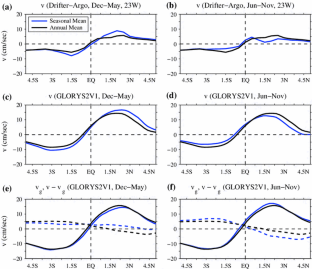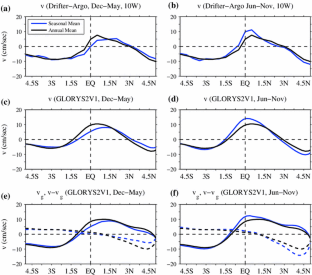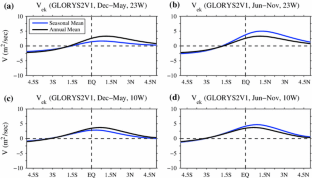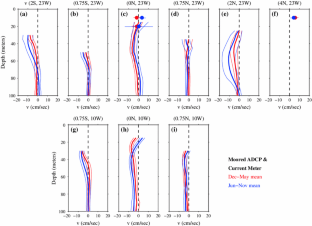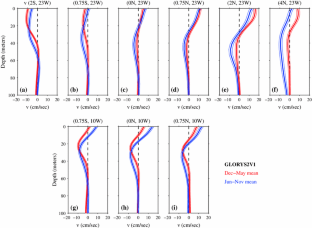 References
Athié G, Marin F (2008) Cross-equatorial structure and temporal modulation of intraseasonal variability at the surface of the tropical Atlantic Ocean. J Geophys Res 113:C08020. doi:10.1029/2007JC004332

Athié G, Marin F, Treguier A-M, Bourlès B, Guiavarc'h C (2009) Sensitivity of near-surface tropical instability waves to submonthly wind forcing in the tropical Atlantic. Ocean Model 30:241–255. doi:10.1016/j.ocemod.2009.06.016

Barnier B, Madec G, Penduff T, Molines J-M, Treguier A-M, Le Sommer J, Beckmann A, Biastoch A, Böning C, Dengg J, Derval C, Durand E, Gulev S, Remy E, Talandier C, Theetten S, Maltrud M, McClean J, De Cuevas B (2006) Impact of partial steps and momentum advection schemes in a global ocean circulation model at eddy-permitting resolution. Ocean Dyn 56:543–567. doi:10.1007/s10236-006-0082-1

Benkiran M, Greiner E (2008) Impact of the incremental analysis updates on a real-time system of the North Atlantic Ocean. J Atmos Ocean Technol 25:2055–2073

Bloom SC, Takas LL, Da Silva AM, Ledvina D (1996) Data assimilation using incremental analysis updates. Mon Weather Rev 124:1256–1271

Bonjean F, Lagerloef GSE (2002) Diagnostic model and analysis of the surface currents in the tropical Pacific Ocean. J Phys Oceanogr 32:2938–2954

Bourlès B, Lumpkin R, McPhaden MJ, Hernandez F, Nobre P, Campos E, Yu L, Planton S, Busalacchi A, Moura AD, Servain J, Trotte J (2008) The PIRATA program: history, accomplishments, and future directions. Bull Am Meteorol Soc 89:1111–1125. doi:10.1175/2008BAMS2462.1

Brandt P, Schott FA, Provost C, Kartavtseff A, Hormann V, Bourlès B, Fischer J (2006) Circulation in the central equatorial Atlantic: mean and intraseasonal to seasonal variability. Geophys Res Lett 33:L07609. doi:10.1029/2005GL025498

Brandt P, Hormann V, Bourlès B, Fischer J, Schott FA, Stramma L, Dengler M (2008) Oxygen tongues and zonal currents in the equatorial Atlantic. J Geophys Res 113:C04012. doi:10.1029/2007JC004435

Brandt P, Hormann V, Körtzinger A, Visbeck M, Krahmann G, Stramma L, Lumpkin R, Schmid C (2010) Changes in the ventilation of the oxygen minimum zone of the tropical North Atlantic. J Phys Oceanogr 40:1784–1801. doi:10.1175/2010JPO4301.1

Brandt P, Caniaux G, Bourlès B, Lazar A, Dengler M, Funk A, Hormann V, Giordani H, Marin F (2011a) Equatorial upper-ocean dynamics and their interaction with the West African monsoon. Atmos Sci Lett 12:24–30. doi:10.1002/asl.287

Brandt P, Funk A, Hormann V, Dengler M, Greatbatch RJ, Toole JM (2011b) Interannual atmospheric variability forced by the deep equatorial Atlantic Ocean. Nature 43:497–500. doi:10.1038/nature10013

Brandt P, Funk A, Tantet A, Johns W, Fischer J (2013) The Equatorial Undercurrent in the central Atlantic and its relation to tropical Atlantic variability. Clim Dyn, submitted

Bunge L, Provost C, Kartavtseff A (2007) Variability in horizontal current velocities in the central and eastern equatorial Atlantic in 2002. J Geophys Res 112:C02014. doi:10.1029/2006JC003704

Chang P, Yamagata T, Schopf P, Behera SK, Carton J, Kessler WS, Meyers G, Qu T, Schott F, Shetye S, Xie SP (2006) Climate fluctuations of tropical coupled systems—the role of ocean dynamics. J Clim 19:5122–5174. doi:10.1175/JCLI3903.1

Da-Allada CY, Alory G, du Penhoat Y, Kestenare E, Durand F, Hounkonnou NM (2013) Seasonal mixed-layer salinity balance in the tropical Atlantic Ocean: mean state and seasonal cycle. J Geophys Res 118:332–345. doi:10.1029/2012JC008357

Düing W, Hisard P, Katz E, Meincke J, Miller L, Moroshkin KV, Philander G, Ribnikov AA, Voigt K, Weisberg R (1975) Meanders and long waves in the equatorial Atlantic. Nature 257:280–284. doi:10.1038/257280a0

Dutrieux P, Menkes CE, Vialard J, Flament P, Blanke B (2008) Lagrangian study of tropical instability vortices in the Atlantic. J Phys Oceanogr 38:400–417. doi:10.1175/2007JPO3763.1

Ferry N, Parent L, Garric G, Barnier B, Jourdain NC, MERCATOR Group (2010) Mercator global Eddy permitting ocean reanalysis GLORYS1V1: description and results. Mercator Ocean Q Newsl 36:15–27

Fischer J, Brandt P, Dengler M, Müller M, Symonds D (2003) Surveying the upper ocean with the Ocean Surveyor: a new phased array Doppler current profiler. J Atmos Ocean Technol 20:742–751

Foltz GR, Carton JA, Chassignet EP (2004) Tropical instability vortices in the Atlantic Ocean. J Geophys Res 109:C03029. doi:10.1029/2003JC001942

Foltz GR, McPhaden MJ, Lumpkin R (2012) A strong Atlantic meridional mode event in 2009: the role of mixed layer dynamics. J Clim 25:363–380. doi:10.1175/JCLI-D-11-00150.1

Freitag HP, McPhaden MJ, Meinig C, Plimpton P (2003) Mooring motion bias of point Doppler current meter measurements. In: Proceedings of the IEEE seventh working conference on current measurement technology, San Diego, CA, 13–15 Mar 2003, IEEE, Piscataway, NJ, pp 155–160

Garzoli SL (1987) Forced oscillations on the equatorial Atlantic Basin during the seasonal response of the Equatorial Atlantic Program (1983–1984). J Geophys Res 5089(C5):5089–5100. doi:10.1029/JC092iC05p05089

Giordani H, Caniaux G (2011) Diagnosing vertical motion in the equatorial Atlantic. Ocean Dyn 61:1995–2018. doi:10.1007/s10236-011-0467-7

Goldenberg SB, Landsea C, Mestas-Nunez AM, Gray WM (2001) The recent increase in Atlantic hurricane activity. Science 293:474–479

Grodsky SA, Carton JA, Provost C, Servain J, Lorenzzetti JA, McPhaden MJ (2005) Tropical instability waves at 0 N, 23 W in the Atlantic: a case study using Pilot Research Moored Array in the Tropical Atlantic (PIRATA) mooring data. J Geophys Res 110:C08010. doi:10.1029/2005JC002941

Hazeleger W, de Vries P, Friocourt Y (2003) Sources of the Equatorial Undercurrent in the Atlantic in a high-resolution ocean model. J Phys Oceanogr 33:677–693

Helber RW, Weisberg RH, Bonjean F, Johnson ES, Lagerloef GSE (2007) Satellite-derived surface current divergence in relation to tropical Atlantic SST and wind. J Phys Oceanogr 33:1357–1375

Hormann V, Brandt P (2007) Atlantic Equatorial Undercurrent and associated cold tongue variability. J Geophys Res 112:C06017. doi:10.1029/2006JC003931

Hormann V, Brandt P (2009) Upper equatorial Atlantic variability during 2002 and 2005 associated with equatorial Kelvin waves. J Geophys Res 114:C03007. doi:10.1029/2008JC005101

Hormann V, Lumpkin R, Perez RC (2013) A generalized method for estimating the structure of the equatorial Atlantic cold tongue: application to drifter observations. J Atmos Ocean Technol 30:1884–1895. doi:10.1175/JTECH-D-12-00173.1

Hummels R, Dengler M, Bourlès B (2013) Seasonal and regional variability of upper ocean diapycnal heat flux in the Atlantic cold tongue. Prog Oceanogr 111:52–74. doi:10.1016/j.pocean.2012.11.001

Johnson G, McPhaden MJ, Firing E (2001) Equatorial Pacific Ocean horizontal velocity, divergence, and upwelling. J Phys Oceanogr 31:839–849

Johnson G, Sloyan BM, Kessler WS, McTaggart KE (2002) Direct measurements of upper ocean currents and water properties across the tropical Pacific Ocean during the 1990s. Prog Oceanogr 52:31–61

Jouanno J, Marin F, du Penhoat Y, Molines J-M (2013) Intraseasonal modulation of the surface cooling in the Gulf of Guinea. J Phys Oceanogr 43:382–401. doi:10.1175/JPO-D-12-053.1

Kolodziejczyk N, Bourlès B, Marin F, Grelet J, Chuchla R (2009) Seasonal variability of the Equatorial Undercurrent at 10 W as inferred from recent in situ observations. J Geophys Res 114:C06014. doi:10.1029/2008JC004976

Kushnir Y, Robinson WA, Chang P, Robertson AW (2006) The physical basis for predicting Atlantic sector seasonal-to-interannual climate variability. J Clim 19:5949–5970

Lebedev KV, Yoshinari H, Maximenko NA, Hacker PW (2007) Velocity data assessed from trajectories of Argo floats at parking level and at the sea surface. IPRC Technical Note, No. 4(2), 12 June 2007, p 16

Legeckis R (1977) Long waves in the eastern equatorial Pacific Ocean: a view from a geostationary satellite. Science 197:1179–1181

Legeckis R, Reverdin G (1987) Long waves in the equatorial Atlantic Ocean during 1983. J Geophys Res 92:2835–2842

Liu Z, Philander SGH, Pacanowski RC (1994) A GCM study of tropical–subtropical upper-ocean water exchange. J Phys Oceanogr 24:2606–2623

Lohmann K, Latif M (2007) Influence of El Niño on the upper-ocean circulation in the tropical Atlantic Ocean. J Clim 20:5012–5018. doi:10.1175/JCLI4292.1

Lübbecke JF (2013) Tropical Atlantic warm events. Nat Geosci 6:22–23. doi:10.1038/ngeo1685

Lumpkin R, Garraffo Z (2005) Evaluating the decomposition of tropical Atlantic drifter observations. J Atmos Ocean Technol 22:1403–1415

Lumpkin R, Garzoli SL (2005) Near-surface circulation in the tropical Atlantic Ocean. Deep Sea Res I 52:495–518. doi:10.1016/j.dsr.2004.09.001

Lumpkin R, Grodsky S, Rio M-H, Centurioni L, Carton J, Lee D (2013) Removing spurious low-frequency variability in surface drifter velocities. J Atmos Ocean Technol 30(2):353–360. doi:10.1175/JTECH-D-12-00139.1

Madec G (2008) NEMO ocean engine. Note du pole de modélisation, Institut Pierre-Simon Laplace (IPSL), France, No 27, ISSN No 1288-1619, p 201

Malanotte-Rizzoli P, Hedstrom K, Arango H, Haidvogel DB (2000) Water mass pathways between the subtropical and tropical ocean in a climatological simulation of the North Atlantic ocean circulation. Dyn Atmos Ocean 32:331–371

McCreary JP, Lu P (1994) Interaction between the subtropical and equatorial ocean circulations: the subtropical cell. J Phys Oceanogr 24:466–497

Menkes CE, Flament P, Dandonneau Y, Masson S, Biessy B, Marchal E, Eldin G, Grelet J, Montel Y, Morlière A, Lebourges-Dhaussy A, Moulin C, Champalbert G, Herbland A (2002) A whirling ecosystem in the equatorial Atlantic. Geophys Res Lett 29:1553. doi:10.1029/2001GL014576

Molinari RL, Bauer S, Snowden D, Johnson GC, Bourlès B, Gouriou Y, Mercier H (2003) A comparison of kinematic evidence for tropical cells in the Atlantic and Pacific oceans. In: Goni GJ, Malanotte-Rizzoli P (eds) IAPSO special issue: interhemispheric water exchange in the Atlantic Ocean, Elsevier Oceanography Series 68:269–286

Niiler PP, Paduan JD (1995) Wind-driven motions in the northeast Pacific as measured by Lagrangian drifters. J Phys Oceanogr 25:2819–2830

Okumura Y, Xie S-P (2004) Interaction of the Atlantic equatorial cold tongue and the African monsoon. J Clim 17:3589–3602

Pazan SE, Niiler PP (2001) Recovery of near-surface velocity from undrogued drifters. J Atmos Ocean Technol 18:476–489

Perez RC, Kessler WS (2009) The three-dimensional structure of tropical cells in the central equatorial Pacific Ocean. J Phys Oceanogr 39:27–49. doi:10.1175/2008JPO4029.1

Perez RC, Cronin MF, Kessler WS (2010) Tropical cells and a secondary circulation near the northern front of the equatorial Pacific cold tongue. J Phys Oceanogr 40:2091–2106. doi:10.1175/2010JPO4366.1

Perez RC, Lumpkin R, Johns WE, Foltz GR, Hormann V (2012) Interannual variations of Atlantic tropical instability waves. J Geophys Res 117:C03011. doi:10.1029/2011JC007584

Pham DT, Verron J, Roubaud M-C (1998) A singular evolutive extended Kalman filter for data assimilation in oceanography. J Mar Syst 16:323–340

Philander SGH, Pacanowksi RC (1986) A model of the seasonal cycle in the tropical Atlantic Ocean. J Geophys Res 91(C12):14192–14206

Plimpton PE, Freitag HP, McPhaden MJ (2004) Processing of subsurface ADCP data in the equatorial Pacific. NOAA Tech. Memo OAR PMEL-125, NOAA/Pacific Marine Environmental Laboratory, Seattle, WA, p 41

Provost C, Arnault S, Chouaib N, Kartavtseff A, Bunge L, Sultan E (2004) TOPEX/Poseidon and Jason equatorial sea surface slope anomaly in the Atlantic in 2002: comparison with wind and current measurements at 23 W. Mar Geod 27:31–45

Qiao L, Weisberg RH (1995) Tropical instability wave kinematics: observations from the Tropical Instability Wave Experiment (TIWE). J Phys Oceanogr 100:8677–8693

Rabe B, Schott FA, Köhl A (2008) Mean circulation and variability of the tropical Atlantic during 1952–2001 in the GECCO assimilation fields. J Phys Oceanogr 38:177–192

Richter I, Behera SK, Masumoto Y, Taguchi B, Sasaki H, Yamagata T (2013) Multiple causes of interannual sea surface temperature variability in the equatorial Atlantic Ocean. Nat Geosci 6:43–47. doi:10.1038/ngeo1660

Schott FA, Dengler M, Brandt P, Affler K, Fischer J, Bourlès B, Gouriou Y, Molinari RL, Rhein M (2003) The zonal currents and transports at 35 W in the tropical Atlantic. Geophys Res Lett 30(7):1349. doi:10.1029/2002GL016849

Schott F, McCreary J, Johnson G (2004) Shallow overturning circulations of the tropical-subtropical oceans. In: Wang C, Xie S-P, Carton JA (eds) Earth climate: the ocean–atmosphere interaction, AGU Geophysical Monograph Series 147:261–304

Seo H, Xie S-P (2011) Response and impact of equatorial ocean dynamics and tropical instability waves in the tropical Atlantic under global warming: a regional coupled downscaling study. J Geophys Res 116:C03026. doi:10.1029/2010JC006670

Seo H, Jochum M, Murtugudde R, Miller AJ, Roads JO (2007) Feedback of tropical instability-wave-induced atmospheric variability onto the ocean. J Clim 20:5842–5855. doi:10.1175/2007JCLI1700.1

Simmons A, Uppala S, Dee D, Kobayashi S (2007) ERAInterim: new ECMWF reanalysis products from 1989 onwards. ECMWF Newsl 110:25–35

Steger JM, Carton JA (1991) Long waves and eddies in the tropical Atlantic Ocean: 1984–1990. J Geophys Res 96:15161–15171

Subramaniam A, Mahaffey C, Johns W, Mahowald N (2013) Equatorial upwelling enhances nitrogen fixation in the Atlantic Ocean. Geophys Res Lett 40:1766–1771. doi:10.1002/grl.50250

Sutton RT, Hodson DLR (2005) Atlantic Ocean forcing of North American and European summer climate. Science 309:115–118. doi:10.1175/JCLI4038.1

Tokinaga H, Xie S-P (2011) Weakening of the equatorial Atlantic cold tongue over the past six decades. Nature Geosci 4:222–226. doi:10.1038/ngeo1078

Tranchant B, Testut C-E, Renault L, Ferry N, Birol F, Brasseur P (2008) Expected impact of the future SMOS and Aquarius Ocean surface salinity missions in the Mercator Ocean operational systems: new perspectives to monitor ocean circulation. Remote Sens Environ 112:1476–1487

Visbeck M (2002) Deep velocity profiling using lowered acoustic Doppler current profilers: bottomtrack and inverse solutions. J Atmos Ocean Technol 19:794–807

von Schuckmann K, Brandt P, Eden C (2008) Generation of tropical instability waves in the Atlantic Ocean. J Geophys Res 113:C08034. doi:10.1029/2007JC004712

Weisberg RH, Weingartner TJ (1988) Instability waves in the equatorial Atlantic Ocean. J Phys Oceanogr 18:1641–1657
Acknowledgments
This research was carried out in part under the auspices of the Cooperative Institute for Marine and Atmospheric Studies (CIMAS), a Cooperative Institute of the University of Miami and the National Oceanic and Atmospheric Administration (NOAA), cooperative agreement # NA10OAR4320143. Additional support was provided by NOAA's Climate Program Office, NOAA's Atlantic Oceanographic and Meteorological Laboratory, the Global Drifter Program NOAA NA10OAR4320156, the Deutsche Bundesministerium für Bildung und Forschung, project RACE (03F0651B), and the Deutsche Forschungsgemeinschaft through SFB754. The authors thank the PIRATA program which makes PIRATA mooring and shipboard data sets freely available to the scientific community. The authors also thank Adam Houk, Andreas Funk, and Arne Körtzinger for help obtaining and processing additional moored and shipboard data sets. Output from the GLORYS2V1 reanalysis product was obtained through a collaborative agreement with Mercator Océan. The GLORYS reanalysis project received support from INSU-CNRS, Mercator Océan, Groupe Mission Mercator Coriolis and the European Community's Seventh Framework Programme FP7/2007–2013 under grant agreement n°218812 (MyOcean). Nicolas Ferry and Laurent Parent are thanked for their helpful comments concerning GLORYS2V1 output. This study used velocities derived from Argo float surface trajectories of the YoMaHa'07 data set (Lebedev et al. 2007) which are provided by APDRC/IPRC. The OSCAR data were obtained from JPL Physical Oceanography DAAC and developed by Earth and Space Research. NCEP Reanalysis data are provided by the NOAA-CIRES Climate Diagnostics Center, Boulder, Colorado, USA, at their web site http://www.cdc.noaa.gov/. Comments from Gregory Foltz, Silvia Garzoli, Christopher Meinen, Paul Freitag, and two anonymous reviewers led to significant improvements in the manuscript.
Additional information
This paper is a contribution to the special issue on tropical Atlantic variability and coupled model climate biases that have been the focus of the recently completed Tropical Atlantic Climate Experiment (TACE), an international CLIVAR program (http://www.clivar.org/organization/atlantic/tace). This special issue is coordinated by William Johns, Peter Brandt, and Ping Chang, representatives of the TACE Observations and TACE Modeling and Synthesis working groups.
About this article
Cite this article
Perez, R.C., Hormann, V., Lumpkin, R. et al. Mean meridional currents in the central and eastern equatorial Atlantic. Clim Dyn 43, 2943–2962 (2014). https://doi.org/10.1007/s00382-013-1968-5
Received:

Accepted:

Published:

Issue Date:
Keywords
Tropical Atlantic

Meridional currents

Tropical cells