Abstract
Medicanes, intense and destructive mesoscale cyclones exhibiting several similarities with tropical hurricanes, are known to struck occasionally the Mediterranean Sea. Thanks to a high-resolution dynamical downscaling effort, we are able to study for the first time the long-term climatology of those rare storms in a systematic way. The distribution of medicanes frequency in space and time is discussed, and the environmental factors responsible for their formation are investigated. We find that medicanes develop in those areas of the Mediterranean region where intrusions of cold air in the upper troposphere can produce configurations of thermodynamical disequilibrium of the atmosphere similar to those associated with the formation of tropical cyclones.
Access options
Buy single article
Instant access to the full article PDF.
US$ 39.95
Tax calculation will be finalised during checkout.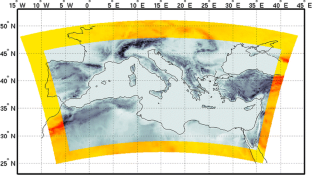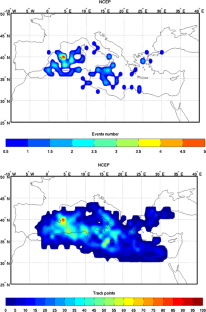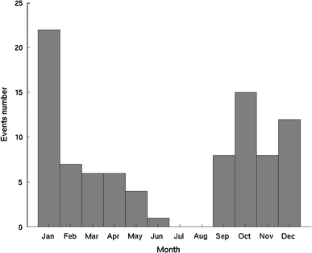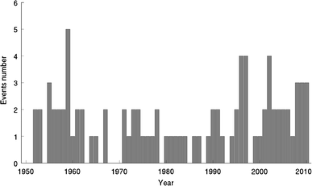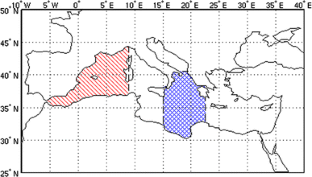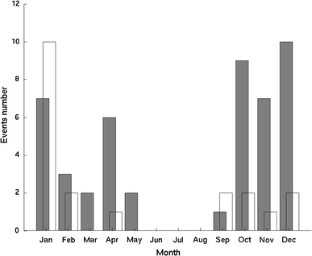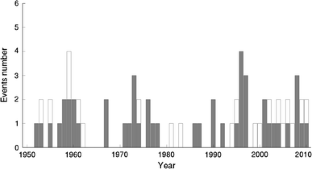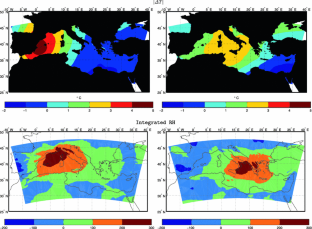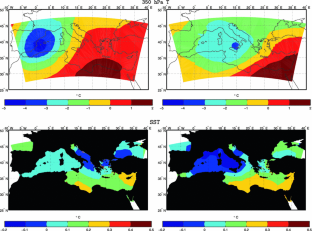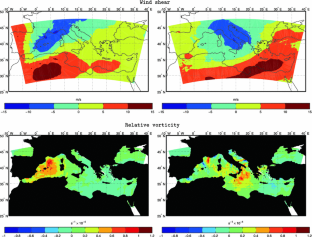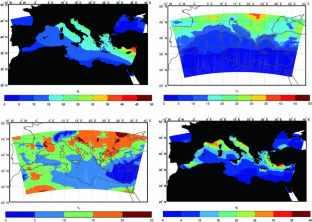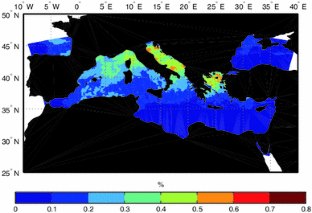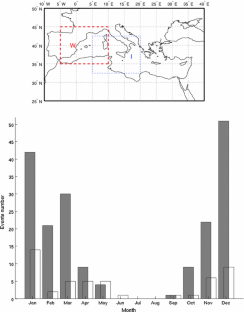 Notes
1.

Three variables are used to optimize the discrimination between tropical and extra-tropical cyclones. The parameter B represents the thermal symmetry of the cyclone: a threshold value of B = 10 m has been empirically determined by analyzing a large sample of both tropical and extra-tropical cyclones. Even if the threshold value of B has been originally determined for larger tropical/extratropical cyclones, previous studies (Miglietta et al. 2011) have shown that such value is also useful in the case of medicanes. The thermal wind parameters are defined in such a way that positive and negative values of −V T indicate respectively a warm-core or cold-core in the relevant layer; L stands for lower layer (900–600 hPa) and U for upper layer (600–300 hPa).

2.

The medicane top is estimated, from model simulations in Cavicchia and von Storch (2012), to be approximately 350 hPa.

3.

The integration is performed by summing the field over the model levels.

4.

The probabilities are computed from the daily mean values over all the simulation period as the percentage of days in which the condition is realized.
References
Cavicchia L, von Storch H (2012) The simulation of medicanes in a high-resolution regional climate model. Clim Dyn 39:2273–2290

Chen F, Geyer B, Zahn M, von Storch H (2012) Toward a multi-decadal climatology of North Pacific polar lows employing dynamical downscaling. Terr Atmos Ocean Sci 23:291–301

Davolio S, Miglietta MM, Moscatello A, Pacifico F, Buzzi A, Rotunno R (2009) Numerical forecast and analysis of a tropical-like cyclone in the Ionian Sea. Nat Hazards Earth Syst Sci 9:551–562

Emanuel K (2005) Genesis and maintenance of "Mediterranean hurricanes". Adv Geosci 2:217–220

Ernst JA, Matson M (1983) A Mediterranean tropical storm. Weather 38:332–337

Feser F, von Storch H (2008) A dynamical downscaling case study for typhoons in SE Asia using a regional climate model. Mon Weather Rev 136:1806–1815

Feser F, Rockel B, von Storch H, Winterfeldt J, Zahn M (2011) Regional climate models add value to global model data: a review and selected examples. Bull Am Meteorol Soc 92:1181–1192

Fita L, Romero R, Luque A, Emanuel K, Ramis C (2007) Analysis of the environments of seven Mediterranean tropical-like storms using an axisymmetric, nonhydrostatic, cloud resolving model. Nat Hazards Earth Syst Sci 7:41–56

Gil V, Genovés A, Picornell M, Jansà A (2003) Automated database of cyclones from the ECMWF model: preliminary comparison between West and East Mediterranean basins. In: Proceedings of fourth Plinius conference on Mediterranean storms

Hart RE (2003) A cyclone phase space derived from thermal wind and thermal asymmetry. Mon Weather Rev 131:585–616

Homar V, Romero R, Stensrud DJ, Ramis C, Alonso S (2003) Numerical diagnosis of a small, quasi-tropical cyclone over the western Mediterranean: dynamical vs. boundary factors. Quart J R Meteorol Soc 129:1469–1490

Lagouvardos K, Kotroni V, Nickovic S, Jovic D, Kallos G, Tremback CJ (1999) Observations and model simulations of a winter sub-synoptic vortex over the central Mediterranean. Meteorol Appl 6:371–383

Luque A, Fita L, Romero R, Alonso S (2007) Tropical-like Mediterranean storms: an analysis from satellite. In: EUMETSAT 07 proceedings

Miglietta MM, Moscatello A, Conte D, Mannarini G, Lacorata G, Rotunno R (2011) Numerical analysis of a Mediterranean "hurricane" over south-eastern Italy: sensitivity experiments to sea surface temperature. Atmos Res 101:412–426

Miglietta MM, Laviola S, Malvaldi A, Conte D, Levizzani V, Price C (2013) Analysis of tropical-like cyclones over the Mediterranean Sea through a combined modelling and satellite approach. Geophys Res Lett 40:2400–2405

Moscatello A, Miglietta MM, Rotunno R (2008) Numerical analysis of a Mediterranean "hurricane" over south-eastern Italy. Mon Weather Rev 136:4373–4396

Moscatello A, Miglietta MM, Rotunno R (2008) Observational analysis of a Mediterranean "hurricane" over south-eastern Italy. Weather 63:306–311

Pytharoulis I, Craig G, Ballard S (2000) The hurricane-like Mediterranean cyclone of January 1995. Meteorol Appl 7:261–279

Rasmussen E, Zick C (1987) A subsynoptic vortex over the Mediterranean with some resemblance to polar lows. Tellus A 39:408–425

Reale O, Atlas R (2001) Tropical cyclone-like vortices in the extratropics: observational evidence and synoptic analysis. Weather Forecast 16:7–34

Rockel B, Will A, Hense A (2008) The regional climate model COSMO-CLM (CCLM). Meteorol Z 17:347–348

Romero R, Emanuel K (2013) Medicane risk in a changing climate. J Geophys Res 118:5992–6001

von Storch H, Feser F, Barcikowska M (2011) Downscaling tropical cyclones from global re-analysis and scenarios: statistics of multi-decadal variability of TC activity in e Asia. Coastal Engineering Proceedings 1(32):management—17

Tous M, Romero R (2013) Meteorological environments associated with medicane development. Int J Climatol 33:1–14

Tous M, Romero R, Ramis C (2012) Surface heat fluxes influence on medicane trajectories and intensication. Atmos Res 123:400–411

Trigo I, Davies T, Bigg G (1999) Objective climatology of cyclones in the Mediterranean region. J Clim 12:1685–1696

Trigo IF, Davies TD, Bigg GR (1999) Objective climatology of cyclones in the Mediterranean region. J Clim 12:1685–1696

von Storch H, Langenberg H, Feser F (2000) A spectral nudging technique for dynamical downscaling purposes. Mon Weather Rev 128:3664–3673

Walsh K (1997) Objective detection of tropical cyclones in high-resolution analyses. Mon Weather Rev 125:1767–1779

Walsh K, Giorgi F, Coppola E (2013) Mediterranean warm-core cyclones in a warmer world. Clim Dyn 1–14. doi:10.1007/s00382-013-1723-y

Walsh KJE, Fiorino M, Landsea CW, McInnes KL (2007) Objectively determined resolution-dependent threshold criteria for the detection of tropical cyclones in climate models and reanalyses. J Clim 20:2307–2314

Zahn M, von Storch H (2010) Decreased frequency of North Atlantic polar lows associated with future climate warming. Nature 467:309–312

Zahn M, von Storch H (2008) Tracking polar lows in CLM. Meteorol Z 17:445–453

Zahn M, von Storch H, Bakan S (2008) Climate mode simulation of North Atlantic polar lows in a limited area model. Tellus A 60:620–631
Acknowledgments
We acknowledge Burkardt Rockel and Beate Geyer for their precious help with the model. We thank Antonio Navarra for many valuable and stimulating discussions. The research leading to these results has received funding from the Italian Ministry of Education, University and Research and the Italian Ministry of Environment, Land and Sea under the GEMINA Project, and from the South East Europe Transnational Cooperation Programme under the ORIENTGATE Project.
About this article
Cite this article
Cavicchia, L., von Storch, H. & Gualdi, S. A long-term climatology of medicanes. Clim Dyn 43, 1183–1195 (2014). https://doi.org/10.1007/s00382-013-1893-7
Received:

Accepted:

Published:

Issue Date:
Keywords
Mediterranean hurricanes

Dynamical downscaling

Mesoscale tropical-like cyclones

Medicanes climatology