Abstract
Intraseasonal (IS) variability in South America is analyzed during the cold season using 10–90 day bandpass filtered OLR anomalies (FOLR). IS variability explains a large percentage of variance with maximum values over Paraguay, northeastern Argentina, and southern Brazil. The leading pattern of FOLR, as isolated from an EOF analysis, (Cold Season IS pattern, CSIS), is characterized by a monopole centered over southeastern South America (SESA) with a northwest-southeast orientation. CSIS induces a large modulation on daily precipitation anomalies, especially on both wet spells and daily precipitation extremes, which are favored during positive (wet) CSIS phases. Large-Scale OLR anomalies over the tropical Indian and west Pacific Oceans associated with CSIS exhibit eastward propagation along tropical latitudes. In addition, circulation anomalies in the Southern Hemisphere reveal the presence of an anticyclonic anomaly over Antarctica with opposite-sign anomalies in middle latitudes 10 days before CSIS is maximum as well as evidence of Rossby wave-like patterns. Positive precipitation anomalies in SESA are favored during wet CSIS phases by the intensification of a cyclonic anomaly located further south, which is discernible over the southeastern Pacific for at least 14 days before CSIS peaks. The cyclonic anomaly evolution is accompanied by the intensification of an upstream anticyclonic anomaly, which remains quasi-stationary near the Antarctica Peninsula before the CSIS peak. We speculate that the stationary behavior of the anticyclonic center is favored by a hemispheric circulation anomaly pattern resembling that associated with a negative southern annular mode phase and a wavenumber 3–4 pattern at middle latitudes.
This is a preview of subscription content, log in to check access.
Access options
Buy single article
Instant access to the full article PDF.
US$ 39.95
Price includes VAT for USA
Subscribe to journal
Immediate online access to all issues from 2019. Subscription will auto renew annually.
US$ 199
This is the net price. Taxes to be calculated in checkout.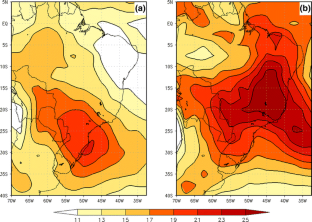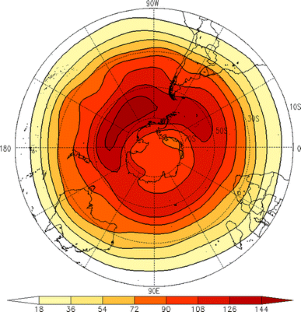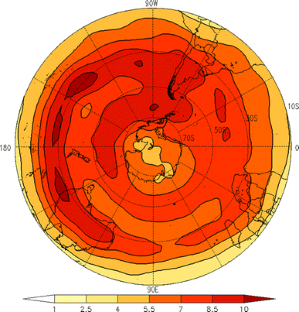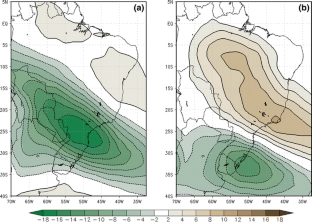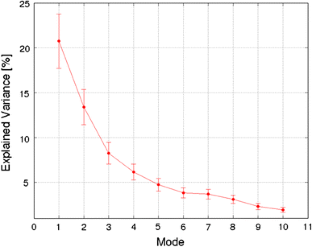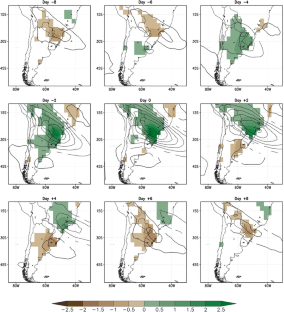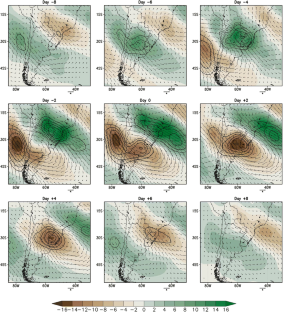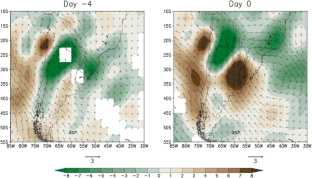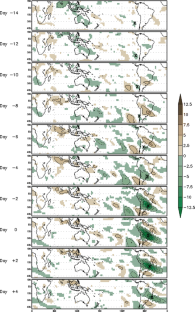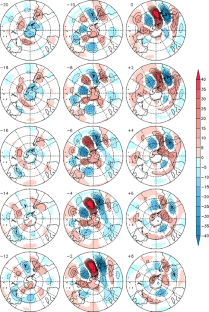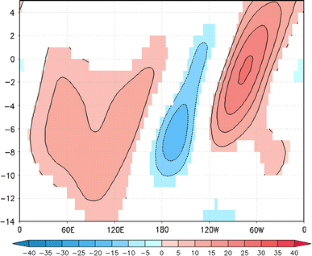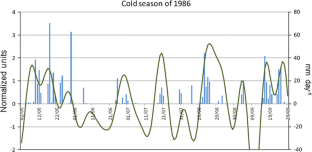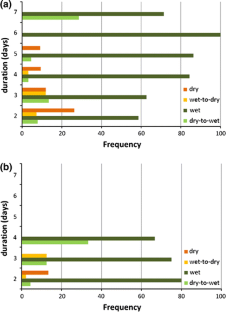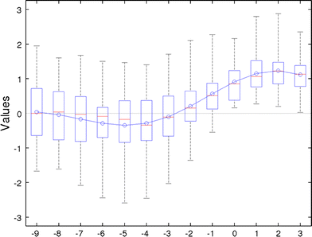 References
Ambrizzi T, Hoskins BJ, Hsu H (1995) Rossby wave propagation and teleconnection patterns in the austral winter. J Atmos Sci 52:3661–3672

Baba K, Minobe S, Kimura N, Wakatsuchi M (2006) Intraseasonal variability of sea-ice concentration in the Antarctic with particular emphasis on wind effect. J Geophys Res 111, C12023. doi:10.1029/2005JC003052

Berbery EH, Nogués-Paegle J (1993) Intraseasonal interactions between the tropics and extratropics in the Southern Hemisphere. J Atmos Sci 50(13):1950–1965

Berbery EH, Vera CS (1996) Characteristics of the Southern Hemisphere winter storm track with filtered and unfiltered data. J Atmos Sci 53(3):468–481

Berbery EH, Nogués-Paegle J, Horel JD (1992) Wavelike Southern Hemisphere extratropical teleconnections. J Atmos Sci 49:155–177 Corrigendum 49:2347

Cerne SB, Vera CS (2011) Influence of the intraseasonal variability on heat waves in subtropical South America. Clim Dyn 36(11–12):2265–2277

Duchon CE (1979) Lanczos filtering in one and two dimensions. J Appl Meteorol 18(8):1016–1022

Garreaud RD (1999) Multiscale analysis of the summertime precipitation over the Central Andes. Mon Weather Rev 127:901–921

Ghil M, Mo KC (1991) Intraseasonal oscillations in the global atmosphere. Part II: Southern Hemisphere. J Atmos Sci 48(5):780–790

González PLM, Vera CS, Liebmann B, Kiladis GN (2008) Intraseasonal variability in subtropical South America as depicted by precipitation data. Clim Dyn 30(7–8):727–744

Kalnay E et al (1996) The NCEP/NCAR 40-year reanalysis project. Bull Am Meteorol Soc 77(3):437–471

Kessler WS (2001) EOF representations of the Madden–Julian oscillation and its connection with ENSO. J Clim 14(13):3055–3061

Kidson JW (1999) Principal modes of Southern Hemisphere low-frequency variability obtained from NCEP-NCAR reanalyses. J Clim 12(9):2808–2830

Kousky VE, Kayano MT (1994) Principal modes of outgoing longwave radiation and 250-mb circulation for the South American sector. J Clim 7(7):1131–1143

Lawrence DM, Webster PJ (2002) The boreal summer intraseasonal oscillation: relationship between northward and eastward movement of convection. J Atmos Sci 59:1593–1606

Liebmann B, Allured D (2005) Daily precipitation grids for South America. Bull Am Meteorol Soc 86(11):1567–1570

Liebmann B, Smith CA (1996) Description of a complete (interpolated) outgoing longwave radiation dataset. Bull Am Meteorol Soc 77:1275–1277

Liebmann B, Kiladis GN, Marengo JA, Ambrizzi T, Glick JD (1999) Submonthly convective variability over South America and the South Atlantic convergence zone. J Clim 12:1877–1891

Liebmann B, Kiladis GN, Vera CS, Saulo AC, Carvalho LMV (2004) Subseasonal variations of rainfall in South America in the vicinity of the low-level jet east of the andes and comparison to those in the South Atlantic Convergence Zone. J Clim 17(19):3829–3842

Marengo JA, Liebmann B, Grimm AM, Misra V, Silva Dias PL, Cavalcanti IFA, Carvalho LMV, Berbery EH, Ambrizzi T, Vera CS, Saulo AC, Nogues-Paegle J, Zipser E, Seth A, Alves LM (2010) Recent developments on the South American monsoon system. Int J Climatol 32(1):1–21

Mo KC, Ghil M (1987) Statistics and dynamics of persistent anomalies. J Atmos Sci 44:877–902

Mo KC, Higgins RW (1998) The Pacific-South American modes and tropical convection during the Southern Hemisphere winter. Mon Weather Rev 126(6):1581–1596

Müller GV, Ambrizzi T (2007) Teleconnection patterns and Rossby wave propagation associated to generalized frosts over southern South America. Clim Dyn 29:633–645

Nogués-Paegle J, Mo KC (1997) Alternating wet and dry conditions over South America during summer. Mon Weather Rev 125(2):279–291

North GR, Bell TL, Cahalan RF, Moeng FJ (1982) Sampling errors in the estimation of empirical orthogonal functions. Mon Weather Rev 110:699–706

Peterson TC et al (2001) Report on the activities of the working group on climate change detection and related rapporteurs 1998–2001. WMO Rep. WCDMP 47, WMO–TD 1071, Geneva, Switzerland

Renwick JA, Revell MJ (1999) Blocking over the South Pacific and Rossby wave propagation. Mon Weather Rev 127:2233–2247

Robertson AW, Mechoso CR (2003) Circulation regimes and low-frequency oscillations in the South Pacific sector. Mon Weather Rev 131:1566–1576

Sinclair MR (1996) A climatology of anticyclones and blocking for the Southern Hemisphere. Mon Weather Rev 124:245–264

Solman SA, Orlanski I (2010) Subpolar high anomaly preconditioning precipitation over South America. J Atmos Sci 67(5):1526–1542

Tolika K, Maheras P (2005) Spatial and temporal characteristics of wet spells in Greece. Theor Appl Climatol 81(1–2):71–85

Trenberth KE (1991) Storm tracks in the Southern Hemisphere. J Atmos Sci 48(19):2159–2178

Trenberth KE, Mo KC (1985) Blocking in the Southern Hemisphere. Mon Weather Rev 113:3–21

Yu L et al (2011) The intraseasonal variability of winter semester surface air temperature in Antarctica. Polar Res. doi:10.3402/polar.v30i0.6039

Zolina O, Simmer C, Kapala A, Gulev S (2005) On the robustness of the estimates of centennial-scale variability in heavy precipitation from station data over Europe. Geophys Res Lett 32(14):1–5
Acknowledgments
This research was supported by CONICET PIP 112-200801-00399, UBACyT 20020100100434, ANPCyT PICT-2010-2110, NOAA Climate Program Office GC10-685 and NA0OAR4310170. M.A. is supported by a Ph.D grant from CONICET, Argentina.
About this article
Cite this article
Alvarez, M.S., Vera, C.S., Kiladis, G.N. et al. Intraseasonal variability in South America during the cold season. Clim Dyn 42, 3253–3269 (2014). https://doi.org/10.1007/s00382-013-1872-z
Received:

Accepted:

Published:

Issue Date:
Keywords
Intraseasonal variability

Winter

Outgoing longwave radiation

South America