Abstract
In this study, using the Bjerknes stability (BJ) index analysis, we estimate the overall linear El Niño-Southern Oscillation (ENSO) stability and the relative contribution of positive feedbacks and damping processes to the stability in historical simulations of Coupled Model Intercomparison Project Phase 5 (CMIP5) models. When compared with CMIP3 models, the ENSO amplitudes and the ENSO stability as estimated by the BJ index in the CMIP5 models are more converged around the observed, estimated from the atmosphere and ocean reanalysis data sets. The reduced diversity among models in the simulated ENSO stability can be partly attributed to the reduced spread of the thermocline feedback and Ekman feedback terms among the models. However, a systematic bias persists from CMIP3 to CMIP5. In other words, the majority of the CMIP5 models analyzed in this study still underestimate the zonal advective feedback, thermocline feedback and thermodynamic damping terms, when compared with those estimated from reanalysis. This discrepancy turns out to be related with a cold tongue bias in coupled models that causes a weaker atmospheric thermodynamical response to sea surface temperature changes and a weaker oceanic response (zonal currents and zonal thermocline slope) to wind changes.
Access options
Buy single article
Instant access to the full article PDF.
USD 39.95
Price excludes VAT (USA)
Tax calculation will be finalised during checkout.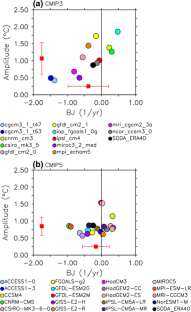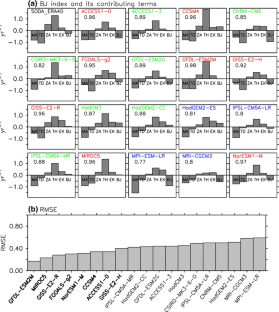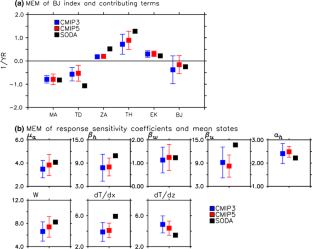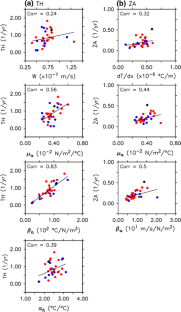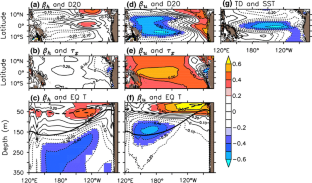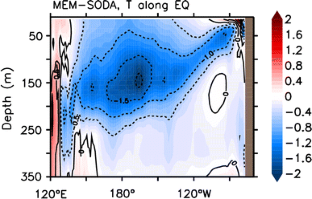 References
An S-I (2008) Interannual variations of the tropical ocean instability wave and ENSO. J Clim 21:3680–3686

An S-I (2009) A review of interdecadal changes in the nonlinearity of the El Niño-Southern Oscillation. Theor Appl Climatol 92:29–40

An S-I, Jin F-F (2000) An Eigen analysis of the interdecadal changes in the structure and frequency of ENSO mode. Geophys Res Lett 27:1573–2576

An S-I, Jin F-F (2001) Collective role of thermocline and zonal advective feedbacks in the ENSO mode. J Clim 14:3421–3432

Battisti DS, Hirst AC (1989) Interannual variability in a tropical atmosphere-ocean model: influence of the basic state, ocean geometry and nonlinearity. J Atmos Sci 46:1687–1712

Bejarano L, Jin F-F (2008) Coexistence of equatorial coupled modes of ENSO. J Clim 21:3051–3067

Brown J, Fedorov A, Guilyardi E (2011) How well do coupled models replicate ocean energetics relevant to ENSO? Clim Dyn 36:2147–2158

Cai W, Sullivan A, Cowan T (2009) Rainfall teleconnections with Indo-Pacific variability in the IPCC AR4 models. J Clim 22:5046–5071

Capotondi A, Wittenberg A, Masina S (2006) Spatial and temporal structure of tropical Pacific interannual variability in 20th century coupled simulations. Ocean Mod 15:274–298

Carton JA, Giese BS (2008) A reanalysis of ocean climate using Simple Ocean Data Assimilation (SODA). Mon Weather Rev 136:2999–3017

Choi J, An S-I, Dewitte B, Hsieh W-W (2009) Interactive feedback between the tropical Pacific decadal oscillation and ENSO in a coupled general circulation model. J Clim 22:6597–6611

Dewitte B, Yeh S-W, Thual S (2012) Reinterpreting the thermocline feedback in the western-central equatorial Pacific and its relationship with the ENSO modulation. Clim Dyn. doi:10.1007/s00382-012-1504-z

Eisenman I, Yu L, Tziperman E (2005) Westerly wind bursts: ENSO's tail rather than the dog? J Clim 18:5224–5238

Fang YJ, Chiang CH, Chang P (2008) Variation of mean sea surface temperature and modulation of El Niño–Southern Oscillation variance during the past 150 years. Geophys Res Lett 35:L14709. doi:10.1029/2008GL033761

Fedorov AV (2002) The response of the coupled tropical-atmosphere to westerly wind bursts. QJR Meteorol Soc 128:1–23

Fedorov AV, Philander SG (2001) A stability analysis of the tropical ocean-atmosphere interactions: bridging measurements of, and theory for El Niño. J Clim 14:3086–3101

Guilyardi E (2006) El Niño-mean state-seasonal cycle interactions in a multi-model ensemble. Clim Dyn 26:329–348. doi:10.1007/s00382-005-0084-6

Guilyardi E, Wittenberg A, Fedorov A, Collins M, Wang C, Capotondi A, van Oldenborgh GJ, Stockdale T (2009a) Understanding El Niño in Ocean-Atmosphere General Circulation Models: progress and challenges. Bull Am Met Soc 90:325–340

Guilyardi E, Braconnot P, Jin F-F, Kim ST, Kolasinski M, Li T, Musat I (2009b) Atmosphere feedbacks during ENSO in a coupled GCM with a modified atmospheric convection scheme. J Clim 22:5698–5718

Jin FF, An S-I, Timmermann A, Zhao J (2003) Strong El Niño events and nonlinear dynamical heating. Geophys Res Lett 30:1120. doi:10.1029/2002GL016356

Jin F-F, Kim ST, Bejarano L (2006) A coupled-stability index of ENSO. Geophys Res Lett 33:L23708. doi:10.1029/2006GL027221

Jin F-F, Lin L, Timmermann A, Zhao J (2007) Ensemble-mean dynamics of the ENSO recharge oscillator under state-dependent stochastic forcing. Geophys Res Lett 34:L03807. doi:10.1029/2006GL027372

Kim ST, Jin F-F (2011a) An ENSO stability analysis. Part I: results from a hybrid coupled model. Clim Dyn 36:1593–1607. doi:10.1007/s00382-010-0796-0

Kim ST, Jin F-F (2011b) An ENSO stability analysis. Part II: results from 20th- and 21st-century simulations of the CMIP3 models. Clim Dyn 36:1593–1607. doi:10.1007/s00382-010-0872-5

Kim ST, Yu J-Y (2012) The two types of ENSO in CMIP5 models. Geophys Res Lett 39:L11704. doi:10.1029/2012GL052006

Knutson TR, Manabe S (1994) Impact of increased CO2 on simulated ENSO-like phenomena. Geophys Res Lett 21:2295–2298

Larkin NK, Harrison DE (2005) Global seasonal temperature and precipitation anomalies during El Niño autumn and winter. Geophys Res Lett 32:L16705. doi:10.1029/2005GL022860

Levitus S (1982) Climatological Atlas of the World Ocean, NOAA Professional Paper 13. Dep Commer, US

Lin J-L (2007) The double-ITCZ problem in IPCC AR4 coupled GCMs: ocean-atmosphere feedback analysis. J Clim 20:4497–4524

Lloyd JE, Guilyardi E, Weller H, Slingo J (2009) The role of atmosphere feedbacks during ENSO in the CMIP3 models. Atmos Sci Lett 10:170–176

Meehl GA et al (2007) The WCRP CMIP3 multimodel dataset: a new era in climate change research. Bull Am Met Soc 88:1383–1394

Santoso A, Cai W, England MH, Phipps J (2011) The role of the Indonesian throughflow on ENSO dynamics in a coupled climate model. J Clim 24:585–601

Santoso A, England MH, Cai W (2012) Impact of Indo-Pacific feedback interactions on ENSO dynamics diagnosed using ensemble climate simulations. J Clim 25:7743–7763

Simmons AJ, and JK Gibson, (2000): The ERA-40 project plan. Tech Rep, ERA-40 Project Report Series 1, ECMWF, Reading, United Kingdom, 63 pp

Taylor KE, Stouffer RJ, Meehl GA (2012) An overview of CMIP5 and the experimental design. Bull Am Met Soc 93:485–498. doi:10.1175/BAMS-D-11-00094.1

Vannière B, Guilyardi E, Madec G, Doblas-Reyes FJ, Woolnough S (2013) Using seasonal hindcasts to understand the origin of the equatorial cold tongue bias in CGCMs and its impact on ENSO. Clim Dyn 40:963–981. doi:10.1007/s00382-012-1429-6

Yu J-Y, Kim ST (2010) Identification of Central-Pacific and Eastern-Pacific types of El Niño in CMIP3 models. Geophys Res Lett 37:L15705. doi:10.1029/2010GL044082

Zavala-Garay J, Moore AM, Perez CL, Kleeman R (2003) The response of a coupled model of ENSO to observed estimates of stochastic forcing. J Clim 16:2827–2842

Zhang W, Jin F-F (2012) Improvements in the CMIP5 simulations of ENSO-SSTA meridional width. Geophys Res Lett 39:L23704. doi:10.1029/2012GL053588

Zhang W, Jin F, Zhao J, Li J (2012) On the bias in simulated ENSO SSTA meridional widths of CMIP3 models. J. Climate, doi:10.1175/JCLI-D-12-00347.1 (in press)
Acknowledgments
We acknowledge the World Climate Research Programme's Working Group on Coupled Modeling, which is responsible for CMIP, and we thank the climate modeling groups for producing and making available their model output. For CMIP the U.S. Department of Energy's Program for Climate Model Diagnosis and Intercomparison provides coordinating support and leads development of software infrastructure in partnership with the Global Organization for Earth System Science Portals. Seon Tae Kim is supported by CSIRO Office of Chief Executive and Wealth from Oceans Flagship, and Wenju Cai is supported by the Australian Climate Change Program. Jin-Yi Yu is supported by NSF (ATM-1233542). The authors thank one anonymous reviewer and Jong-Seong Kug, Agus Santoso, and WonMoo Kim for their constructive and valuable comments.
About this article
Cite this article
Kim, S.T., Cai, W., Jin, FF. et al. ENSO stability in coupled climate models and its association with mean state. Clim Dyn 42, 3313–3321 (2014). https://doi.org/10.1007/s00382-013-1833-6
Received:

Accepted:

Published:

Issue Date:

DOI: https://doi.org/10.1007/s00382-013-1833-6
Keywords
ENSO

ENSO stability

ENSO feedback

BJ index

CMIP5