Abstract
Investigations into the climatic forcings that affect the long-term variability of the Indian summer monsoon are constrained by a lack of reliable rainfall data prior to the late nineteenth century. Extensive qualitative and quantitative meteorological information for the pre-instrumental period exists within historical documents, although these materials have been largely unexplored. This paper presents the first reconstruction of monsoon variability using documentary sources, focussing on western India for the period 1781–1860. Three separate reconstructions are generated, for (1) Mumbai, (2) Pune and (3) the area of Gujarat bordering the Gulf of Khambat. A composite chronology is then produced from the three reconstructions, termed the Western India Monsoon Rainfall reconstruction (WIMR). The WIMR exhibits four periods of generally deficient monsoon rainfall (1780–1785, 1799–1806, 1830–1838 and 1845–1857) and three of above-normal rainfall (1788–1794, 1813–1828 and 1839–1844). The WIMR shows good correspondence with a dendroclimatic drought reconstruction for Kerala, although agreement with the western Indian portion of the tree-ring derived Monsoon Asia Drought Atlas is less strong. The reconstruction is used to examine the long-term relationship between the El Nino-Southern Oscillation (ENSO) and monsoon rainfall over western India. This exhibits peaks and troughs in correlation over time, suggesting a regular long-term fluctuation. This may be an internal oscillation in the ENSO-monsoon system or may be related to volcanic aerosol forcings. Further reconstructions of monsoon rainfall are necessary to validate this. The study highlights uncertainties in existing published rainfall records for 1817–1846 for western India.
Access options
Buy single article
Instant access to the full article PDF.
USD 39.95
Price includes VAT (USA)
Tax calculation will be finalised during checkout.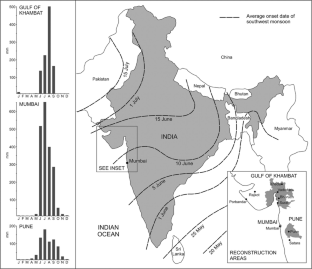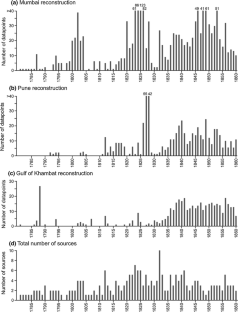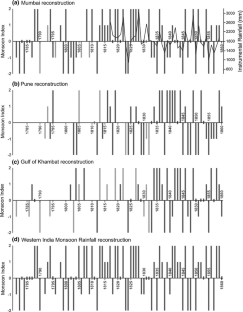 References
Adamson GCD (2012) 'The languor of the hot weather': everyday perspectives on weather and climate in western India, 1819–1828. J Hist Geogr 38:143–154

Adamson GCD, Nash DJ (2013) Long-term variability in the date of monsoon onset over western India. Clim Dyn 40:2589–2603

Annamalai H, Slingo JM (2001) Active/break cycles: diagnosis of the intraseasonal variability of the Asian Summer Monsoon. Clim Dyn 18:85–102

Ashok K, Saji NH (2007) Impacts of ENSO and Indian Ocean dipole events on the sub-regional Indian summer monsoon rainfall. Nat Hazards 42:273–285

Ashok K, Guan Z, Yamagata T (2001) Impact of the Indian Ocean dipole on the relationship between the Indian monsoon rainfall and ENSO. Geophys Res Lett 28:4499–4502

Banks J (1790) Diary of the rain at Bombay from 1780 to 1787, and of the heat for the year 1788. Philos Trans R Soc 80:590

Bertrand C, van Ypersele J-P, Berger A (1999) Volcanic and solar impacts on climate since 1700. Clim Dyn 15:355–367

Bhattacharyya A, Yadav RR (1999) Climatic reconstructions using tree-ring data from tropical and temperate regions of India—a review. IAWA J 20(3):311–316

Bhowmik SKR, Roy SS, Kundu PK (2008) Analysis of large-scale conditions associated with convection over the Indian monsoon region. Int J Climatol 28:797–821

Borgaonkar HP, Sikder AB, Ram S, Pant GB (2010) El Niño and related monsoon drought signals in 523-year-long ring width records of teak (Tectona grandis L.F.) trees from south India. Palaeogeogr Palaeoclimatol Palaeoecol 285:74–84

Bradley RS (1999) Paleoclimatology: reconstructing climates of the quaternary, 2nd edn. Harcourt Academic Press, Boston

Braganza K, Gergis JL, Power SB, Risbey JS, Fowler AM (2009) A multiproxy index of the El Nino-Southern Oscillation, A.D. 1525–1982. J Geophys Res (Atmospheres) 114:D05106. doi:10.1029/2008JD010896

Brázdil R, Pfister C, Wanner H, von Storch H, Luterbacher J (2005) Historical climatology in Europe—the state of the art. Clim Chang 70:363–430

Carnac JR (1819) Some account of the famine in Guzerat in the years 1812 and 1813, in a letter to William Erskine, Esq. Trans Lit Soc Bombay 1:296–303

Cole JE, Dunbar RB, McClanahan TR, Muthiga NA (2000) Tropical Pacific forcing of decadal SST variability in the Western Indian Ocean over the past two centuries. Science 287:617–619

Cook E, Anchukaitis KJ, Buckley BM, D'Arrigo R, Jacoby GC, Wright WE (2010) Asian Monsoon failure and megadrought during the last millennium. Science 328:486–489

Dai A, Trenberth KE, Qian T (2004) A global data set of Palmer Drought Severity Index for 1870–2002; relationship with soil moisture and effects of surface warming. J Hydrometeorol 5:117–1130

Endfield GH, Nash DJ (2002) Missionaries and morals: climatic discourse in nineteenth century central southern Africa. Ann Assoc Am Geogr 92:727–742

Etheridge AT (1868) Report on Past Famines in the Bombay Presidency. Government of the Bombay Presidency, Bombay

Fasullo J, Webster PJ (2002) Hydrological signatures relating the Asian Summer Monsoon and ENSO. J Clim 15:3082–3095

Fowler AM, Boswijk G, Lorrey AM, Gergis J, Pirie M, McCloskey SPJ, Palmer JG, Wunder J (2012) Multi-centennial tree-ring record of ENSO-related activity in New Zealand. Nat Clim Chang 2:172–176

Gadgil S (2003) The Indian monsoon and its variability. Annu Rev Earth Planet Sci 31:429–467

Gadgil S, Joshi NV (1983) Climatic clusters of the Indian region. J Climatol 3:47–63

Gadgil S, Srinivasan J (1990) Low frequency variation of tropical convergence zones. Meteorol Atmos Phys 44:119–132

Gergis JL, Fowler AM (2009) A history of ENSO events since A.D. 1525: implications for future climate change. Clim Chang 92:343–387

Gershunov A, Schneider N, Barnett T (2001) Low-frequency modulation of the ENSO-Indian monsoon rainfall relationship: signal or noise. J Clim 14:2486–2492

GHCN (2010) Global Historical Climatology Network. http://www.ncdc.noaa.gov/ghcnm/. Accessed Jan 2010

Goswami BN, Xavier PK (2005) ENSO control on the south Asian monsoon through the length of the rainy season. Geophys Res Lett 32:L18717. doi:10.1029/2005GL023216

Goswami BN, Ajayamohan RS, Xavier PK, Sengupta D (2003) Clustering of low pressure systems during the Indian summer monsoon by intraseasonal oscillations. Geophys Res Lett 304:1431. doi:10.1029/2002GL016734

Grossman RL, Durran DR (1984) Interaction of low-level flow with the western Ghat Mountains and offshore convection in the summer monsoon. Mon Weather Rev 112:652–672

Grove RH (1997) The East India Company, the Australians and the El Niño: colonial scientists and ideas about global climatic change and teleconnections between 1779 and 1930. In: Ecology, climate and empire. White Horse Press, Cambridge, pp 124–146

Guhathakurta P, Rajeevan M (2008) Trends in the rainfall pattern over India. Int J Climatol 28:1453–1469

Gunnell Y (1997) Relief and climate in South Asia: the influence of the Western Ghats on the current climate pattern of peninsular India. Int J Climatol 17:1169–1182

Harrison M (1999) Climates and constitutions: health, race, environment and British imperialism in India 1600–1850. Oxford University Press, Oxford

Indian Meteorological Department (1943) Climatological Atlas for Airmen 3. IMD, New Delhi

Jones PD, Briffa KR, Osborn TJ, Lough JM, van Ommen TD, Vinther BM, Luterbacher J, Wahl ER, Zwiers FW, Mann ME, Schmidt GA, Ammann CM, Buckley BM, Cobb KM, Esper J, Goosse H, Graham N, Jansen E, Kiefer T, Kull C, Küttel M, Mosley-Thompson E, Overpeck JT, Riedwyl N, Schulz M, Tudhope AW, Villalba R, Wanner H, Wolff E, Xoplaki E (2009) High-resolution palaeoclimatology of the last millennium: a review of current status and future prospects. The Holocene 19:3–49

Kinter JL, Miyakoda K, Yang S (2002) Recent changes in the connection from the Asian monsoon to ENSO. J Clim 15:1203–1214

Kitoh A (2007) Variability of the Indian monsoon-ENSO relationship in a 1000-year MRI-CGCM2.2 simulation. Nat Hazards 42:261–272

Krishna Kumar K, Rajagopalan B, Cane MA (1999) On the weakening relationship between the Indian monsoon and ENSO. Science 284:2156–2159

Krishna Kumar K, Rajagopalan B, Hoerling M, Bates G, Cane M (2006) Unraveling the mystery of Indian monsoon failure during El Niño. Science 314:115–119

Krishnamurthy V, Goswami BN (2000) Indian monsoon-ENSO relationship on interdecadal timescale. J Clim 13:579–595

Krishnamurthy V, Shukla J (2000) Intraseasonal and interannual variability of rainfall over India. J Clim 13:4366–4377

Krishnamurthy V, Shukla J (2007) Intraseasonal and seasonally persisting patterns of Indian monsoon rainfall. J Clim 20:3–20

Krishnamurti TN, Cocke S, Pasch R, Low-Nam S (1983) Precipitation estimates from raingauge and satellite observations, summer MONEX. FSU Report 83-7, Department of Meteorology, Florida State University, Tallahassee

Krishnan R, Zhang C, Sugi M (2000) Dynamics of breaks in the Indian summer monsoon. J Atmos Sci 57:1354–1372

Lawrence DM, Webster PJ (2001) Interannual variations of the intraseasonal oscillation in the South Asian summer monsoon region. J Clim 14:2910–2922

Li J, Xie S-P, Cook ER, Huang G, D'Arrigo R, Liu F, Ma J, Zheng X-T (2011) Interdecadal modulation of El Niño amplitude during the past millennium. Nat Clim Chang 1:114–118

Lim Y-K, Kim K-Y (2007) ENSO Impact on the space-time evolution of the regional Asian summer monsoons. J Clim 20:2397–2415

Maraun D, Kurths J (2005) Epochs of phase coherence between El Niño/Southern Oscillation and Indian monsoon. Geophys Res Lett 32:L15709

Mohanty UC, Raju PVS, Bhatla R (2005) A study on climatological features of the Asian summer monsoon: dynamic, energetics and variability. Pure Appl Geophys 16:1511–1541

Mooley DA, Shukla J (1987) Variability and forecasting of the summer monsoon rainfall over India. In: Chang C-P, Krishnamurti TN (eds) Monsoon meteorology. Clarendon Press, Oxford, pp 26–59

Nash DJ, Endfield GH (2002) A 19th century climate chronology for the Kalahari region of central southern Africa derived from missionary correspondence. Int J Climatol 22:821–841

Nash DJ, Endfield GH (2008) 'Splendid rains have fallen': links between El Niño and rainfall variability in the Kalihari, 1840–1900. Climatic Change 86:257–290

Nash DJ, Grab SW (2010) "A sky of brass and burning winds": documentary evidence of rainfall variability in the Kingdom of Lesotho, Southern Africa, 1824–1900. Climatic Change 101:617–653

Nicholls J (1819) Remarks on the temperature of the Island of Bombay during the years 1803 and 1804. Trans Lit Soc Bombay 1:6–11

Nicholson SE, Klotter D, Dezfuli AK (2012) Spatial reconstruction of semi-quantitative precipitation fields over Africa during the nineteenth century from documentary evidence and gauge data. Quatern Res 78:13–23

Ortlieb L (2000) The documented historical record of El Niño events in Peru: an update of the Quinn and Neal record (Sixteenth through Nineteenth Centuries. In: Diaz HE, Markgraf V (eds) El Niño and the Southern Oscillation: multiscale variability and global and regional impacts. Cambridge University Press, Cambridge, pp 207–296

Pant GB, Rupa Kumar K, Sontakke NA, Borgaonkar HP (1993) Climate variability over India on century and longer time scales. In: Keshavamurty RN, Joshi PC (eds) Advances in tropical meteorology. Tata McGraw-Hill Publishing Company, New Delhi, pp 71–84

Parthasarathy B, Sontakke NA, Monot AA, Kothwale DR (1987) Droughts/floods in the summer monsoon season over different meteorological subdivisions of India for the period 1871–1984. J Climatol 7:57–70

Parthasarathy B, Rupa Kumar K, Munit AA (1993) Homogenous Indian monsoon rainfall: variability and prediction. Proc Indian Acad Sci (Earth and Planetary Science) 102:121–155

Parthasarathy B, Munot AA, Kothawale DR (1994) All India monthly and seasonal rainfall series 1871–1993. Theoret Appl Climatol 45:217–224

Quinn WH, Neal VT (1992) The historical records of El Niño events. In: Bradley RS, Jones PD (eds) Climate since A.D. 1500. Routledge, London, pp 623–648

Ram S (2011) On the recent strengthening of the relationship between Palmer Drought Severity Index and teak (Tectona grandis L.) tree-ring width chronology from Maharashtra, India: a case study. Quatern Int 248:92–97

Robertson A, Overpeck J, Rind D, Mosely-Thompson E, Zielinski G, Lean J, Koch D, Penner J, Tegen I, Healy R (2001) Hypothesized climate forcing time series for the last 500 years. J Geophys Res 106:14783–14803

Robinson LF, de la Peña VH, Kushnir Y (2008) Detecting shifts in correlation and variability with application to ENSO-monsoon rainfall relationships. Theoret Appl Climatol 94:215–224

Saji NH, Goswami BN, Vinayachandran PH, Yamagata T (1999) A dipole mode in the tropical Indian Ocean. Nature 401:360–363

Sontakke NA, Singh N (1996) Longest instrumental regional and all-India summer monsoon rainfall series using optimum observations: reconstruction and update. The Holocene 6:315–331

Sontakke NA, Pant GB, Singh N (1993) Construction of All-India Summer Monsoon rainfall series for the period 1844–1991. J Clim 6:1807–1811

Sontakke NA, Singh N, Singh HN (2008) Instrumental period rainfall series of the Indian region (AD 1813–2005): revised reconstruction, update and analysis. The Holocene 18:1055–1066

Srinivasan J, Gadgil S, Webster PJ (1993) Meridional propagation of large-scale monsoon convective zones. Meteorol Atmos Phys 52:15–35

Sykes WH (1835) On the atmospheric tides and meteorology of Dukhun (Deccan), East Indies. Philos Trans R Soc 125:161–220

Torrence C, Webster PJ (1998) The annual cycle of persistence in the El Niño/south oscillation. Q J R Meteorol Soc 124:1985–2004

Walsh RPD, Glaser R, Militzer S (1999) The climate of Madras during the eighteenth century. Int J Climatol 19:1025–1104

Whetton P, Rutherfurd I (1994) Historical ENSO teleconnections in the eastern Hemisphere. Clim Chang 28:221–253

Xavier PK, Marzin C, Goswami BN (2007) An objective definition of the Indian summer monsoon season and a new perspective on the ENSO–monsoon relationship. Q J R Meteorol Soc 133:749–764

Yoon J-H, Chen T-C (2005) Water vapour budget of the Indian monsoon depression. Tellus 57A:770–782
Acknowledgments
GCDA was in receipt of a University of Brighton doctoral research scholarship whilst the archive-based research for this paper was undertaken. The Dudley Stamp Memorial Fund (administered by the Royal Geographical Society), the Royal Historical Society and the Indian National Trust for Arts and Cultural Heritage (INTACH) UK Trust Grants provided funding to GCDA to support visits to the Houghton Library, Harvard, USA and the Archives of the Government of Maharashtra, Mumbai, India. Our thanks go to the two anonymous reviewers whose comments greatly improved this paper.
About this article
Cite this article
Adamson, G.C.D., Nash, D.J. Documentary reconstruction of monsoon rainfall variability over western India, 1781–1860. Clim Dyn 42, 749–769 (2014). https://doi.org/10.1007/s00382-013-1825-6
Received:

Accepted:

Published:

Issue Date:
Keywords
Summer monsoon

Documentary reconstruction

ENSO

Western India