Abstract
In 2010 eastern Australia received its highest springtime (September–November) rainfall since 1900. Based on historical relationships with sea surface temperatures (SST) and other climate indices, this record rainfall in 2010 was shown to be largely commensurate with the occurrence of a very strong La Niña event and an extreme positive excursion of the SAM. The pattern and magnitude of the tropical SST anomalies in austral spring 2010 were diagnosed to be nearly perfect to produce high rainfall across eastern Australia. Key aspects of this SST pattern were the strong cold anomaly in the central equatorial Pacific, and the strong warm anomalies in the eastern Indian Ocean and the far western Pacific to the north of Australia. Although the recent upward trend in SSTs in the western Pacific/eastern Indian Ocean warm pool accounted for about 50 % of the SST anomaly surrounding northern Australia in 2010, the contribution by the warming trend in these SSTs to the Australian rainfall anomaly in 2010 was assessed to be relatively modest. The strong positive swing in SAM was estimated to have accounted for upwards of 40 % of the regional anomaly along the central east coastal region and about 10 % of the area mean anomaly across eastern Australia. This contribution by the SAM suggests that a significant portion of the rainfall in 2010 may not have been seasonally predictable. However, predictability arising from the promotion of high SAM by the extreme La Nina event can not be ruled out.
Access options
Buy single article
Instant access to the full article PDF.
USD 39.95
Price includes VAT (USA)
Tax calculation will be finalised during checkout.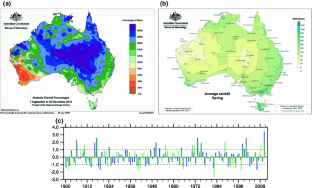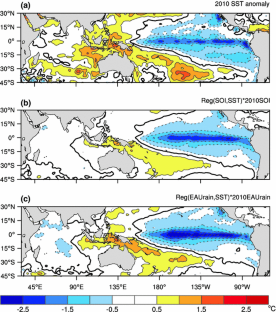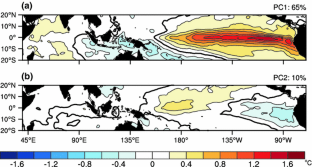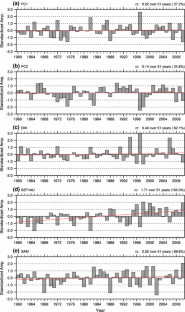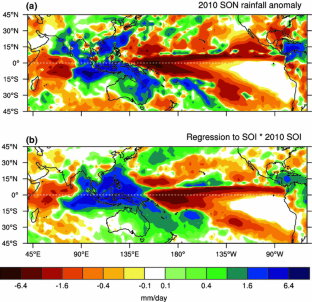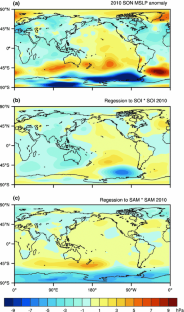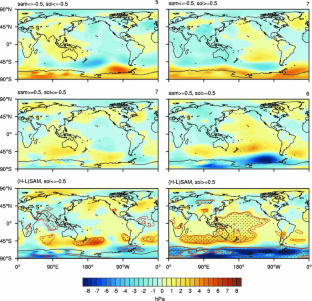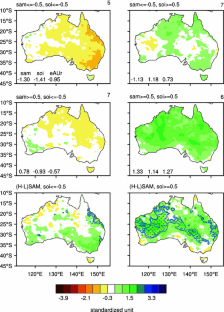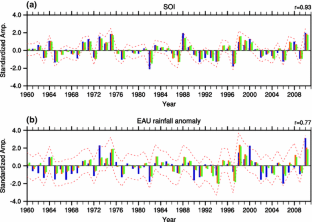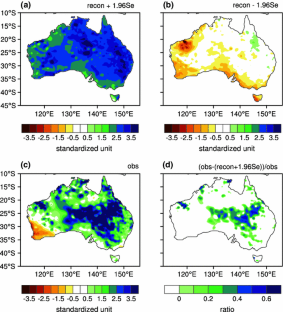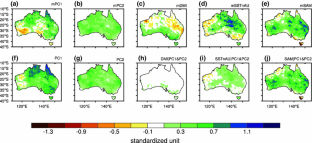 References
An S-I, Kim JW, Im S-H, Kim B-M, Park J-H (2011) Recent and future sea surface temperature trends in tropical Pacific warm pool and cold tongue regions. Clim Dyn. doi:10.1007/s00382-011-1129-7

Ashok K, Guan Z, Yamagata T (2003) Influence of the Indian Ocean Dipole on the Australian winter rainfall. Geophys Res Lett 30(15):1821. doi:10.1029/2003GL017926

Ashok K, Behera SK, Rao SA, Weng H (2007a) El Niño Modoki and its possible teleconnection. J Geophys Res 112:C1107. doi:10.1029/2006JC003798

Ashok K, Nakamura H, Yamagata T (2007b) Impacts of ENSO and Indian Ocean Dipole events on the southern hemisphere storm track activity during austral winter. J Clim 20(13):3147–3163. doi:10.1175/JCLI4155.1

Ashok K, Sabin TP, Swapna P, Murtugudde RG (2012) Is a global warming signature emerging in the Tropical Pacific? Geophys Res Lett 39:L02701, 5. doi:10.1029/2011GL050232

Cai W, Rensch P, Cowan T, Hendon HH (2011) Teleconnection pathways for ENSO and the IOD and the mechanism for impacts on Australian rainfall. J Clim. doi:10.1175/2011JCLI4129.1

Drosdowsky W, Chambers L (2001) Near-global sea surface temperature anomalies as predictors of Australian seasonal rainfall. J Clim 14:1677–1687

Evans JP, Boyer-Souchet I (2012) Local sea surface temperatures add to extreme precipitation in northeast Australia during La Niña. Geophys Res Lett 39:L10803. doi:10.1029/2012GL052014

Fogt RL, Bromwich DH (2006) Decadal variability of the ENSO teleconnection to the high-latitude South Pacific governed by coupling with the southern annular mode. J Clim 19:979–997

Fogt RL, Perlwitz J, Monaghan AJ, Bromwich DH, Jones JM, Marshall GJ (2009) Historical SAM variability. Part II: twentieth-century variability and trends from reconstructions, observations, and the IPCC AR4 models. J Clim 22:5346–5365. doi:10.1175/2009JCLI2786.1

Fogt RL, Bromwich DH, Hines KM (2011) Understanding the SAM influence on the South Pacific ENSO teleconnection. Clim Dyn 36:1555–1576

Gallant AJE, Karoly DJ (2009) Atypical influence of the 2007 La Niña on rainfall and temperature in southeastern Australia. Geophys Res Lett 36(L14707). doi:10.1029/2009GL039026

Hendon HH (2003) Indonesian rainfall variability: impacts of ENSO and local air-sea interaction. J Clim 16:1775–1790

Hendon HH, Thompson DWJ, Wheeler MC (2007) Australian rainfall and temperature variations associated with the Southern Hemisphere Annular Mode. J Clim 20:2452–2467

Hendon HH, Lim E-P, Liu G (2012) The role of air-sea interaction for prediction of Australian summer monsoon rainfall. J Clim 25:1278–1290

Hoerling MP, Kumar A (2003) The perfect ocean for drought. Science 299:691–694

Hoerling MP, Kumar A, Zhong M (1997) El Niño, La Niña, and the nonlinearity of their teleconnections. J Clim 10:1769–1786

Hurrell JW, Hack JJ, Shea D, Caron JM, Rosinski J (2008) A new sea surface temperature and sea ice boundary data set for the community atmosphere model. J Clim 21:5145–5153. doi:10.1175/2008JCLI2292.1

Jones DA, Wang W, Fawcett R (2009) High-quality spatial climate data-sets for Australia. Aust Meteorol Oceanogr J 58:233–248

Kalnay E, Kanamitsu M, Kistler R, Collins W, Deaven D, Gandin L, Iredell M, Saha S, White G, Woollen J, Zhu Y, Chelliah M, Ebisuzaki W, Higgins W, Janowiak J, Mo KC, Ropelewski C, Wang J, Leetmaa A, Reynolds R, Jenne R, Joseph D (1996) The NMC/NCAR 40-year reanalysis project. Bull Am Meteor Soc 77:437–471

Kang SM, Polvani LM, Fyfe J, Sigmond M (2011) Impact of polar ozone depletion on subtropical precipitation. Science. doi:10.1126/science.1202131

Karoly DJ (1989) Southern Hemisphere circulation features associated with El Niño–Southern Oscillation events. J Clim 2:1239–1251

L'Heureux ML, Thompson DWJ (2006) Observed relationships between the El Niño–Southern Oscillation and the extratropical zonal-mean circulation. J Clim 19:276–287

Lim E-P, Hendon HH, Hudson D, Wang G, Alves O (2009) Dynamical forecasts of inter-El Nino variations of tropical SST and Australian springtime rainfall. Mon Weather Rev 137:3796–3810

Lim E-P, Hendon HH, Anderson DLT, Charles A, Alves O (2011) Dynamical, statistical-dynamical, and multi-model forecasts of Australian spring season rainfall. Mon Weather Rev 139:958–975. doi:10.1175/2010MWR3399.1

Lim E-P, Hendon HH, Rashid H (2013) Seasonal predictability of the southern annular mode due to its association with ENSO. J Clim (in press)

Marshall GJ (2003) Trends in the Southern Annular Mode from observations and reanalyses. J Clim 16:4134–4143

McBride JL, Nicholls N (1983) Seasonal relationships between Australian rainfall and the Southern Oscillation. Mon Weather Rev 111:1998–2004

Meyers GA, McIntosh PC, Pigot L, Pook MJ (2007) The years of El Nino, La Nina and interactions with the tropical Indian Ocean. J Clim 20:2872–2880

Murphy BF, Timbal B (2008) A review of recent climate variability and climate change in southeastern Australia. Int J Climatol 28:859–879

Nicholls N (1984a) Seasonal relationships between Australian rainfall and North Australian sea surface temperature. Extended Abstracts, Conference on Australian Rainfall Variability, 71–73, Arkaroola, 6–8 August 1984, Australian Academy of Science

Nicholls N (1984b) The Southern oscillation and Indonesian seas surface temperature. Mon Weather Rev 112:424–432

Nicholls N (1989) Sea surface temperature and Australian winter rainfall. J Clim 2:965–973

Nicholls N (2009) Local and remote causes of the southern Australian autumn-winter rainfall decline, 1958–2007. Clim Dyn 34:835–845

Nicholls N (2011) What caused the eastern Australia heavy rains and floods of 2010/11? Bull Aust Meteorol Oceanogr Soc 24:33–34

North GR, Bell TL, Cahalan RF, Moeng FJ (1982) Sampling errors in the estimation of empirical orthogonal functions. Mon Weather Rev 110:699–706

Power S, Haylock M, Colman R, Wang X (2006) The predictability of interdecadal changes in ENSO and ENSO teleconnections. J Clim 8:2161–2180

Rayner NA, Parker DE, Horton EB, Folland CK, Alexander LV, Rowell DP, Kent EC, Kaplan A (2003) Global analyses of sea surface temperature, sea ice, and night marine airtemperature since the late nineteenth century. J Geophys Res 108:4407. doi:10.1029/2002JD002670

Reynolds RW, Rayner NA, Smith TM, Stokes DC, Wang W (2002) An improved in situ and satellite SST analysis for climate. J Clim 15:1609–1625

Risbey JS, Pook MJ, McIntosh PC, Wheeler MC, Hendon HH (2009) On the remote drivers of rainfall variability in Australia. Mon Weather Rev. doi:10.1175/2009MWR2861.1

Saji NH, Goswami BN, Vinayachandran PN, Yamagata T (1999) A dipole mode in the tropical Indian Ocean. Nature 401:360–363

Shinoda T, Hendon HH, Alexander MA (2004) Surface and subsurface dipole variability in the Indian Ocean and its relation to ENSO. Deep Sea Res I 51:619–635

Solomon A, Newman M (2012) Reconciling disparate 20th Century Indo-Pacific ocean temperature trends in the instrumental record. Nat Clim Change. doi:10.1038/NCLIMATE1591

Thompson DWJ, Wallace JM (2000) Annular modes in the extratropical circulation. Part I: month-to-month variability. J Clim 13:1000–1016

Timbal B, Hendon HH (2011) The role of tropical modes of variability in recent rainfall deficits across the Murray-Darling Basin. Water Resour Res 47:W00G09. doi:10.1029/2010WR009834

Trenberth KE (2012) Framing the way to relate climate extremes to climate change. Clim Change. doi:10.1007/s10584-012-0441-5

Wang G, Hendon HH (2007) Sensitivity of Australian rainfall to inter-El Nino variations. J Clim 20:4211–4226

Weisberg S (1985) Applied linear regression, 2nd edn. Wiley, New York, p 324

Xie P, Arkin PA (1996) Analysis of global monthly precipitation using gauge observations, satellite estimates, and numerical model predictions. J Clim 9:840–858

Zhao M, Hendon HH (2009) Representation and prediction of the Indian Ocean dipole in the POAMA seasonal forecast model. Q J Roy Meteorol Soc 135:337–352
Acknowledgments
This research was supported in part by the South Eastern Australian Climate Initiative (SEACI; http://www.seaci.org.au) and the Managing Climate Variability Program (http://www.managingclimate.gov.au/). Comments by N. Nicholls, B. Timbal, J. J. Luo, G. Wang, and an anonymous reviewer on earlier versions of the manuscript are acknowledged.
About this article
Cite this article
Hendon, H.H., Lim, EP., Arblaster, J.M. et al. Causes and predictability of the record wet east Australian spring 2010. Clim Dyn 42, 1155–1174 (2014). https://doi.org/10.1007/s00382-013-1700-5
Received:

Accepted:

Published:

Issue Date:
Keywords
La Niña 2010

Australian floods 2010

Southern Annular Mode