Abstract
A fully coupled regional ocean-atmosphere model system that consists of the regional spectral model and the regional ocean modeling system for atmosphere and ocean components, respectively, is applied to downscale the present climate (1985–1994) over California from a global simulation of the Community Climate System Model 3.0 (CCSM3). The horizontal resolution of the regional coupled modeling system is 10 km, while that of the CCSM3 is at a spectral truncation of T85 (approximately 1.4°). The effects of the coupling along the California coast in the boreal summer and winter are highlighted. Evaluation of the sea surface temperature (SST) and 2-m air temperature climatology shows that alleviation of the warm bias along the California coast in the global model output is clear in the regional coupled model run. The 10-m wind is also improved by reducing the northwesterly winds along the coast. The higher resolution coupling effect on the temperature and specific humidity is the largest near the surface, while the significant impact on the wind magnitude appears at a height of approximately 850-hPa heights. The frequency of the Catalina Eddy and its duration are increased by more than 60 % in the coupled downscaling, which is attributed to enhanced offshore sea-breeze. Our study indicates that coupling is vital to regional climate downscaling of mesoscale phenomena over coastal areas.
This is a preview of subscription content,
to check access.
Access this article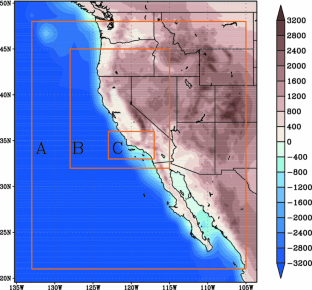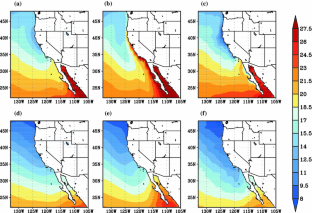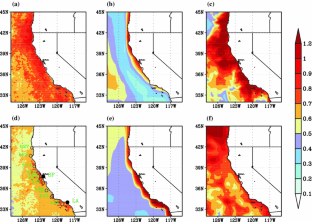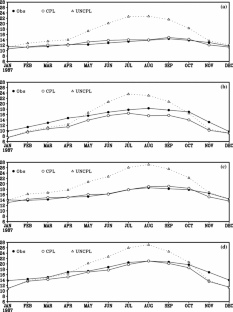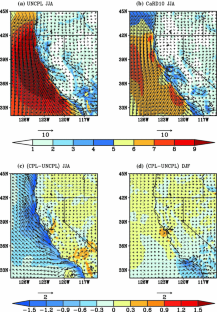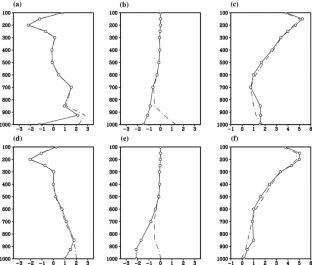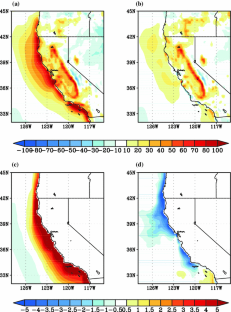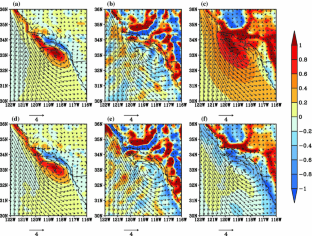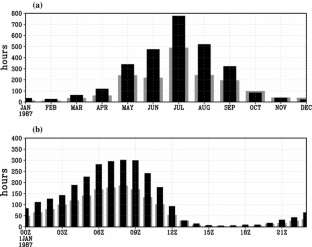 References
Bosart L (1983) Analysis of a California Catalina eddy event. Mon Weather Rev 111:1619–1633

Carson TN (1998) Mid-latitude weather system. Am Meteor Soc

Chelton DB, Xie S (2010) Coupled ocean-atmosphere interaction at oceanic mesoscales. Oceanogr Mag 23:52–69

Giorgi F, Brodeur CS, Bates GT (1994) Regional climate change scenarios over the United States produced with a nested regional climate model: spatial and seasonal characteristics. J Clim 7:375–399

Haidvogel DB, Arango HG, Hedstrom K, Beckmann A, MalanotteRizzoli P, Shchepetkin AF (2000) Model evaluation experiments in the North Atlantic Basin: simulations in nonlinear terrain-following coordinates. Dyn Atmos Oceans 32:239–281

Held IM, Soden BJ (2006) Robust responses of the hydrological cycle to global warming. J Clim 19:5686–5699

Ho C, Park T, Jun S, Lee M, Park C, Kim J, Lee S, Hong Y, Song C, Lee J (2011) A projection of extreme climate events in the 21st century over east Asia using the community climate system model 3. Asia-Pac J Atmos Sci 47(4):329–344

Hong S, Pan H (1996) Nonlocal boundary layer vertical diffusion in a medium-range forecast model. Mon Weather Rev 124:2322–2339

Hong S, Pan H (2000) Impact of soil moisture anomalies on seasonal, summertime circulation over North America in a regional climate model. J Geophys Res 105(D24):29625–29634

Hong S, Noh Y, Dudhia J (2006) A new vertical diffusion package with an explicit treatment of entrainment processes. Mon Weather Rev 134:2318–2341

Hong S, Moon NK, Lim KS, Kim JW (2010) Future climatic change scenarios over Korea using a multi-nested downscaling system: a pilot study. Asia-Pacific J Atmos Sci 46:425–435

Juang HH, Kanamitsu M (1994) The NMC nested regional spectral model. Mon Weather Rev 122:3–26

Juang HH, Hong S, Kanamitsu M (1997) The NCEP regional spectral model: an update. Bull Am Meteor Soc 78:2125–2143

Kalnay E et al (1996) The NCEP/NCAR 40-year reanalysis project. Bull Am Meteo Soc 77:437–471

Kanamaru H, Kanamitsu M (2008) Dynamical downscaling of global analysis and simulation over the northern hemisphere. Mon Weather Rev 136:2796–2803

Kanamitsu M, Kanamaru H (2007) Fifty-seven-year California reanalysis downscaling at 10 km (CaRD10). Part I: system detail and validation with observations. J Clim 20:5553–5571

Kanamitsu M, Yoshimura K, Yhang Y, Hong S (2010) Errors of interannual variability and multi-decadal trend in dynamical regional climate downscaling and its corrections. J Geophys Res 115:D17115

Kanamitsu M, Yulaeva E, Li H, Hong S (2013) Catalina Eddy as revealed by the historical downscaling of reanalysis. Asia-Pac J Atmos Sci (in press)

Koenigk T, Doscher R, Nikulin G (2011) Arctic future scenario experiments with a coupled regional climate model. Tellas 63A:69–86

Leung LR, Qian Y, Bian X, Washington WM, Han J, Roads J (2004) Mid-century ensemble regional climate change scenarios for the western United States. Clim Change 62(1–3):75–113

Li H, Kanamitsu M, Hong S (2012) California reanalysis downscaling at 10 km using an ocean-atmosphere coupled regional model system. J Geophys Res 117:D12118

Marchesiello P, McWilliams JC, Shchepetkin A (2003) Equilibrium structure and dynamics of the California current system. J Phys Oceanogr 33:753–783

Mass CF, Albright MD (1989) Origin of the Catalina Eddy. Mon Weather Rev 117:2406–2436

Mass CF, Steenburg WJ (2000) An observational and numerical study of an orographically trapped wind reversal along the west coast of the United States. Mon Weather Rev 128:2363–2397

Min H, Jhun J (2010) The change in the east asian summer monsoon simulated by the MIROC3.2 high-resolution coupled model under global warming scenarios. Asia-Pac J Atmos Sci 46:73–88

Murphy JM (1995) Transient response of the Hadley centre coupled ocean-atmosphere model to increasing carbon dioxide. Part 1: control climate and flux adjustment. J Clim 8:36–56

Seo H, Xie S (2011) Response and impact of equatorial ocean dynamics and tropical instability waves in the tropical Atlantic under global warming: a regional coupled downscaling study. J Geophys Res 116:C03026

Shchepetkin AF, McWilliams JC (2005) The regional oceanic modeling system (ROMS): a split-explicit, free-surface, topography-following-coordinate ocean model. Ocean Modell 9:347–404

Stouffer RJ, Manabe S (1999) Response of a coupled ocean-atmosphere model to increasing atmospheric carbon dioxide: sensitivity to the rate of increase. J Clim 12:2224–2237

Ulrickson BL, Hoffmaster JS, Robinson J, Vimont D (1995) A numerical modeling study of the Catalina Eddy. Mon Weather Rev 123:1364–1373

Vecchi GA, Soden BJ (2007) Global warming and the weakening of the tropical circulation. J Clim 20:4316–4340

Wang Y, Leung LR, McGregor JL, Lee D, Wang W, Ding Y, Kimura F (2004) Regional climate modeling: progress, challenges and prospects. J Meteor Soc Jpn 82:1599–1628

Washington WM, Meehl GA (1989) Climate sensitivity due to increased CO2: experiment with a coupled atmosphere and ocean general circulation model. Clim Dyn 4:1–38

Xie S et al (2007) A regional ocean-atmosphere model for eastern pacific climate: toward reducing tropical biases. J Clim 20:1504–1522

Yoshimura K, Kanamitsu M (2009) Specification of external forcing for regional model integrations. Mon Weather Rev 137:1409–1421

Zhao Z, Chen S, Kleeman MJ, Mahmud A, Tyree M, Cayan D (2011) The impact of climate change on air quality–related meteorological conditions in California. Part I: present time simulation analysis. J Clim 24:3344–3361

Zou L, Zhou T (2011) Sensitivity of a regional ocean-atmosphere coupled model to convection parameterization over western North Pacific. J Geophys Res 116:D18106
Acknowledgments
Funding was provided by NOAA (ECPC: NA17RJ1231), the NSF (OCE-0960770), the California Energy Commission PIER Program, the Korea Meteorological Administration Research and Development Program under Grant CATER 2012-3084, and by the Basic Science Research Program through the National Research Foundation of Korea (NRF) funded by the Ministry of Education, Science, and Technology (2012-0000158). The views expressed herein are those of the authors and do not necessarily reflect the views of the NOAA. Supercomputing resources were provided by COMPAS at SIO and TACC via XSEDE. Two anonymous reviewers helped to improve the manuscript.
About this article
Cite this article
Li, H., Kanamitsu, M., Hong, SY. et al. A high-resolution ocean-atmosphere coupled downscaling of the present climate over California. Clim Dyn 42, 701–714 (2014). https://doi.org/10.1007/s00382-013-1670-7
Received:

Accepted:

Published:

Issue Date:

DOI: https://doi.org/10.1007/s00382-013-1670-7
Keywords