Abstract
Oceanic vertical mixing is known to influence the state of the equatorial ocean which affects the climate system, including the amplitude of El Niño/Southern Oscillation (ENSO). Recent measurements of ocean currents at high vertical resolution capture numerous small vertical scale structures (SVSs) within and above the equatorial thermocline that contribute significantly to vertical mixing but which are not sufficiently resolved by coarse resolution ocean models. We investigate the impact of the vertical mixing induced by the SVSs on the mean state and interannual variability in the tropical Pacific by using a coupled general circulation model. The vertical mixing induced by the SVSs is represented as an elevated vertical diffusivity from the surface down to the 20 °C isotherm depth, a proxy for the depth of the thermocline. We investigate different forms for the elevated mixing. It is found that the SVS-induced mixing strongly affect the mean state of the ocean leading to a warming of sea surface temperature (SST) and associated deepening and sharpening of the thermocline in the eastern equatorial Pacific. We find that the SST warming induced by the elevated mixing is further strengthened through the Bjerknes feedback and SST-shortwave flux feedback. We also find a reduction in the number of large amplitude ENSO events and in certain cases an increase in the skewness of ENSO.
Access options
Buy single article
Instant access to the full article PDF.
USD 39.95
Price includes VAT (USA)
Tax calculation will be finalised during checkout.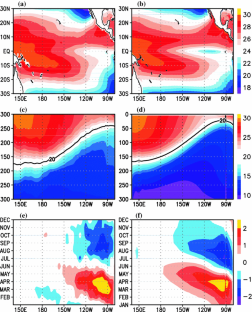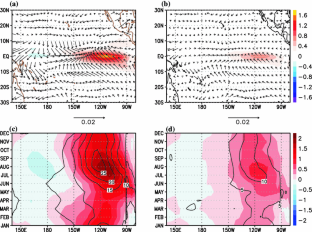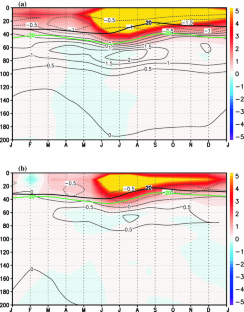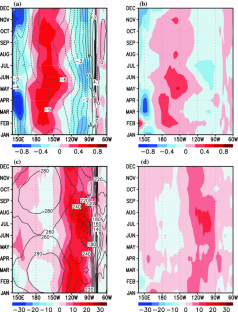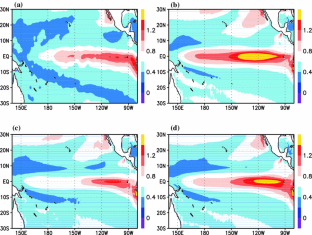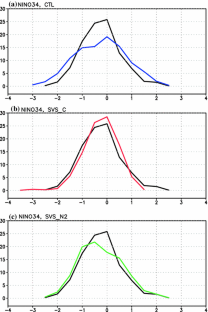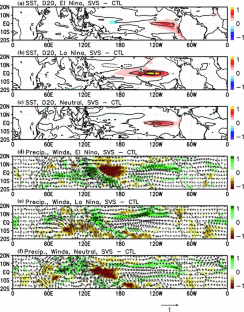 References
An SI, Ham YG, Kug JS, Jin FF, Kang IS (2005) El Niño-La Niña asymmetry in the coupled model intercomparison project simulations. J Clim 18:2617–2627

Bjerknes J (1969) Atmospheric teleconnections from the equatorial Pacific. Mon Wea Rev 97:163–172

Blanke B, Delecluse P (1993) Variability of the tropical Atlantic Ocean simulated by a general circulation model with two different mixed layer physics. J Phys Oceanogr 23:1363–1388

Burgers G, Stephenson DB (1999) The normality of ENSO. Geophys Res Lett 26:1027–1030

Gregg MC, Sanford B, Winkel DP (2003) Reduced mixing from the breaking of internal waves in equatorial waters. Nature 422:513–515

Johnson GC, McPhaden MJ, Firing E (2001) Equatorial Pacific ocean horizontal velocity, divergence, and upwelling. J Phys Oceanogr 31:839–849

Klein SA, Hartman DL (1993) The seasonal cycle of low stratiform clouds. J Clim 6:1587–1606

Levitus S (1982) Climatological Atlas of the World Ocean. NOAA Prof. Paper 13 173 pp

Lin JL (2007) The double-ITCZ problem in IPCC AR4 coupled CGMs: Ocean-Atmosphere feedback analysis. J Clim 20:4497–4525

Locarnini, RA, Mishonov AV, Antonov JI, Boyer TP, Garcia HE (2006) World Ocean Atlas 2005, Volume 1: Temperature. In: S Levitus (Eds) NOAA Atlas NESDIS 61 U.S. Government Printing Office Washington D.C. 182 pp

Luo JJ, Masson S, Roeckner E, Madec G, Yamagata T (2005) Reducing climatology bias in an ocean-atmosphere CGCM with improved coupling physics. J Clim 18:2344–2360

Madec G (2006) NEMO ocean engine. Note du Pole de Modelisation Institut Pierre-Simon Laplace (IPSL)

Masson S, Terray P, Madec G, Luo JJ, Yamagata T, Takahashi K (2012) Impact of intra-daily SST variability on ENSO characteristics in a coupled model. Clim Dyn 39:681–707. doi:10.1007/s00382-011-1247-2

Meehl GA, Gent PR, Arblaster JM, Otto-Bliesner BL, Brandy EC, Craig A (2001) Factors that affect the amplitude of El Niño in global coupled climate models. Clim Dyn 17:515–526

Natarov A, Richards KJ (2009) Three-dimensional instabilities of oscillatory equatorial zonal shear flows. J Fluid Mech 623:59–74

Phillips OM (1972) Turbulence in a strongly stratified fluid - is it unstable? Deep Sea Res 19:79–81

Richards KJ, Xie SP, Miyama T (2009) Vertical mixing in the ocean and its impact on the coupled ocean-atmosphere system in the eastern tropical Pacific. J Clim 22:3703–3719

Richards KJ, Kashino Y, Natarov A, Firing E (2012) Mixing in the western equatorial Pacific and its modulation by ENSO. Geophys Res Lett 39:L02604. doi:10.1029/2011GL050439

Roeckner E et al. (2003) The atmospheric general circulation model ECHAM5, Part I: Model description. Max-Planck-Institut für Meteorologie Rep 349 127 pp

Sasaki W, Richards KJ, Luo JJ (2012) Role of vertical mixing originating from small vertical scale structures above and within the equatorial thermocline in an OGCM. Ocean Model 57–58:29–42. doi:10.1016/j.ocemod.2012.09.002

Tiedtke M (1989) A comprehensive mass flux scheme for cumulus parameterization in large-scale models. Mon Wea Rev 117:1779–1800

Valcke S, Caubel A, Vogelsang R, Declat D (2004) OASIS3 ocean atmosphere sea ice soil user's guide. Technical report TR/CMGC/04/68 CERFACS Toulouse France
Acknowledgments
The authors would like to acknowledge Dr. P. Sandery for the English correction. This study was supported by the Japan Science and Technology Agency/ Japan International Cooperation Agency through Science and Technology Research Partnership for Sustainable Development (SATREPS). All experiments were performed on the Earth Simulator 2.
About this article
Cite this article
Sasaki, W., Richards, K.J. & Luo, JJ. Impact of vertical mixing induced by small vertical scale structures above and within the equatorial thermocline on the tropical Pacific in a CGCM. Clim Dyn 41, 443–453 (2013). https://doi.org/10.1007/s00382-012-1593-8
Received:

Accepted:

Published:

Issue Date:
Keywords
Small vertical scale structures

Vertical mixing

Coupled general circulation model

ENSO