Abstract
This study compares the synoptic-dynamic relationship between two phases of the Pacific/North American (PNA) pattern and winter precipitation isotopes at 73 sites across the contiguous USA. We use the spatial pattern of isotope slope—the rate of changes in precipitation isotope ratios with distance—to identify features in the seasonal precipitation isotope fields related to climatic patterns, PNA positive and PNA negative. Our results show relationships between zones of high isotope slopes and the spatial position of the polar jet stream and juxtaposition of air masses associated with the PNA pattern. During a positive PNA winter, zones of high isotope slope in the eastern USA shift southward. This change is coincident with a southward displacement of the polar jet stream in this region, which leads to a greater frequency of polar air masses and 18O-depleted isotope values of precipitation in the region. In the western USA, zones of high slope shift eastward during the positive PNA winter, associated with more frequent penetration of tropical air masses that bring 18O-enriched precipitation to the region. Differences in δ18O/temperature relationships between the PNA-positive and -negative winters and contrasting δ18O/temperature behaviors in the eastern and western USA provide support for the role of variation in moisture source and transport as a control on the isotopic patterns. These findings highlight the importance of synoptic climate driven by PNA pattern in determining the spatial patterns of precipitation isotopes and provide constraints on paleo-water isotope interpretation and modern isotope hydrological processes.
This is a preview of subscription content,
to check access.
Access this article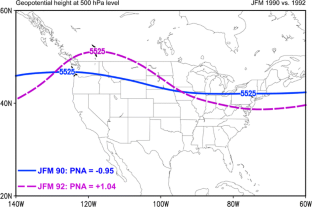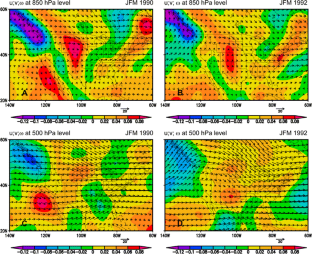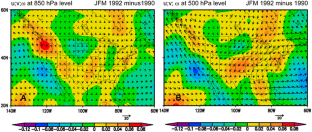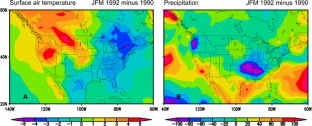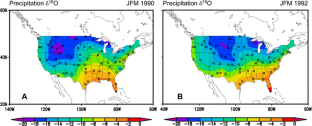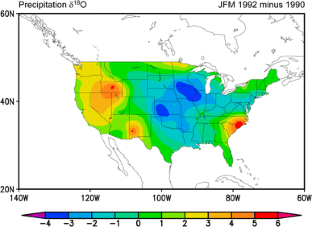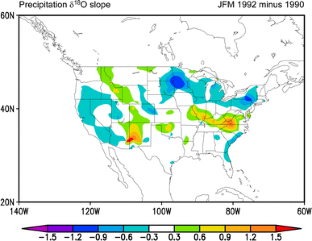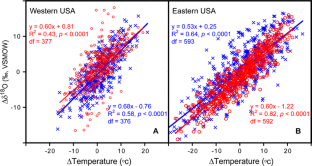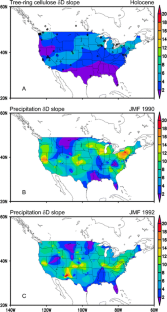 Similar content being viewed by others
References
Amundson RG, Chadwick OA, Kendall C, Wang Y, DeNiro MJ (1996) Isotopic evidence for shifts in atmospheric circulation patterns during the late Quaternary in mid-North America. Geology 24:23–26

Anderson L, Abbott MB, Finney BP, Burns SJ (2005) Regional atmospheric circulation change in the North Pacific during the Holocene inferred from lacustrine carbonate oxygen isotopes, Yukon Territory, Canada. Quatern Res 64:21–35

Asmerom Y, Polyak VJ, Burns SJ (2010) Variable winter moisture in the southwestern United States linked to rapid glacial climate shifts. Nat Geosci 3:114–117

Baldini LM, McDermott F, Foley AM, Baldini JUL (2008) Spatial variability in the European winter precipitation δ18O-NAO relationship: implications for reconstruction NAO-mode climate variability in the Holocene. Geophys Res Lett 35:L04709

Barnston A, Livezey R (1987) Classification, seasonality and persistence of low-frequency atmospheric circulation patterns. Mon Weather Rev 115:1083–1126

Berkelhammer MB, Stott LD (2008) Recent and dramatic changes in Pacific storm trajectories recorded in d 18 O from Bristlecone Pine tree ring cellulose. Geochem Geophys Geosyst 9

Berkelhammer M, Stott L, Yoshimura K, Johnson K, Sinha A (2011) Synoptic and mesoscale controls on the isotopic composition of precipitation in the western United States. Clim Dyn:1–22

Birks SJ, Edwards TWD (2009) Atmospheric circulation controls on precipitation isotope–climate relations in western Canada. Tellus B 61:566–576

Bowen GJ (2008) Spatial analysis of the intra-annual variation of precipitation isotope ratios and its climatological corollaries. J Geophys Res 113:D05113

Bowen GJ, Revenaugh J (2003) Interpolating the isotopic composition of modern meteoric precipitation. Water Resour Res 39:1299

Buhay WM, Edwards TWD (1995) Climate in southwestern Ontario, Canada, between AD 1610 and 1885 inferred from oxygen and hydrogen isotopic measurements of wood cellulose from trees in different hydrologic settings. Quat Res 44:438–446

Burnett AW, Mullins HT, Patterson WP (2004) Relationship between atmospheric circulation and winter precipitation δ18O in central New York State. Geophys Res Lett 31:L22209. doi:10.1029/2004GL021089:1-4

Cole JE, Rind D, Webb RS, Jouzel J, Healy R (1999) Climatic controls on interannual variability of precipitation δ18O: simulated influence of temperature, precipitation amount, and vapor source region. J Geophys Res 104:14223–14235

Coleman JSM, Rogers JC (2003) Ohio River Valley winter moisture conditions associated with the Pacific-North American teleconnection pattern. J Clim 16:969–981

Cressie NAC (1993) Statistics for spatial data. Wiley, New York

Dansgaard W (1964) Stable isotopes in precipitation. Tellus 16:436–468

Denniston RF, Gonzalez LA, Asmerom Y, Baker RG, Reagan MK, Bettis EA III (1999) Evidence for increased cool season moisture during the middle Holocene. Geology 27:815–818

Dutton A, Wilkinson BH, Welker JM, Bowen GJ, Lohmann KC (2005) Spatial distribution and seasonal variation in 18O/16O of modern precipitation and river water across the conterminous United States. Hydrol Process 19:4121–4146

Edwards T, Fritz P (1986) Assessing meteoric water composition and relative humidity from 18O and 2H in wood cellulose: paleoclimatic implications for southern Ontario, Canada. Appl Geochem 1:715–723

Edwards TWD, Wolfe BB, MacDonald GM (1996) Influence of changing atmospheric circulation on precipitation δ18O-temperature relations in Canada during the Holocene. Quatern Res 46:211–218

Edwards TWD, Birks SJ, Luckman BH, MacDonald GM (2008) Climatic and hydrologic variability during the past millennium in the eastern Rocky Mountains and northern Great Plains of western Canada. Quat Res 70:188–197

Epstein S, Thompson P, Yapp CJ (1977) Oxygen and hydrogen isotopic ratios in plant cellulose. Science 198:1209

Feng X, Reddington AL, Faiia AM, Posmentier ES, Shu Y, Xu X (2007) The Changes in North American atmospheric circulation patterns indicated by wood cellulose. Geology 35:163–166

Field RD (2010) Observed and modeled controls on precipitation d18O over Europe: from local temperature to the Northern Annular Mode. J Geophys Res 115:D12101. doi:10.1029/2009JD013370

Field RD, Jones DBA, Brown DP (2010a) Effects of postcondensation exchange on the isotopic composition of water in the atmosphere. J Geophys Res 115:D24305

Field RD, Moore G, Holdsworth G, Schmidt GA (2010b) A GCM-based analysis of circulation controls on d18O in the southwest Yukon, Canada: implications for climate reconstructions in the region. Geophys Res Lett 37:L05706

Fisher DA, Wake C, Kreutz K et al (2004) Stable isotope records from Mount Logan, eclipse ice cores and nearby Jellybean Lake. Water cycle of the North Pacific over 2000 years and over five vertical kilometres: sudden shifts and tropical connections. Geogr Phys Quat 58:337–352

Fricke HC, O'Neil JR (1999) The correlation between 18O/16O ratios of meteoric water and surface temperature: its use in investigating terrestrial climate change over geologic time. Earth Planet Sci Lett 170:181–196

Friedman I, Harris JM, Smith GI, Johnson CA (2002) Stable isotope composition of waters in the Great Basin, United States 1. Air-mass trajectories. J Geophys Res 107:4400

Gat JR, Bowser CJ, Kendall C (1994) The contribution of evaporation from the Great Lakes to the continental atmosphere; estimate based on stable isotope data. Geophys Res Lett 21:557–560

Harvey FE, Welker JM (2000) Stable isotopic composition of precipitation in the semi-arid north-central portion of the US Great Plains. J Hydrol 238:90–109

Holdsworth G, Krouse H, Nosal M (1992) Ice core climate signals from Mount Logan, Yukon AD 1700–1987. Clim AD 1500:483–504

Hubeny JB, King JW, Reddin M (2011) Northeast US precipitation variability and North American climate teleconnections interpreted from late Holocene varved sediments. Proc Natl Acad Sci 108:17895–17900

Joussaume S, Jouzel J (1993) Paleoclimatic tracers: an investigation using an atmospheric general circulation model under ice age conditions 2. Water isotopes. J Geophys Res 98:2807–2830

Kalkstein LS, Nichols MC, Barthel CD, Greene JS (1996) A new spatial synoptic classification: application to air mass analysis. Int J Climatol 16:983–1004

Kohn MJ, Welker JM (2005) On the temperature correlation of [delta] 18O in modern precipitation. Earth Planet Sci Lett 231:87–96

Kreutz K, Mayewski P, Meeker L, Twickler M, Whitlow S, Pittalwala I (1997) Bipolar changes in atmospheric circulation during the Little Ice Age. Science 277:1294–1296

Leathers DJ, Yarnal B, Palecki MA (1991) The Pacific/North American teleconnection pattern and United States climate. Part I: regional temperature and precipitation associations. J Clim 4:517–528

Leavitt SW, Panyushkina IP, Lange T, Wiedenhoeft A, Cheng L, Hunter RD, Hughes J, Pranschke F, Schneider AF, Moran J (2008) Climate in the great lakes region between 14,000 and 4000 years ago from isotopic composition of conifer wood. Radiocarbon 48:205–217

Liu Z, Bowen GJ, Welker JM (2010) Precipitation isotope (δ18O) gradients reflect atmospheric circulation over the conterminous United States. J Geophys Res. doi:10.1029/2010JD014175

Liu Z, Kennedy CD, Bowen GJ (2011) Pacific/North American teleconnection controls on precipitation isotope ratios across the contiguous United States. Earth Planet Sci Lett 310:319–326

MacDonald GM, Case RA (2005) Variations in the Pacific Decadal Oscillation over the past millennium. Geophys Res Lett 32:L08703

Meehan TD, Giermakowski JT, Cryan PM (2004) GIS-based model of stable hydrogen isotope ratios in North American growing-season precipitation for use in animal movement studies. Isot Environ Health Stud 40:291–300

Moyeed RA, Papritz A (2002) An empirical comparison of kriging methods for nonlinear spatial point prediction. Math Geol 34:365–386

Naftz DL, Klusman R, Michel RL, Schuster PF, Reddy M, Taylor H, Yanosky T, McConnaughey E (1996) Little Ice Age evidence from a south-central North American ice core, USA. Arct Alp Res 28:35–41

Naik SS, Thamban M, Rajakumar A, D'Souza W, Laluraj CM, Chaturvedi A (2010) Influence of climatic teleconnections on the temporal isotopic variability as recorded in a firn core from the coastal Dronning Maud Land, East Antarctica. J Earth Syst Sci 119:41–49

Noone D, Sturm C (2010) Comprehensive dynamical models of global and regional water isotope distributions. In: West JB, Bowen GJ, Dawson TE, Tu KP (eds) Isoscapes: understanding movement, pattern, and process on earth through isotope mapping. Springer, New York

Notaro M, Wang WC, Gong W (2006) Model and observational analysis of the northeast US regional climate and its relationship to the PNA and NAO patterns during early winter.

Pendall E (2000) Influence of precipitation seasonality on piñon pine cellulose δD values. Glob Change Biol 6:287–301

Rodionov S, Assel R (2001) A new look at the Pacific/North American index. Geophys Res Lett 28:1519–1522

Sheridan SC (2002) The redevelopment of a weather-type classification scheme for North America. Int J Climatol 22:51–68

Sheridan SC (2003) North American weather-type frequency and teleconnection indices. Int J Climatol 23:27–45

Sjostrom DJ, Welker JM (2009) The influence of air mass source on the seasonal isotopic composition of precipitation, eastern USA. J Geochem Explor 102(3):103–112. doi:10.1016/j.gexplo.2009.03.001

Slowey NC, Crowley TJ (1995) Interdecadal variability of Northern Hemisphere circulation recorded by Gulf of Mexico corals. Geophys Res Lett 22:2345–2348

Sodemann H, Masson-Delmotte V, Schwierz C, Vinther BM, Wernli H (2008) Interannual variability of Greenland winter precipitation sources: 2. Effects of North Atlantic Oscillation variability on stable isotopes in precipitation. J Geophys Res 113:D12111

Straus DM, Shukla J (2002) Does ENSO force the PNA? J Clim 15:2340–2358

Tang K, Feng X, Ettl GJ (2000) The variations in [delta] D of tree rings and the implications for climatic reconstruction. Geochim Cosmochim Acta 64:1663–1673

Timmermann A, Menviel L, Okumura Y, Schilla A, Merkel U, Timm O, Hu A, Otto-Bliesner B, Schulz M (2010) Towards a quantitative understanding of millennial-scale Antarctic warming events. Quat Sci Rev 29:74–85

Vachon R, Welker J, White J, Vaughn B (2010a) Moisture source temperatures and precipitation δ18O-temperature relationships across the United States. Water Resour Res 46:W07523

Vachon R, Welker J, White J, Vaughn B (2010b) Monthly precipitation isoscapes (δ18O) of the United States: connections with surface temperatures, moisture source conditions, and air mass trajectories. J Geophys Res 115:D21126

Vinther BM, Johnsen SJ, Andersen KK, Clausen HB, Hansen AW (2003) NAO signal recorded in the stable isotopes of Greenland ice cores. Geophys Res Lett 30:1387

Wagner J, Cole J, Beck J, Patchett P, Henderson G, Barnett H (2010) Moisture variability in the southwestern United States linked to abrupt glacial climate change. Nat Geosci 3:110–113

Wallace JM, Gutzler DS (1981) Teleconnections in the geopotential height field during the Northern Hemisphere winter. Mon Weather Rev 109:784–812

Webster R, Oliver MA (2007) Geostatistics for environmental scientists. Wiley, New York

Welker JM (2000) Isotopic (δ18O) characteristics of weekly precipitation collected across the USA: an initial analysis with application to water source studies. Hydrol Process 14:1449–1464

Welker JM (2012) ENSO effects on δ18O, δ2H and d-excess values in precipitation across the US using a high-density, long-term network (USNIP). Rapid Commun Mass Spectrom 26:1893–1898

White JWC, Lawrence JR, Broecker WS (1994) Modeling and interpreting ratios in tree rings: a test case of white pine in the northeastern United States. Geochim Cosmochim Acta 58:851–862

Wilks DS (2011) Statistical methods in the atmospheric sciences, vol 100. Academic Press, London

Yapp CJ, Epstein S (1977) Climatic implications of D/H ratios of meteoric water over North America (9500–22,000 BP) as inferred from ancient wood cellulose CH hydrogen. Earth Planet Sci Lett 34:333–350

Yapp CJ, Epstein S (1982) Climatic significance of the hydrogen isotope ratios in tree cellulose. Nature 297:636–639

Yoshimura K, Kanamitsu M, Noone D, Oki T (2008) Historical isotope simulation using reanalysis atmospheric data. J Geophys Res 113:D19108

Yoshimura K, Kanamitsu M, Dettinger M (2010) Regional downscaling for stable water isotopes: a case study of an atmospheric river event. J Geophys Res 115:D18114
Acknowledgments
This work was supported by Tianjin Municipal Education Commission (20080520) and JSPS Postdoctoral Fellowship for Foreign Researchers (P11369) to Zhongfang, and NSFC grant (41105080) to Yanyu, U.S. National Science Foundation grants ESH 0080952 and DBI 0923571 to Welker, and U.S. National Science Foundation grant DBI 0743543 to Bowen. We also thank Prof. Sheridan for providing air mass frequency data calculated from Spatial Synoptic Classification system and Hang Zhou for his assistance in Monte Carlo analysis. We are grateful for the insightful comments of two anonymous reviewers, which helped to considerably improve the quality of this manuscript.
About this article
Cite this article
Liu, Z., Bowen, G.J., Welker, J.M. et al. Winter precipitation isotope slopes of the contiguous USA and their relationship to the Pacific/North American (PNA) pattern. Clim Dyn 41, 403–420 (2013). https://doi.org/10.1007/s00382-012-1548-0
Received:

Accepted:

Published:

Issue Date:

DOI: https://doi.org/10.1007/s00382-012-1548-0
Keywords