Abstract
The climates of the mid-Holocene (MH, 6,000 years ago) and the Last Glacial Maximum (LGM, 21,000 years ago) have been extensively documented and as such, have become targets for the evaluation of climate models for climate contexts very different from the present. In Part 1 of the present work, we have studied the MH and LGM simulations performed with the last two versions of the IPSL model: IPSL_CM4, run for the PMIP2/CMIP3 (Coupled Model Intercomparion Project) projects and IPSL_CM5A, run for the most recent PMIP3/CMIP5 projets. We have shown that not only are these models different in their simulations of the PI climate, but also in their simulations of the climatic anomalies for the MH and LGM. In the Part 2 of this paper, we first examine whether palaeo-data can help discriminate between the model performances. This is indeed the case for the African monsoon for the MH or for North America south of the Laurentide ice sheet, the South Atlantic or the southern Indian ocean for the LGM. For the LGM, off-line vegetation modelling appears to offer good opportunities to distinguish climate model results because glacial vegetation proves to be very sensitive to even small differences in LGM climate. For other cases such as the LGM North Atlantic or the LGM equatorial Pacific, the large uncertainty on the SST reconstructions, prevents model discrimination. We have examined the use of other proxy-data for model evaluation, which has become possible with the inclusion of the biogeochemistry morel PISCES in the IPSL_CM5A model. We show a broad agreement of the LGM–PI export production changes with reconstructions. These changes are related to the mixed layer depth in most regions and to sea-ice variations in the high latitudes. We have also modelled foraminifer abundances with the FORAMCLIM model and shown that the changes in foraminifer abundance in the equatorial Pacific are mainly forced by changes in SSTs, hence confirming the SST-foraminifer abundance relationship. Yet, this is not the case in all regions in the North Atlantic, where food availability can have a strong impact of foraminifer abundances. Further work will be needed to exhaustively examine the role of factors other than climate in piloting changes in palaeo-indicators.
Access options
Buy single article
Instant access to the full article PDF.
USD 39.95
Price excludes VAT (USA)
Tax calculation will be finalised during checkout.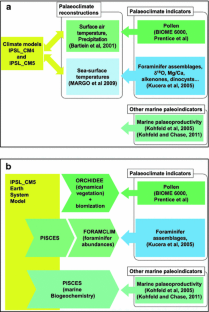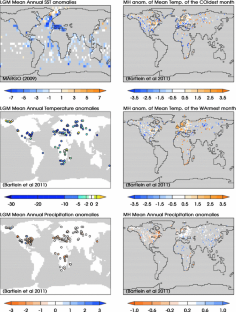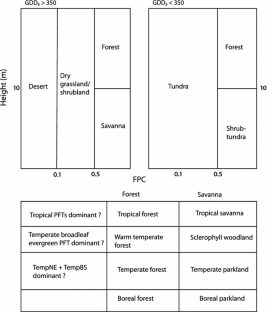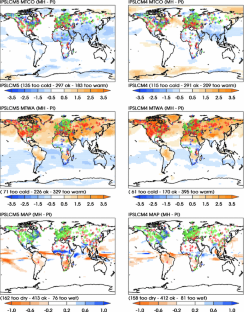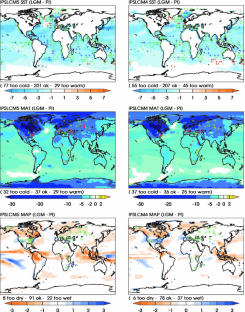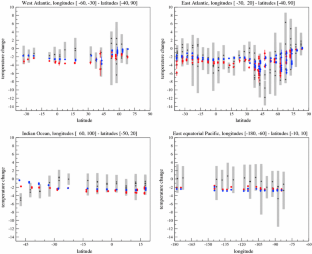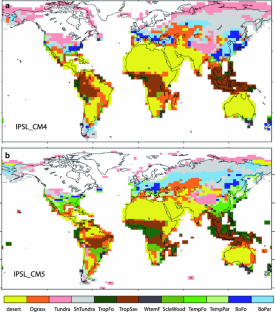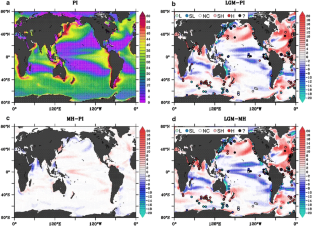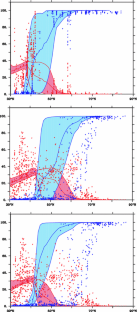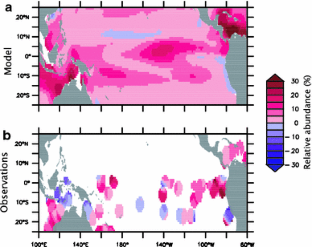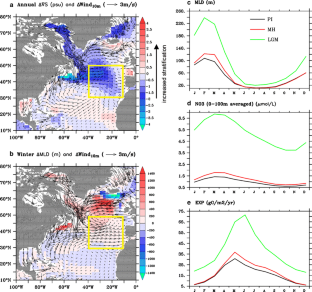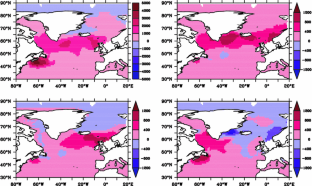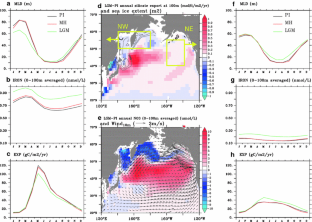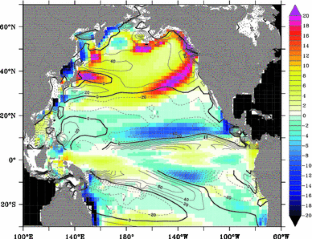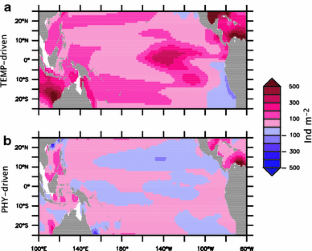 References
Arsouze T, Dutay J-C, Kageyama M, Lacan F, Alkama R, Marti O, Jeandel C (2008) A modeling sensitivity study of the influence of the atlantic meridional overturning circulation on neodymium isotopic composition at the last glacial maximum. Clim Past 4:191–203

Aumont O, Bopp L (2006) Globalizing results from ocean in situ iron fertilization studies. Global Biogeochem Cycles 29:GB2017. doi:10.1029/2005GB002591

Bartlein PJ, Harrison SP, Brewer S, Connor S, Davis BAS, Gajewski K, Guiot J, Harrison-Prentice TI, Henderson A, Peyron O, Prentice IC, Scholze M, Seppä H, Shuman B, Sugita S, Thompson RS, Viau AE, Williams J, Wu H (2011) Pollen-based continental climate reconstructions at 6 and 21 ka: a global synthesis. Clim Dyn 37:775–802

Bassinot FC, Marzin C, Braconnot P, Marti O, Mathien-Blard E, Lombard F, Bopp L (2011) Holocene evolution of summer winds and marine productivity in the tropical Indian Ocean in response to insolation forcing: data-model comparison. Clim Past 7:815–829

Berger WH (1968) Planktonic foraminifera: selective solution and paleoclimatic interpretation. Deep Sea Res 15:31–43

Bonfils C, de Noblet-Ducoudré N, Braconnot P, Joussaume S (2001) Hot desert albedo and climate change: mid-Holocene monsoon in North Africa. J Clim 14:3724–3737

Bopp L, Kohfeld K, Le Quere C, Aumont O (2003) Dust impact on marine biota and atmospheric CO2 during glacial periods. Paleoceanogr 18(2). Art no 1046

Braconnot P, Harrison SP, Kageyama M, Bartlein PJ, Masson-Delmotte V, Abe-Ouchi A, Otto-Bliesner B, Zhao Y (2012) Evaluation of climate models using palaeoclimatic data. Nat Clim Change 2:417–424

Braconnot P, Otto-Bliesner B, Harrison S, Joussaume S, Peterchmitt J-Y, Abe-Ouchi A, Crucifix M, Driesschaert E, Fichefet T, Hewitt CD, Kageyama M, Kitoh A, Laine A, Loutre M-F, Marti O, Merkel U, Ramstein G, Valdes P, Weber SL, Yu Y, Zhao Y (2007a) Results of PMIP2 coupled simulations of the mid-Holocene and last glacial maximum—part 1: experiments and large-scale features. Clim Past 3(2):261–277

Braconnot P, Otto-Bliesner B, Harrison S, Joussaume S, Peterchmitt J-Y, Abe-Ouchi A, Crucifix M, Driesschaert E, Fichefet T, Hewitt CD, Kageyama M, Kitoh A, Loutre M-F, Marti O, Merkel U, Ramstein G, Valdes P, Weber L, Yu Y, Zhao Y (2007b) Results of PMIP2 coupled simulations of the mid-Holocene and last glacial maximum—part 2: feedbacks with emphasis on the location of the ITCZ and mid- and high latitudes heat budget. Clim Past 3(2):279–296

Bush MB (2002) On the interpretation of fossil poaceae pollen in the humid lowland neotropics. Palaeogeogr Palaeoclimatol Palaeoecol 177:5–17

Colinvaux PA, de Oliveira PE, Bush MB (2000) Amazonian and neotropical plant communities on glacial timescales: the failure of the aridity and refuge hypotheses. Quat Sci Rev 19:141–169

Colinvaux PA, De Oliveira PE, Moreno JE, Miller MC, Bush MB (1996) A long pollen record from lowland Amazonia: forest and cooling in glacial times. Science 274:85–88

Cowling SA (1999) Simulated effects of low atmospheric CO2 on structure and composition of North American vegetation at the last glacial maximum. Global Ecol Biogeogr 8:81–93

Dufresne J-L, Foujols M-A, Denvil S, Caubel A, Marti O, in revision, this special issue. Climate change projections using the IPSL-CM5 Earth System Model with an emphasis on changes between CMIP3 and CMIP5. Clim Dyn

Fairbanks RG, Sverdlove M, Free R, Wiebe PH, Be AW H (1982) Vertical-distribution and isotopic fractionation of living planktonic-foraminifera from the Panama basin. Nature 298:841–844

Fraile I, Schulz M, Mulitza S, Kucera M (2008) Predicting the global distribution of planktonic foraminifera using a dynamic ecosystem model. Biogeosciences 5:891–911

Fraile I, andMulitza S, Schulz M (2009) Modeling planktonic foraminiferal seasonality: implications for sea-surface temperature reconstructions. Mar Micropaleontol 72:1–9

Haberle SG, Maslin MA (1999) Late Quaternary vegetation and climate change in the Amazon basin based on a 50,000 year pollen record from the Amazon fan, ODP site 932. Quat Res 51:27–38

Haffer J (1969) Speciation in amazonian forest birds. Science 165:131–137

Haffer J, Prance GT (2001) Climatic forcing of evolution in Amazonia during the Cenozoic: on the refuge theory of biotic differentiation. Amazoniana 16:579–607

Hargreaves JC, Paul A, Ohgaito R, Abe-Ouchi A, Annan JD (2011) Are paleoclimate model ensembles consistent with the Margo data synthesis? Clim Past 7:917–933

Harrison SP, Prentice IC (2003) Climate and co2 controls on global vegetation distribution at the last glacial maximum: analysis based on palaeovegetation data, biome modelling and palaeoclimate simulations. Global Biogeochem Cycles 9:983–1004

Hourdin F, Foujols M-A, Codron F, Guemas V, Dufresne J-L, Bony S, Denvil S, Guez L, Lott F, Gatthas J, Braconnot P, Marti O, Meurdesoif Y, Bopp L (2012) Impact of the LMDZ atmospheric grid configuration on the climate and sensitivity of the IPSL-CM5A coupled model. Clim Dyn. doi:10.1007/s00382-012-1411-3

Jolly D, Haxeltine A (1997) Effect of low glacial atmospheric CO2 on tropical African montane vegetation. Science 276:786–788

Joussaume S, Taylor K (1995) Status of the paleoclimate modeling intercomparison project (PMIP). In: Proceedings of the first international AMIP scientific conference (Monterrey, CA, USA, 15–19 May 1995). WRCP–92, pp 425–430

Joussaume S, Taylor KE, Braconnot P, Mitchell JFB, Kutzbach JE, Harrison SP, Prentice IC, Broccoli AJ, Abe-Ouchi A, Bartlein PJ, Bonfils C, Dong B, Guiot J, Herterich H, Hewitt CD, Jolly D, Kim JW, Kislov A, Kitoh A, Loutre MF, Masson V, McAvaney B, McFarlane N, de Noblet N, Peltier WR, Peterschmitt JY, Pollard D, Rind D, Royer JF, Schlesinger ME, Syktus J, Thompson S, Valdes P, Vettoretti G, Webb RS, Wyputta U (1999) Monsoon changes for 6000 years ago: results of 18 simulations from the paleoclimate modelling intercomparison project (PMIP). Geophys Res Lett 26:859–862

Kageyama M, Braconnot P, Bopp L, Caubel A, Foujols M-A, Guilyardi E, Khodri M, Lloyd J, Lombard F, Mariotti V, Marti O, Roy T, Woillez M-N (2012) Mid-Holocene and Last Glacial Maximum climate simulations with the IPSL model—part I: comparing IPSL_CM5A to IPSL_CM4. Clim Dyn. doi:10.1007/s00382-012-1488-8

Kageyama M, Laîné A, Abe-Ouchi A, Braconnot P, Cortijo E, Crucifix M, Vernal A, Guiot J, Hewitt CD, Kitoh A, Kucera M, Marti O, Ohgaito R, Otto-Bliesner B, Peltier WR, Vettoretti G, Weber SL, MARGO project members: (2006) Last glacial maximum temperatures over the North Atlantic, Europe and western Siberia: a comparison between PMIP models, MARGO sea-surface temperatures and pollen-based reconstructions. Quat Sci Rev 25:2082–2102

Kershaw A, Penny D, van der Kaars S, Anshari G, Thamotherampili T (2001) Vegetation and climate in lowland southeast Asia at the Last Glacial Maximum. In: Metcalfe I, Smith JMB, Morwood M, Davidson I (eds) Faunal and floral migrations and evolution in SE Asia-Australasia. Balkema, Lisse, pp 227–236

Kohfeld K, Quere C, Harrison S, Anderson R (2005) Role of marine biology in glacial-interglacial co2 cycles. Science 308(5718):74–78

Kohfeld KE, Chase Z (2011) Controls on deglacial changes in biogenic fluxes in the north Pacific ocean. Quat Sci Rev 30:3350–3363

Kohfeld KE, Harrison SP (2000) How well can we simulate past climates? Evaluating the models using global environmental data sets. Quat Sci Rev 19:321–346

Krinner G, Viovy N, de Noblet-Ducoudré N, Ogée J, Polcher J, Friedlingstein P, Ciais P, Sitch S, Prentice IC (2005) A dynamic global vegetation model for studies of the coupled atmosphere-biosphere system. Global Biogeochem Cycles 19:GB1015. doi:10.1029/2003GB002199

Kucera M, Rosell-Melé A, Schneider R, Waelbroeck C, Weinelt M (2005a) Multiproxy approach for the reconstruction of the glacial ocean surface (MARGO). Quat Sci Rev 24:813–819

Kucera M, Weinelt M, Kiefer T, Pflaumann U, Hayes A, Weinelt M, Chen M-T, Mix AC, Barrows TT, Cortijo E, Duprat J, Juggins S, Waelbroeck C (2005b) Reconstruction of sea-surface temperatures from assemblages of planktonic foraminifera: multi-technique approach based on geographically constrained calibration data sets and its application to glacial Atlantic and Pacific Oceans. Quat Sci Rev 24:951–998

Kuroyanagi A, Kawahata H (2004) Vertical distribution of living planktonic foraminifera in the seas around Japan. Mar Micropaleontol 53:173–196

Ledru M-P, Bertaux J, Sifeddine A, Suguio K (1998) Absence of last glacial maximum records in lowland tropical forests. Quat Res 49:233–237

Lombard F, Labeyrie L, Michel E, Bopp L, Cortijo E, Retailleau S, Howa H, Jorissen F (2011) Modelling planktic foraminifer growth and distribution using an ecophysiological multi-species approach. Biogeosciences 8:853–873

Ludwig W, Probst JL, Kempe S (1996) Predicting the oceanic input of organic carbon by continental erosion, Global Biogeochem Cycles 10:23–41

Mahowald NM, Muhs DR, Levis S, Rasch PJ, Yoshioka M, Zender CS, Luo C (2006) Change in atmospheric mineral aerosols in response to climate: last glacial period, preindustrial, modern, and doubled carbon dioxide climates. J Geophys Res 111:D10202. doi:10.1029/2005JD006653

MARGO project members: (2009) Constraints on the magnitude and patterns of ocean cooling at the last glacial maximum. Nat Geosci 2:127–132

Masson-Delmotte V, Kageyama M, Braconnot P, Charbit S, Krinner G, Ritz C, Guilyardi E, Jouzel J, Abe-Ouchi A, Crucifix M, Gladstone RM, Hewitt CD, Kitoh A, LeGrande AN, Marti O, Merkel U, Motoi T, Ohgaito R, Otto-Bliesner B, Peltier WR, Ross I, Valdes PJ, Vettoretti G, Weber SL, Wolk F, Yu Y (2006) Past and future polar amplification of climate change: climate model intercomparisons and ice-core constraints. Clim Dyn 26:513–529. doi:10.1007/s00382-005-0081-9

Ohgaito R, Abe-Ouchi A (2009) The effect of sea surface temperature bias in the PMIP2 AOGCMs on mid-Holocene asian monsoon enhancement. Clim Dyn 33:975–983

Oka A, Abe-Ouchi A, Chikamoto M, Ide T (2011) Mechanisms controlling export production at the lgm: effects of changes in oceanic physical fields and atmospheric dust deposition. Global Biogeochem Cycles 25(2):GB2009

Ortiz JD, Mix AC, Collier RW (1995) Environmental-control of living symbiotic and asymbiotic foraminifera of the California current. Paleoceanography 10:987–1009

Pausata FSR, Li C, Wettstein JJ, Kageyama M, Nisancioglu KH (2011) The key role of topography in altering North Atlantic atmospheric circulation during the last glacial period. Clim Past 7:1089–1101

Prell W, Curry W (1981) Faunal and isotopic indices of monsoonal upwelling, Western Arabian Sea. Oceanol Acta 4:91–98

Prentice I, Guiot J, Huntley B, Jolly D, Cheddadi R (1996) Reconstructing biomes from palaeoecological data: a general method and its application to European pollen data at 0 and 6 ka. Clim Dyn 12:185–194

Prentice I, Jolly D, BIOME 6000 Participants (2000) Mid-Holocene and glacial-maximum vegetation geography of the northern continents and Africa. J Biogeogr 27(3):507–519

Prentice IC, Harrison SP, Bartlein PJ (2011) Global vegetation and terrestrial carbon cycle changes after the last ice age. New Phytol 189:988–998

Ramstein G, Kageyama M, Guiot J, Wu H, Hély C, Krinner G, Brewer S (2007) How cold was europe at the last glacial maximum? a synthesis of the progress achieved since the first pmip model-data comparison. Clim Past 3:331–339

Riviére G, Laîné A, Lapeyre G, Salas-Mélia D, Kageyama M (2010) Links between Rossby wave breaking and the North Atlantic Oscillation–Arctic Oscillation in present-day and Last Glacial Maximum climate simulations. J Clim 25:2987–3008

Séférian R, Bopp L, Gehlen M, Orr JC, Ethé C, Cadule P, Aumont O, Salas-y Mélia D, Voldoire A, Madec G (2012) Skill assessment of three earth system model with a common marine biogeochemistry. Clim Dyn. doi:10.1007/s00382-012-1362-8

Tagliabue A, Bopp L, Roche DM, Bouttes N, Dutay J-C, Alkama R, Kageyama M, Michel E, Paillard D (2009) Quantifying the roles of ocean circulation and biogeochemistry in governing ocean carbon-13 and atmospheric carbon dioxide at the last glacial maximum. Clim Past 5:695–706

Wang Y, Notaro M, Liu Z, Gallimore R, Levis S, Kutzbach J (2008) Vegetation-precipitation feedbacks in mid-Holocene North Africa from two climate models. Clim Past 4:59–67

Watkins J, Mix A, Wilson J (1996) Living planktic foraminifera of the central Equatorial Pacific Ocean: tracers of circulation and productivity regimes. Deep Sea Res 43:1257–1282

Watkins JM, Mix AC, Wilson J (1998) Living planktic foraminifera in the central tropical Pacific ocean: articulating the equatorial cold tongue during la Niña. Mar Micropaleontol 33:157–174

Wohlfahrt J, Harrison SP, Braconnot P, Hewitt CD, Kitoh A, Mikolajewicz U, Otto-Bliesner BL, Weber SL (2008) Evaluation of coupled oceanatmosphere simulations of the mid-Holocene using palaeovegetation data from the northern hemisphere extratropics. Clim Dyn 31:871–890

Woillez M-N, Kageyama M, Krinner G, de Noblet-Ducoudré N, Viovy N, Mancip M (2011) Impact of CO2 and climate on the last glacial maximum vegetation: results from the ORCHIDEE/IPSL models. Clim Past 7:557–577

Wu H, Guiot J, Brewer S, Guo Z (2007) Climatic changes in Eurasia and Africa at the last glacial maximum and mid-Holocene: reconstruction from pollen data using inverse vegetation modelling. Clim Dyn 29:211–229
Acknowledgments
The work presented in this paper has largely benefited from the work of our colleagues of the IPSL Climate Modelling Centre. The research leading to these results was supported by CNRS, the INSU-LEFE French Program under the MissTerre project, the French programs ANR05-BLAN0275-01 "FORCLIM" and ANR-10-PDOC-005-01 "Ecogely". It also received support from the COMBINE EU project (ECIP, Grant Agreement number 226520). This work also benefited of the HPC resources of CCRT and IDRIS made available by GENCI (Grand Equipement National de Calcul Intensif), CEA (Commissariat à l'Energie Atomique et aux Energies Alternatives) and CNRS (Centre National de la Recherche Scientifique). We also would like to thank the anonymous referees for their constructive and helpful remarks on this long manuscript.
Additional information
This paper is a contribution to the special issue on the IPSL and CNRM global climate and Earth System Models, both developed in France and contributing to the 5th Coupled Model Intercomparison Project.
About this article
Cite this article
Kageyama, M., Braconnot, P., Bopp, L. et al. Mid-Holocene and last glacial maximum climate simulations with the IPSL model: part II: model-data comparisons. Clim Dyn 40, 2469–2495 (2013). https://doi.org/10.1007/s00382-012-1499-5
Received:

Accepted:

Published:

Issue Date:

DOI: https://doi.org/10.1007/s00382-012-1499-5
Keywords