Abstract
Since much of the flow of the Indus River originates in the Himalayas, Karakoram and Hindu Kush Mountains, an understanding of weather characteristics leading to precipitation over the region is essential for water resources management. This study examines the influence of upper level mid-latitude circulation on the summer precipitation over upper Indus basin (UIB). Using reanalysis data, a geopotential height index (GH) is defined at 200 hPa over central Asia, which has a significant correlation with the precipitation over UIB. GH has also shown significant correlation with the heat low (over Iran and Afghanistan and adjoining Pakistan), easterly shear of zonal winds (associated with central Asian high) and evapotranspiration (over UIB). It is argued that the geopotential height index has the potential to serve as a precursor for the precipitation over UIB. In order to assess the influence of irrigation on precipitation over UIB, a simplified irrigation scheme has been developed and applied to the regional climate model REMO. It has been shown that both versions of REMO (with and without irrigation) show significant correlations of GH with easterly wind shear and heat low. However contrary to reanalysis and the REMO version with irrigation, the REMO version without irrigation does not show any correlation between GH index and evapotranspiration as well as between geopotential height and precipitation over UIB, which is further confirmed by the quantitative analysis of extreme precipitation events over UIB. It is concluded that although atmospheric moisture over coastal Arabian sea region, triggered by wind shear and advected northward due to heat low, also contribute to the UIB precipitation. However for the availability of necessary moisture for precipitation over UIB, the major role is played by the evapotranspiration of water from irrigation. From the results it may also be inferred that the representation of irrigated water in climate models is unavoidable for studying the impact of global warming over the region.
Access options
Buy single article
Instant access to the full article PDF.
US$ 39.95
Tax calculation will be finalised during checkout.
Subscribe to journal
Immediate online access to all issues from 2019. Subscription will auto renew annually.
US$ 119
Tax calculation will be finalised during checkout.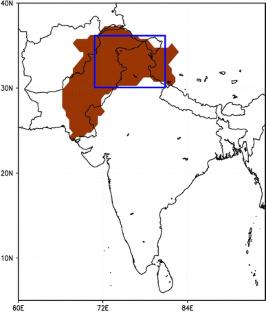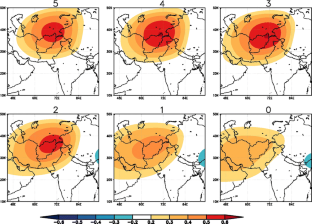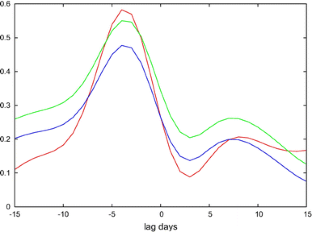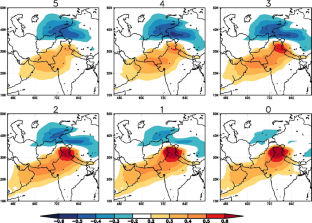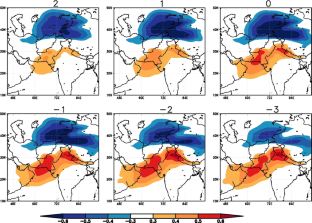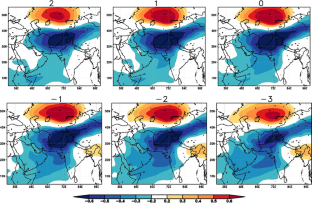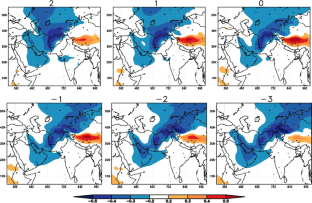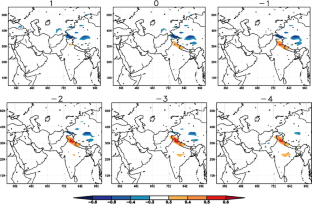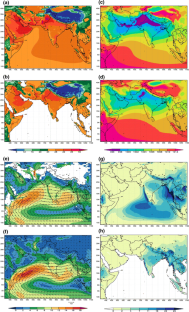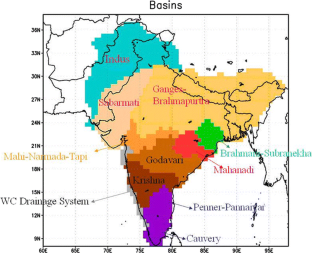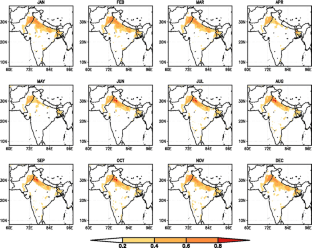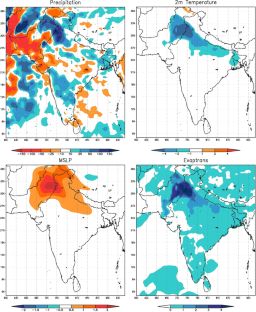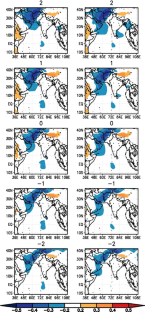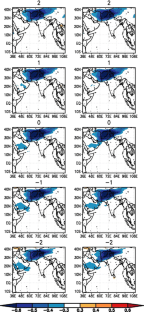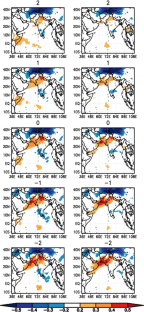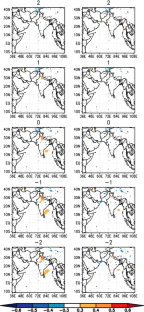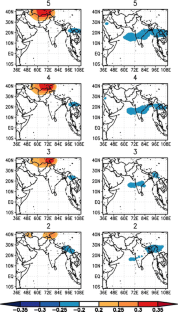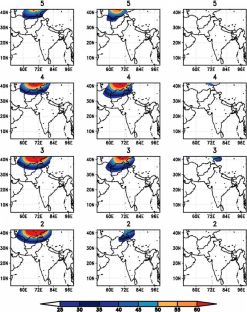 References
Archer DR, Forsythe N, Fowler HJ, Shah SM (2010) Sustainability of water resources management in the Indus Basin under changing climatic and socio economic conditions. Hydrol Earth Syst Sci Discuss 7:1883–1912. doi:10.5194/hessd-7-1883-2010

Branstator G (2002) Circumglobal teleconnecctions, the jet stream waveguide, and North Atlantic Oscillation. J Clim 15:1893–1910

Ding Q, Wang B (2005) Circumglobal teleconnection in northern hemisphere summer. J Clim 18:3482–3505

Ding Q, Wang B (2007) Intraseasonal teleconnection between the summer Eurasian wave train and Indian monsoon. J Clim 22:346–363. doi:10.1175/2008JCLI2449.1

Ding Q, Wang B (2009) Predicting extreme phases of Indian summer monsoon. J Clim 20:3551–3767

Douglas EM, Niyogi D, Frolking S, Yeluripati JB, Pielke RA Sr, Niyogi N, Vörösmarty CJ, Mohanty UC (2006) Changes in moisture and energy fluxes due to agricultural land use and irrigation in the Indian Monsoon Belt. Geophys Res Lett 33:L14403. doi:10.1029/2006GL026550

Douglas EM, Beltran-Przekurat A, Niyogi DS, Pielke RA Sr, Vörösmarty CJ (2009) Simulating changes in land-atmosphere interactions from expanding agriculture and irrigation in India and the potential impacts on the Indian Monsoon. Glob Planet Change 67(1–2):117–128

Fowler HJ, Archer DR (2005) Conflicting signals of climatic change in the Upper Indus Basin. J Clim 19:4276–4292

Francis PA, Gadgil S (2010) Towards understanding the unusual behaviour of Indian monsoon in 2009. J Earth Syst Sci 119:397–415

Goswami BN (1998) Interannual variations of Indian summer monsoon in a GCM: external conditions versus internal feedbacks. J Clim 11:501–522

Goswami BN, Ajayamohan RS (2001) Intraseasonal oscillations and interannual variability of the Indian summer monsoon. J Clim 14:1180–1198

Hoskins BJ, Wang B (2005) Large-scale atmospheric dynamics. In: Wang B (ed) The Asian monsoon. Springer-Praxis, New York, pp 357–415

Jacob D (2001) A note to the simulation of the annual and inter-annual variability of the water budget over the Baltic Sea drainage basin. Meteorol Atmos Phys 77:61–73. doi:10.1007/s007030170017

Jacob D, Bärring L, Christensen OB, Christensen JH, Hagemann S, Hirschi M, Kjellström E, Lenderink G, Rockel B, Schär C, Seneviratne SI, Somot S, van Ulden A, van den Hurk B (2007) An inter-comparison of regional climate models for Europe: design of the experiments and model performance. Clim Change 81:31–52. doi:10.1007/s10584-006-9213-4

Jain SK, Agarwal PK, Singh VP (2007) Hydrology and water resources of India. Springer, The Netherlands. ISBN: 140-205-1794

Kalnay E, Kanamitsu M, Kistler R, Collins W, Deaven D, Gandin L, Iredell M, Saha S, White G, Woollen J, Zhu Y, Chelliah M, Ebisuzaki W, Higgins W, Janowiak J, Mo KC, Ropelewski C, Wang J, Leetmaa A, Reynolds R, Jenne R, Joseph D (1996) The NCEP/NCAR 40-year reanalysis project. Bull Am Meteorol Soc 77(3):437–471

Kripalani RH, Kulkarni A, Singh SV (1997) Association of the Indian summer monsoon with the northern hemisphere mid-latitude circulation. Int J Climatol 17:1055–1067

Krishnamurthy V, Goswami BN (2000) Indian monsoon ENSO relationship on interdecadal timescale. J Clim 13:579–595

Li S, Perlwitz J, Quan X, Hoerling MP (2008) Modelling the influence of North Atlantic multidecadal warmth on the Indian summer rainfall. Geophys Res Lett 35:L05804. doi:10.1029/2007GL032901

Lucas-Picher P, Christensen JH, Saeed F, Kumar P, Asharaf S, Ahrens B, Wiltshire A, Jacob D, Hagemann S (2011) Can regional climate models represent the Indian monsoon? J Hydrometeorl. doi:10.1175/2011JHM1327.1

Park CK, Schubert SD (1997) On the nature of the 1994 East Asia summer drought. J Clim 10:1056–1070

Rajeevan M, Gadgil S, Bhate J (2008) Active and break spells of the Indian summermonsoon. Research report 7, National Climate Centre, India Meteorological Department

Ramage CS (1966) The Summer Atmospheric Circulation over the Arabian Sea. J Atmos Sci 23(2):144–150

Raman CRV, Rao YP (1981) Blocking highs over Asia and monsoon droughts over India. Nature 289:271–273

Ramaswamy C (1962) Breaks in the Indian summer monsoon as a phenomenon of interaction between the easterly and subtropical westerly jet streams. Tellus 14A:337–349

Saeed F, Hagemann S (2008) Assessing the characteristics of the regional climate that are essential for studies of hydrological changes over Pakistan. Geophysical Research Abstacts, vol 10, EGU2008-A-12375, 2008. http://meetings.copernicus.org/www.cosis.net/abstracts/EGU2008/12375/EGU2008-A-12375.pdf

Saeed F, Jehangir S, Noaman-ul-Haq M, Shafeeq W, Hashmi MZ, Ali G, Khan AM (2009a) Application of UBC and DHSVM models for selected catchments of Indus Basin Pakistan, GCISC-RR-11, Pakistan. ISBN: 978-969-9395-10-9

Saeed F, Hagemann S, Jacob D (2009b) Impact of irrigation on the South Asian summer monsoon. Geophys Res Lett 36:L20711. doi:10.1029/2009GL040625

Saeed S, Müller WA, Hagemann S, Jacob D (2010) Circumglobal wave train and the summer monsoon over northwestern India and Pakistan: the explicit role of the surface heat low. Clim Dyn. doi:10.1007/s00382-010-0888-x

Saeed F, Hagemann S, Jacob D (2011) A framework for the evaluation of the South Asian summer monsoon in a regional climate model applied to REMO. Int J Climatol. doi:10.1002/joc.2285

Shukla J (1987) Interannual variability of monsoons. In: Fein JS, Stephens PL (eds) monsoons. Wiley, London, pp 399–464

Siebert S, Döll P, Hoogeveen J, Faurès J-M, Frenken K, Feick S (2005) Development and validation of the global map of irrigation areas. Hydrol Earth Syst Sci 9:535–547

Syed FS, Giorgi F, Pal JS, King MP (2006) Effect of remote forcings on the winter precipitation of central southwest Asia part1: observations. Theor Appl Climatol 146:147–160

Torrence C, Webster PJ (1999) Interdecadal changes in the ENSO-monsoon system. J Clim 12:2679–2690

Tuinenburg OA, Hutjes RWA, Jacobs CMJ, Kabat P (2011) Diagnosis of local land-atmosphere feedbacks in India. J Clim. doi:10.1175/2010JCLI3779.1

Uppala SM, Kallberg PW, Simmons AJ, Andrae U, da Costa Bechtold V, Fiorino M, Gibson JK, Haseler J, Hernandez A, Kelly GA, Li X, Onogi K, Saarinen S, Sokka N, Allan RP, Andersson E, Arpe K, Balmaseda MA, Beljaars ACM, van de Berg L, Bidlot J, Bormann N, Caires S, Chevallier F, Dethof A, Dragosavac M, Fisher M, Fuentes M, Hagemann S, Holm E, Hoskins BJ, Isaksen L, Janssen PAEM, Jenne R, McNally AP, Mahfouf J-F, Morcrette J-J, Rayner NA, Saunders RW, Simon P, Sterl A, Trenberth KE, Untch A, Vasiljevic D, Viterbo P, Woollen J (2005) The ERA-40 re-analysis. Q J R Meteorol Soc 131:2961–3012

Willmott CJ, Matsuura K (2009) Terrestrial precipitation: 1900–2008 gridded monthly time series (1900–2008), http://climate.geog.udel.edu, University of Delaware Newark

Yadav RK (2009) Role of equatorial central Pacific and northwest of North Atlantic 2-meter surface temperature in modulating Indian summer monsoon variability. Clim Dyn 32:549–563

Yadav RK, Yoo JH, Kucharski F, Abid MA (2010) Why is ENSO influencing Northwest India winter precipitation in recent decades? J Clim 23:1979–1993

Yatagi A, Yasunari T (1995) Interannual variations of summer precipitation in the arid/semi-arid regions in China and Mongolia: their regionality and relation to Asian monsoon. J Meteorol Soc Jpn 73:909–923
About this article
Cite this article
Saeed, F., Hagemann, S., Saeed, S. et al. Influence of mid-latitude circulation on upper Indus basin precipitation: the explicit role of irrigation. Clim Dyn 40, 21–38 (2013). https://doi.org/10.1007/s00382-012-1480-3
Received:

Accepted:

Published:

Issue Date:
Keywords
Irrigation

Indus basin

Mid-latitude circulation

South Asian summer monsoon

REMO