Abstract
Sixteen global general circulation models were used to develop probabilistic projections of temperature (T) and precipitation (P) changes over California by the 2060s. The global models were downscaled with two statistical techniques and three nested dynamical regional climate models, although not all global models were downscaled with all techniques. Both monthly and daily timescale changes in T and P are addressed, the latter being important for a range of applications in energy use, water management, and agriculture. The T changes tend to agree more across downscaling techniques than the P changes. Year-to-year natural internal climate variability is roughly of similar magnitude to the projected T changes. In the monthly average, July temperatures shift enough that that the hottest July found in any simulation over the historical period becomes a modestly cool July in the future period. Januarys as cold as any found in the historical period are still found in the 2060s, but the median and maximum monthly average temperatures increase notably. Annual and seasonal P changes are small compared to interannual or intermodel variability. However, the annual change is composed of seasonally varying changes that are themselves much larger, but tend to cancel in the annual mean. Winters show modestly wetter conditions in the North of the state, while spring and autumn show less precipitation. The dynamical downscaling techniques project increasing precipitation in the Southeastern part of the state, which is influenced by the North American monsoon, a feature that is not captured by the statistical downscaling.
This is a preview of subscription content, log in to check access.
Access options
Buy single article
Instant access to the full article PDF.
US$ 39.95
Price includes VAT for USA
Subscribe to journal
Immediate online access to all issues from 2019. Subscription will auto renew annually.
US$ 199
This is the net price. Taxes to be calculated in checkout.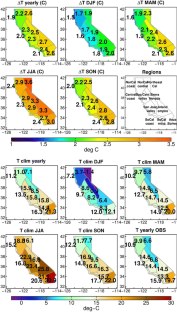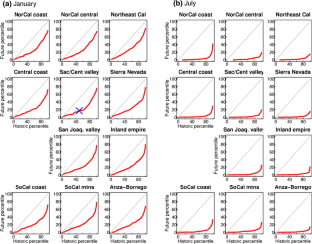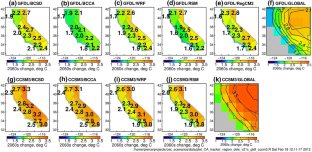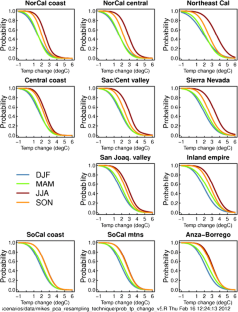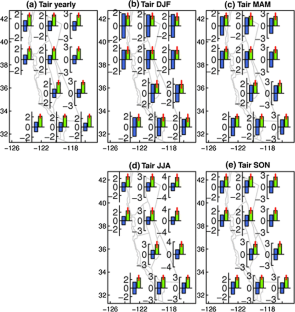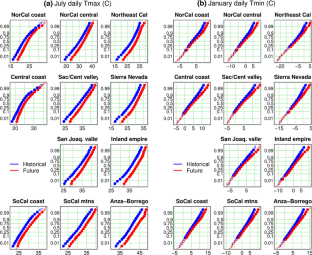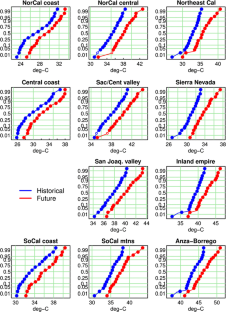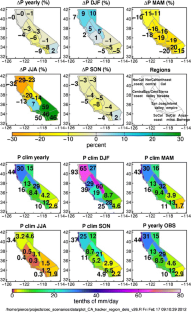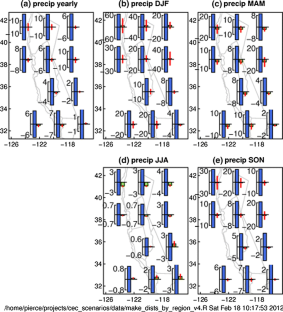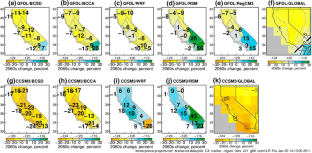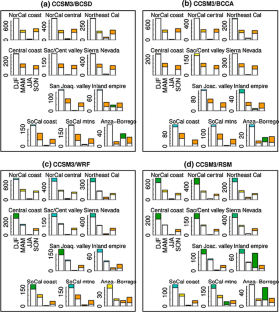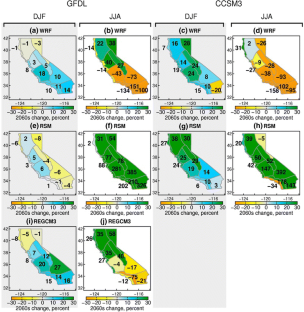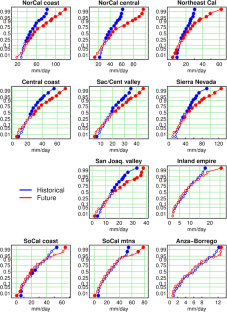 References
Abatzoglou JT, Redmond KT, Edwards LM (2009) Classification of regional climate variability in the state of California. J App Meteor Clim 48:1527–1541

AchutaRao K, Sperber KR (2006) ENSO simulation in coupled ocean-atmosphere models: are the current models better? Clim Dyn 27:1–15

Anderson J, Chung F, Anderson M, Brekke L, Easton D, Ejeta M, Peterson R, Snyder R (2008) Progress on incorporating climate change into management of California's water resources. Clim Change 87(suppl 1):S91–S108. doi:110.1007/s10584-10007-19353-10581

Barnett TP, Pierce DW, Hidalgo HG, Bonfils C et al (2008) Human-induced changes in the hydrology of the western United States. Science 319:1080–1083

Bonfils C, Santer BD, Pierce DW, Hidalgo HG, Bala G, Das T, Barnett TP, Cayan DR, Doutriaux C, Wood AW, Mirin A, Nozawa T (2008) Detection and attribution of temperature changes in the mountainous western United States. J Clim 21:6404–6424

Brekke LD, Miller NL, Bashford KE, Quinn NWT, Dracup JA (2004) Climate change impacts uncertainty for water resources in the San Joaquin River Basin, California. J Am Water Res Assoc 40:149–164

Brekke LD, Maurer EP, Anderson JD, Dettinger MD, Townsley ES, Harrison A, Pruitt T (2009) Assessing reservoir operations risk under climate change. Water Resour Res 45:W04411. doi:10.1029/2008WR006941

Caldwell P, Chin HNS, Bader DC, Bala G (2009) Evaluation of a WRF dynamical downscaling simulation over California. Clim Change 95:499–521

Cayan D, Leurs AL, Hanemann M, Granco G, Croes B (2006) Scenarios of climate change in California: an overview. California Climate Change Center report CEC-500-2005-186-SF, 53 pp

Chen W, Jiang Z (2011) Probabilistic projections of climate change over China under the SRES A1B scenario using 28 AOGCMs. J Clim 24:4741–4756

Chin HNS, Caldwell PM, Bader DC (2010) Preliminary study of California wintertime model wet bias. Mon Wea Rev 138:3556–3571

Christensen JH, Carter TR, Rummukainen M, Amanatidis G (2007) Evaluating the performance and utility of regional climate models: the PRUDENCE project. Clim Change 81:1–6

Das T, Hidalgo H, Cayan DR, Dettinger MD, Pierce DW, Bonfils C, Barnett TP, Bala G, Mirin A (2009) Structure and origins of trends in hydrological measures over the western United States. J Hydromet 10:871–892. doi:10.1175/2009JHM1095.1

Das T, Dettinger MD, Cayan DR, Hidalgo HG (2011) Potential increase in floods in Californian Sierra Nevada under future climate projections. Clim Change 109(suppl 1):S71–S94

Dettinger MD (2005) From climate-change spaghetti to climate-change distributions for 21st century California. San Franc Estuary Watershed Sci 3(1), article 4, 14 pp

Dickinson RE, Errico RM, Giorgi F, Bates GT (1989) A regional climate model for the western United States. Clim Change 15:383–422

Duffy PB, Arritt RW, Coquard J, Gutowski W, Han J, Iorio J, Kim J, Leung LR, Roads J, Zeledon E (2006) Simulations of present and future climates in the western United States with four nested regional climate models. J Clim 19:873–895

Giorgi F, Brodeur CS, Bates GT (1994) Regional climate-change scenarios over the United States produced with a nested regional climate model. J Clim 7:375–399

Hawkins E, Sutton R (2009) The potential to narrow uncertainty in regional climate predicints. Bull Am Met Soc 90:1095–1106

Hay LE, Clark MP (2003) Use of statistically and dynamically downscaled atmospheric model output for hydrologic simulations in three mountainous basins in the western United States. J Hydrol 282:56–75

Hayhoe K, Cayan D, Field CB, Frumhoff PC et al (2004) Emissions pathways, climate change, and impacts on California. Proc Nat Acad Sci 101:12422–12427

Hidalgo HG, Dettinger MD, Cayan DR (2008) Downscaling with constructed analogues: daily precipitation and temperature fields over the Unites States. California Energy Commission technical report CEC-500-2007-123, 48 pp

Hidalgo HG, Das T, Dettinger MD, Cayan DR, Pierce DW et al (2009) Detection and attribution of streamflow timing changes to climate change in the Western United States. J Clim 22:3838–3855

IPCC (2007) Climate change 2007: The physical science basis. Working group I contribution to the fourth assessment report of the intergovernmental panel on climate change. Cambridge University Press, Cambridge, UK, New York, USA, 996 pp

Kanamitsu M, Ebisuzaki W, Woollen J, Yang SK et al (2002) NCEP-DOE AMIP-II reanalysis (R-2). Bull Am Met Soc 83:1631–1643

Kanamitsu M, Kanamaru H, Cui Y, Juang H (2005) Parallel implementation of the regional spectral atmospheric model. California Energy Commission technical report CEC-500-2005-014. http://www.energy.ca.gov/2005publications/CEC-500-2005-014/CEC-500-2005-014

Kim J (2001) A nested modeling study of elevation-dependent climate change signals in California induced by increased atmospheric CO2. Geophys Res Lett 28:2951–2954

Kim J (2005) A projection of the effects of the climate change induced by increased CO2 on extreme hydrologic events in the western US. Clim Change 68:153–168

Kjellstrom E, Giorgi F (2010) Introduction (contribution to CR special 23 'Regional Climate Model evaluation and weighting'). Clim Res 44:117–119

Lebassi B, González J, Fabris D, Maurer E, Miller N, Milesi C, Switzer P, Bornstein R (2009) Observed 1970–2005 cooling of summer daytime temperatures in Coastal California. J Clim 22:3558–3573

Leung LR, Qian Y, Bian XD, Washington WM, Han JG, Roads JO (2004) Mid-century ensemble regional climate change scenarios for the western United States. Clim Change 62:75–113

Liang XZ, Kunkel KE, Meehl GA, Jones RG, Wang JXL (2008) Regional climate models downscaling analysis of general circulation models present climate biases propagation into future change projections. Geophys Res Lett 35. doi:10.1029/2007GL032849

Manning LJ, Hall JW, Fowler HJ, Kilsby CG, Tebaldi C (2009) Using probabilistic climate change information from a multimodel ensemble for water resources assessment. Water Resour Res 45:W11411. doi:10.1029/2007WR006674

Maurer EP (2007) Uncertainty in hydrologic impacts of climate change in the Sierra Nevada, California, under two emissions scenarios. Clim Change 82:309–325

Maurer EP, Duffy PB (2005) Uncertainty in projections of streamflow changes due to climate change in California. Geophys Res Lett 32. doi:10.1029/2004GL021462

Maurer EP, Hidalgo HG (2008) Utility of daily vs. monthly large-scale climate data: an intercomparison of two statistical downscaling methods. Hydrol Earth Syst Sci 12:551–563

Maurer EP, Hidalgo HG (2010) The utility of daily large-scale climate data in the assessment of climate change impacts on daily streamflow in California. Hydrol Earth Syst Sci 14:1125–1138. doi:10.5194/hess-14-1125-2010

Maurer EP, Wood AW, Adam JC (2002) A long-term hydrologically based dataset of land surface fluxes and states for the conterminous United States. J Clim 15:3237–3251

Maurer EP, Brekke L, Pruitt T, Duffy PB (2007a) Fine-resolution climate change projections enhance regional climate change impact studies. EOS Trans Am Geophys Union 88:504. doi:10.1029/2007EO470006

Maurer EP, Stewart IT, Bonfils C, Duffy PB, Cayan DR (2007b) Detection, attribution, and sensitivity of trends toward earlier streamflow in the Sierra Nevada. J Geophy Res 112:D11118. doi:10.1029/2006JD008088

Meehl GA, Covey C, Delworth T, Latif M et al (2007) The WCRP CMIP3 multimodel dataset—a new era in climate change research. Bull Am Met Soc 88:1383

Miller NL, Jin J, Schlegel NJ, Snyder MA et al. (2009) An analysis of simulated California climate using multiple dynamical and statistical techniques. California Energy Commission report CEC-500-2009-017-F, August, 2009, 47 pp

Pal JS, Giorgi F, Bi XQ, Elguindi N et al (2007) Regional climate modeling for the developing world—the ICTP RegCM3 and RegCNET. Bull Am Met Soc 88:1395

Pan Z, Christensen JH, Arritt RW, Gutowski WJ, Takle ES, Otieno F (2001) Evaluation of uncertainties in regional climate change simulations. J Geophys Res Atmos 106:17735–17751

Panofsky HA, Brier GW (1968) Some applications of statistics to meteorology. The Pennsylvania State University, University Park, PA

Pennell C, Reichler T (2011) On the effective number of climate models. J Clim 24:2358–2367. doi:10.1175/2010JCLI3814.1

Pierce DW, Barnett TP, Hidalgo HG, Das T et al (2008) Attribution of declining Western US snowpack to human effects. J Clim 21:6425–6444

Pierce DW, Barnett TP, Santer BD, Gleckler PJ (2009) Selecting global climate models for regional climate change studies. Proc Nat Acad Sci 106:8441–8446

Skamarock WC, Klemp JB, Duidhia J, Gill DO, Barker DM, Duda MG, Huang X-Y, Wang W, Powers JG (2008) A description of the advanced research WRF version 3. NCAR technical note NCAR/TN-475+STR, 125 pp

Snyder MA, Sloan LC (2005) Transient future climate over the western United States using a regional climate model. Earth Interactions v. 9 paper 11

Snyder MA, Bell JL, Sloan LC, Duffy PB, Govindasamy B (2002) Climate responses to a doubling of atmospheric carbon dioxide for a climatically vulnerable region. Geophys Res Lett 29:4

Snyder MA, Sloan LC, Diffenbaugh NS, Bell JL (2003) Future climate change and upwelling in the California Current. Geophys Res Lett 30:1823

Wood AW, Maurer EP, Kumar A, Lettenmaier DP (2002) Long-range experimental hydrologic forecasting for the eastern United States. J Geophys Res Atmos 107. doi:10.1029/2001jd000659

Wood AW, Leung LR, Sridhar V, Lettenmaier DP (2004) Hydrologic implications of dynamical and statistical approaches to downscaling climate model outputs. Clim Change 62:189–216
Acknowledgments
This work was funded by the public interest energy research (PIER) program of the California Energy Commission (CEC), grant 500-07-042 to the Scripps Institution of Oceanography at UC San Diego: Development of probabilistic climate projections for California. We would also like to thank the global modeling groups that contributed data to the CMIP-3 archive; without their efforts and generosity in sharing the data, this work would have been impossible. DWP also received partial support from the International ad-hoc Detection and Attribution (IDAG) project from the US Department of Energy's Office of Science, Office of Biological and Environmental Research, grant DE-SC0004956 and the National Oceanic and Atmospheric Administration's Climate Program Office, and the Department of Energy grant DE-SC0002000 in furtherance of work to examine how daily timescale weather events and the seasonality of precipitation change to accomplish low frequency, global climate changes. Partial salary support for TD from the CALFED Bay-Delta Program funded-postdoctoral fellowship grant is also acknowledged.
Electronic supplementary material
Below is the link to the electronic supplementary material.
About this article
Cite this article
Pierce, D.W., Das, T., Cayan, D.R. et al. Probabilistic estimates of future changes in California temperature and precipitation using statistical and dynamical downscaling. Clim Dyn 40, 839–856 (2013). https://doi.org/10.1007/s00382-012-1337-9
Received:

Accepted:

Published:

Issue Date:
Keywords
Climate change

Regional climate modeling

Dynamical downscaling

Statistical downscaling