Abstract
Coupled atmosphere–ocean general circulation models (AOGCMs) commonly fail to simulate the eastern equatorial Atlantic boreal summer cold tongue and produce a westerly equatorial trade wind bias. This tropical Atlantic bias problem is investigated with a high-resolution (27-km atmosphere represented by the Weather Research and Forecasting Model, 9-km ocean represented by the Regional Ocean Modeling System) coupled regional climate model. Uncoupled atmospheric simulations test climate sensitivity to cumulus, land-surface, planetary boundary layer, microphysics, and radiation parameterizations and reveal that the radiation scheme has a pronounced impact in the tropical Atlantic. The CAM radiation simulates a dry precipitation (up to −90%) and cold land-surface temperature (up to −8 K) bias over the Amazon related to an over-representation of low-level clouds and almost basin-wide westerly trade wind bias. The Rapid Radiative Transfer Model and Goddard radiation simulates doubled Amazon and Congo Basin precipitation rates and a weak eastern Atlantic trade wind bias. Season-long high-resolution coupled regional model experiments indicate that the initiation of the warm eastern equatorial Atlantic sea surface temperature (SST) bias is more sensitive to the local rather than basin-wide trade wind bias and to a wet Congo Basin instead of dry Amazon—which differs from AOGCM simulations. Comparisons between coupled and uncoupled simulations suggest a regional Bjerknes feedback confined to the eastern equatorial Atlantic amplifies the initial SST, wind, and deepened thermocline bias, while barrier layer feedbacks are relatively unimportant. The SST bias in some CRCM simulations resembles the typical AOGCM bias indicating that increasing resolution is unlikely a simple solution to this problem.
Access options
Buy single article
Instant access to the full article PDF.
USD 39.95
Price includes VAT (USA)
Tax calculation will be finalised during checkout.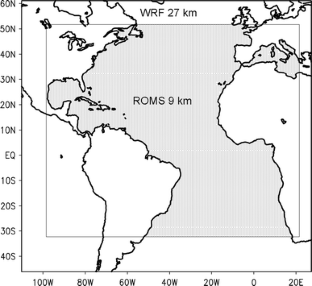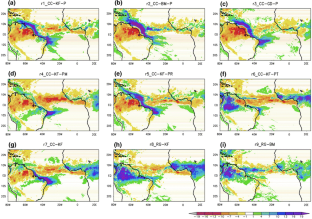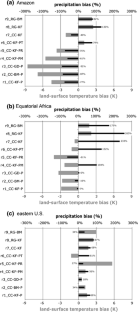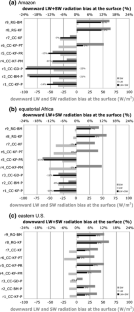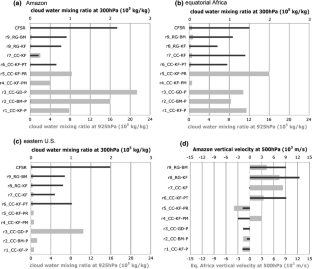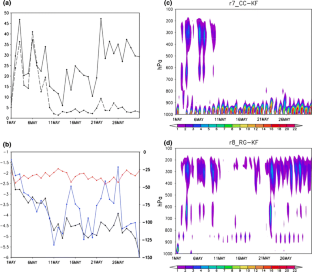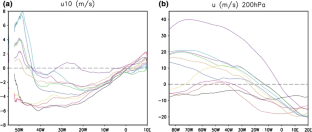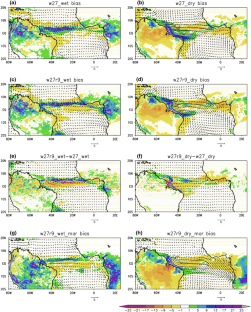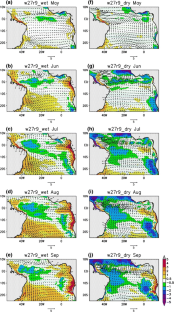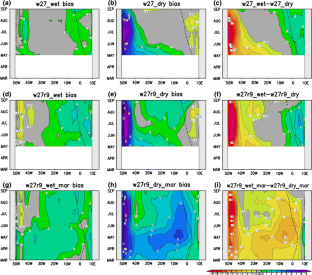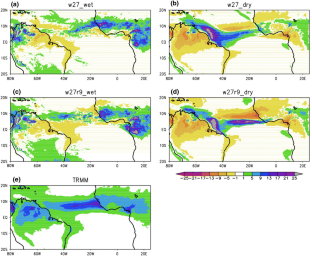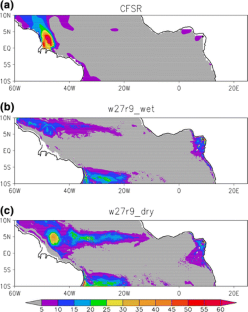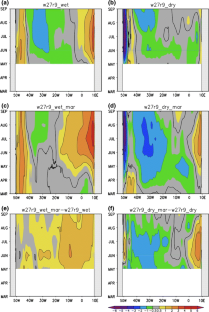 References
Ashfaq M, Skinner CB, Diffenbaugh NS (2011) Influence of SST biases on future climate change projections. Clim Dyn 36:1303–1319

Balaguru K, Chang P, Saravanan R, Jang CJ (2012) The barrier layer of the Atlantic warmpool: formation mechanism and influence on the mean climate. Tellus (submitted)

Biasutti M, Sobel AH, Kushnir Y (2006) AGCM precipitation biases in the tropical Atlantic. J Clim 19:935–958

Bjerknes J (1969) Atmospheric teleconnections from the equatorial Pacific. Mon Weather Rev 97:163–172

Breugem W–P, Hazeleger W, Haarsma RJ (2006) Multimodel study of tropical Atlantic variability and change. Geophys Res Lett 33. doi:10.1029/2006GL027831

Breugem W-P, Chang P, Jang CJ, Mignot J, Hazeleger W (2008) Barrier layers and tropical Atlantic SST biases in coupled GCMs. Tellus 60A:885–897

Chang P (1996) The role of dynamic ocean-atmosphere interaction in the tropical seasonal cycle. J Clim 9:2973–2985

Chang P, Philander G (1994) A coupled ocean-atmosphere instability of relevance to the seasonal cycle. J Atmos Sci 51:3627–3648

Chang C-Y, Carton JA, Grodsky SA, Nigam S (2007) Seasonal climate of the tropical Atlantic sector in the NCAR community climate system model 3: error structure and probable causes of errors. J Clim 20:1053–1070

Chang C-Y, Nigam S, Carton JA (2008a) Origin of the Springtime Westerly Bias in equatorial Atlantic surface winds in the community atmosphere model version 3 (CAM3) simulation. J Clim 21:4766–4778

Chang P, Zhang R, Hazeleger W, Wen C, Wan X, Ji L, Haarsma RJ, Breugem W-P, Seidel H (2008b) An oceanic teleconnection between abrupt changes in high-latitude North Atlantic climate and the African monsoon. Nat Geosci 1:444–448

Chiang JCH, Zebiak SE, Cane MA (2001) Relative roles of elevated heating and surface temperature gradients in driving anomalous surface winds over tropical oceans. J Atmos Sci 58:1371–1394

Davey KM et al (2002) STOIC: a study of coupled model climatology and variability in tropical ocean regions. Clim Dyn 18:403–420

DeWitt DG (2005) Diagnosis of the tropical Atlantic near-equatorial SST bias in a directly coupled atmosphere-ocean general circulation model. Geophys Res Lett 32. doi:10.1029/2004GL021707

Foltz GR, Grodsky SA, Carton JA, McPhaden MJ (2003) Seasonal mixed layer heat budget of the tropical Atlantic Ocean. J Geophys Res 108. doi:10.1029/2002JC001584

Giannni A, Saravanan R, Chang P (2003) Oceanic forcing of Sahel rainfall on interannual to interdecadal time scales. Science 302:1027–1030

Hazeleger W, Harrsma RJ (2005) Sensitivity of tropical Atlantic climate to mixing in a coupled ocean–atmosphere model. Clim Dyn 25:387–399

Hoskins B, Schopf P, Navarra A (2008) Modeling the atmospheric, oceanic and coupled system. In: Troccoli A, Harrison M, Anderson DLT, Mason SJ (eds) Seasonal climate: forecasting and managing risk. Springer Academic Publishers, The Netherlands

Hu Z–Z, Huang B, Pegion K (2008) Low cloud errors over the southeastern Atlantic in the NCEP CFS and their association with lower-tropospheric stability and air-sea interaction. J Geophys Res 113. doi:10.1029/2007JD009514

Hu Z–Z, Huang B, Hou Y-T, Wang W, Yang F, Stan C, Schneider E (2011) Sensitivity of tropical climate to low-level clouds in the NCEP climate forecast system. Clim Dyn 36:1795–1811. doi:10.1007/s00382-010-0797-z

Huang B, Hu Z–Z, Jha B (2007) Evolution of model systematic errors in the tropical Atlantic Basin from coupled climate hindcasts. Clim Dyn 28:661–682

Huffman G, Adler RF, Bolvin DT, Gu G, Nelkin EJ, Bowman KP, Hong Y, Stocker EF, Wolff DB (2007) The TRMM multi-satellite precipitation analysis: quasi-global, multi-year, combined-sensor precipitation estimates at fine scale. J Hydrometeorol 8:38–55

Kanamitsu M, Ebisuzaki W, Woollen J, Yang SK, Hnilo JJ, Fiorino M, Potter GL (2002) NCEP-DOE AMIP-II reanalysis (R-2). Bull Am Meteorol Soc 83(11):1631–1643

Lamb PJ (1978) Case studies of tropical Atlantic surface circulation patterns during recent sub-Saharan weather anomalies: 1967 and 1968. Mon Weather Rev 106:482–491

Large WG, Danabasoglu G (2006) Attribution and Impacts of upper-ocean biases in CCSM3. J Clim 19:2325–2346

Large WG, McWilliams JC, Doney SC (1994) Oceanic vertical mixing: a review and a model with a nonlocal boundary layer parameterization. Rev Geophys 32:363–403

Large WG, Danabasoglu G, Doney SC, McWilliams JC (1997) Sensitivity to surface forcing and boundary layer mixing in a global ocean model: annual-mean climatology. J Phys Oceanogr 27:2418–2447

Lemarié F, Kurian J, Shchepetkin AF, Molemaker MJ, Colas F, McWilliams JC (2012) Are there inescapable issues prohibiting the use of terrain-following coordinates in climate models? Ocean Modeling 42:57–79. doi:10.1016/j.ocemod.2011.11.007

Ma C–C, Mechoso CR, Robertson AW, Arakawa A (1996) Peruvian stratus clouds and the tropical Pacific circulation: a coupled ocean-atmosphere GCM study. J Clim 9:1635

Mitchell TP, Wallace JM (1992) The Annual cycle in equatorial convection and sea surface temperature. J Clim 5:1140–1156

Okumura Y, Xie S-P (2004) Interaction of the Atlantic equatorial cold tongue and the African monsoon. J Clim 17:3589–3602

Philander SGH, Pacanoswki RC (1981) The oceanic response to cross-equatorial winds (with application to coastal upwelling in low latitudes). Tellus 33:201–210

Reynolds RW, Smith TM, Liu C, Chelton DB, Casey KS, Schlax MG (2007) Daily high-resolution-blended analyses for sea surface temperature. J Clim 20:5473–5496

Richter I, Xie S-P (2008) On the origin of equatorial Atlantic biases in coupled general circulation models. Clim Dyn 31:587–598

Richter I, Xie S-P, Wittenberg AT, Masumoto Y (2011) Tropical Atlantic biases and their relation to surface wind stress and terrestrial precipitation. Clim Dyn. doi:10.1007/s00382-011-1038-9

Saha S et al (2010) The NCEP climate forecast system reanalysis. Bull Am Meteorol Soc 91:1015–1057. doi:10.1175/2010BAMS3001.1

Skamarock WC et al. (2008) A description of the advanced research WRF version 3. NCAR Tech. Note, NCAR/TN-475+STR, 113 p

Vizy EK, Cook KH (2002) Development and application of a mesoscale climate model for the tropics: influence of sea surface temperature anomalies on the West African monsoon. J Geophys Res 107. doi:10.1029/2001JD000686

Wahl S, Latif M, Park W, Keenlyside N (2011) On the tropical Atlantic SST warm bias in the Kiel climate model. Clim Dyn 36:891–906

Wan X, Chang P, Jackson CS, Ji L, Li M (2011) Plausible effect of climate model bias on abrupt climate change simulations in Atlantic sector. Deep Sea Res 58:1904–1913. doi:10.1016/j.dsr2.2010.10.068

Ward NM (1998) Diagnosis and short-lead time prediction of summer rainfall in tropical North Africa at interannual and multidecadal timescales. J Clim 11:3167–3191

Xu Z, Li M, Patricola CM, Chang P, Saravanan R (2012) Oceanic origin of tropical Atlantic biases (in preparation)
Acknowledgments
This research was supported by the Office of Science (BER), U.S. Department of Energy, Grant Nos. DE-SC0006824, DE-FG02-07ER64443 and DE-SC0004966, and by National Science Foundation Grant# AGS-1067937 as well as by National Oceanic and Atmospheric Administration Grant # NA09OAR4310135. Simulations were run at the Texas A&M Supercomputing Facility. P.C. also acknowledges the supports from the Chinese National Basic Research Program (2007CB816005), the National Science Foundation of China (41028005, 40976004, 40921004, 40930844, and 40730843), and the Chinese Ministry of Education's 111 project (B07036). The NCEP CFSR data are from NOAA's National Operational Model Archive and Distribution System (NOMADS) which is maintained at NOAA's National Climatic Data Center (NCDC), TRMM data are from NASA's Goddard Earth Sciences (GES) Data and Information Services Center (DISC), and the NOAA OI SST are archived by NOAA's NCDC National Environmental Satellite, Data, and Information Service (NESDIS). Finally, the authors thank Howard Seidel for his initial contribution to the development of TAMU-CRCM, Karthik Balaguru for providing code for the barrier layer calculation, and two anonymous reviewers, whose greatly appreciated comments helped improve this paper.
About this article
Cite this article
Patricola, C.M., Li, M., Xu, Z. et al. An investigation of tropical Atlantic bias in a high-resolution coupled regional climate model. Clim Dyn 39, 2443–2463 (2012). https://doi.org/10.1007/s00382-012-1320-5
Received:

Accepted:

Published:

Issue Date:
Keywords
Congo Basin

Regional Ocean Modeling System

Precipitation Bias

Wind Bias

Kiel Climate Model