Abstract
We study the impact of three ocean state estimates (GECCO, SODA, [ECMWF]-ORA-S3) on decadal predictability in one particular forecast system, the Earth system model from the Max Planck Institute for Meteorology in Hamburg. The forecast procedure follows two steps. First, anomalies of temperature and salinity of the observational estimates are assimilated into our coupled model. Second, the assimilation runs are then used to initialize 10-year-long hindcasts/forecasts starting from each year between 1960 and 2001. The impact of the individual ocean state estimates is evaluated both by the extent to which climate variations from the ocean state estimates are adopted by the forecast system ('fidelity') and by the prediction skill of the corresponding hindcast experiments. The evaluation focuses on North Atlantic (NA) sea surface temperature (SST), upper-level (0–700 m) NA ocean heat content (OHC) and the Atlantic meridional overturning circulation (MOC). Regarding fidelity, correlations between observations and the assimilation runs are generally high for NA SST and NA OHC, except for NA OHC in the GECCO assimilation. MOC variations experience strong modifications when GECCO and SODA are assimilated, much less so when assimilating ORA-S3. Regarding prediction skill, when initializing with ORA-S3 and SODA, correlations with observations are high for NA OHC and moderate for NA SST. Correlations in case of GECCO, on the other hand, are high for NA SST and moderate for NA OHC. Relatively high MOC correlations between hindcasts and respective assimilation run appear in the first five years in GECCO in the tropics and subtropics and in ORA-S3 north of 50N. Correlations are largely reduced when the MOC signals are detrended. The trends in the assimilation runs are to some extent artifacts of the assimilation procedure. Hence, our potential predictabilities of the MOC are optimistic estimates of the upper limits of predictability. However, the ORA-S3 reanalysis gives the best results for our forecast system as measured by both overall fidelity of the assimilation procedure and predictions of upper-level OHC in the North Atlantic.
Access options
Buy single article
Instant access to the full article PDF.
USD 39.95
Price excludes VAT (USA)
Tax calculation will be finalised during checkout.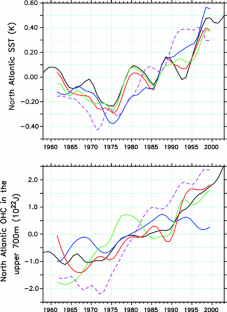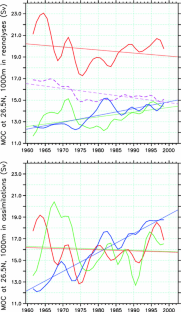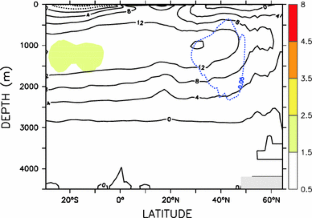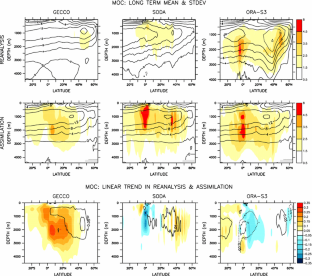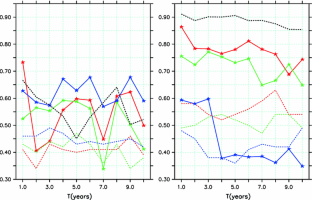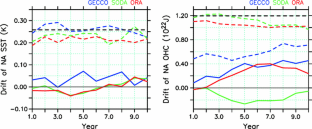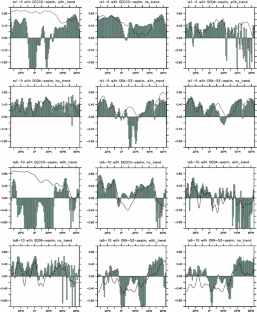 References
Balmaseda MA, Smith GC, Haines K, Anderson D, Palmer TN, Vidard A (2007) Historical reconstruction of the Atlantic meridional overturning circulation from the ECMWF operational ocean reanalysis. Geophys Res Lett 34:L23615. doi:10.1029/2007GL031645

Balmaseda MA, Vidard A, Anderson D (2008) The ECMWF ocean analysis system: ORA-S3. Mon Weather Rev 136:3018–3034

Brohan P, Kennedy JJ, Harris I, B TSF, Jones PD (2006) Uncertainty estimates in regional and global observed temperature changes: a new dataset from 1850. J Geophys Res 111:D12106. doi:10.1029/2005JD006548

Bryden HL, Longworth HR, Cunningham SA (2005) Slowing of the Atlantic meridional overturning circulation at 25° N. Nature 438. doi:10.1038/nature04385

Carton JA, Giese B (2008) A reanalysis of ocean climate using simple ocean data assimilation (SODA). Mon Weat Rev 136. doi:10.1175/2007MWR1978.1

Cox P, Stephenson D (2007) A changing climate for prediction. Science 317:207–208

Cunningham et al (2007) Temporal variability of the Atlantic meridional overturning circulation at 26.5° N. Science 317:935–938

DelSole T, Shukla J (2010) Model fidelity versus skill in seasonal forecasting. J Clim 23:4794–4806. doi:10.1175/2010JCLI3164.1

Doblas-Reyes FJ, Balmaseda MA, Weisheimer A, Palmer TN (2011) Decadal climate prediction with the European Centre for Medium-range Weather Forecasts coupled forecast system: impact of ocean observations. J Geophys Res 116:D19111. doi:10.1029/2010JD015394

Dunstone NJ, Smith DM (2010) Impact of atmosphere and sub-surface ocean data on decadal climate prediction. Geophys Res Lett 37:L02709. doi:10.1029/2009GL041609

Hawkins E, Sutton R (2009) The potential to narrow uncertainty in regional climate predictions. Bull Am Meteorol Soc 90:1095–1107. doi:10.1175/2009BAMS2607.1

Jungclaus JH, Keenlyside N, Botzet M, Haak H, Luo JJ, Latif M, Marotzke J, Mikolajewicz U, Roeckner E (2006) Ocean circulation and tropical variability in the coupled model ECHAM5/MPI-OM. J Clim 19:3952–3972

Kalnay et al (1996) The NCEP/NCAR 40-year reanalysis project. Bull Am Meteorol Soc 77:437–471

Kanzow T, Cunningham SA, Johns WE, Hirschi JJM, Marotzke J, Baringer MO, Meinen CS, Chidichimo MP, Atkinson C, Beal LM, Bryden HL, Collins J (2010) Seasonal variability of the Atlantic meridional overturning circulation at 26.5n. J Clim 23:5678–5698. doi:10.1175/2010JCLI3389.1

Keenlyside NS, Ba J (2010) Prospects for decadal climate prediction. Wiley Interdiscip Rev Clim Change 1:627–635

Keenlyside NS, Latif M, Jungclaus J, Kornblueh L, Roeckner E (2008) Advancing decadal-scale climate prediction in the North Atlantic sector. Nature 453:84–88. doi:10.1038/nature06921

Köhl A, Stammer D (2008) Decadal sea level changes in the 50-year GECCO ocean synthesis. J Clim 21:1876–1890

Köhl A, Stammer D (2008) Variability of the meridional overturning in the North Atlantic from the 50-year GECCO state estimate. J Phys Oceanogr 38:1913–1930. doi:10.1175/2008JPO3775.1

Kröger J, Kucharski F (2010) Sensitivity of ENSO characteristics to a new interactive flux correction scheme in a coupled GCM. Clim Dyn. doi:10.1007/s00382-010-0759-5

Levitus S, Antonov JI, Boyer TP, Locarnini RA, Garcia HE, Mishonov AV (2009) Global ocean heat content 1955–2008 in light of recently revealed instrumentation problems. Geophys Res Lett 36:L07608. doi:10.1029/2008GL037155

Marsland SJ, Haak H, Jungclaus JH, Latif M, Röske F (2003) The Max-Planck-Institute global ocean/sea ice model with orthogonal curvilinear coordinates. Ocean Model 5:91–127

Matei D, Baehr J, Jungclaus JH, Müller WA, Marotzke J (2011) Multi-year prediction of the Atlantic meridional overturning circulation at 26.5° N. Science 335:76–79

Matei D, Pohlmann H, Jungclaus JH, Müller WA, Haak H, Marotzke J (2011b) Two tales of initializing decadal climate predictions experiments with the ECHAM5/MPI-OM model. J Clim (Submitted)

Meehl GA, Goddard L, Murphy J, Stouffer RJ, Boer G, Danabasoglu G, Dixon K, Giorgetta MA, Greene AM, Hawkins E, Hegerl G, Karoly D, Keenlyside N, Kimoto M, Kirtman B, Navarra A, Pulwarty R, Smith D, Stammer D, Stockdale T (2009) Decadal prediction. Bull Am Meteorol Soc 90:1467–1485. doi:10.1175/2009BAMS2778.1

Mudelsee M (2010) Climate time series analysis–classical statistical and bootstrap methods. Springer, Berlin. doi:10.1007/978-90-481-9482-7

Munoz E, Kirtman B, Weijer W (2011) Varied representation of the Atlantic meridional overturning across multidecadal ocean reanalyses. Deep–Sea Res II 58:1848–1857. doi:10.1016/j.dsr2.2010.10.064

Pohlmann H, Jungclaus JH, Köhl A, Stammer D, Marotzke J (2009) Initializing decadal climate prediction with the GECCO oceanic synthesis: effects on the North Atlantic. J Clim 22:3926–3938. doi:10.1175/2009JCLI2535.1

Roeckner et al (2003) The atmospheric general circulation model ECHAM5. Part 1: Model description. Tech Rep 349, Max Planck Institut für Meteorologie, 140 pp

Schneider EK, Huang B, Zhu Z, DeWitt DG, Kinter JL, Kirtman B, Shukla J (1999) Ocean data assimilation, initialization and prediction of ENSO with a coupled GCM. Mon Weather Rev 127:1187–1207

Smith DM, Cusack S, Colman AW, Folland C, Harris GR, Murphy JM (2007) Improved surface temperature prediction for the coming decade from a global climate model. Science 317:796–799. doi:10.1126/science.1139540

Solomon S, Qin D, Manning M, Chen Z, Marquis M, Averyt KB, Tignor M, Miller HL (eds) (2007) Climate change 2007: the physical science basis. Contribution of working group I to the fourth assessment report of the intergovernmental panel on climate change. Cambridge University Press, Cambridge, UK and New York, NY, USA, 996 pp

Stammer D, Köhl A, Awaji T, Balmaseda M, Behringer D, Carton J, Ferry N, Fischer A, Fukumori I, Giese B, Haines K, Harrison E, Heimbach P, Kamachi M, Keppenne C, Lee T, Masina S, Menemenlis D, Ponte R, Remy E, Rienecker M, Rosati A, Schroeter J, Smith D, Weaver A, Wunsch C, Xue Y (2010) Ocean information provided through ensemble ocean syntheses. In: Hall J, Harrison D, Stammer D (eds) Proceedings of the OceanObs'09: sustained ocean observations and information for society conference, ESA Publication WPP-306, Venice, Italy, 21–25 Sep 2009, vol 2

Wang C, Dong S, Munoz E (2009) Seawater density variations in the North Atlantic and the Atlantic meridional overturning circulation. Clim Dyn. doi:10.1007/s00382-009-0560-5

Wilks DS (2006) Statistical methods in the atmospheric sciences. International Geophysics Series, vol 91. Elsevier
Acknowledgments
We thank Zoltan Szuts and two anonymous reviewers for many helpful comments on the manuscript. The research leading to these results has received funding from the European Community's 7th framework programme (FP7/2007–2013) under grant agreements No. 212643 (THOR: "Thermohaline Overturning – at Risk?", 2008–2012) and No. 226520 (COMBINE: "Comprehensive Modelling of the Earth System for Better Climate Prediction and Projection", 2009–2013) and from the German Research Council within the framework of the Cluster of Excellence "Integrated Climate System Analysis and Prediction" (CliSAP).
About this article
Cite this article
Kröger, J., Müller, W.A. & von Storch, JS. Impact of different ocean reanalyses on decadal climate prediction. Clim Dyn 39, 795–810 (2012). https://doi.org/10.1007/s00382-012-1310-7
Received:

Accepted:

Published:

Issue Date:

DOI: https://doi.org/10.1007/s00382-012-1310-7
Keywords