Abstract
Extreme stream-flow events of Citarum River are derived from the daily stream-flows at the Nanjung gauge station. Those events are identified based on their persistently extreme flows for 6 or more days during boreal fall when the seasonal mean stream-flow starts peaking-up from the lowest seasonal flows of June–August. Most of the extreme events of high-streamflows were related to La Niña conditions of tropical Pacific. A few of them were also associated with the negative phases of IOD and the newly identified El Niño Modoki. Unlike the cases of extreme high streamflows, extreme low streamflow events are seen to be associated with the positive IODs. Nevertheless, it was also found that the low-stream-flow events related to positive IOD events were also associated with El Niño events except for one independent event of 1977. Because the occurrence season coincides the peak season of IOD, not only the picked extreme events are seen to fall under the IOD seasons but also there exists a statistically significant correlation of 0.51 between the seasonal IOD index and the seasonal streamflows. There also exists a significant lag correlation when IOD of June–August season leads the streamflows of September–November. A significant but lower correlation coefficient (0.39) is also found between the seasonal streamflow and El Niño for September–November season only.
This is a preview of subscription content, log in to check access.
Access options
Buy single article
Instant access to the full article PDF.
US$ 39.95
Price includes VAT for USA
Subscribe to journal
Immediate online access to all issues from 2019. Subscription will auto renew annually.
US$ 199
This is the net price. Taxes to be calculated in checkout.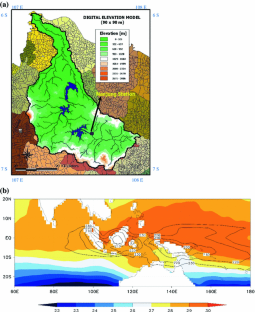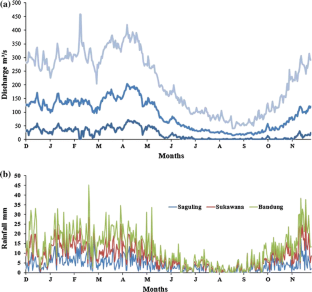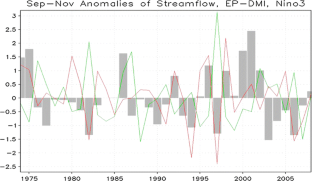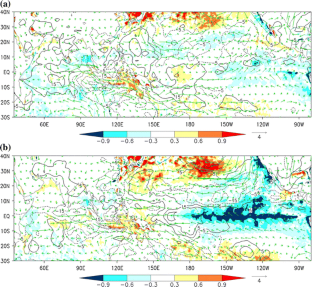 References
Aldrian E, Susanto D (2003) Identification of three dominant rainfall regions within Indonesia and their relationship to sea surface temperature. Int J Climatol 23:1435–1452

Aldrian E, Chen CA, Adi S, Prihartanto SN, Nugroho SP (2008) Spatial and seasonal dynamics of riverine carbon fluxes of the Brantas catchment in East Java J Geophys Res Biogeosci 113, G03029. doi:10.1029/2007JG000626

Apip, Takara K, Yamashiki Y, Sassa K, Ibrahim AB, Fukuoka H (2010) A distributed hydrological—geotechnical model using satellite-derived rainfall estimates for shallow landslide prediction system at a catchment scale. Landslides 7:237–258. doi:10.1007/s10346-010-0214-z

Ashok K, Yamagata T (2009) Climate change: the El Niño with a difference. Nature 461:481–484

Ashok K, Behera SK, Rao SA, Weng H, Yamagata T (2007) El Niño Modoki and its possible teleconnection. JGR-Ocean. doi:10.1029/2006JC003798

Asian Development Bank (ADB), Technical Assistance Consultant's Report (2007) Indonesia: integrated Citarum water resources management project for directorate general of Water Resources Ministry of Public Works, project number: 37049, Indonesia

Behera SK, Yamagata T (2003) Influence of the Indian Ocean dipole on the Southern Oscillation. J Met Soc Japan 81(1):169–177. doi:10.2151/jmsj.81.169

Behera SK, Krishnan S, Yamagata T (1999) Unusual ocean-atmosphere conditions in the tropical Indian Ocean during 1994. Geophys Res Lett 26:3001–3004. doi:10.1029/1999GL010434

Bjerknes J (1969) Atmospheric teleconnections from the equatorial Pacific. Mon Wea Rev 97:163–172

D'Arrigo R, Abram N, Ummenhofer C, Palmer J, Mudelsee M (2009) Reconstructed streamflow for Citarum River, Java, Indonesia: linkages to tropical climate dynamics. Clim Dyn. doi:10.1007/s00382-009-0717-2

Fares YR, Yudianto D (2004) Hydrological modelling of the upper Citarum catchment, West Java J Environ Hydrol 12: Paper 8

Hendon HH (2003) Indonesian rainfall variability: impacts of ENSO and local air–sea interaction. J Climate 16:1775–1790

Kalnay E et al (1996) The NCEP/NCAR 40 year reanalysis project. Bull Am Meteor Soc 77:437–471

Liebmann B, Smith CA (1996) Description of a complete (Interpolated) outgoing longwave radiation dataset. Bull Amer Meteor Soc 77:1275–1277

Luo JJ, Zhang R, Behera SK, Masumoto Y, Jin FF, Lukas R, Yamagata T (2010) Interaction between El Niño and extreme Indian ocean dipole. J Climate 23(3):726–742. doi:10.1175/2009JCL13104.1

Mashudi MR (2001) Forecasting water demand using back propagation networks in the operation of reservoirs in the Citarum cascade, West Java, Indonesia. ASEAN J Sci Tech Dev 18: No. 2

McGregor GR (1992) Temporal and spatial characteristics of coastal rainfall anomalies in Papua New Guinea and their relationship to the southern oscillation. Int J Climatol 12:449–468

Reynolds RW, Smith TM, Liu C, Chelton DB, Casey KS, Schlax MG (2007) Daily high‐resolution blended analyses for sea surface temperature. J Climate 20:5473–5496. doi:10.1175/2007JCLI1824.1

Saji NH, Yamagata T (2003) Possible impacts of Indian ocean dipole mode events on global climate. Climate Res 25:151–169

Saji NH, Goswami BN, Vinayachandran PN, Yamagata T (1999) A dipole mode in the tropical Indian Ocean. Nature 401:360–363

Walker GT (1924) Correlations in seasonal variations of weather. I. A further study of World weather. Mem Indian Meteorol Dep 24:275–332

Weng H, Ashok K, Behera SK, Rao SA, Yamagata T (2007) Impacts of Recent El Niño Modoki on droughts/floods in the Pacific rim during Boreal summer. Climate Dyn 29:113–129. doi:10.1007/s00382-007-0234-0

Yamagata T, Behera SK, Luo JJ, Masson S, Jury MR, Rao SA (2004) Coupled ocean-atmosphere variability in the tropical Indian ocean. "Earth Climate: the Ocean-Atmosphere Interaction". In: Wang C, Xie SP, Carton JA (eds) Geophysical Monograph 147. American Geophysical Union, Washington, pp 189–212
Acknowledgments
We are thankful to Mr. Yudha Mediawan of the Research Centre for Water Resources, Department of Public Works of Indonesia for providing observed stream-flow data of the Nanjung gauge station. Dr. J. V. Ratnam of Research Institute for Global Change (RIGC), JAMSTEC and Dr. Apip of DPRI, Kyoto University, who used to be Research Center for Limnology-Indonesian Institute of Sciences (LIPI), provided helpful suggestions during the study. We are also thankful to two anonymous reviewers for their constructive suggestions.
About this article
Cite this article
Sahu, N., Behera, S.K., Yamashiki, Y. et al. IOD and ENSO impacts on the extreme stream-flows of Citarum river in Indonesia. Clim Dyn 39, 1673–1680 (2012). https://doi.org/10.1007/s00382-011-1158-2
Received:

Accepted:

Published:

Issue Date:
Keywords
Indian Ocean Dipole

ENSO Modoki

Extreme stream-flow events

Citarum river

Climate variability