Abstract
The TRMM Precipitation Radar is used to construct a high resolution (0.05° × 0.05°) climatology of rainfall over the latitude band extending to about 36° North and South. This study describes climatological patterns of rainfall frequency and intensity at high spatial resolution, with special focus on the seasonal and diurnal cycles in the frequency of rainfall events. We use this Tropics-wide dataset to highlight small-scale precipitation features that are too fine to be captured by the most widely used satellite-based rainfall datasets. The results shed light on the roles of changes in the wind direction, the land-sea thermal contrast, small-scale variations in sea surface temperature, and orography in shaping the seasonal and diurnal cycles of rainfall. In some regions of the tropics, diurnally locked local circulations are largely responsible for sharp gradients in the spatial distribution of seasonal mean precipitation. In other regions, we show that climatological rainfall frequency changes very sharply at coastlines, even though rainfall in these regions is expected to be controlled by relatively large scale weather systems.
Access options
Buy single article
Instant access to the full article PDF.
US$ 39.95
Tax calculation will be finalised during checkout.
Subscribe to journal
Immediate online access to all issues from 2019. Subscription will auto renew annually.
US$ 119
Tax calculation will be finalised during checkout.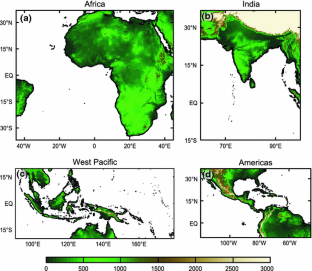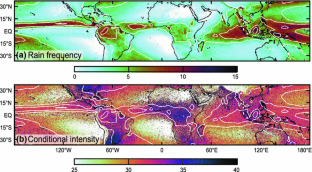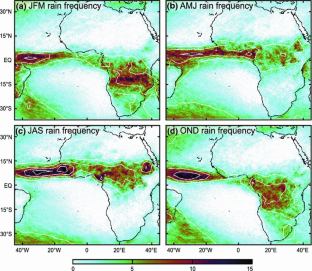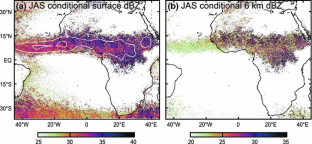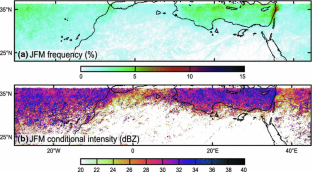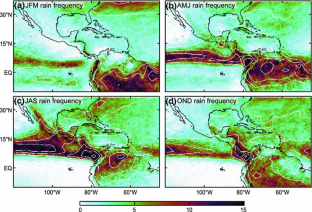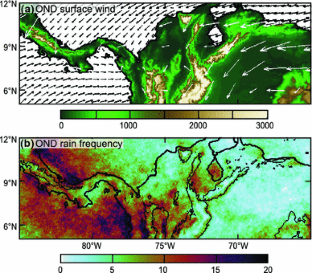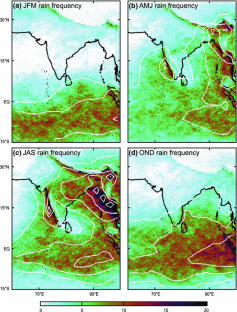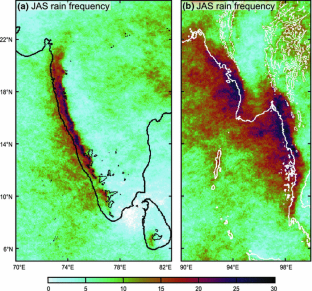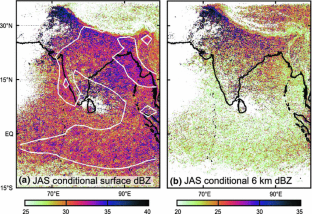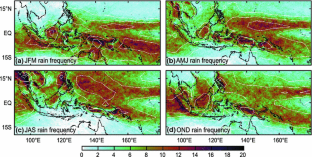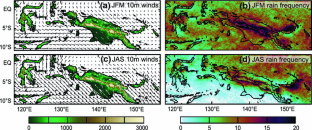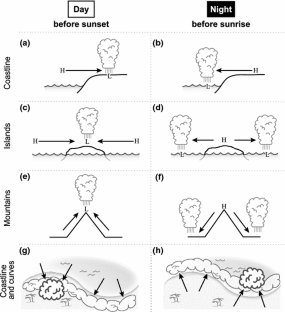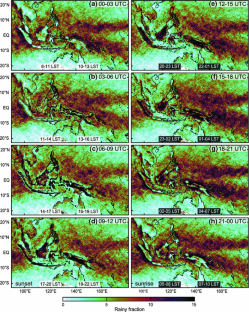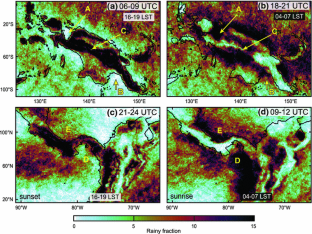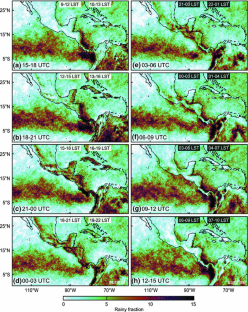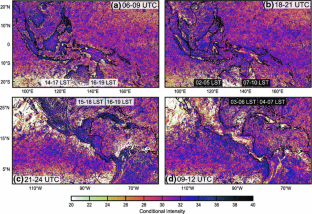 References
Adler RF et al (2003) The version-2 global precipitation climatology project (GPCP) monthly precipitation analysis (1979-present). J Hydrometeorol 4:1147–1167

Ahrens C (2009) Meteorology today: an introduction to weather, climate, and the environment, 9th edn. Brooks/Cole Pub Co, Belmont

Barros A, Kim G, Williams E, Nesbitt S (2004) Probing orographic controls in the Himalayas during the monsoon using satellite imagery. Nat Haz Earth Syst Sci 4:29–51

Bhatt BC, Nakamura K (2005) Characteristics of monsoon rainfall around the himalayas revealed by trmm precipitation radar. Mon Weather Rev 133(1):149–165. doi:10.1175/MWR-2846.1. http://journals.ametsoc.org/doi/abs/10.1175/MWR-2846.1, http://journals.ametsoc.org/doi/pdf/10.1175/MWR-2846.1

Biasutti M, Battisti DS, Sarachik ES (2004) Mechanisms controlling the annual cycle of precipitation in the tropical atlantic sector in an atmospheric GCM. J Clim 17:4708–4723

Biasutti M, Battisti DS, Sarachik ES (2005) Terrestrial influence on the annual cycle of the Atlantic ITCZ. J Clim 18:211–228

Biasutti M, Sobel A, Kushnir Y (2006) AGCM Precipitation biases in the tropical Atlantic. J Clim 19(6):935–958

Bookhagen B, Burbank D (2006) Topography, relief, and TRMM-derived rainfall variations along the Himalaya. Geophys Res Lett 33(8):L08405

Boos W, Kuang Z (2010) Dominant control of the South Asian monsoon by orographic insulation versus plateau heating. Nature 463(7278):218–222

Chen S, Houze R (1997) Diurnal variation and life-cycle of deep convective systems over the tropical Pacific warm pool. Q J R Meteorol Soc 123(538):357–388

Chen S, Houze R Jr, Mapes B (1996) Multiscale variability of deep convection in relation to large-scale circulation in TOGA COARE. J Atmos Sci 53(10):1380–1409

Chou C, Neelin JD (2003) Mechanisms limiting the northward extent of the northern summer convection zones. J Clim 16:406–425

Chou C, Neelin JD, Su H (2001) Ocean-atmosphere-land feedbacks in an idealized monsoon. Q J R Meteorol Soc 127:1869–1891

Ciesielski P, Johnson R (2008) Diurnal cycle of surface flows during 2004 NAME and comparison to model reanalysis. J Clim 21(15):3890–3913

Cifelli R, Nesbitt S, Rutledge S, Petersen W, Yuter S (2008) Diurnal characteristics of precipitation features over the tropical East Pacific: a comparison of the EPIC and TEPPS regions. J Clim 21(16):4068–4086

da Rocha R, Morales C, Cuadra S, Ambrizzi T (2009) Precipitation diurnal cycle and summer climatology assessment over South America: an evaluation of regional climate model version 3 simulations. J Geophys Res 114(D10):D10 108

Gadgil S (2003) The Indian monsoon and its variability. Ann Rev Earth Planet Sci 31(1):429–467

Graf JE, Tsi W, Jones L (1998) Overview of QuikSCAT mission-a quick deployment of a high resolution, wide swath scanning scatterometer for ocean wind measurement. In: Proceedings. IEEE Southeastcon, p xiv+416, 314–17, Engineering for a New Era' (Cat. No. 98CH36170)

Hastings D et al (1999) Global land one-kilometer base elevation (GLOBE) digital elevation model, documentation, vol 1.0. Key to Geophysical Records Documentation (KGRD), vol 34, 1999

Hess PG, Battisti DS, Rasch PJ (1993) Maintenance of the intertropical convergence zones and the large-scale tropical circulation on a water-covered earth. J Atmos Sci 50:691–713

Higgins W et al (2006) The NAME 2004 field campaign and modeling strategy. Bull Am Meteorol Soc 87:79–94. doi:10.1175/BAMS-87-1-79

Hirose M, Nakamura K (2005) Spatial and diurnal variation of precipitation systems over Asia observed by the TRMM precipitation radar. J Geophys Res 110(D5):D05 106. doi:10.1029/2004JD004815

Hirose M, Oki R, Shimizu S, Kachi M, Higashiuwatoko T (2008) Finescale diurnal rainfall statistics refined from eight years of TRMM PR data. J Appl Meteorol Climatol 47(2):544–561

Holder C, Yuter S, Sobel A, Aiyyer A (2008) The mesoscale characteristics of tropical oceanic precipitation during Kelvin and mixed Rossby-Gravity wave events. Mon Weather Rev 136(9):3446–3464

Holton JR, Wallace JM, Young JM (1971) On boundary layer dynamics and the ITCZ. J Atmos Sci 28:275–280

Houze R, Wilton D, Smull B (2007) Monsoon convection in the Himalayan region as seen by the TRMM Precipitation Radar. Q J R Meteorol Soc 133(627):1389–1411

Huffman G, Adler R, Morrissey M, Bolvin D, Curtis S, Joyce R, McGavock B, Susskind J (2001) Global precipitation at one-degree daily resolution from multisatellite observations. J Hydrometeorol 2(1):36–50

Huffman G et al (2007) The TRMM multisatellite precipitation analysis (TMPA): quasi-global, multiyear, combined-sensor precipitation estimates at fine scales. J Hydrometeorol 8(1):38–55. doi:10.1175/JHM560.1

Ichikawa H, Yasunari T (2008) Intraseasonal variability in diurnal rainfall over New Guinea and the surrounding oceans during austral summer. J Clim 21(12):2852–2868

Johnson R, Ciesielski P, L'Ecuyer T, Newman A (2010) Diurnal cycle of convection during the 2004 North American monsoon experiment. J Clim 23(5):1060–1078

Joussaume S et al (1999) Monsoon changes for 6000 years ago: results of 18 simulations from the paleoclimate modeling intercomparison project (PMIP). Geophys Res Lett 26:859–862

Kummerow C et al (2000) The status of the tropical rainfall measuring mission (TRMM) after two years in orbit. J Appl Meteorol 39(12):1965–1982

Lang T, Ahijevych D, Nesbitt S, Carbone R, Rutledge S, Cifelli R (2007) Radar-observed characteristics of precipitating systems during NAME 2004. J Clim 20(9):1713–1733

Lindzen RS, Nigam S (1987) On the role of sea-surface temperature-gradients in forcing low-level winds and convergence in the tropics. J Atmos Sci 44:2418–2436

Lyon B, Zubair L, Ralapanawe V, Yahiya Z (2009) Finescale evaluation of drought in a tropical setting: case study in sri lanka. J Appl Meteorol Climatol 48(1):77–88. doi:10.1175/2008JAMC1767.1. http://journals.ametsoc.org/doi/abs/10.1175/2008JAMC1767.1, http://journals.ametsoc.org/doi/pdf/10.1175/2008JAMC1767.1

Mapes B, Houze R (1993) Cloud clusters and superclusters over the oceanic warm pool. Mon Weather Rev 121(5):1398–1416

Mapes B, Warner T, Xu M (2003) Diurnal patterns of rainfall in Northwestern South America. Part III: diurnal gravity waves and nocturnal convection offshore. Mon Weather Rev 131(5):830–844

Mapes B, Warner T, Xu M, Negri A (2003) Diurnal patterns of rainfall in Northwestern South America. Part I: observations and context. Mon Weather Rev 131(5):799–812

Medina S, Houze R Jr, Kumar A, Niyogi D (2010) Summer monsoon convection in the Himalayan region: terrain and land cover effects. Q J R Meteorol Soc 136(648):593–616

Minobe S, Kuwano-Yoshida A, Komori N, Xie S, Small R (2008) Influence of the Gulf Stream on the troposphere. Nature 452(7184):206–209

Mori S et al (2004) Diurnal land-sea rainfall peak migration over Sumatra Island, Indonesian maritime continent, observed by TRMM satellite and intensive rawinsonde soundings. Mon Weather Rev 132(8):2021–2039

Neelin JD, Held IM (1987) Modeling tropical convergence based on the moist static energy budget. Mon Weather Rev 115:3–12

Negri A, Bell T, Xu L (2002) Sampling of the diurnal cycle of precipitation using TRMM. J Atmos Oceanic Technol 19(9):1333–1344

Nesbitt S, Anders A (2009) Very high resolution precipitation climatologies from the tropical rainfall measuring mission precipitation radar. Geophys Res Lett 36(15):L15815. doi:10.1029/2009GL038026

Nesbitt S, Gochis D, Lang T (2008) The diurnal cycle of clouds and precipitation along the Sierra Madre Occidental observed during NAME-2004: implications for warm season precipitation estimation in complex terrain. J Hydrometeorol 9(4):728–743

Nesbitt S, Zipser E (2003) The diurnal cycle of rainfall and convective intensity according to three years of TRMM measurements. J Clim 16:1456–1475

Philander SGH, Gu D, Halpern D, Lambert G, Lau N-C, Li T, Pacanowski R (1996) Why the ITCZ is mostly north of the equator. J Clim 9:2958–2971

Prell W, Kutzbach J (1992) Sensitivity of the Indian monsoon to forcing parameters and implications for its evolution. Nature 360(6405):647–652

Rafiuddin M, Uyeda H, Islam M (2010) Characteristics of monsoon precipitation systems in and around Bangladesh. Int J Climatol 30(7):1042–1055

Rodwell MJ, Hoskins BJ (1996) Monsoons and the dynamics of deserts. Q J R Meteorol Soc 122:1385–1404

Romatschke U, Medina S, Houze R Jr (2010) Regional, seasonal, and diurnal variations of extreme convection in the South Asian Region. J Clim 23(2):419–439

Rowe A, Rutledge S, Lang T, Ciesielski P, Saleeby S (2008) Elevation-dependent trends in precipitation observed during NAME. Mon Weather Rev 136(12):4962–4979

Schneider EK (1977) Axially symmetric steady-state models of the basic state for instability and climate studies. part II. Nonlinear calculations. J Atmos Sci 34(2):280–296. doi:10.1175/1520-0469(1977)034.0280:ASSSMO.2.0.CO;2

Short DA, Nakamura K (2010) Effect of trmm orbit boost on radar reflectivity distributions. J Atmos Oceanic Technol 27(7):1247–1254. doi:10.1175/2010JTECHA1426.1. http://journals.ametsoc.org/doi/abs/10.1175/2010JTECHA1426.1, http://journals.ametsoc.org/doi/pdf/10.1175/2010JTECHA1426.1

Simmons A, Uppala S, Dee D, Kobayashi S (2007) ERA-interim: new ECMWF reanalysis products from 1989 onwards. ECMWF Newslett 110:25–35

Simpson J, Kummerow C, Tao W, Adler R (1996) On the tropical rainfall measuring mission (TRMM). Meteorol Atmos Phys 60(1):19–36

Sobel AH, Burleyson C, Yuter SE (2011) Rain on small tropical islands. J Geophys Res Atmos (in review)

Steiner M, Houze R Jr, Yuter S (1995) Climatological characterization of three-dimensional storm structure from operational radar and rain gauge data. J Appl Meteorol 34(9):1978–2007

Takahashi H, Fujinami H, Yasunari T, Matsumoto J (2010) Diurnal rainfall pattern observed by tropical rainfall measuring mission precipitation radar (TRMM-PR) around the Indochina peninsula. J Geophys Res 115(D7):D07109

Waliser DE, Somerville R (1994) Preferred latitudes of the intertropical convergence zone. J Atmos Sci 51:1619–1639

Wang J, Wolff D (2009) Comparisons of reflectivities from the TRMM precipitation radar and ground-based radars. J Atmos Oceanic Technol 26(5):857–875

Warner T, Mapes B, Xu M (2003) Diurnal patterns of rainfall in northwestern South America. Part II: model simulations. Mon Weather Rev 131(5):813–829

Webster PJ (1987) Monsoons, chap. Elemen Monsoon 3–32 (J. Wiley Co)

Xie P, Arkin PA (1996) Analyses of global monthly precipitation using gauge observations, satellite estimates, and numerical model predictions. J Clim 9:840–858

Xie S, Xu H, Saji N, Wang Y, Liu W (2006) Role of narrow mountains in large-scale organization of Asian monsoon convection. J Clim 19(14):3420–3429

Xie SP, Philander SGH (1994) A coupled ocean-atmosphere model of relevance to the ITCZ in the eastern Pacific. Tellus 46A:340–350

Zhou L, Wang Y (2006) Tropical rainfall measuring mission observation and regional model study of precipitation diurnal cycle in the New Guinean region. J Geophys Res 111(D17):D17104

Zipser E, Liu C, Cecil D, Nesbitt S, Yorty D (2006) Where are the most intense thunderstorms on Earth?. Bull Am Meteorol Soc 87(8):1057–1071
Acknowledgments
This work was supported by NASA grant NNX07AD21G and NSF grants ATM-0544766 and ATM-0908420. Any opinions, findings, and conclusions or recommendations expressed in this material are those of the authors and do not necessarily reflect the views of NASA or NSF.
Electronic supplementary material
Electronic supplementary material
About this article
Cite this article
Biasutti, M., Yuter, S.E., Burleyson, C.D. et al. Very high resolution rainfall patterns measured by TRMM precipitation radar: seasonal and diurnal cycles. Clim Dyn 39, 239–258 (2012). https://doi.org/10.1007/s00382-011-1146-6
Received:

Accepted:

Published:

Issue Date:
Keywords