Abstract
The objective of this study is to examine, based on recently available high resolution satellite and observational data, the evolution and role of sea surface temperature (SST) in influencing the intraseasonal variability of the South China Sea (SCS) summer monsoon (SM). The study focuses on the 30–60 day timescale when the northward propagating anomalies are dominant over the SCS. Composite analysis of the SST maximum events during SCS SM shows that increased SST anomalies over the SCS are significantly influenced by the downward shortwave radiation flux anomalies, with the suppressed surface latent heat flux anomalies supplementing to it. A thermal damping of the positive SST anomalies induces positive upward heat fluxes, which then destabilize the lower atmosphere between 1,000 and 700 hPa. The positive SST anomalies lead the positive precipitation anomalies over the SCS by 10 days, with a significant correlation (r = 0.44) between the SST-precipitation anomalies. The new findings here indicate an ocean-to-atmosphere effect over the SCS, where underlying SST anomalies tend to form a favorable condition for convective activity and sustain enhanced precipitation during the SCS SM. It is also argued, based on our observations, that the negative sea level pressure anomalies induced by the positive SST anomalies play a role in enhancing the northward propagation of the intraseasonal anomalies over the SCS.
Access options
Buy single article
Instant access to the full article PDF.
US$ 39.95
Tax calculation will be finalised during checkout.
Subscribe to journal
Immediate online access to all issues from 2019. Subscription will auto renew annually.
US$ 119
Tax calculation will be finalised during checkout.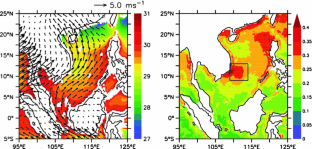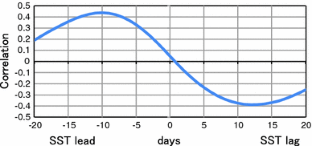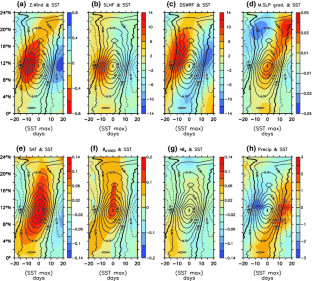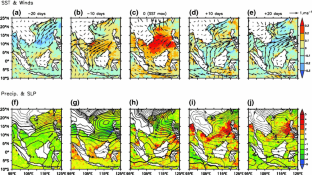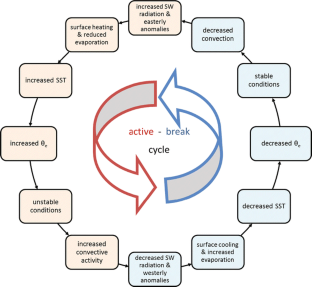 References
Bellon G, Sobel AH (2008) Instability of the axisymmetric monsoon flow and intraseasonal oscillation. J Geophys Res 113:D07109

Chan JCL, Wi WX, Xu JJ (2002) Mechanisms responsible for the maintenance of the 1998 South China Sea summer monsoon. J Meteorol Soc Jpn 80(5):1103–1113

Chao SY, Shaw PT, Wu SY (1996) Deep water ventilation in the South China Sea. Deep Sea Res Part I-Oceanogr Res Pap 43(4):445–466

Chen TC, Chen JM (1993) The 10–20 day mode of the 1979 Indian monsoon: its relation with the time-variation of monsoon rainfall. Mon Weather Rev 121(9):2465–2482

Chen TC, Chen JR (1995) An observational study of the South China Sea monsoon during the 1979 summer: onset and life-cycle. Mon Weather Rev 123(8):2295–2318

Chou C, Hsueh YC (2010) Mechanisms of northward propagating intraseasonal oscillation: a comparison between the Indian Ocean and the western north Pacific. J Clim 23:6624–6640

Fu X, Yang B, Bao Q, Wang B (2008) Sea surface temperature feedback extends the predictability of tropical intraseasonal oscillation. Mon Weather Rev 136(2):577–597. doi:10.1175/2007MWR2172.1

Gill AE (1980) Some simple solutions for heat-induced tropical circulation, vol 106. Wiley, USA. doi:10.1002/qj.49710644905

Goswami BN (2005) South Asian monsoon. In: Lau KM, Waliser D (eds) Intraseasonal variability in the atmosphere–ocean climate system. Springer, Berlin, pp 19–61. doi:10.1007/354027250x_2

Goswami BN, Shukla J (1984) Quasi-periodic oscillations in a symmetric general circulation model. J Atmos Sci 41(1):20–37

Hsu HH, Weng CH, Wu CH (2004) Contrasting characteristics between the northward and eastward propagation of the intraseasonal oscillation during the boreal summer. J Clim 17(4):727–743

Isoguchi O, Kawamura H (2006) MJO-related summer cooling and phytoplankton blooms in the South China Sea in recent years. Geophys Res Lett 33(16):L16615. doi:10.1029/2006gl027046

Jiang XN, Li T, Wang B (2004) Structures and mechanisms of the northward propagating boreal summer intraseasonal oscillation. J Clim 17(5):1022–1039

Kajikawa Y, Yasunari T (2005) Interannual variability of the 10–25 and 30–60 day variation over the South China Sea during boreal summer. Geophys Res Lett 32:L04710

Kemball-Cook S, Wang B (2001) Equatorial waves and air-sea interaction in the boreal summer intraseasonal oscillation. J Clim 14(13):2923–2942

Krishnamurti TN, Ardanuy P (1980) The 10–20 day westward propagating mode and breaks in the monsoons. Tellus 32:15–26

Krishnamurti TN, Subrahmanyam D (1982) The 30–50 day mode at 850 mb during MONEX. J Atmos Sci 39:2088–2095

Lau KM, Peng L (1987) Origin of low-frequency (intraseasonal) oscillations in the tropical atmosphere. Part I: basic theory. J Atmos Sci 44:950–972

Lau KM, Wu HT, Bony S (1997) The role of large-scale atmospheric circulation in the relationship between tropical convection and sea surface temperature. J Clim 10(3):381–392

Lau KM, Wu HT, Yang S (1998) Hydrologic processes associated with the first transition of the Asian summer monsoon: a pilot satellite study. Bull Am Meteorol Soc 79(9):1871–1882

Lindzen RS, Nigam S (1987) On the role of Sea surface temperature gradients in forcing low-level winds and convergence in the tropics. J Atmos Sci 44(17):2418–2436

Liu TW, Xie X, Polito PS, Xie S, Ping HashizumeH (2000) Atmospheric manifestation of tropical instability wave observed by QuikSCAT and tropical rain measuring mission. Geophys Res Lett 27(16):2545–2548. doi:10.1029/2000gl011545

Mao JY, Chan JCL (2005) Intraseasonal variability of the South China Sea summer monsoon. J Clim 18(13):2388–2402

Matsuno T (1966) Quasi-geostrophic motions in the equatorial area. J Meteor Soc Jpn 44(1):25–42

Murakami T, Matsumoto J (1994) Summer monsoon over the Asian continent and western North Pacific. Hosei University, Department of Geography, Tokyo

Murakami T, Nakazawa T, He J (1984) On the 40–50 day oscillations during the 1979 northern hemisphere summer. I: phase propagation. J Meteorol Soc Jpn 62:440–468

Qu TD (2001) Role of ocean dynamics in determining the mean seasonal cycle of the South China Sea surface temperature. J Geophys Res Ocean 106(C4):6943–6955

Qu TD, Meyers G, Godfrey JS, Hu DX (1997) Upper ocean dynamics and its role in maintaining the annual mean western Pacific warm pool in a global GCM. Int J Climatol 17(7):711–724

Rao YP (1976) Southwest monsoon. Meteorological monograph. India Meteorological Department, New Delhi

Roxy M, Tanimoto Y (2007) Role of SST over the Indian Ocean in influencing the intraseasonal variability of the Indian summer monsoon. J Meteorol Soc Jpn 85(3):349–358. doi:10.2151/jmsj.85.349

Sengupta D, Goswami BN, Senan R (2001) Coherent intraseasonal oscillations of ocean and atmosphere during the Asian summer monsoon. Geophys Res Lett 28(21):4127–4130

Sikka DR, Gadgil S (1980) On the maximum cloud zone and the ITCZ over Indian longitudes during the southwest monsoon. Mon Weather Rev 108:1840–1853

Song Q, Chelton DB, Esbensen SK, Thum N, O'Neill LW (2009) Coupling between sea surface temperature and low-level winds in mesoscale numerical models. J Clim 22(1):146–164

Tao SY, Chen LX (1987) A review of recent research on the East Asian summer monsoon in China. Monsoon meteorology. Oxford University Press, Oxford

Wang B, Wu R (1997a) Peculiar temporal structure of the South China Sea summer monsoon. Adv Atmos Sci 14(2):177–192

Wang B, Wu R (1997b) Peculiar temporal structure of the South China Sea summer monsoon. Adv Atmos Sci 14(2):177–194. doi:10.1007/s00376-997-0018-9

Wentz FJ, Gentemann C, Smith D, Chelton D (2000) Satellite measurements of Sea surface temperature through clouds. Science 288(5467):847–850. doi:10.1126/science.288.5467.847

Wu R (2010) Subseasonal variability during the South China Sea summer monsoon onset. Clim Dyn 34(5):629–642. doi:10.1007/s00382-009-0679-4

Wu R, Wang B (2000) Interannual variability of summer monsoon onset over the western North Pacific and the underlying processes. J Clim 13(14):2483–2501

Wu R, Wang B (2001) Multi-stage onset of the summer monsoon over the western North Pacific. Clim Dyn 17(4):277–289

Wu R, Kirtman BP, Pegion K (2006) Local air–sea relationship in observations and model simulations. J Clim 19(19):4914–4932. doi:10.1175/JCLI3904.1

Wu R, Kirtman BP, Pegion K (2008) Local rainfall-SST relationship on subseasonal time scales in satellite observations and CFS. Geophys Res Lett 35(22):L22706. doi:10.1029/2008gl035883

Xie S-P, Philander SGH (1994) A coupled Ocean atmosphere model of relevance to the ITCZ in the eastern Pacific. Tellus A 46(4):340–350

Xie S-P, Tanimoto Y (1998) A pan Atlantic decadal climate oscillation. Geophys Res Lett 25(12):2185–2188

Xie S-P, Liu WT, Liu Q, Nonaka M (2001) Far-reaching effects of the Hawaiian Islands on the Pacific Ocean–atmosphere system. Science 292(5524):2057–2060. doi:10.1126/science.1059781

Xie S-P, Xie Q, Wang D, Liu WT (2003) Summer upwelling in the South China Sea and its role in regional climate variations. J Geophys Res 108(C8):3261

Xie S-P, Chang C-H, Xie Q, Wang D (2007) Intraseasonal variability in the summer South China Sea: wind jet, cold filament, and recirculations. J Geophys Res 112(C10):C10008. doi:10.1029/2007jc004238

Yu L, Jin X, Weller RA (2008) Multidecade global flux datasets from the objectively analyzed air–sea fluxes (OAFlux). Project: latent and sensible heat fluxes, ocean evaporation, and related surface meteorological variables, vol OA-2008–01. Woods Hole Oceanographic Institution, USA

Zeng L, Wang D (2009) Intraseasonal variability of latent-heat flux in the South China Sea. Theor Appl Climatol 97(1):53–64. doi:10.1007/s00704-009-0131-z

Zheng Y, Waliser DE, Stern WF, Jones C (2004) The role of coupled sea surface temperatures in the simulation of the tropical intraseasonal oscillation. J Clim 17(21):4109–4134
Acknowledgments
Constructive suggestions and comments from two anonymous reviewers have helped in improving the manuscript. NASA/GSFC is thankfully acknowledged for TMI/QuickScat satellite data. The latent heat flux data is obtained from the WHOI OAFlux Project and the downward shortwave radiation flux data from the International Satellite Cloud Climatology Project (ISCCP). The authors are thankful to the Centre for Climate Change Research at the Indian Institute of Tropical Meteorology, Ministry of Earth Sciences, India, for facilitating the study. This work was supported in part by the Global Environment Research Fund (S-5) of the Ministry of the Environment, Japan, Grand-In-Aid for Scientific Research defrayed by the Ministry of Education, Culture, Sports, Science and Technology of Japan (22340132, 22340135, 22106007).
Additional information
This paper is a contribution to the special issue on Global Monsoon Climate, a product of the Global Monsoon Working Group of the Past Global Changes (PAGES) project, coordinated by Pinxian Wang, Bin Wang, and Thorsten Kiefer.
About this article
Cite this article
Roxy, M., Tanimoto, Y. Influence of sea surface temperature on the intraseasonal variability of the South China Sea summer monsoon. Clim Dyn 39, 1209–1218 (2012). https://doi.org/10.1007/s00382-011-1118-x
Received:

Accepted:

Published:

Issue Date:
Keywords
South China Sea

Asian monsoon

Ocean atmosphere interaction

Intraseasonal variablity