Abstract
Recent changes in the Arctic hydrological cycle are explored using in situ observations and an improved atmospheric reanalysis data set, ERA-Interim. We document a pronounced decline in summer snowfall over the Arctic Ocean and Canadian Archipelago. The snowfall decline is diagnosed as being almost entirely caused by changes in precipitation form (snow turning to rain) with very little influence of decreases in total precipitation. The proportion of precipitation falling as snow has decreased as a result of lower-atmospheric warming. Statistically, over 99% of the summer snowfall decline is linked to Arctic warming over the past two decades. Based on the reanalysis snowfall data over the ice-covered Arctic Ocean, we derive an estimate for the amount of snow-covered ice. It is estimated that the area of snow-covered ice, and the proportion of sea ice covered by snow, have decreased significantly. We perform a series of sensitivity experiments in which inter-annual changes in snow-covered ice are either unaccounted for, or are parameterized. In the parameterized case, the loss of snow-on-ice results in a substantial decrease in the surface albedo over the Arctic Ocean, that is of comparable magnitude to the decrease in albedo due to the decline in sea ice cover. Accordingly, the solar input to the Arctic Ocean is increased, causing additional surface ice melt. We conclude that the decline in summer snowfall has likely contributed to the thinning of sea ice over recent decades. The results presented provide support for the existence of a positive feedback in association with warming-induced reductions in summer snowfall.
Access options
Buy single article
Instant access to the full article PDF.
US$ 39.95
Tax calculation will be finalised during checkout.
Subscribe to journal
Immediate online access to all issues from 2019. Subscription will auto renew annually.
US$ 119
Tax calculation will be finalised during checkout.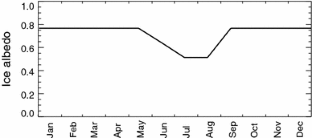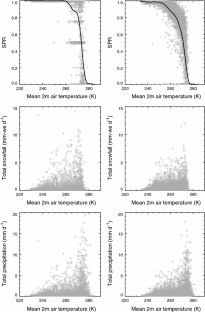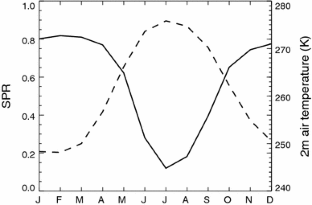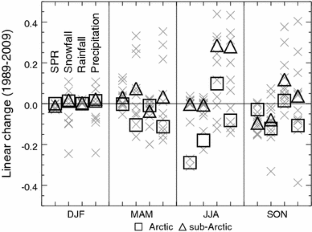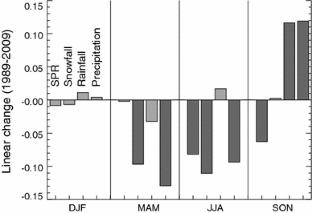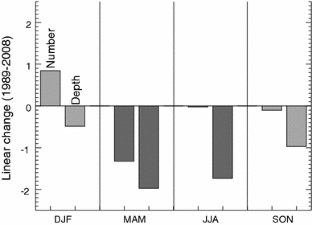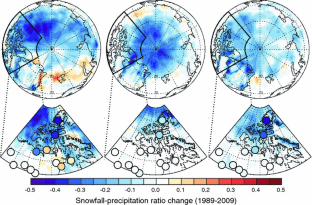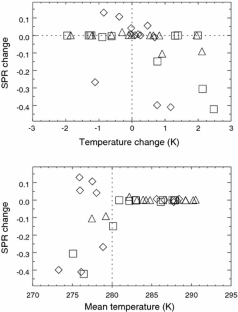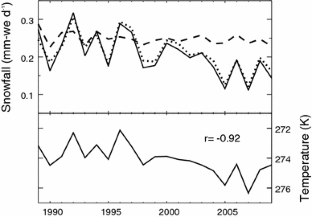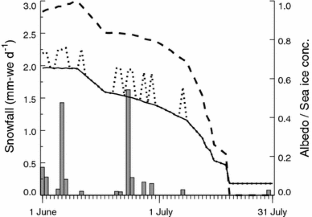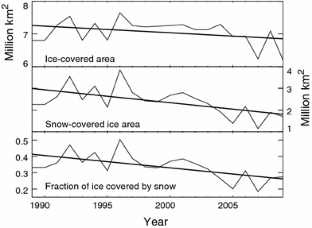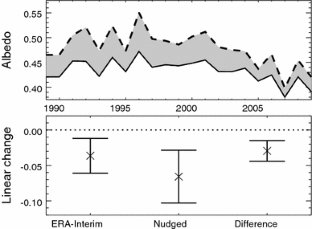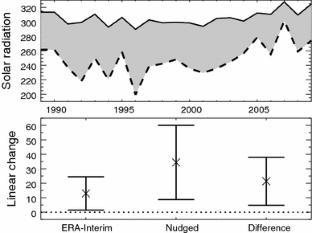 References
Bekryaev R, Polyakov I, Alexeev V (2010) Role of polar amplification in long-term surface air temperature variations and modern Arctic warming. J Clim 23:3888–3906

Bretherton C, Widmann M, Dymnikov V, Wallace J, Blade I (1999) The effective number of spatial degrees of freedom of a time-varying field. J Clim 12:1900–2009

Cullather R, Bromwich D, Serreze M (2000) The atmospheric hydrologic cycle over the Arctic Basin from reanalyses. Part I: comparison with observations and previous studies. J Clim 13:923–937

Curry J, Schramm J, Ebert E (1995) Sea ice-albedo climate feedback mechanism. J Clim 8:240–247

Curry J, Schramm J, Perovich D, Pinto J (2001) Applications of SHEBA/FIRE data to evaluation of snow/ice albedo parameterizations. J Geophys Res 106:15,345–15,355

Dee D, Uppala S (2009) Variational bias correction of satellite radiance data in the ERA-Interim reanalysis. Q J R Meteorol Soc 135:1830–1841

Ebert E, Curry J (1993) An intermediate one-dimensional thermodynamic sea ice model for investigating ice-atmosphere iteractions. J Geophys Res 98:10,085–10,109

Finnis J, Holland M, Serreze M, Cassano J (2007) Response of the northern hemisphere extratropical cyclone activity and associated precipitation to climate change, as represented by the community climate system model. J Geophys Res 112:G04S42. doi:10.1029/2006JG000286

Forland E, Hanssen-Bauer I (2000) Increased precipitation in the Norwegian Arctic: true or false? Clim Change 46:485–509

Francis J, White D, Cassano J, Gutowski W, Hinzman L, Holland M, Steele M, Vorosmarty C (2009) An Arctic hydrological system in transition: Feedbacks and impacts on terrestrial, marine, and human life. J Geophys Res 114: G04019. doi:10.1029/2008JG000902

Gillett N, Stone D, Stott P, Nozawa T, Karpecho A, Hegerl G, Wehner M, Jones P (2008) Attribution of polar warming to human influence. Nature Geosci 1:750–754

Holland M, Finnis J, Barrett A, Serreze M (2007) Projected changes in Arctic Ocean freshwater budgets. J Geophys Res 112: G04S55. doi:10.1029/2006JG000354

Kattsov V, Walsh J, Chapman W, Govorkova V, Pavlova T, Zhang X (2007) Simulation and projection of Arctic freshwater budget components by the IPCC AR4 global climate models. J Hydrometeor 8:571–589

Kaufmann D, Schneider D, McKay N, Ammann C, Bradley R, Briffa K, Miller G, Otto-Bliesner B, Overpeck J, Vinther B, 2k Project Members (2009) Recent warming reverses long-term Arctic cooling. Science 325:1236--1239

Landerer F, Dickey J, Gntner A (2010) Terrestrial water budget of the Eurasian pan-Arctic from GRACE satellite measurements during 2003–2009. J Geophys Res 115: D23115. doi:10.1029/2010JD014584

Ledley T (1985) The sensitivity of a thermodynamic sea ice model with leads to time step size. J Geophys Res 90:2251–2260

Ledley T (1991) Snow on sea ice: competing effects in shaping climate. J Geophys Res 96:17,195–17,208

Ledley T (1993) Variations in snow on sea ice: a mechanism for producing climate variations. J Geophys Res 98:10,401–10,410

Markus T, Stroeve J, Miller J (2009) Recent changes in Arctic sea ice melt onset, freezeup and melt season length. J Geophys Res 114: C12024. doi:10.1029/2009GJC005436

McCabe G, Wolock D (2010) Long-term variability in northern hemisphere snow cover and association with warmer winters. Clim Change 99:141–153

McClelland J, Dery S, Peterson B, Holmes R, Wood E (2006) A pan-Arctic evaluation of changes in river discharge during the latter half of the 20th century. Geophys Res Lett 33: L06715. doi:10.1029/2006GL025753

Miller G, Alley R, Brigham-Grette J, Fitzpatrick J, Polyak L, Serreze M, White J (2010) Arctic amplification: can the past constrain the future?. Quat Sci Rev 29:1779–1790

Min SK, Zhang X, Zweirs F (2008) Human-induced Arctic moistening. Science 320:518–520

Perovich D, Grenfell T, Light B, Hobbs P (2002) Seasonal evolution of the albedo of multiyear Arctic sea ice. J Geophys Res 107: 8044. doi:10.1029/2000JC000438

Perovich D, Light B, Eicken H, Jones K, Runciman K, Nghiem S (2007) Increased solar heating of the Arctic Ocean and adjacent seas, 1979–2005: attribution and role in the ice-albedo feedback. Geophys Res Lett 34: L19505. doi:10.1029/2007GL031480

Peterson B, Holmes R, McClelland J, Vorosmarty C, Lammers R, Shiklomanov I, Rahmstorf S (2002) Increasing river discharge to the Arctic Ocean. Science 298:2171–2173

Peterson B, McClelland J, Curry R, Holmes R, Walsh J, Agaard K (2006) Trajectory shifts in the Arctic and sub-Arctic freshwater cycle. Science 313:1061–1066

Polyak L, Alley R, Andrews J, Brigham-Grette J, Cronin T, Darby D, Dyke A, Fitzpatrick J, Funder S, Holland M, Jennings A, Miller G, O'Regan M, Savelle J, Serreze M, John K, White J, Wolff E (2010) History of sea ice in the Arctic. Quat Sci Rev 29:1757–1778

Rawlins M et al (2010) Analysis of the Arctic system for freshwater cycle intensification: observations and expectations. J Clim 23:5715–5737

Rawlins M, Ye H, Yang D, Shiklomanov A, McDonald K (2009) Divergence in seasonal hydrology across northern Eurasia: Emerging trends and water cycle linkages. J Geophys Res 114: D18119. doi:10.1029/2009JD011747

Screen J, Simmonds I (2010a) The central role of diminishing sea ice in recent Arctic temperature amplification. Nature 464:1334–1337

Screen J, Simmonds I (2010b) Increasing fall-winter energy loss from the Arctic Ocean and its role in Arctic temperature amplification. Geophys Res Letts 37: L16707. doi:10.1029/2010GL044136

Screen J, Simmonds I (2011) Erroneous Arctic temperature trends in the ERA-40 reanalysis: a closer look. J Clim 24:2620–2627

Screen J, Simmonds I, Keay K (2011) Dramatic inter-annual changes of perennial Arctic sea ice linked to abnormal summer storm activity. J Geophys Res. doi:10.1029/2011JD015847 (in press)

Serreze M, Barrett A (2008) The summer cyclone maximum over the central Arctic Ocean. J Clim 21:1048–1065

Serreze M, Francis J (2006) The Arctic amplification debate. Clim Change 76:241–264

Serreze M, Hurst C (2000) Representation of mean Arctic precipitation from NCEP-NCAR and ERA reanalyses. J Clim 13:182–201

Serreze M, Holland M, Stroeve J (2007) Perspectives on the Arctic's shrinking sea-ice cover. Science 315:1533–1536

Serreze M, Barrett A, Stroeve J, Kindig D, Holland M (2009) The emergence of surface-based Arctic amplification. Cryosphere 3:11–19

Simmonds I, Keay K (2009) Extraordinary September Arctic sea ice reductions and their relationships with storm behavior over 1979–2008. Geophys Res Letts 36: L19715. doi:10.1029/2009GL039810

Simmonds I, Burke C, Keay K (2008) Arctic climate change as manifest in cyclone behavior. J Clim 21:5777–5796

Simmons A, Uppala S, Dee D, Kobayashi S (2006) ERA-Interim: new ECMWF reanalysis products from 1989 onwards. ECMWF Newslett 110:25–35

Simmons A, Willett K, Jones P, Thorne P, Dee D (2010) Low-frequency variations in surface atmospheric humidity, temperature, and precipitation: inferences from reanalyses and monthly gridded observational data sets. J Geophys Res 115: D01110. doi:10.1029/2009JD012442

Solomon S, Qin D, Manning M, Chen Z, Marquis M, Averyt K, Tignot M, Miller H (2007) Climate change 2007: the physical science basis. Cambridge University Press, Cambridge

Stroeve J, Holland M, Meier W, Scambos T, Serreze M (2007) Arctic sea ice decline: faster than forecast. Geophys Res Letts 34: L09501. doi:10.1029/2007GL029703

Symon C, Arris L, Heal B (2004) Arctic climate impact assessment. Cambridge University Press, Cambridge

Uppala S, Dee D, Kobayashi S, Berrisford P, Simmons A (2008) Towards a climate data assimilation system: status update of ERA-Interim. ECMWF Newslett 115:12–18

Warren S, Rigor I, Untersteiner N, Radionov V, Bryazgin N, Aleksandrov Y, Colony R (1999) Snow depth on Arctic sea ice. J Clim 12:1814–1829

White D, Hinzman L, Alessa L, Cassano J, Chambers M, Falkner K, Francis J, Gutowski W, Holland M, Holmes R, Huntington H, Kane D, Kliskey A, Lee C, McClelland J, Petersen B, Rupp T, Straneo F, Steele M, Woodgate R, Yang D, Yoshokawa K, Zhang T (2007) The Arctic freshwater system: changes and impacts. J Geophys Res 112: G02S54. doi:10.1029/2006JG000353

Wu P, Wood R, Stott P (2005) Human influence on increasing Arctic river discharges. Geophys Res Letts 32: L02703. doi:10.1029/2004GL021570
Acknowledgments
We thank Environment Canada and the ECMWF for making their respective datasets readily available on-line, and the reviewers for their insighful comments that improved the clarity of the manuscript. Parts of this research were supported by funding from the Australian Research Council.
About this article
Cite this article
Screen, J.A., Simmonds, I. Declining summer snowfall in the Arctic: causes, impacts and feedbacks. Clim Dyn 38, 2243–2256 (2012). https://doi.org/10.1007/s00382-011-1105-2
Received:

Accepted:

Published:

Issue Date:
Keywords
Arctic

Precipitation

Snow

Sea ice

Albedo feedback

Climate change