Abstract
Observations indicate that the Atlantic zonal mode influences El Niño Southern Oscillation (ENSO) in the Pacific, as already suggested in previous studies. Here we demonstrate for the first time using partial coupled experiments that the Atlantic zonal mode indeed influences ENSO. The partial coupling experiments are performed by forcing the coupled general circulation model (ECHAM5/MPI-OM) with observed sea surface temperature (SST) in the Tropical Atlantic, but with full air-sea coupling allowed in the Pacific and Indian Ocean. The ensemble mean of a five member simulation reproduces the observational results well. Analysis of observations, reanalysis, and coupled model simulations all indicate the following mechanism: SST anomalies associated with the Atlantic zonal mode affect the Walker Circulation, driving westward wind anomalies over the equatorial Pacific during boreal summer. The wind stress anomalies increase the east-west thermocline slope and enhance the SST gradient across the Pacific; the Bjerknes positive feedback acts to amplify these anomalies favouring the development of a La Niña-like anomalies. The same mechanisms act for the cold phase of Atlantic zonal mode, but with opposite sign. In contrast to previous studies, the model shows that the influence on ENSO exists before 1970. Furthermore, no significant influence of the Tropical Atlantic on the Indian Monsoon precipitation is found in observation or model.
This is a preview of subscription content, log in to check access.
Access options
Buy single article
Instant access to the full article PDF.
US$ 39.95
Tax calculation will be finalised during checkout.
Subscribe to journal
Immediate online access to all issues from 2019. Subscription will auto renew annually.
US$ 199
Tax calculation will be finalised during checkout.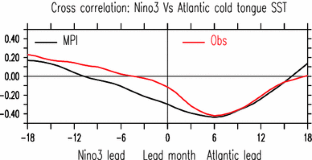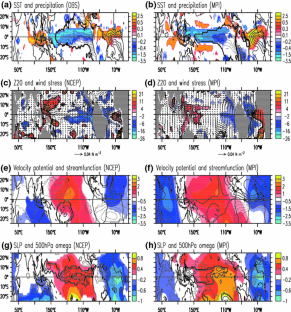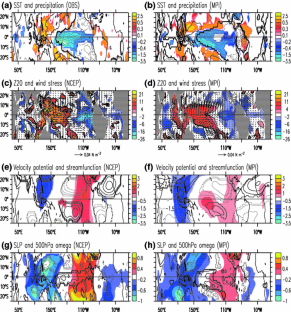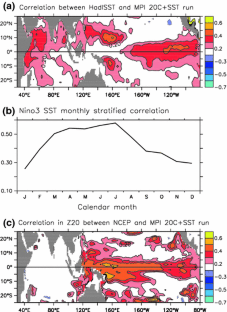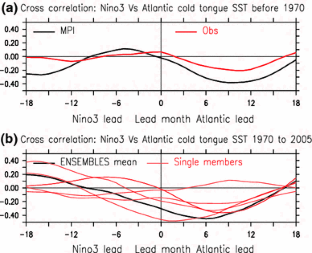 References
Bjerknes J (1969) Atmospheric teleconnections from the equatorial Pacific. Mon Wea Rev 97(3):163. doi:10.1175/1520-0493(1969)097<0163:ATFTEP>2.3.CO;2

Carton J, Huang B (1994) Warm events in the Tropical Atlantic. J Phys Oceanogr 24(5):888–903. doi:10.1175/1520-0485(1994)024<0888:WEITTA>2.0.CO;2

Chang P, Fang Y, Saravanan R, Ji L, Seidel H (2006) The cause of the fragile relationship between the Pacific El Niño and the Atlantic Niño. Nat Biotechnol 443(7109):324. doi:10.1038/nature05053

Chiang J, Lintner B (2005) Mechanisms of remote tropical surface warming during El Niño. J Climate 18(20):4130–4149. doi:10.1175/JCLI3529.1

Chiang J, Sobel A (2002) Tropical tropospheric temperature variations caused by ENSO and their influence on the remote tropical climate. J Climate 15(18):18. doi:10.1175/1520-0442(2002)015<2616:TTTVCB>2.0.CO;2

Davey M, Huddleston M, Sperber K, Braconnot P, Bryan F, Chen D, Colman R, Cooper C, Cubasch U, Delecluse P et al (2002) STOIC: a study of coupled model climatology and variability in tropical ocean regions. Climate Dyn 18(5):403–420. doi:10.1007/s00382-001-0188-6

Ding H, Keenlyside N, Latif M (2010) Equatorial Atlantic interannual variability: the role of heat content. J Geophys Res 115(C9):C09,020.doi:10.1029/2010JC006304, in press

Enfield D, Mayer D (1997) Tropical Atlantic sea surface temperature variability and its relation to El Nino-Southern Oscillation. J Geophys Res 102(C1):929–945. doi:10.1029/96JC03296

Glantz M, Katz R, Nicholls N (1991) Teleconnections linking worldwide climate anomalies. Cambridge University Press, Cambridge

Jansen M, Dommenget D, Keenlyside N (2009) Tropical atmosphere—ocean interactions in a conceptual framework. J Clim 22(3):550–567. doi:10.1175/2008JCLI2243.1

Jungclaus J, Keenlyside N, Botzet M, Haak H, Luo J, Latif M, Marotzke J, Mikolajewicz U, Roeckner E (2006) Ocean circulation and tropical variability in the coupled model ECHAM5/MPI-OM. J Climate 19(16):3952–3972. doi:10.1175/JCLI3827.1

Kalnay E, Kanamitsu M, Kistler R, Collins W, Deaven D, Gandin L, Iredell M, Saha S, White G, Woollen J et al (1996) The NCEP/NCAR 40-year reanalysis project. Bull Am Meteorol Soc 77(3):437–471. doi:10.1175/1520-0477(1996)077<0437:TNYRP>2.0.CO;2

Keenlyside N, Latif M (2007) Understanding equatorial Atlantic interannual variability. J Climate 20(1):131–142. doi:10.1175/JCLI3992.1

Keenlyside N, Latif M, Jungclaus J, Kornblueh L, Roeckner E (2008) Advancing decadal-scale climate prediction in the North Atlantic sector. Nat Biotechnol 453(7191):84–88. doi:10.1038/nature06921

Klein S, Soden B, Lau N (1999) Remote sea surface temperature variations during ENSO: evidence for a tropical atmospheric bridge. J Climate 12(4):917–932. doi:10.1175/1520-0442(1999)012<0917:RSSTVD>2.0.CO;2

Kozlenko S, Mokhov I, Smirnov D (2009) Analysis of the cause and effect relationships between El Niño in the Pacific and its analog in the equatorial Atlantic. Izvestiya Atmospheric Ocean Phys 45(6):704–713. doi:10.1134/S0001433809060036

Krishnamurthy V, Kirtman B (2006) Variability of the Indian Ocean: relation to monsoon and ENSO. Quart J Roy Meteor Soc 129(590):1623–1646. doi:10.1256/qj.01.166

Kucharski F, Bracco A, Yoo J, Molteni F (2007) Low-frequency variability of the Indian monsoon-ENSO relationship and the Tropical Atlantic: the "Weakening" of the 1980s and 1990s. J Climate 20(16):4255. doi:10.1175/JCLI4254.1

Kucharski F, Bracco A, Yoo J, Molteni F (2008) Atlantic forced component of the Indian monsoon interannual variability. Geophys Res Lett 33(4):L04,706. doi:10.1029/2007GL033037

Kucharski F, Bracco A, Yoo J, Tompkins A, Feudale L, Ruti P, Dell'Aquila A (2009) A Gill-Matsuno-type mechanism explains the Tropical Atlantic influence on African and Indian monsoon rainfall. Quart J Roy Meteor Soc 135(640):569–579. doi:10.1002/qj.406

Latif M, Barnett T (1995) Interactions of the tropical oceans. J Climate 8(4):952–965. doi:10.1175/1520-0442(1995)008<0952:IOTTO>2.0.CO;2

Latif M, Grötzner A (2000) The equatorial Atlantic oscillation and its response to ENSO. Climate Dyn 16(2):213–218. doi:10.1007/s003820050014

Losada T, Rodríguez-Fonseca B, Polo I, Janicot S, Gervois S, Chauvin F, Ruti P (2009) Tropical response to the Atlantic equatorial mode: AGCM multimodel approach. Climate Dyn 33(1):1–8. doi:10.1007/s00382-009-0624-6

Philander S (1990) El Niño, La Niña, and the southern oscillation. Academic Press, New York

Rayner N, Parker D, Horton E, Folland C, Alexander L, Rowell D, Kent E, Kaplan A (2003) Global analyses of sea surface temperature, sea ice, and night marine air temperature since the late nineteenth century. J Geophys Res 108(D14):4407–4453. doi:10.1029/2002JD002670

Richter I, Xie S (2008) On the origin of equatorial Atlantic biases in coupled general circulation models. Climate Dyn 31(5):587–598. doi:10.1007/s00382-008-0364-z

Rodríguez-Fonseca B, Polo I, García-Serrano J, Losada T, Mohino E, Mechoso C, Kucharski F (2009) Are Atlantic Niños enhancing Pacific ENSO events in recent decades. Geophys Res Lett 36(20):L20,705. doi:10.1029/2009GL040048

Valcke S, Caubel A, Declat D, Terray L (2003) OASIS3 ocean atmosphere sea ice soil. Users guide Prisim project report 2

Wahl S, Latif M, Park W, Keenlyside N (2009) On the Tropical Atlantic SST warm bias in the Kiel Climate model. Clim Dyn 33(6):174. doi:10.1007/s00382-009-0690-9

Wang C (2006) An overlooked feature of tropical climate: inter-Pacific-Atlantic variability. Geophys Res Lett 33(12):L12,702. doi:10.1029/2006GL026324

Wang C, Kucharski F, Barimalala R, Bracco A (2009) Teleconnections of the Tropical Atlantic to the Tropical Indian and Pacific Oceans: a review of recent findings. Meteorol Z 18(4):445–454. doi:10.1127/0941-2948/2009/0394

Xie P, Arkin P (1997) Global precipitation: A 17-year monthly analysis based on gauge observations, satellite estimates, and numerical model outputs. Bull Am Meteorol Soc 78(11):2539–2558. doi:10.1175/1520-0477(1997)078<2539:GPAYMA>2.0.CO;2

Xie S, Carton J (2004) Tropical Atlantic variability: patterns, mechanisms, and impacts. Earth's climate: the Ocean-Atmosphere interaction. Geophys Monogr 147:121–142

Xie SP, Annamalai H, Schott FA, McCreary JP (2002) Structure and mechanisms of south indian ocean climate variability*. J Clim 15(8):864–878. doi:10.1175/1520-0442(2002)015<0864:SAMOSI>2.0.CO;2

Zebiak S (1993) Air–Sea interaction in the equatorial Atlantic region. J Climate 6(8):1567–1586. doi:10.1175/1520-0442(1993)006<1567:AIITEA>2.0.CO;2
Acknowledgments
The work was supported by the German BMBF NORDATLANTIK project and the SFB 754 of DFG. NSK is funded by the DFG Emmy Noether Programme. The coupled model was run at ECMWF. Figures were created using Ferret, a product of NOAA's Pacific Marine Environmental Laboratory.
About this article
Cite this article
Ding, H., Keenlyside, N.S. & Latif, M. Impact of the Equatorial Atlantic on the El Niño Southern Oscillation. Clim Dyn 38, 1965–1972 (2012). https://doi.org/10.1007/s00382-011-1097-y
Received:

Accepted:

Published:

Issue Date:
Keywords
ENSO

Atlantic zonal mode

Teleconnection

Bjerknes feedback